Writer: Tiffany Whisner, Coles Marketing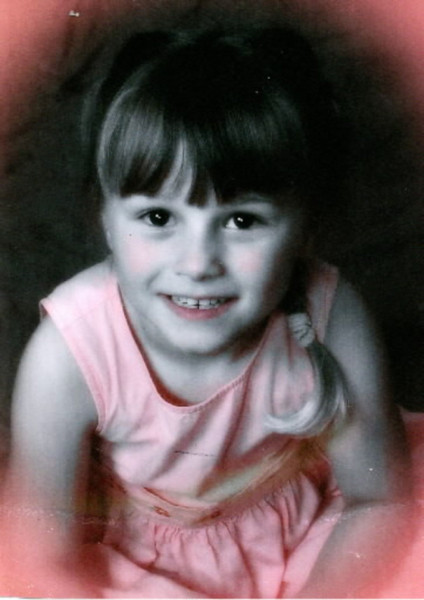 Four minutes. It only took four minutes for seven-year-old Savannah Martin to disappear and make it to the pond on the edge of her family's property in Lawton, Okla. — and drown.
In 2008, Kevin Curtis Wills jumped into Iowa's Raccoon River and tragically drowned at the age of nine. Five years later, 14-year-old Avonte Oquendo wandered away from Riverview School in Queens and drowned in New York City's East River.
How are these three children and their heartbreaking stories connected?
All of them were on the autism spectrum. And they all died after their conditions caused them to wander.
"Since 2011, more than 100 individuals with autism — mostly minor children — have lost their lives after wandering from a safe setting," said National Autism Association Co-founder Lori McIlwain.
A bipartisan bill named Kevin and Avonte's Law was unanimously passed by the U.S. Senate just this July. And from the darkness of the losses of Kevin, Avonte, Savannah and so many other children comes a light to help protect people with autism in the future.
Stepping forward from tragedy
In March 2016, legislation was introduced by Senator Chuck Schumer of New York, Senate Judiciary Committee Chairman Chuck Grassley of Iowa and Senator Thom Tillis of North Carolina to help families locate individuals who have Alzheimer's disease, autism or other related conditions that may cause them to wander from their caregivers.
Kevin and Avonte's Law reauthorizes the expired Missing Alzheimer's Disease Patient Alert Program and includes additional provisions specific to people with autism.
"If enacted, Kevin and Avonte's Law would protect children with autism and other disabilities," McIlwain said. "Far too often, children with autism go straight to water, and accidental drowning is the leading cause of wandering-related deaths in our community. Yet law enforcement, search-and-rescue officials, teachers and even clinicians are largely unaware of this. Training them to search water first is something we feel is critical and will help save many lives."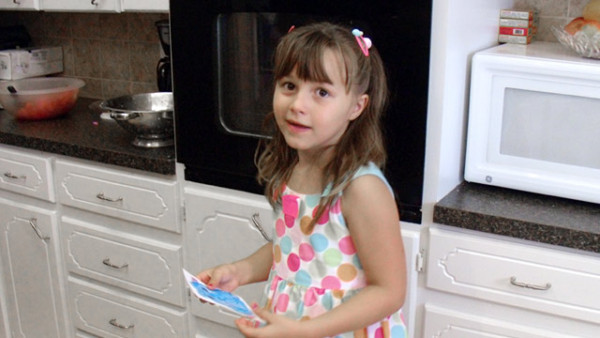 In 2012, the journal Pediatrics shared results from a study that concluded nearly half of children with autism spectrum disorders (ASDs) were reported to engage in elopement — or wandering — behavior, with a substantial number at risk for bodily harm.
"A 2015 study then showed one-third of school-age children with developmental disabilities are reported to wander from safe settings each year," McIlwain said. "Our own surveillance of 564 media-reported outcomes over a five-year period showed 42 percent of children with autism age nine and younger died after wandering from a safe setting."
While researchers and experts still aren't sure why children with ASDs wander, taking action to prevent wandering from turning disastrous is imperative.
"If signed into law, Kevin and Avonte's Law would help train first responders and other community officials on how to identify, search for and interact with individuals with autism as well as provide funding for necessary resources to help reduce risk," McIlwain said.
"The protections this bill would provide to children with autism and other disabilities are similar to the protections already available for individuals with Alzheimer's," McIlwain said. "If a child with autism repeatedly wanders and is at high risk of wandering again, there is currently no federal aid available to law enforcement to provide that child with a tracking device. Yet that aid is available right now for those with Alzheimer's. If enacted, law enforcement could apply for funding to supply that child with a tracking device, which would help decrease risk, search time and search costs."
And it's that tracking device that is a key part of the puzzle.
Monitor your child's well-being
After his 17-year-old son with autism suffered another mistreatment at the hands of a caregiver, Doron Somer sought a solution to help monitor his son's safety and well-being. With his vast experience of GPS and tracking technologies, Somer understood the key to a reliable solution would be applying smart analytics to the right device.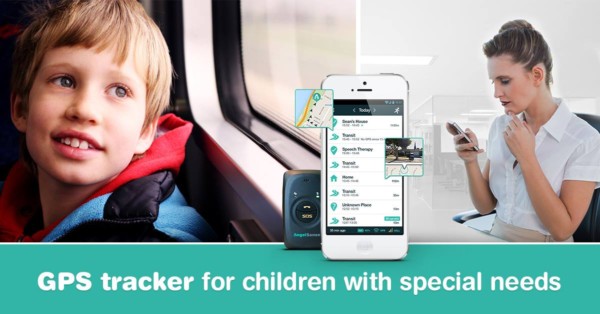 Knowing he wasn't the only parent with these concerns, Somer teamed up with his friend Nery Ben-Azar — a high-tech executive and social entrepreneur — to create AngelSense in 2013.
"AngelSense is the only GPS solution on the market that is built and customized for children with special needs," said Yael Talmor, AngelSense head of product marketing. "With AngelSense, parents have full visibility of their child's day when the child is not with them. They see their location in real time and which routes they're traveling. Parents can also listen in to their child in order to sense how they're doing and make sure they're not being mistreated by a caregiver."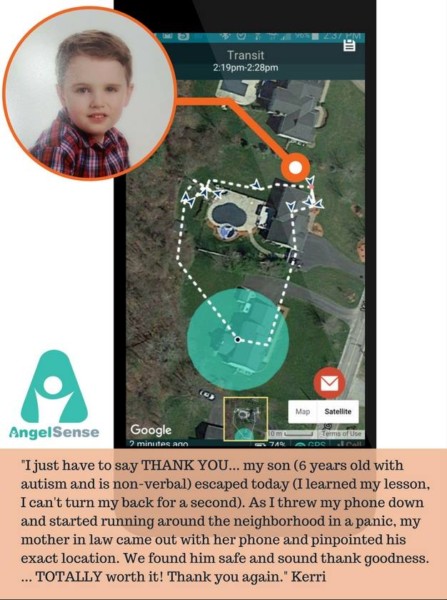 Key features of the AngelSense product include: a timeline view to see the child's entire day; warning alerts for every unrecognized location; a wearable, sensory-friendly GPS device; ability to listen in to the device; expert customer support from a team of parents with children with special needs; and a proven child search mode with first responder alert.
The AngelSense solution is the GPS tracking device worn by the child along with a mobile app for the parents. And the customer support team is made up only of parents in the special needs community.
"Nery suggested to expand our mission by enabling parents of children with special needs — many of whom left their full-time jobs to take care of their kids — to return to the workforce," Talmor said. "We acknowledge that many special needs parents struggle to balance between work and the full-time job of taking care of their children, so we have made it a policy to only employ parents within the community."
Those parents are passionate about the AngelSense solution and sharing that solution with other parents.
Prevention and protection from wandering
"New York Senator Chuck Schumer, an advocate for Kevin and Avonte's Law, went on the record stating that GPS devices sewn into clothing could prevent deaths of children with autism by instantly locating them when they wander," Talmor said.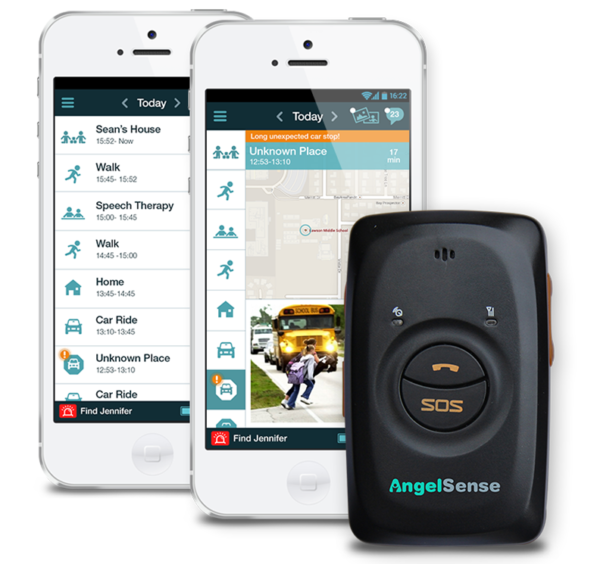 That device described is AngelSense — which has already saved the lives of children with special needs across the country.
"It was designed with features that are essential for preventing wandering cases from occurring," Talmor added. "These features include alerts sent to the parents when the child seems to be approaching danger as well as a listen-in option to sense their child at any given moment. By enabling parents to monitor their child's well-being throughout the day and alerting them before the child may be in danger, AngelSense enables special needs parents to keep their children as safe as they can at all times."
Although AngelSense certainly targets children with autism, it can also be effective for children with other special needs and developmental disabilities as well as adults with Alzheimer's and dementia.
"There are many adults with Alzheimer's or dementia using AngelSense on a daily basis," Talmor said. "The product was initially built for special needs children as the need in that area is the greatest, but all children and adults with any disability can use the product and benefit from it."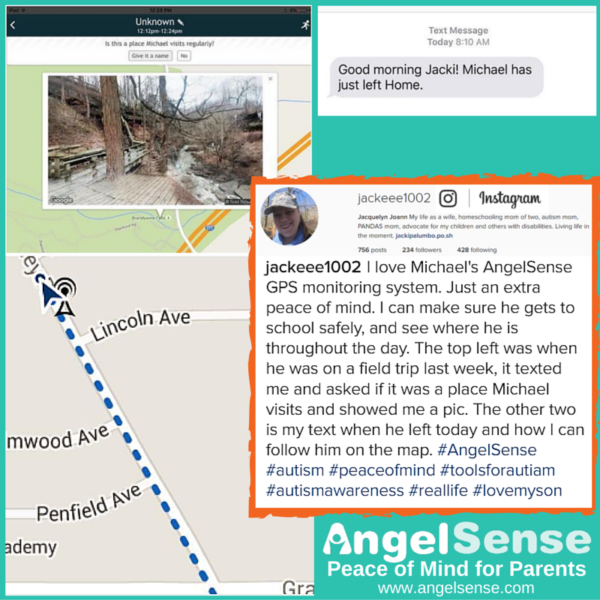 And in addition to a tracking device to help keep children safe, there are many who will benefit from Kevin and Avonte's Law and the protection it secures.
"Right now there are many resources available through nonprofit groups, health agencies, law enforcement agencies, schools, and fire and rescue to help protect wandering children," McIlwain said. "But resources through federal funding currently do not exist and will remain unavailable unless the bill becomes law."
Safeguard for the future
Passed by the Senate, the legislation is now before the House, where it is sponsored by Representatives Chris Smith and Maxine Waters.
"Kevin and Avonte's Law is crucial to our community," Talmor said.
A study by researchers at Cohen Children's Medical Center of New York suggests that more than one-quarter million school-age children with ASD or other developmental disorders wander away from adult supervision each year.
According to the study, more than 26% of children with special needs in the study had wandered away from a safe environment within the past 12 months, with public places being the most common location for it to occur. Children between the ages of six to 11 were most likely to wander.
"As a parent-run organization, we have a deep and personal understanding of the issue," McIlwain said. "Our own children have gone missing in the past, and over the years we have spearheaded multiple programs and initiatives to combat wandering deaths."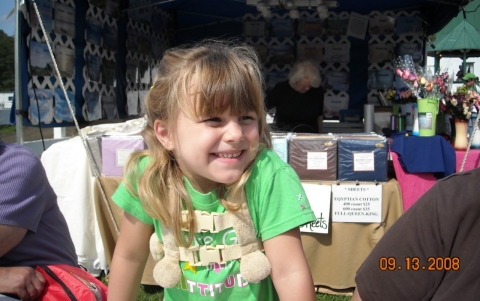 It is an important issue — one that was received in the House on July 18 and is making its way through the appropriate committees and subcommittees. There's a lot at stake, and a clear-cut conclusion all supporters are hoping for.
Said McIlwain, "Wandering is an urgent issue that poses significant risks to individuals with autism."
Find more information or take action at: http://autismsafetycoalition.org/.