There are so many shoe lacing solutions available now for individuals with or without disabilities.  Greeper Laces are one such product.  They were initially designed for triathletes who needed a solution for quickly putting on and removing shoes during competition.  However, it didn't take long for people to notice that these laces may also benefit those with special needs!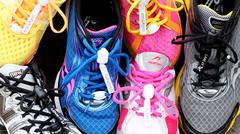 Greeper Laces met some occupational therapists when they first introduced the laces to the public, and have collaborated with them to better understand how these laces may benefit those with special needs.
"One of the key understandings is that Greeper Laces are a fully inclusive product – the same product is used by people of all abilities and really helps people to be independent who have needed to rely on assistance in this area before."  They have noted "tremendous success" in individuals with:
Autism spectrum disorder
Dyspraxia
Asperger's syndrome
Down's syndrome
Arthritis
Cerebral palsy
Stroke
Amputees
And much more!
To get started wearing Greeper Laces, review the following guidelines:
Remove old laces
Fit Greeper Laces from the top down
Feed laces into the tag
Tie a reef knot
Cut off excess lace
Flip the tag over to cover the knot
View the full step-by-step diagram here.
Once the laces are in place, they can be loosened by pulling the pull tab of the central toggle; once they're in place they cannot come undone.  They can be tightened again by pulling each lace loop where the special stopper is located.
Features of Greeper Laces:
Made from real laces and look like classic shoelace loops, making them a discreet option.
Will not stretch out like elastic style laces.
Loosen and tighten in 2 easy steps.
Quick release and fastening.
Strong and durable.
One size fits all shoe sizes.
Can be worn on any laced shoe!
Available in several colors:

Black
Blue
Green
Orange
Pink
Red
Yellow
White
Click here to learn more about Greeper Laces!