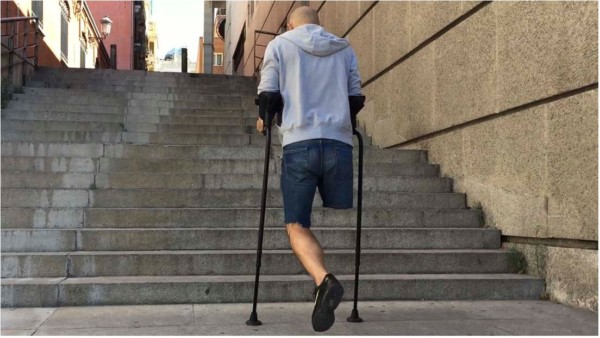 The design, structure and function of crutches has remained relatively unchanged for almost 4,000 years. Plenty of advancements in medical technology have occurred over the millennia, but crutches have essentially stayed the same.
It's time for crutches to join the modern world. Introducing KMINA: The world's first pain-free and stylish crutches.
"We are sure they will help improve the patient's quality of life." – Marino Gomez Santos, Director of Hidelsa Orthopaedics
 "During the week that I've been with a KMINA crutch, I've felt so comfortable because it's a lightweight crutch." – Charo
According to the Eunice Kennedy Shriver National Institute of Child Health and Human Development, 6.5 million people use a cane, walker or crutches to assist with their mobility. Almost seven million people in the United States are using outdated technology every day.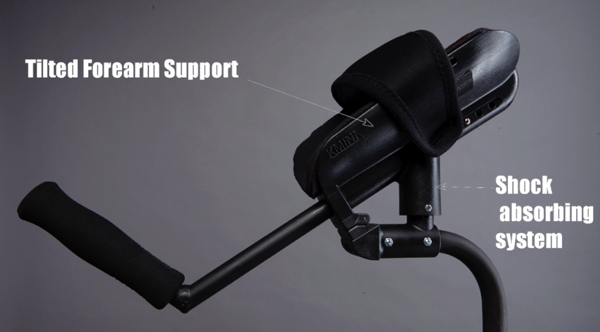 Traditional crutches put pressure on the underarms, strain on the forearms and stress on the hands, causing pain for users both with and without disabilities or special needs. After many prototypes and tested on many users, KMINA crutches offer a comfortable, lightweight and affordable alternative.
"I don't feel the pain in my hands. I can tell that I use my legs less, around half than normal." – Iñaki Luna
KMINA crutches have two main features: tilted forearm support and a shock absorbing system. The tilted forearm support allows weight distribution between the hands and forearms. The shock absorbing system reduces pressure on every step.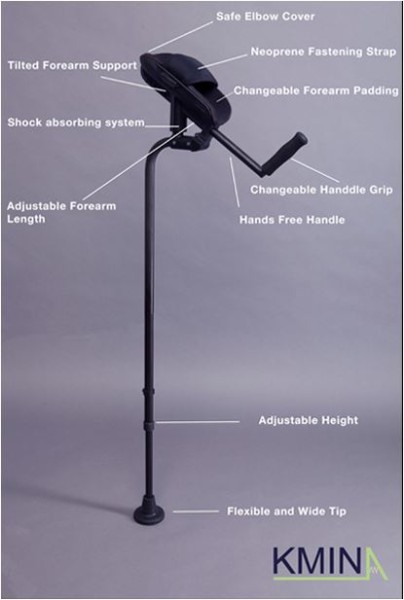 Other features of KMINA crutches:
Neoprene fastening straps used to make the individual comfortable and safe
Forearm padding can be easily washed, exchanged and even personalized
The handle rotates, allowing the user to open doors, use a cell phone and much more
The length of the forearm support bar and the height of KMINA crutches are adjustable to maximize comfort
A flexible and wide tip added to base of the crutch provides stability, comfort and safety
"With these crutches I feel more comfortable and I can walk faster than with my crutches. They are very good crutches." – Ivan
With KMINA, you will never walk alone again. Right now, the team behind KMINA crutches hopes to hit the market in early 2017. But you can reserve them now! Learn more here: http://kmina.es/en/.