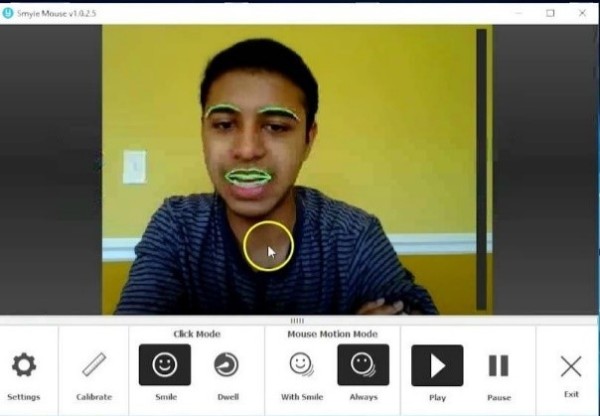 For those with physical impairments that make using a regular computer mouse difficult, or can't use a voice-activated interface, there's now a new option. Smyle Mouse allows you to control a PC without using your hands or voice. You do it all simply by using your head and face.
This is a new tool that will literally make you smile – because facial recognition, including a nice big grin, is part of the interface.
This award-winning assistive technology uses only a standard web camera plus the patent-pending software. No specialized cameras, power cords/wires or adaptive switches are required. And you don't have to attach any stickers or devices to your head. Just your own beautiful face will do!
After a simple 10-second calibration, Smyle Mouse needs only simple and gentle gestures to do all the things a regular PC mouse would do: point, click (including double click), drag, scroll and so on. It has pixel-perfect precision, and is smooth and responsive. It works on any device running Microsoft Windows 7 or above.
Watch a video demonstration of the tool below!

More than seven million people in the U.S. don't have full control of their hands, including those with ALS, multiple sclerosis, Parkinson's, stroke, cerebral palsy, spinal cord injuries and other conditions. Many of them also have some kind of voice impairment.
Smyle Mouse is available for a free trial. Go to their website to learn more!