Looking for an easier way to control your electrical appliances?  With the new iClick wireless control, you'll be able to operate these appliances using switches and even your iPad!
The innovative iClick device allows users to turn electrical appliances on and off using either:
Standard wired switches plugged into the iClick.
SimplyWorks Wireless Switches which pair directly with the iClick.
The iPad* via a free iClick app available on the App Store.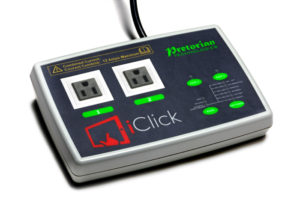 Plug your favorite appliance(s) directly into iClick to control them.  Once they're plugged in, you'll be able to control them in the following ways:
Direct:

Appliance/toy is powered for as long as the user touches the switch or iPad screen.
This is an ideal method to teach cause and effect!

Latching:

Touch once for ON and once again for OFF.

Timed:

One touch turns the device on for a preset period of time.

ON/OFF:

One switch can turn on a device and another switch can turn it off.

Cooperation:

Requires two users to work together for the device to turn on and off.
Ideal for teaching social skills and cooperative play!
Features of the iClick wireless control:
Includes 2 independently controlled A/C electrical outlets.
"Ultra-safe wireless control of electrical appliances."
7 control modes selected from the iClick app.

4 modes provide independent switch operation, while other 3 give cooperative control.

The iClick app is scannable with iOS Switch Control for users who can't use touch screens.
Interference-free up to 60 feet of distance.
**iPad use requires iPad 3, iPad Mini, iPad Air, iPad Pro, or later.