Learning Resources offers countless products which promote a variety of skills.  One of these products is the Hundred Activity Mat.  The Hundred Activity Mat is a fun, hands-on math tool which gets students "moving and grooving" with math!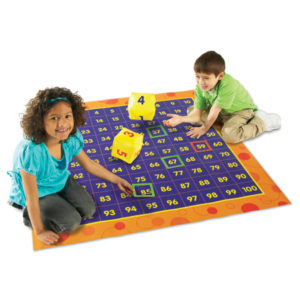 The Activity Mat is an oversize version of the familiar hundreds board.  The versatile mat reinforces a number of math concepts, such as:
Addition
Subtraction
Number sense
Counting
Number patterns
Much more!
Parents and teachers can download the Activity Guide, which includes a number of fun activities and games for students to play.
Activity Ideas:
Fast Find:

Say a number and see how fast students can find it on the Hundred Mat

To increase difficulty, give a clue to a secret number and see how fast they can find that number

Example: "Find the number that is 7 more than 24."

Number Patterns:

Have students search for number patterns on the Hundred Mat

Make 100:

Place a ring around any number on the Mat.  Challenge students to figure out how much more will make 100
Features of Hundred Activity Mat:
Students will have fun practicing counting, number patterns, place value, operations, problem-solving, and more on this oversized mat
Focuses attention on specific numbers and patterns (e.g. even and odd) through the use of double-sided, color-coded number frames
Great for kinesthetic learners
Includes:

2 inflatable cubes for numbers 1-6 (measures 5″ L x 5″ H) and 54 square number frames
Wipe-clean vinyl mat (measures 4′ L x 4′ H)