Individuals with visual impairments need a device that allows them to stay connected and productive on the go.  Brailliant BI14 from HumanWare is HumanWare's smallest braille display yet, designed for ultimate efficiency.  The entire device was designed with mobile professionals in mind!
The Brailliant BI14 instantly connects users to their iOS device, so they never have to miss an email, deadline, or conference call again.  The device can pair with up to 5 iOS devices at once via Bluetooth Low Energy (LE) pairing.  The BI14 even comes with a USB connection so users can stay charged on the go and keep braille at their fingertips anytime, anywhere.
The Brailliant BI14's design is as user-friendly as it is intelligent.  A simple toggle on the back of the BI14 lets users know whether they're using the Brailliant's internal applications, or if they have the device set to control other paired devices (e.g. iPhone).
According to HumanWare, the BI14 makes it easier than ever to:
Take notes in a meeting or class with the internal notes application
Keep track of time thanks to the internal clock
Time how long tasks take with the stopwatch application
And so much more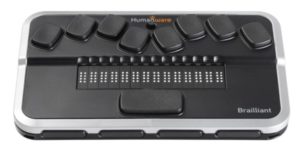 Features of Brailliant BI14:
Rugged design made for mobility
Stable connectivity across multiple devices
Small and light; fits easily into your jacket or bag
Compact design with maximum comfort – type easily for hours on the ergonomic braille keyboard
Features 14 high-quality braille cells with cursor routers
Signature thumb keys reduce wrist fatigue
What it comes with:

BI14 unit
Carrying case
USB cable
USB power supply
Documentation and warranty information
Click here to learn more about the Brailliant BI14 Braille Display.