Podcast: Play in new window | Download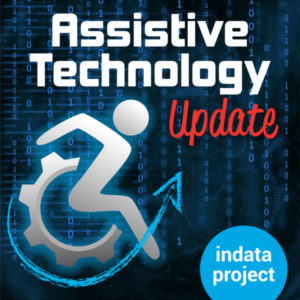 Your weekly dose of information that keeps you up to date on the latest developments in the field of technology designed to assist people with disabilities and special needs.
324-08-11-17 – Camp Abilities –
Lauren Lieberman, PhD, Director of Camp Abilities (also a professor of adapted physical education at The College at Brockport) www.campabilities.org
App: Munch Code | www.BridgingApps.org
——————————
If you have an AT question, leave us a voice mail at: 317-721-7124 or email tech@eastersealscrossroads.org
Check out our web site: https://www.eastersealstech.com
Follow us on Twitter: @INDATAproject
Like us on Facebook: www.Facebook.com/IND
——-transcript follows ——
LAUREN LIEBERMAN:  This is Lauren Lieberman, and this is your assistive technology update.
WADE WINGLER:  Hi, this is Wade Wingler with the INDATA Project at Easter Seals crossroads in Indiana with your Assistive Technology Update, a weekly dose of information that keeps you up-to-date on the latest developments in the field of technology designed to assist people with disabilities and special needs.
Welcome to episode number 324 of assistive technology update. It's scheduled to be released on August 11, 2017.
Today I'm going to spend some summertime conversation with Doctor Lauren Lieberman who is the director of Camp Abilities and professor of adaptive education at the college at Brockport. We are going to talk about Camp Abilities which is a sports camp specifically for kids who are blind or visually impaired.

Also we have an app from our friends over at BridgingApps called Munch Code.
We hope you'll check out our website at www.eastersealstech.com, give us a note on Twitter at INDATA Project, or call our listener line at 317-721-7124.We love to hear your questions, comments, or just say hello. We love to hear from our listeners. Again that number is 317-721-7124.
Did you know that we do more than this podcast?  We also do YouTube videos, some other podcasts, and a bunch of blog post. For example, if you head over to www.eastersealstech.com, you'll find every Monday we put on what we call our tech tip, a 2 to 5 YouTube video where we talk about something related to assistive technology. A recent example includes Craig Burns talking about different headsets that work well with voice recognition software, some of the pros and cons; a discussion about what Amazon Prime Now might mean for people with disabilities; a simple way to do some accessible gardening; and even switch access for iPad. In addition to those YouTube videos, we also do other podcasts. The popular ATFAQ, or assistance technology frequently asked questions show comes out twice a month and has a panel of experts answering your questions about assistive technology. And then our very own Laura Metcalf does a weekly show called accessibility minutes in which she talks about interesting assistive technology, but just in a minute or so. Recent episodes include Alexa voice calling; Amabrush, which is an adaptive toothbrush; Nike Lebron soldier 10 fly-eze shoes that have some assistive qualities; Liftware Level; and Wordbank for Google Chrome. You can find all of this and more at www.eastersealstech.com. When you get there, click on the on air button to find our podcast and tech tips, and also some recent local media appearances. We have a lot of good stuff.  Go check it out.
Each week, one of our partners tells us what's happening in the ever-changing world of apps, so here's an app worth mentioning.
AMY BARRY:  This is Amy Barry with BridgingApps, and this is an app worth mentioning. This week I'm sharing an app called Munch Code.
Healthy eating includes making reasonable food choices at times when the choices can be limited. This can happen when the only food available is from a vending machine or from a concession stand. An app called Munch Code has actually been developed to serve as a teaching tool for making the best snack choices possible. Perfection in choosing something to eat from a vending machine or at a concession stand is absolutely not necessary, but when the food choices most often include prepackaged, low nutrient, higher calorie, sodium-loaded items, there are often better choices to lean towards.
Munch Code, developed by the South Dakota Department of Health, serves to educate the user by offering three simple and easy to understand games. All three games categorize foods and the other green, yellow, or red groups to indicate how the food would fit into a balanced, healthy diet. These color categories are based on nutrient content, calories, and other factors such as the sodium content, and they include green, meaning eat a bunch, yellow, just a little, and red, not so much.
A BridgingApps registered dietitian like the simplicity of Munch Code and the reliability of the information, and recommends it as an excellent addition to any health curriculum or class of children of all abilities. It requires minimal instruction time to teach how to use the app, and the three games are concise, clear, and completed in a short amount of time. The nutrition concept is easy to understand in its "traffic light" category style and is presented in a very positive and upbeat manner.
Coordinating the lesson with either a mock concession stand or vending machine in the classroom, or even a trip to an actual concession stand or vending machine, would it really enforce the concept learned, and transition the app experience to the real world in a meaningful and effective way.
Munch Code is available for free at the iTunes Store and is compatible with iOS devices. For more information on this app and others like it, visit BridgingApps.org.
It's summertime here in the United States, and frankly here at Easter Seals crossroads and the INDATA Project, we just finished a whole season of camps. It was a blast. We had a lot of good times. There was all kinds of fun stuff. As we were learning about other kinds of camps with disabilities, I came across an HBO real sports episode that was fascinating. It was about a program called Camp Abilities and it's all about sports for kids who are blind or visually impaired. We reached out and were super excited when Doctor Lauren Lieberman who is the director of Camp Abilities, also professor of adapted physical education at the College of Brockport, decided that she could take a little time out of her busy summertime schedule and visit with us. I'm so excited to have you on the show today. Laura, how are you?
LAUREN LIEBERMAN:  I'm great, thanks so much for having me.
WADE WINGLER:  You're welcome and thank you. I'm excited about our conversation today because what I think you are doing is pretty unique and fascinating. Before we start talking about the nuts and bolts of camp, tell me a little bit about how the camp got started and by whom.
LAUREN LIEBERMAN:  My background is in teaching adaptive physical education. When I was an undergraduate in adapted physical education, I had an amazing experience at a program called Ski for Light for adults who are blind or visually impaired. I got turned on to helping people with visual impairments. To make a long story short, after my Masters program at the University of Wisconsin at La Crosse, I got a job at Perkins school for the blind. I taught there and the death/blind program, and all my students were deaf and blind, or hard of hearing and visually impaired; you know, the combination. I taught swimming and physical education and coached and absolutely loved it.
When I went on for my doctorate, I focused on sensory impairments in my doctorate, and I got a job at the college at Brockport teaching and the teacher preparation program. When I arrived here, I was running these practicum programs, I was working with kids from the community and realize my students were not getting any experiences with kids with visual impairments before they graduated. There might have been one or two kids with visual impairments and our practicum. I had to do something about this. How were the students going to know how to teach kids with visual impairments when they get out of here?  I got a grant and started Camp Abilities and 1996.  That program started with 27 kids, and I recruited as many of my students as I could, some high school kids in the area, and that was our first ever Camp Abilities. People started hearing about it and kids started coming from Arizona and Alaska and Maryland and Texas. I was pretty excited about that thinking, wow, this is so awesome, all these kids are coming from all over the place.
Then I had to put a bunch of kids on the waiting list. Some of the kids live right down the street. I said something is wrong with this picture, so I started encouraging other people to start their own camp abilities. Basically what it is, it's a sports camp. All the sports are totally accessible for children with visual impairments because that's what should happen. Sports and recreation should be accessible for every child. Kids with visual impairment should not be sitting on the sidelines like they are so often. That's why we need a Camp Abilities and need to teach the teachers, show the kids what they can do, and have these for every child and every teacher.
WADE WINGLER:  I agree wholeheartedly and I know a camp experience and sports life is important for everybody. Tell me a little bit. When I was doing the preinterview research, there is some interesting data about kids who are blind or visually impaired and their activity levels. Can you share some of that with us?
LAUREN LIEBERMAN:  I don't know if you know this, but there are over 60,000 children with visual impairments in the public schools today. That's not including kids who might have other disabilities as well. There are many children in the public schools. What we are finding is not only do they have increased sedentary behavior but they have lower level of motor skill development, lower level of physical activity, and often unfortunately they have fewer friends and lower socialization than their peers. This is all from our research we've done and my colleagues have done.
How can we change that?  How can we empower kids not only to get more involved in sports and recreation, but how can we also change the perception of the public that kids with visual impairments can be as physically active and as skilled in motor skills as their peers?
WADE WINGLER:  That makes a ton of sense. I can relate to that. I'm going to ask you about the events, but before we do that, just so my audience understands more about the kids that are participating, what levels of vision impairment?  Are there other disabilities were talking about with the kid to come to Camp Abilities?
LAUREN LIEBERMAN: Camp Abilities is a sports camp for children with visual impairments. The children have to have a vision teacher. They had to have a visual impairment severe enough to warrant a vision teacher. Some of the kids might have some autism or intellectual disability, and some of our kids are also hard of hearing or deaf, but for the most part they are independent and had communication. We walked to all of our activities, running, swim, rock climbing, tandem bikes, so they have to be able to do all of those activities in order to participate in camp.
WADE WINGLER:  That short list of examples of events sounds pretty exciting to me. Talk to me about some of the events and then we are going to talk about the accommodations. What are the events?  Is there a list?
LAUREN LIEBERMAN:  My goal was to make sure every child could participate in their after school sports, so we offer things like judo, tandem biking, track and field, swimming, gymnastics. Some of those are also Paralympic sports like swimming, track and field, and judo. We also offer Paralympic sports like goal ball and other blind sports like baseball. I think it's really important that the kids learn recreation activities. We do stand up paddle boarding which they love, kayaking, canoeing, basketball, horseback riding, rollerblading. Those are some of the activities we offer. We do dancing. We have a game called showdown which is a blind sport. It's like air hockey but the ball has bells in it and you have a paddle and try to hit it in your opponents pocket on the table.
WADE WINGLER:  That long list of activities and events sounds fascinating. You might have lost me at dancing. I'm a horrible dancer. That all sounds like a blast and a lot of good stuff. When you talk about things like goal ball and baseball, you're reminding me that there is some accommodation and some assistive technologies. Can you give me some examples of the high-tech or low-tech or no-tech modifications that are involved in these events?
LAUREN LIEBERMAN:  To give you an example, there is a sport that was created by veterans who were blind after World War II called goal ball. The ball has bells in it, and the rules are modified so there are three people against three people. You roll the ball. If I'm on offense, I roll the ball and try to make the other people missed the ball. If the ball goes by those three people, it's a goal. That's a Paralympic sport, and the only modification is the ball has bells in it. It's about the size of a basketball. There are official goal balls. You wear knee pads and elbow pads and eye shades and it's a very high-speed game. It's a lot of agility, endurance, strength, coordination. It's really exciting. We just started a goal ball team at the college at Brockport so there are a lot more college teams than there ever were.
That's one of the accommodations. The other one is, for example, for biking. Be a single bikes, tandem, even a seven person bike. It's a circular bike. When we do things like gymnastics car we use a lot of auditory cues. For low-tech, we put tape at the end of the balance beam so they know when the end of the balance beam is going to come. There are little things that will help them understand their surroundings and the environment to help with safety. For track and field, what we do is make tactile markings on the ground so they know where to throw it there are doing throwing events. We also have a paper or a person clapping to say where to throw it I'm doing shotput or discus. We also will have a guide wire which is a long rope that's pulled tight with the carabiner around it, a handheld loop, see you can run along the guide wire so you can run in a straight line. A guideline is low-tech, not expensive, but it helps kids be independent runners. There is another piece of technology, not necessarily technology, but a short rope the size of a shoelace. If you are going to run with someone who was blind, they would take one and, and you take the other and do, and you hold that tether and run as far as you want to go, and that person can now swing their arms but they are not in danger of running into anything because they have you as a guide. We also have beep kickball which is a ball that beeps. That helps kids play kickball. We also have beeping baseball where the ball is about the size of a softball, and when you pull the pin out, the ball beeps. The bases also beep. When I hit the ball and the base beeps, I run to that base. The outfielders pick up the ball as they run in the outfield. The rule is if I get to the base before the outfield picked it up, I'm safe and get a point. If I don't get to the base and the outfield picks it up first, I'm out.
WADE WINGLER:  That's fascinating. Just a quick technical question, I've been to goal ball matches before. You mentioned participants wear eye shades. I get that, but for folks in the audience who haven't participated in goal ball before, why eye shades if folks are already lined or visually impaired?
LAUREN LIEBERMAN:  You can be labeled as visually impaired or blind, and there are different levels of visual impairment. And the sports world, we call it B1, B2, B3, B4. If a person is B1, they're blind; if a person is B3, they're just legally blind. That person can very often run independently and see a ball coming to them. To make the playing field totally equal, the players have blindfolds. That's the same thing for beep baseball as well.
WADE WINGLER:  That's a good point. Tell me a little bit about some other activities. As I was poking around your website, I learned that you guys are doing more than just Camp Abilities, right?
LAUREN LIEBERMAN:  We do our Camp Abilities, and then we do many camps, one day camps throughout the year, and we also do a lot of research to learn intervention strategies and learn what works with kids with visual impairments.
The other thing we do is develop products with the American printing house for the blind. We think about what kids with visual impairments need to be physically active. Of those over 60,000 kids with visual impairments in the US, maybe we get to provide Camp Abilities and sports for 1000 of them. What about the other 59,000 kids who aren't at sports camps?  We have developed these products.
One product is a walk/run for fitness kit. This can be bought through the American printing house for the blind. They have what's called quota funds. If a teacher is teaching kids with visual impairments, you can get these products for free through the vision teacher or the mobility teacher. The walk/run for fitness kit is a backpack. It comes with a guide wire with hooks so that if a child is at a park or in a gym or on a track, they can pull the guidewire tight, set it up, and run with the guidewire. There is also a tether, talking pedometers, which is another low-tech option. Let's say I go out and want to run. I can determine how many steps I've taken pick it also tells me how far I've run. That walk/run for fitness kit also comes with a manual to talk about what running shoes are. If you are blind, you don't know what running shoes look like. Somebody might look at you and say, honey, you're blind, you don't really need good running shoes. They might sell you or give you some running shoes that aren't running shoes and then you don't like running. What does a good running shoe feel like?  What should it have?  In that manual we talk about what you wear when you run the, what's nutrition when you run, how you find a guide to help you run, how you train that guide to help you run. Those are some important things that we have to make sure we include in the manual. That manual comes with a guidewire, a tether, the talking pedometers. That kit is available for kids with visual impairments for free if it's ordered by their teacher. They can even order one to take home if the school district has enough money.
WADE WINGLER:  Speaking of funding, how is Camp Abilities funded?
LAUREN LIEBERMAN: Camp Abilities is funded through the New York State commission for the blind. We also get foundation grants and also do a lot of fundraising. If anybody thinks this is a great idea or you love the idea of kids with visual impairments getting to do sports, our website is CampAbilities.org. This is exactly what we do. We ask people do you want to make a donation, have a fundraiser. We welcome any donations because the cost is over $100,000 to have the camp for when we offer so many kids.
WADE WINGLER:  You mentioned the camp is in New York, but there are more local opportunities, right?
LAUREN LIEBERMAN:  We have Camp Abilities at Brockport, but we also have Camp Abilities Utica, Saratoga Springs, and Long Island. Those are the summer camps. The Utica Association for the blind or visually impaired, called Central Association for the blind and visually impaired, also has a winter Camp Abilities at bracket Lake in the Adirondacks. We have five Camp Abilities and still don't hit all the kids that need a camp in New York. Most states, if they had a camp, just have one. We have one in Alaska, down in Florida, Texas, Massachusetts. There are some wonderful, dedicated camp directors who are running these camps year in and year out.
WADE WINGLER:  Somebody in our listener audience – and we have listeners all over the world – if there is someone in the US and they're in having a local opportunities like this, what they just go to the website?  What would their next step be?
LAUREN LIEBERMAN:  On our website, CampAbilities.org, we have a link called other camps. There is a list of the other camps. Under that list it will tell you the name of the camp, where it is, when it is, and the contact information. If you live in Nebraska, you'll see the Camp Abilities is run by Crystal Platt through boys town. You can go to Omaha and get to go to Camp Abilities Nebraska. Iowa is at the Iowa braille school. We have camps throughout the US, but not nearly enough camps to serve all the kids that we have throughout the US, let alone throughout the world, that have visual impairments. What I see is kids sitting on the sidelines and people thinking they can't participate, people thinking they are not able because they don't know how to teach them, they don't know the simple modifications to make sure kids with visual impairments can do everything their peers do.
WADE WINGLER:  We are getting close on time for the interview, but before we do, tell me a story about somebody whose life has been touched by Camp Abilities.
WADE WINGLER:  I had a wonderful athlete who was a camper. When she was in middle school, she was teased insistently, just ridiculed and beaten down. It was a really rough time in her life. At camp, she met other kids like her and was able to say, "I'm having a very difficult time. I'm really sad. I hate my school. My teachers are mean. The kids are mean to me." they actually labeled her as a behavior problem because she would act out because people just teased her so much because she was visually impaired. She realized that there is another place you go to school which is a school for the blind. She went to that school for the blind and excelled. She was on the goal ball team car the wrestling team, the track team. She's loved sports and kept coming back to Camp Abilities. A few years ago, she became a counselor and specialist. This coming fall she's going to college at the college at Brockport. She's going to major in adapted physical education and is going to be on our college goal ball team.
WADE WINGLER:  Wow.
LAUREN LIEBERMAN:  You take someone who is literally at the end of the rope in middle school and watch them grow into a totally confident young women, athletic, and now they're ready to go to college and major in something that's going to help other kids who are struggling with their identity and struggling to fit in. I find that story to depict so many of the other kids in our program and other programs.
Another camper, also middle school when we got to her, was an amazing swimmer. Her name was Martha Reuther. She was on her high school swim team and was doing a great job, but when we looked at the times for her level of visual impairment against other kids her age and her level of visual impairment, she would've come in in the world. We told her parents about the Paralympics, about Paralympic swimming in the United States Association for blind athletes. What happened was she started competing in the juniors swim championships and started winning and winning and traveling and being asked to go to more events. This past September, she competed in the Paralympics in Rio and came in eighth in the world. She just competed in Germany and came in second. It shows you. Martha Reuther started at Camp Abilities and now is a Paralympic summer. She didn't even know what the Paralympics was when she was at camp. We have really opened up kids eyes. We push them to reach their potential, we teach them how to advocate, and we really help them be a bigger part of the world.
The other thing that makes me happy:  the world see them and see the potential of people with visual impairments as opposed to the limitations.
WADE WINGLER:  It's a remarkable program for remarkable athletes. You are doing some remarkable stuff. Before we finish up, tell us the website one more time so people can reach out to you.
LAUREN LIEBERMAN: Sure. It's www.CampAbilities.org. You click on that and can watch some of our videos. The HBO special is on there. There is a documentary about all the camps all over the world. Then you can also donate money if you would like to do that, which we would really appreciate.
WADE WINGLER:  Doctor Lauren Lieberman is the director of Camp Abilities and also professor of adapted physical education at the college at Brockport. Thank you so much for being on our show today.
LAUREN LIEBERMAN:  Thank you so much for having me. I really appreciate it.
WADE WINGLER:  Do you have a question about assistive technology? Do you have a suggestion for someone we should interview on Assistive Technology Update? Call our listener line at 317-721-7124, shoot us a note on Twitter @INDATAProject, or check us out on Facebook. Looking for a transcript or show notes from today's show? Head on over to www.EasterSealstech.com. Assistive Technology Update is a proud member of the Accessibility Channel. Find more shows like this plus much more over at AccessibilityChannel.com. That was your Assistance Technology Update. I'm Wade Wingler with the INDATA Project at Easter Seals Crossroads in Indiana.
***Transcript provided by TJ Cortopassi.  For requests and inquiries, contact tjcortopassi@gmail.com***