Podcast: Play in new window | Download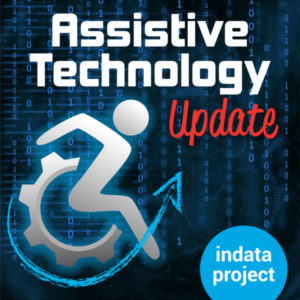 Your weekly dose of information that keeps you up to date on the latest developments in the field of technology designed to assist people with disabilities and special needs.
Show notes: Accessibility at the Smithsonian with Beth Ziebarth Director of The Smithsonian Institution's Accessibility Program | Access@si.edu
AAPD Paul G. Hearne Leadership Awards – AAPD http://bit.ly/2xd13m8
PEAT Talks: How and Why to Make VPATs a Priority http://bit.ly/2g4AQ5b
App: Magnus Cards | www.BridgingApps.org
——————————
If you have an AT question, leave us a voice mail at: 317-721-7124 or email tech@eastersealscrossroads.org
Check out our web site: https://www.eastersealstech.com
Follow us on Twitter: @INDATAproject
Like us on Facebook: www.Facebook.com/INDATA
——-transcript follows ——
BETH ZIEBARTH:  Hi, this is Beth Ziebarth, and I'm the director of the Smithsonian Institution accessibility program, and this is your Assistive Technology Update.
WADE WINGLER:  Hi, this is Wade Wingler with the INDATA Project at Easter Seals crossroads in Indiana with your Assistive Technology Update, a weekly dose of information that keeps you up-to-date on the latest developments in the field of technology designed to assist people with disabilities and special needs.
Welcome to episode number 326 of assistive technology update. It's scheduled to be released on August 25, 2017.
Guys, I am super stoked about my interview today. I got to meet Beth Ziebarth who is the director of accessibility for the Smithsonian. We spent a lot of time talking about her, her job, and what Smithsonian is doing at all of their locations to increase accessibility for people with disabilities.

Also we have a segment about a PEAT Talk on VPATs. I'll wait till the segment comes by to talk about all of those acronyms. We also have an app called Magnus Cards, which is brought to us by the folks at BridgingApps. We hope you'll check out our website at www.eastersealstech.com, sent us in a note on Twitter at INDATA Project, or call our listener line at 317-721-7124.
The AAPD is going to award the Paul G Hearn Legacy of Leadership award. Two individuals will win this award for their work increasing the political and economical power of people with disabilities. Nominations are due October 2 by 5 PM and I will pop a link to the nomination form in the show notes. Nominate somebody who's doing a good job!
Do you know what a VPAT is, a Voluntary Product Accessibility Template?  The folks at PEAT, the Partnership on Employment and Accessible Technology, are going to have a webinar on Thursday, September 21, at 2 o'clock in the afternoon Eastern time. They are going to have speakers Ted Keys and Jay Nincheck who are going to talk about these volunteer product accessibility templates. It will be a webinar where they discuss the business significance of VPATs. If you're not familiar with VPATs, it's a way for a company to stay here is our product and a template we completed that addresses all of the different accessibility aspects of that product. It's a great way for somebody to look at a product they are interested in using with assistive technology or they are interested in knowing about the accessibility of the product card to get a quick rundown of what the accessibility features are for those products. If you've ever worked with chemicals, you know they have those data sheets that go with chemicals. I think of VPATs as something similar but in terms of accessibility for other kinds of products. I'm going to pop a link in the show notes over to this free webinar. It will be September 21 at 2 o'clock in the afternoon. I would encourage you to learn all about Voluntary Product Accessibility Templates.
Each week, one of our partners tells us what's happening in the ever-changing world of apps cost so here's an app worth mentioning. Weber this is Amy Barry with BridgingApps and this is an app worth mentioning.
This week I'm sharing an app called Magnus Cards. Performing daily tasks and activities independently and successfully is a therapeutic goal for many children and adults with cognitive special needs. An app called Magnus Cards is an incredible free resource that supports users with cognitive challenges so they can accomplish many types of activities by combining the task analysis system and principles of positive reinforcement with visual and auditory cues.
Because this task analysis system utilizes touch-based mobile device technology, it's very accessible and engaging, easy to individualize, repeatable, and completely portable. Each activity on Magnus Cards is referred to as a deck with its sequence of steps called cards. Every step or card in an activity has a photograph, simple written instructions, and a text-to-speech option. Many premade decks are already available to the Magnus Cards app community and include a wide range of activities include self-care, social situations, and many more life skills.
Specific examples of some available decks include how to brush teeth, make a bed, ask for directions, and be safe in the sun. Users are awarded points when they use their decks throughout the day, creating a positive reinforcement system for accomplishing a task or following a routine. There is also a workshop area that allows for the user to make customized decks using their own pictures and instructions. This workshop feature is a very powerful feature for making personalized decks that exactly meet the needs of the user. Individual skill levels and needs of a user can be perfectly met by using recognizable and meaningful pictures from their own home or community with very specific written instructions. These personalized decks can be published to the community card library or they can remain private to the individual user. This feature is excellent for supporting a reciprocal connection with teachers and parents to students or clients and their parents, caregivers, and home environment.
BridgingApps sees great value in using the Magnus Cards app in many scenarios and learning environments. Therapists can customize memorable and easy to customize home exercises and instructions. Parents and caregivers can set up engaging steps for any self-care task or life skill activity. Teachers can highlight any part of their learning plans or curriculum to make engaging and replicable instructions with excellent visual and verbal cues.
Magnus Cards is available for free at the iTunes and Google play store and is compatible with both iOS and android devices. For more information on this app and others like it, visit BridgingApps.org.
WADE WINGLER:  So I was riding on a merry-go-round – I don't ever start shows like that. Not long ago I was at the Children's Museum in Indianapolis, Indiana, riding on the merry-go-round with somebody who you guys are going to get to meet today. Beth Ziebarth is the director of the Smithsonian Institution accessibility program and happens to be a wheelchair user. That's relevant because our merry-go-round here at the children's Museum Indianapolis has some pretty cool accessibility built into it. As I was writing the merry-go-round with Beth, I thought she would be a great person to have on the show to talk about what the Smithsonian, a very esteemed organization, does when it comes to accessibility. Plus, she is a hoot. She's really fun to be around so I know we're going to enjoy the talk today.
First of all, thank you and welcome to our show.
BETH ZIEBARTH:  Thank you so much. I'm delighted to be here.
WADE WINGLER:  You and I got the chance to hang out not too long ago. I think we are going to get the chance to do that again sometime later this year and I hope we can circle back with our colleagues at the children's Museum and talk about this project in more detail once it has moved down the road. You and I were there to talk with them about accessibility stuff. That's your job, right?
BETH ZIEBARTH:  Yes it is. I work with accessibility at the Smithsonian. I've been here for 29 years this month.
WADE WINGLER:  Wow.
BETH ZIEBARTH:  I started as a volunteer and was hired after one month to work in the lectures and seminars program. I then worked as a social science analyst for seven years doing visitor research in the institutional studies office. During that time I developed a baseline survey and training materials, accessibility of Smithsonian exhibitions, programs and publications with the founding director of the accessibility program. When a position became available, I moved into the accessibility program. I've been here for 20 something years.
WADE WINGLER:  I want to dive deeper into that. You don't just show up as a volunteer at the Smithsonian working on accessibility without some previous interest or experience in that, right?
BETH ZIEBARTH:  It was interesting because when I started as a volunteer, doing administered of work, my background was marketing. I had been working for a small not-for-profit, so small that the paychecks bounced. It wasn't all that great to stay there.
WADE WINGLER:  You were a volunteer there too.
BETH ZIEBARTH:  Exactly. My sister was working at the Smithsonian and that's how I got my entrée into the volunteer position. It was through the combination of working in the institutional studies office and my disability that I ended up working on this baseline survey. That's how I got my start in Museum accessibility.
WADE WINGLER:  That's cool. I love the Smithsonian and have been to many of the locations. I get to go to DC occasionally. That's what I do when I'm there, and I'm not in a conference room or a meeting. It's a great place. Obviously if our listeners haven't been to a Smithsonian, you want to put that on your bucket list because there is tons of great stuff. When I'm there, I see signs of accessibility. It's something I keep an eye out in the work we do. Tell me about what your job is like now, what is a typical day, and what are some of the goals and roles you have.
BETH ZIEBARTH:  I work with the Smithsonian's 19 museums, the National Zoo, our offices and nine research centers on accessibility for visitors primarily. We have a different office that works on staff accessibility and accommodations. That's the office of equal employment and minority affairs. We have some overlap with his possibilities copper primarily my office focuses on visitors. We believe that every visitor to the Smithsonian should have effortless access to our programs, collections, and facilities. Everyone should be able to have a meaningful experience.
The kinds of things we do to make that happen is advise on and implement policies, practices, and procedures related to access for people with disabilities. I review facility and exhibition designs. We conduct outreach to the disability community and other cultural arts communities. We provide staff education on disability topics. And we work with Smithsonian museums and offices to provide direct visitor services including sign language interpretation, Realtime captioning, and alternate formats of publications. The part I particularly love is the programs that we do. These are pan-institutional programs, so we work with the different museums and their staff to carry these out.
One of them is access to opportunities which is a paid internship program for young adults with disabilities. This is aimed at college students. We have Morning at the Museum which is a program that came about because we had more and more families calling the museums asking about how to best to visit with their child on the autism spectrum. We decided to look at how other museums were addressing this issue and then formed an advisory committee and decided that what we would do is pre-visit, pre-public our opening times. One hour before the museums open, we have our program. We do previsit materials that are available online. For the program itself can we do a variety of activities. We have a break space so there is a quiet space for kids go.
Over time, we decided it wasn't just kids who were on the autism spectrum that would benefit from this. It's kids with any type of brain-based disability that can benefit from this program. It's grown and grown. It's a wonderful feeling to have the families come and enjoy the museums. Our whole purpose is to get them familiar with the museums and see how they can help strategies to visit that make them lifetime museum visitors.
WADE WINGLER:  I have a million questions, but one that pops up in the competition is obviously you spent a lot of time proactively thinking about accessibility upfront. It sounds like you also spent a good amount of your time gathering families and guest input in sort of a reactive model as well. Is that true or am I off on that?
BETH ZIEBARTH:  You are very right. I think we need to listen to the disability community and what they want, need, desire. That should modify our actions, what we need to do to create accessibility within the museums.
Two of the things we do – and I know this is something you are very familiar with – we have a project search at the Smithsonian. I think we are the first Museum complex to do a project search. It makes sense. We have 6,500 employees and 6,000 volunteers. It's a big institution, plenty of opportunity to bring in project search young people to do 10-month internship program where they rotate through three different internships and develop employment skills. Hopefully at the end of it, they are ready to go out and get a job. We are starting our fifth year this year.
The other program we are just starting is called See Me at the Smithsonian. It's a Museum program for adults with dementia and their care partners.
WADE WINGLER:  That's fascinating. For people in the audience who aren't familiar, we here at Easter Seals Crossroads in Indianapolis also do a project search. We focus on hospital settings and working with young people who want to work in the area. It's exciting that you are doing the same work in the children's Museum and I think that makes sense to do in other places as well.
You mentioned the founder of the accessibility program copper tell me about the need for that. Why did it start?  How did it start?  Tell me about the genesis of the program.
BETH ZIEBARTH:  The Smithsonian has been working on accessibility for visitors since the 1970s when an employee who is blind worked at the Air and Space Museum and develop braille guides for the museum. Then there was the office of elementary and secondary education where Jan Giusti, the founding director, was working as an employee. In 1989, an audit of accessibility led to the recommendation that we create an office that would be part of central administration that would address visitor accessibility. Jan was the founding director of the program.
WADE WINGLER:  You mentioned some of the programs, project search, See Me at the Smithsonian. Are there other big projects you are working on at this time or are those the big ones?
BETH ZIEBARTH:  See Me at the Smithsonian is taking up a lot of time now because it's a new program. We have to do the staff training, form the advisory community, and we are working on the marketing for our first program which will start at the National Portrait Gallery in October. After the Portrait Gallery does their initial pilot program for six sessions, then we will move on to the Freer and Sackler Galleries which will have just reopened after some renovation work. From there we will continue across the Smithsonian. The American Indian Museum, the American History Museum are all in line for introducing this program for adults with dementia.
As I mentioned, it's our fifth year of Project Search Smithsonian. Our new class of interns are starting in another week. It's interesting with Project Search, you have your ups and downs with staffing and finding internship sites. It's so gratifying to be able to give young adults with a variety of brain-based disabilities or just disabilities the opportunity to do internships and develop their job skills so they can get a job. We've had a pretty good success rate so we are proud of that.
We've also been working on developing guiding principles for accessibility for our museum and center directors and updating our resource documents. Those are the things that are currently on my plate.
WADE WINGLER:  It sounds like they are keeping you busy.
BETH ZIEBARTH:  Yes.
WADE WINGLER:  We talked about some of the galleries and museums specifically. You mentioned the zoo. Not everyone has been to the Smithsonian and realize it is not one place but a collection of places, largely in the DC area but also in other areas. I think there is one in New York. Talk to me about where you do your work. Is it only at the Smithsonian locations?  Where are they?  Obviously you and I met Indianapolis as you were doing some work here locally. Talk to me about where you do your work.
BETH ZIEBARTH:  You are right. We are primarily a Washington DC organization, but we do have facilities around the world. We had to museums in New York, the Cooper-Hewitt National Design Museum and a branch of the national Museum of the American Indian. We are going to do some additional training with their staff this fall. It's always a good opportunity to go to New York. This year I've done a lot of travel associated with grants that different organizations have and ask me to be an advisor. The San Diego Natural History Museum has a really great project related to having young adults and develop social stories for the museums that are part of the Balboa Park group. Then the Indianapolis Children's Museum where you and I met. Recently I was in Atlanta at the High Museum with my colleague Betty Siegel from the Kennedy Center. We spent two days working with their staff on accessibility in museums. They are a Smithsonian affiliate museum. Not only do we have the main Smithsonian 19 museums and research facilities, but we also have over 200 affiliated museums across the country and Puerto Rico. Lots of opportunities to talk about accessibility with museums.
WADE WINGLER:  That's great. If you are like me, when you get to go to other places and see how other folks are doing it, it's educational for everybody.
BETH ZIEBARTH:  Exactly.
WADE WINGLER:  We've clearly established the fact that you and I are new to this job, my 24 years and your 29 years. As you look back on your career regarding accessibility and the Smithsonian, what are one of your proudest accomplishments?
BETH ZIEBARTH:  I think in the last couple of years, a lot has happened that I am particularly proud of. There are highlights throughout my career, but there are two things that are happening now that I am very excited about.
One is that the Natural History Museum, we find they are going to have our accessible entrance on the mall side of the building. It has a set of monumental stairs, and we had multiple designs over the years to try and solve how we were going to make it accessible. We are finally about to start building an accessible sloped walkway, not a ramp because it's less than five percent in grade, but it is a sloped walkway into the museum. That will be wonderful.
The other one I am particularly proud of is we have a really great synergy going on right now where the museum directors have talked with the secretary, and they've said that they want to really establish accessibility as a priority and were asking for additional resources for my office and their efforts in providing accessibility. That's a great thing.
Along with the grassroots within the Smithsonian, the staff who have come forward and said we are really interested in accessibility and making this happen. A group of 60 people signed up to be part of the Smithsonian Accessibility Network. It grew out of a share fair. They have identified a number of things they would like to accomplish. The accommodation of the grassroots and the top down can really make some exciting things happen.
WADE WINGLER:  That's a great acknowledgment of the effort and priority the Smithsonian has placed on this work. Regulations. That's great.
BETH ZIEBARTH:  Thank you.
WADE WINGLER:  We are running close on time but I have a question I want to ask:  if you could wave your proverbial magic wand just once, and solve a still-significant accessibility problem that you see for museums or other public places, what would you wish when you wave that magic wand?
BETH ZIEBARTH:  I would really wish for consistent, meaningful access to content for all of visitors with disabilities. That's the biggest challenge for us, the program side, making it possible for everybody to access the content.
WADE WINGLER:  There is a lot of variability so I see that when I go as well. If people wanted to learn more about you, about what the Smithsonian is doing in terms of accessibility, is there a website or contact information you would like to share so they can reach out or learn more?
BETH ZIEBARTH:  Our website is under reconstruction so I'm not going to direct you to that. You can always contact us at our email which is access@si.edu. Our phone number is 202 633-2921.
WADE WINGLER:  Beth Ziebarth is the director of the Smithsonian Institution Accessibility Program, and I have to add a heck of a merry-go-round rider. It's been great to get to know you. Thanks much for being in our show today. He to thank you so much.
WADE WINGLER:  Do you have a question about assistive technology? Do you have a suggestion for someone we should interview on Assistive Technology Update? Call our listener line at 317-721-7124, shoot us a note on Twitter @INDATAProject, or check us out on Facebook. Looking for a transcript or show notes from today's show? Head on over to www.EasterSealstech.com. Assistive Technology Update is a proud member of the Accessibility Channel. Find more shows like this plus much more over at AccessibilityChannel.com. That was your Assistance Technology Update. I'm Wade Wingler with the INDATA Project at Easter Seals Crossroads in Indiana.
***Transcript provided by TJ Cortopassi.  For requests and inquiries, contact tjcortopassi@gmail.com***