Podcast: Play in new window | Download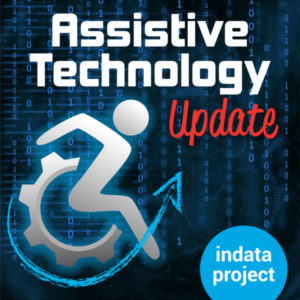 Your weekly dose of information that keeps you up to date on the latest developments in the field of technology designed to assist people with disabilities and special needs.
Show notes:
Talking Laundry Module – Sam & Jack DePlessis | www.firstbuild.com
Apple's Fall Event « The Tech Doctor Blog and Podcasthttp://bit.ly/2wrFT6O
Skype App | www.BridgingApps.org
——————————
If you have an AT question, leave us a voice mail at: 317-721-7124 or email tech@eastersealscrossroads.org
Check out our web site: http://www.eastersealstech.com
Follow us on Twitter: @INDATAproject
Like us on Facebook: www.Facebook.com/INDATA
——-transcript follows ——
SAM DePLESSI:  Hi, this is Sam DePlessi, and I'm the designer leader of First Build.
JACK DePLESSI:  Hi, this is Jack DePlessi, and I'm a freshman at Dupont Manual High School, and this is your Assistive Technology Update.
WADE WINGLER:  Hi, this is Wade Wingler with the INDATA Project at Easter Seals crossroads in Indiana with your Assistive Technology Update, a weekly dose of information that keeps you up-to-date on the latest developments in the field of technology designed to assist people with disabilities and special needs.
Welcome to episode number 330 of assistive technology update. It's scheduled to be released on September 22, 2017.
Today I spent some time talking with Sam DePlessi, who is a design leader at the group called First Build. He and his son Jack have worked on what we believe is the world's first talking laundry module to help people who are blind or visually impaired to know what the laundry device says.
We also have an app from BridgingApps. They talk to us about Skype. And then a little bit of information from our friends at the Tech Doctor podcast about what Apple is saying with their new technology they recently announced.
We hope you'll check out our website at www.eastersealstech.com, sent us a note on Twitter at INDATA Project, or call our listener line at 317-721-7124. Leave us a message, ask a question. We love to hear from our listeners. The number is 317-721-7124.

***
Like this show but have limited time?  Check out our other show, accessibility minute. Accessibilityminute.com, or wherever you get your podcast.
***
If you are excited about all the Apple announcements related to the iPhone 10 or iPhone X, or the iPhone 8?  You really want to think about it from the accessibility perspective. We are not taking into that this week. We covered that last time and want to spend most of our show today on our interview.
However, there is a great podcast called the Tech Doctor blog and podcast. It features Robert Carter and Allison Hartley as the tech doctors. This episode they have a special guest, David Woodbridge, who has also been on our show. They spent time talking about the ins and outs of what Apple announced in the fall of 2017 from the perspective of assistive technology. It's less than an hour of gray audio content over at doctor-carter.com. It's the September 13 episode of their podcast and is titled "Apple's Fall Event."
If you like this show got you would probably like that one too so I will pop a link in the show notes to the Tech Doctor and you can listen to their assistive technology perspective on Apple's fall event announcements.
***
Each week, one of our partners tells us what's happening in the ever-changing world of apps, so here's an app worth mentioning.
AMY BARRY:  This is Amy Barry with BridgingApps, and this is an app worth mentioning.
This week I am sharing a popular app called Skype. Communication with friends and families, whether they are in your backyard or miles away, it's easy using the Skype app for voice and video calls. Skype is a free download and is available on android and Apple devices. You can also Skype on your computer. Set up a free account, either through the app or on your computer, set up is super easy with just a login on your desktop or laptop computer. Download the Skype for PC or Mac and set up your WebCam and microphone. If you are on a smartphone or tablet, you don't have to worry about attaching a microphone or video camera. From your phone, you can sync your contacts within the Skype app, look for a friend using their Skype username, or even dial-in number on the keypad.
Skype is a wonderful app for people who want face-to-face communication but don't have iPhoto Apple products along them to use the FaceTime. Although Skype is known for its easy video calling, you can also message your friends using Skype for voice calls through VoIP and set up group video calls with up to 25 people. Skype even has a real-time translator built in, allowing you to hear real time spoken interpretations in nine languages including Arabic, Chinese, French, German, Italian, and Portuguese.
We trialed this app with veterans and seniors who are wanting to connect over a distance. We were able to have face-to-face calls with minimal technology issues, and we were even able to call using 4G data through a cell carrier, although calling over Wi-Fi was definitely better.
The Skype interface has high contrast settings that can benefit low vision users and users with little or no color perception, as it makes the text easier to read. There is a magnifying feature which is intended for low vision users as it enlarges the screen and makes text easier to read and images easier to see. You can also use was over, built in screen reader, or Windows narrator on a Windows-based computer to help with vision impairments.
Skype is available for free at the iTunes and Google play stores and is compatible with iOS and android devices as well as computers. For more information on this app and others like it, visit BridgingApps.org.
***
WADE WINGLER:  I'm constantly on the lookout for interesting concepts and constructs of technology for folks with disabilities. One of the ways I do that is I keep an eye on newsletters. Not long ago in the RESNA newsletter, the Rehab Engineering and Assistive Technology Society of America, I saw a story about a young man who was creating a device to make laundry technology talk to washers and dryers. I had to reach out to those folks and say it would you come on the show and talk to us a little bit.
Jack DePlessi and his father Sam are going to talk with us. His father Sam is with us today. We are going to learn about this story about talking laundry equipment.
I'm stumbling around here, but basically I want to say welcome to the show.
SAM DePLESSI:  Thanks for having me. I'm excited to be here.
WADE WINGLER:  We are excited to have you here as well. Maybe we will be able to get some sound from Jack on here as well before we go to publication. Would you start off by telling my audience a little bit about yourself and how you became interested in this topic?  And then tell us about Jack.
SAM DePLESSI:  I am the design leader at First Build we are a wholly-owned subsidiary of General Electric Appliances. We are an innovation studio to try to empower people to live the way they want to live. We take ideas and try to quickly turn them into something that people can use throughout their home. We are outside of the large appliances development area because we want to be fast and nimble and do things differently. We are an open creation space, we are literally open 9 AM to 9 PM for anybody to come in and use our tools and make stuff with us. We also have an online presence at FirstBuild.com. It lets people put in their ideas. It is very social. People read them and we get a lot of use and likes on an idea. We say, hey, there is an interest, maybe we should experiment on that and see if there is something that a customer needs.
In a nutshell, we are trying to socialize the ability and bring it down to the individual consumer of how to make their lives better.
WADE WINGLER:  That's fascinating because I didn't know that such a place existed. I can imagine that in your position you probably see a ton of great ideas at various states of development, right?
SAM DePLESSI:  We get thousands of ideas that have come into our website. We are working on stuff all the time. We try to pick things that are most interesting in terms of what our community has put in as well as things that we are individually passionate about. We are a small place. There are just about 20 of us. That's a complete facility for designing, building, and selling product. We can make one of anything and maybe up to 100 of anything. We can go to various scales. We are to do things fast and experiment fast. If it is great, we will move it out and hopefully transfer it to appliance Park where they can do it in high volume through GE appliances.
If it is not great, we want to fail fast and move on to something else. The one that benefit of rapid prototyping, right?
SAM DePLESSI:  Right. Another thing we do that is getting ready to come up September 9 and 10th, we call it a hack-a-thon, actually we call it a mega hack-a-thon. Last fall we did it and we were focused on how to solve cooking problems, really just to focus hack-a-thon. If you have heard of hackers, you may think of coders, people who go in and hack into mainframes. That's where the word came from. In a first build terminology, a hack-a-thon anything that we mechanical or electronic or software engineers can quickly put together to demonstrate some new feature or product that nobody has put together before. We do that in a full weekend, 36 hours of rapidfire making. That's what is the genesis of the product we are going to talk about today.
WADE WINGLER:  I'm fascinated and I wish I was going to be in town. I'm not too far from you. I would love to watch that sometime. Your son Jack is the person who came up with the technology we are talking about today. Is that right?
SAM DePLESSI:  That's right. I really wish he could be here. He did this in the eighth grade and now he is a freshman in high school, turning 14. He is an avid coder.
One of the things that came out of our hack-a-thon was a cooktop for the visually impaired. One thing we do is try to reach out to people to gain ideas. People who created this weren't a visually impaired, so we reached out to the American printing house for the blind and try to build some advocacy and community around are we hitting the right things are doing what is needed. The head of American printing house for the blind, Larry Sketch in the cost that it is great, but have you noticed it is cap touch, which is very hard to use from a control perspective for this cooktop. A knob would be better. He went on into laundry on how technology has improved or bypassed and gone away from accessibility. The laundry has become electronic and the control knob may spend 360 degrees with multiple settings. But no home position. He said, could you give me a home beep or Aero or something?
WADE WINGLER:  Some point of reference.
SAM DePLESSI:  Yeah. I took that as at first build, we could do something fast. We could reprogram our washers and send it out with a home beep. That's where I left the conversation. My son is interested in various types of programming. I mentioned to Jack about this issue. I said, would you like to help do this thing so we could create a home beep. He said sure. He looked at it, not so much as what the problem he was trying to solve. I don't think he understood it yet. He saw an opportunity to use a new language and interface and teach himself something he hadn't done before. He is a very curious child.
There are some tools at GE appliance that allows you to send and receive text signals from our appliances. It's in the back of almost every appliance we make. The service technicians use it to diagnose if there is a problem or help them speed up the repair process on a service call. Using this technology, Jack learned JavaScript and was able to query the status of the washing machine. He said, I can read each button. I don't have to make it beep. I make it talk. In a weekend, he took each control setting from the knob and downloaded an open source speech synthesizer and got it talking. This was last November. Over a week and he had this thing working. Everybody that saw it was blown away.
WADE WINGLER:  I'm the kind of person who believes that things happen for a reason. First of all, I have spent a lot of time in Louisville. You are pretty close to American printing house from your office, right?  You are not but a few miles away?
SAM DePLESSI:  That's right.
WADE WINGLER:  Jack had this idea, and you happen to do what you do for a reason. It's pretty serendipitous. I think there is a whole lot going on. That's pretty cool.
SAM DePLESSI:  I tend to believe that as well. It's funny how things work out.
WADE WINGLER:  Absolutely. Talk to me a little bit. I want to back up about why this technology is important. I think a lot of people in my audience understand, but we might have some folks in our audience who might not even think about the need for a talking laundry module. Why do we care about such a thing?
SAM DePLESSI:  I alluded to it, the fact that laundry is going electronic. In the days of old, you had a knob with a timer in it. You would physically go through a few settings. There weren't that many selections. You may have whites and heavy duty and if you settings. It very clearly had a point or Aero so you knew what you were pointing at. As you go to electronic, it opens up a whole new world of a manufacturer. Now they've got this ability to add features without adding a lot of complexity to their product. They can add a variation to a cotton setting or white and add active aware and delicates. Before you know it, you have 30 selections around a knob and have run out of space. Each model gets more features, more cycles. They have the ability to give the customer great control of this machine. The machines in many ways are getting better, yet if you are not cited or have any issues with reading the text, it becomes less usable.
WADE WINGLER:  Yeah.
SAM DePLESSI:  Many people who are aging in place, as we demo this product, they say, guess what, I have so many cycles on my washer I can't read anymore. The text has gotten so small.
It just made us aware of. As we reach out, the first piece in week contacted was American printing house for the blind. They came in and we let them sample the washers and dryers as is. They gave us great feedback on what was actually fairly good in accessibility that was programmed into it. Like a high and tone for a specific feature that was a button that was easy to understand, and things that weren't easy at all like the knob and funds that had six cycles with same tone through each water level, six different water levels but the same tone for each. It was not the universal for accessibility.
WADE WINGLER:  Let's talk about the module itself. Give me some idea of what the user experience is like, and I'll also ask you about the installation of the device.
SAM DePLESSI:  It's designed to be easily installed so that once it is in place, it's sitting there listening to any interaction with the machine. When I say listening, it has a cable tied to each washer and dryer. As you turn the knob, which would set the cycle, the washer at that point recognizes it as being interfaced and wakes up. The settings on the knob, cotton, white, activewear, each time you rotate to a new position, it will speak that setting to you.
Whether it is the washer or dryer, the same device will communicate with them as a pair and will be able to tell you which control setting you are working with.
WADE WINGLER:  Is the speech output adjustable in any way?  Can you make it louder or softer or faster or slower?
SAM DePLESSI:  He has downloaded e-speak, which is open source. There is a volume control on the unit so you can adjust the volume. Some of the feedback we got is that you want to know your settings and how much time is left. There is a button on the device on the washer and a separate button for the dryer that does several functions related to the status of the machine. If you walk up to it and press the button, it'll tell you the machine is off if it has not started. If you turn into a cycle such as cotton this and press the button, it'll tell you the selection is cotton. It'll tell you the soil level, the water temperature level, and the spin speed level and how much time is set for that cycle to complete. Then if you hit start on the cycle, it'll repeat the cycle. Just know you are starting cottons and that it has 57 minutes until the cycle is complete. The final thing it does is if you hit the washer button and walked up to it while running – we had feedback, we put a test set in the dorms for the Kentucky school for the blind. The students came in and said I would like to know how much time is left. People had started it. If it is running and you press the button, it'll tell you how much time is remaining in the cycle so you know when to come back.
WADE WINGLER:  That's what I always want to know. How much more TV can I watch before I have to switch it out?  What devices does it work on it?  We talked a little bit about washers and dryers. Is it a particular brand, a particular line?  What devices?
SAM DePLESSI:  Right now the product we had developed works with the GE laundry products. We have one model washer and two matching dryers, one gas and one electric, that are specifically listed with the model number on our products page at FirstBuild.com. We are adding new models to that that are going to be launched this year. Expect more models to come soon. Right now, we are available for one washer in a matching dryer.
WADE WINGLER:  Talk to me about the availability. Is it available now?  How much does it cost?  Where would somebody get it?  Those kinds of things.
SAM DePLESSI:  It is available in limited supply. We are building them to order. If you go to FirstBuild.com and place an order, they are $99. We have a delivery time of about 4 to 6 weeks in terms of the rate they are coming in and our ability to fulfill them. We are not at high volume yet. We are definitely starting this out slowly. As volume picks up, we will figure out what the next steps are. We would obviously love to get this in as many hands as possible. Our website will tell you the approximate delivery time.
WADE WINGLER:  We worked on solving one problem related to laundry. Are there other similar need to have in mind or are working on or that your son is going to take another weekend to solve?
SAM DePLESSI:  He is working on a science fair project. What he wanted to work on, there are a lot of products that have knobs that don't have this general electric appliance service interface. How do you make those appliances more accessible. He is working on a knob that would go over an existing knob that would enable that knob to speak to you. That is his science fair project for this year.
WADE WINGLER:  That is a pretty impressive science fair project.
SAM DePLESSI:  He is really excited about it. He now fully appreciates. He's been to Kentucky school for the blind and has interacted with the children with direct one-on-one feedback from people who have used the device. He gets the difference that this can make. I think it has been impressed upon him and me, something I never thought about it, if you go out and buy an appliance. Say yours is broken, see don't have a washer right now. You need to go buy one. You are making a very expensive decision. If you don't do it right, you can inhibit your freedom and ability to be independent if you are visually impaired. He is excited to help.
Cooking is an opportunity that we can help in. I think the number one thing that comes up is the buns on a microwave. We've talked about that. I don't know if he was ready to tackle that one or not. Maybe that's a science project in a year from now.
WADE WINGLER:  That might be a whole summer. I am sure you are quite the proud papa. I would be too. Tell us one more time the website where people can purchase one of these items.
WADE WINGLER:  If you go to FirstBuild.com, it's on a products tab, and it's called the talking laundry module. From there you can order it direct for $99. We will get it out to you right away. It will have links on the specific washer and dryer it works with so you can click those links as well. It will pull up a GE products page which will give you areas where you can buy the product. Typically it will refer you to a Home Depot or Best Buy or Lowe's or maybe some local appliance distributor. You put in your ZIP Code.
WADE WINGLER:  Sam DePlessi is a design leader at first build and is the proud father of Jack who has developed what they are calling now the talking laundry module. Thanks so much for being on the show.
SAM DePLESSI:  It's been my honor.
WADE WINGLER:  Do you have a question about assistive technology? Do you have a suggestion for someone we should interview on Assistive Technology Update? Call our listener line at 317-721-7124, shoot us a note on Twitter @INDATAProject, or check us out on Facebook. Looking for a transcript or show notes from today's show? Head on over to www.EasterSealstech.com. Assistive Technology Update is a proud member of the Accessibility Channel. Find more shows like this plus much more over at AccessibilityChannel.com. That was your Assistance Technology Update. I'm Wade Wingler with the INDATA Project at Easter Seals Crossroads in Indiana.
***Transcript provided by TJ Cortopassi.  For requests and inquiries, contact tjcortopassi@gmail.com***