Podcast: Play in new window | Download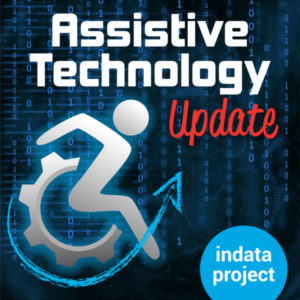 Show notes:
WADA Live Radio – Barry Whaley, Project Director, Southeast ADA Center | www.blogtalkradio.com/wada-se | 800-949-4232
app: Gas Buddy www.BridgingApps.org
WADA-ADA Live!
http://www.blogtalkradio.com/wada-se
Southeast ADA Center
Burton Blatt Institute at Syracuse University
——-transcript follows ——
BARRY WHALEY:  Hi, this is Barry Whaley, project director of the Southeast ADA Center, and this is your Assistive Technology Update.
WADE WINGLER:  Hi, this is Wade Wingler with the INDATA Project at Easter Seals crossroads in Indiana with your Assistive Technology Update, a weekly dose of information that keeps you up-to-date on the latest developments in the field of technology designed to assist people with disabilities and special needs.
Welcome to episode number 331 of Assistive Technology Update, scheduled to be released on September 29, 2017.
Today my guest is Barry Whaley who is with the Southeast ADA Center, and we are going to spend some time talking about another podcast I like called WADA Live, which is a show talking just about the Americans with disabilities act.

Visit our website at www.eastersealstech.com, call our listener line at 317-721-7124, or send us a note on Twitter at INDATA Project.
Each week one of our partners tells us what's happening in the ever-changing world of apps cost so here's an app worth mentioning.
AMY BARRY:  This is Amy Barry with BridgingApps, and this is an app worth mentioning.
This week I am sharing an app called GasBuddy. The GasBuddy app is a crowdsourcing tool that helps you save money and time. Using the app, you will never pay full price for fuel again. Simple and easy to use, the app helps you locate gas stations near you or in a distant location. You can filter the search results by price, location, brand, and even amenities like carwashes, restaurants, and restrooms. App users review the gas stations and report gas prices in real time to help others.
BridgingApps reviewers have found the GasBuddy app to be very handy for daily use and also for long-distance travel. Prior to or during travel, you can put in a location to find gas stations and find the one with the lowest gas price, cleanest restroom, or whatever option it is you are seeking.
The GasBuddy has been an invaluable resource in emergency situations. During hurricanes Harvey and Irma, BridgingApps users reported using the app to locate gas stations that have not run out of fuel.
To use the app, simply download the app, and upon opening it tap yes to turn on location services, then tap find gas station knew you. At the top of the screen you can choose to show the gas stations available on a list or map. At the top of the screen, there are also filter options for smart sort, fuel type, and amenities. Tap gas stations on the list or map to find more details like ratings, prices, amenities, and even reviews by other users. At the bottom of the screen is a green button with directions. Tap that and you will be redirected to a map with directions to the gas station. BridgingApps highly recommends the GasBuddy app as a resource for all drivers.
GasBuddy is available for free at the iTunes Store and Google play store and is compatible with both iOS and android devices. For more information on this app and others like it, visit BridgingApps.org.
WADE WINGLER:  Not long ago, I heard a podcast. The particular episode was about food allergies and the Americans with disabilities act. That is a question I wondered about for a wild and I was fascinated to hear the episode. That podcast was called ADA live, and we are so happy today that Barry Whaley who is the project director of the Southeast ADA Center and also the host of this show agreed to come on our podcast today and tell us more about what they are doing.
First and foremost, welcome.
BARRY WHALEY:  Thanks for having me. I appreciate it.
WADE WINGLER:  We are so excited to have you on the show today. I've listened to your show and I like it. I think it's great. Before we talk about your show, let's talk about you. Tell our audience a little bit about you in your day job and background and how you ended up as a project director at the Southeast ADA center. Then we will talk about the podcast.
BARRY WHALEY:  I would be happy. I'm newly appointed as the director of the Southeast ADA center. I began as director in February of this year. Previously I had about 10 years of experience in one capacity or another with Southeast ADA center. I began as one of their state affiliates for the state of Kentucky. As far as my background can have about 38 years of experience now, mostly around helping people with disabilities find meaningful work. I worked in the field of supportive employment services. I worked with the homeless veterans supported employment project for a while. That's been my focus of interest.
Before I went to work at Southeast ADA, I found another passion which was inclusive higher education. I was the director of the Supported Higher Education project at the University of Kentucky.
WADE WINGLER:  That's fascinating stuff, and I'm sure that all lends itself to supporting what you're doing as the project director at the Southeast ADA center.
Tell us a little bit about what you do there in your role as project director.
BARRY WHALEY:  Let me tell you more about the Southeast ADA center and what our role is and how we fit in the national scheme.
The Southeast ADA center is one of 10 centers that are funded by NIDILRR, National Institute on Disability Independent Living and Rehabilitation Research. That's part of the Health and Human Services, the administration for community living. That's where we get our funding. We are one of 10 centers. You had mentioned that you live in Indiana. Indiana is served by the Great Lakes ADA center at the University of Illinois, Chicago. As I said that we are one of 10 centers.
We have four key functions. Most importantly, what we do is we provide technical assistance and guidance on all areas of the Americans with Disabilities Act. Employers, people with disabilities, their families, architects, anyone who would have a question about their rights and responsibilities in regard to the Americans with disabilities act can call our 800 number. That's 1-800-949-4232. That's our toll-free number for the entire national network, but if you are in the Southeast region that will come to our technical consulting staff.
What we do is provide impartial and formal guidance on ADA. We are not providing you with a legal opinion a couple we are providing you with our best knowledge of the five titles of Americans with disabilities act. In addition to that, we provide training both in real-time as well as virtual. If you visit our website, we have a number of online training modules. Many of them are free because somewhere at a nominal cost. If you are someone who needs continuing education credits, you can access those modules. And number of entities, state governments as well as local governments, rely on our training modules for information on ADA. We also provide information dissemination. That's both online as well as hardcopy of anything that would have to deal with accessibility with reasonable accommodation with any aspect of the ADA. Finally the fourth thing we do is research.
The Southeast ADA center is actually a project of Syracuse University. I work for a place called the Burton Blatt Institute, part of the law school at Syracuse. Obviously we are a large private research university. We are developing a research project over the next five years on financial accessibility of banking institutions for people with disabilities and Southeast, how they bank, where the bank, that sort of thing. We are pretty excited about that.
WADE WINGLER:  That's fascinating stuff. We are well served by the Great Lakes program and participate in their webinars and things like that. Your organization and centers in general have a great repetition for providing really helpful information. We appreciate that.
Let's talk a little bit about the podcast. Tell me about ADA live and where the idea came from.
BARRY WHALEY: WADA Live is an arm or extension of the Southeast ADA center. He wanted to provide information to our constituents, to people who call us for technical advice. We said was the best way to reach people. As you know since you had expressed your interest in podcasts, we thought it would be good to put together a podcast and share information on the ADA, especially areas of the ADA that often aren't covered. You had mentioned that you had listened to an episode on food allergies. Often times people who have food allergies or people who may work in an environment with someone who has a food allergy may not realize that someone with a food allergy could get protection under the Americans with disabilities act because it is a disability that affects a major life area. I also have firsthand knowledge – since we are talking about food allergies. I have a brother-in-law who has severe not allergies and has almost died on a couple of occasions by exposure. It's something that's close to me personally as well as in my professional work with ADA.
Those of the episodes, things you don't often think about. We started this podcast in 2013. I have been both a guest of the podcast as well as the moderator. You mentioned I was the moderator for that one episode. I'm not always the moderator. It depends on the topic and who has that particular expertise. Looking back at some of the episodes, we've done episodes on universal design. What I mean by universal design is something that can be used by all people that allows for equal access to all people. We've done something on universal design. We've had the top five ADA topics from an ADA specialist, which was always a really popular one. We did two episodes on that. We done a couple on allergy related disabilities. Of course I twitch my background is in employment services. Episode 43 that we did five months ago, I was the guest. I was talking about the rights and responsibilities both employers and employees with disabilities have under ADA in regards to disclosure and reasonable accommodation.
Some of the other topics we had, Allison Weil who is a good friend and colleague of mine, she is the executive director of APSE. If you are unfamiliar with APSE, it is a national organization of employment specialists. It is the Association for People Supporting Employment first. Allison is a policy group. We had her on back in May talking about why your advocacy matters. Often times we think in terms of the "my voice isn't heard." She stressed why your voice matters and why grassroots efforts enact change.
I also mentioned that I work in inclusive higher education. We had Meg Griegle from University of Massachusetts Boston talking about inclusive higher education opportunities. Those are some of our recent episodes.
Probably one that if your listeners wanted to hear a fascinating episode, that's episode 46 which is the history of disability lessons from the past. This was probably the most compelling episode I've ever heard. Larry Logue, who is a senior fellow at Burton Blatt Institute, is also a history professor at Mississippi College. He drew the parallels looking back at the disability rights movement through history and how those watershed events shaped the modern disability movement as well as looking back to the Civil War and the prevalence of depression and other mental health issues that were experienced by Civil War veterans. It was a fascinating episode. I'm just not doing it justice. I do recommend you listen to that one.
WADE WINGLER:  That sounds fascinating. I'll have to go back and catch up on my playlists and pick up some of these episodes. You mentioned the allergy topic. That one did resonate with me because I also have a six-year-old boy who has a peanut allergy. That something that is always on top of mind. It was interesting, I was talking with a colleague about the interview we would do today and mention food allergies. They'd thought about it image in a situation where somebody's accommodation on the job was to use a service animal pure there was someone nearby who was allergic to service animals. Here is a request:  if you guys haven't covered the topic in a show, I would love to hear the conversation about when accommodations conflict with one another. In my 20+ years of doing this, I've run into that a couple of times and I know there are some ways to work around that. I think that would be a great show.
BARRY WHALEY:  I will tell you that's one of the top two or three issues that come up every month in our technical assistances, service animals and especially the differences between service animals and emotional support animals, what rights and under what law that the handler of a service animal have versus the rights of the handler of an emotional support animal. For the record, the ADA says that a service animal is a dog. Sometimes in rare occasions it can be a miniature pony. Only handlers of service animals have protections under the ADA, just in case that topic comes up. Emotional support animals don't under the ADA, but other laws — the Fair Housing Act, Air Carriers Accessibility Act — that's where you find reference to emotional support animals.
WADE WINGLER:  Excellent. That sounds like a topic we both need to address on our shows. A lot going on there.
How often does the podcast air?  Tell me about the technical aspects of it from the production side. Do you produce it?  Were you involved in the setting up of the feeds and technical side of it as well?
BARRY WHALEY:  Let's start with when we are on. We air live at 1 o'clock on the first Wednesday of every month. It's a half hour podcast. To let you know, our upcoming episode since I'm shamelessly plugging, October is disability employment awareness month. Intel version of that, we're going to be discussing the process of customized employment. What I mean by customized employment – as opposed to someone filling a pre-existing job condition or job description, in a customized relationship, you look at the conditions, preferences, unique skills and gifts that someone with a significant disability might have and then look for the needs of a business and try to match those skills, preferences, abilities with an unmet need that a business might have. That's the layman's definition of customized employment.
And celebration of national employment disability month, we're going to talk about that topic. Our guest is my wife, Katie Wolfe Whaley, who is the director of the supported employment training project at the University of Kentucky.
WADE WINGLER:  Excellent.
BARRY WHALEY:  She's pretty smart and you should listen.
WADE WINGLER:  That sounds a great topic.
BARRY WHALEY:  As far as the technical aspect, I have to tell you, I am one step away of being a Luddite. I checked my email and compose things. As far as the production of the show Kyle we are very blessed with a behind-the-scenes staff that manages the technical aspect of the show. Celestial Orzada is the main individual that does that. I wish she were on the show with us today because she could answer your tech questions far better than I could. Overall, it is a technological marvel and I am in awe of people like you that understand that stuff.
WADE WINGLER:  If her experience has been like mine, it's mostly getting it set up. Once it's set up, then the challenge is the content and getting that to happen.
Talk to me about that. How do you find guests and how do you keep the content coming?  If you are doing a monthly show, there is a sustained effort. How do you keep that going?
BARRY WHALEY:  We have a workgroup that is part of Southeast ADA Center. That workgroup is specific to WADA, looking at our content and where we are going, that sort of thing. Typically we meet every quarter and try to talk about what are the hot button topics right now.
We will go to our technical assistance staff and say, what are the hot topics?  What are people asking questions about?  We had mentioned service animals. That's always a big one. Actually, we will probably have an episode coming up on service animals. We've had to move some things around especially with hurricane in Florida. I'll address that. If I don't, remind me because I want to talk about that, what we done for that as well. Emergency preparedness, for instance, is always a hot topic.
As I mentioned, our financial inclusion research – along with that, able accounts are a hot topic right now, who can access them, how do you do that. Looking at a future episode in January or February, we're going to talk about able account. We sit down and take a look at these hot topics and then we use our personal networks, who we know, who is a thought leader in that particular topic, and seek them out.
The episode you may have heard on food allergies got was that with Dan Newman at Lesley University?
WADE WINGLER:  I believe so.
BARRY WHALEY:  Dan, not only a brilliant fellow by somebody who has worked with the Department of Justice on a settlement agreement for addressing food allergies in a university setting. Using our network, we found dead and could bring him in. At our process in finding guests. We are pretty successful. Through Burton Blatt Institute and Syracuse and our networks at Southeast ADA, we have a lot of folks we can bring in.
WADE WINGLER:  We only have a couple of minutes left in the show. Tell me about what your role was with her can situation and I'll come back to the question about how we can listen, because we want to do that.
BARRY WHALEY:  I wanted to bring this up because it was something we were very proud of. We had an episode in the can on disaster preparedness, before, during, and after. A topic we like to bring up every year around hurricane season. Obviously in the southeast, we experience a lot of hurricanes. Florida is one of our states, Mississippi, Alabama, all those areas along the Gulf Coast, and then up the Easter seacoast because we also serve the Carolinas. We wanted to serve something on emergency preparedness. Our staff also sit on emergency preparedness committee used in Florida and Georgia. Realizing that hurricane Irene was coming, realizing that it was making – at that time – a direct path toward Miami which is a very large Spanish-speaking population, what we decided to do was then take that episode of WADA Live that had to do with emergency preparedness and to do a Spanish version. We had the fastest turnaround that we possibly could. A hurricane was not going to wait for us. That was very well received and I was very proud of our staff for turning that around as quickly as they did.
WADE WINGLER:  That's excellent, timely, important, and very helpful information. I know people who are listening to this podcast will want to listen to your show as well. How do they do it?
BARRY WHALEY:  That's a good question. If you do a search of WADA Live, currently our platform is blog talk radio. The actual web address would be blogtalkradio.com/WADA-se. That will take you to all of our broadcasts, both the live feed as well as our archives. I mentioned before and I'm very sorry I forgot to finish my thought, we broadcast live the first Wednesday of every month copper then all of our broadcasts are archived so you can go back and listen at any time. Another feature is people have a lot of questions that are generated from each episode. You can leave a question, and either a guest or a member of our technical assistance staff can provide follow-up information and answer questions for you on that particular topic.
WADE WINGLER:  Barry Whaley is the project director of the Southeast ADA Center and has been talking with us today about WADA Live. Thank you so much for being with us today.
BARRY WHALEY:  Thanks for having me. It's been great.
WADE WINGLER:  Do you have a question about assistive technology? Do you have a suggestion for someone we should interview on Assistive Technology Update? Call our listener line at 317-721-7124, shoot us a note on Twitter @INDATAProject, or check us out on Facebook. Looking for a transcript or show notes from today's show? Head on over to www.EasterSealstech.com. Assistive Technology Update is a proud member of the Accessibility Channel. Find more shows like this plus much more over at AccessibilityChannel.com. That was your Assistance Technology Update. I'm Wade Wingler with the INDATA Project at Easter Seals Crossroads in Indiana.
***Transcript provided by TJ Cortopassi.  For requests and inquiries, contact tjcortopassi@gmail.com***