HumanWare is "the global leader in assistive technology for people who are blind or have low vision."  The company offers dozens of innovative products, one of them being the BrailleNote GPS.
The BrailleNote GPS provides location information and mapping tools to augment independent travel for individuals with visual impairments.  People can use the GPS to help guide and inform them about their surroundings.
With this device, you can:
Access more points of interest than other GPS products (e.g. restaurants, bus stops, custom locations, etc.)
Easily customize routes for walking or riding by choosing:

Shortest or fastest routes
Routes without roundabouts
Routes without interstates
And more

Choose a location almost anywhere in the world and virtually navigate as though you were there in person
Hear detailed information about speed, altitude, heading, road type, postal code, and so much more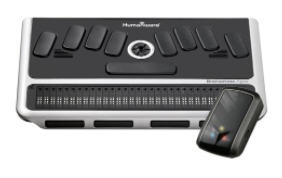 Features of BrailleNote GPS:
Runs on Multi-use devices which are often more likely to be used and available when you need them
Features over 15 million points of interest to increase navigation success and enhance decision making
Utilizes an external GPS to ensure the latest GPS technology for best positioning ability
Exclusive LookAround capabilities give users information about their surroundings including points of interest
Built-in speaker
Provides output in both Braille and Speech so users can digest data at their own pace, read information in noisy areas, and learn spellings of places of interest and streets
Comes with shoulder strap and carrying case for secure transportation
Choice between Braille or QWERTY keyboards
Built-in human sounding text-to-speech
And more
Click here to learn more about the BrailleNote GPS.