If you're looking for an app that helps children practice speech sounds, check out Boo Articulation Helper.  The app features a fun character named Boo who encourages repetition of individual speech sounds and simple syllables while enforcing helpful phonological awareness.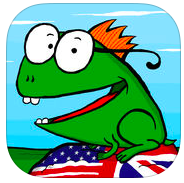 Examples of sounds children will practice with the app are P, B, T, D, K, G, S, Z, SH, CH, F, V, M, N, L, and W.  While using the app, you put one or two sound cards in corresponding fields, building a sound or a simple two-letter syllable.  "Then, Boo articulates the sound or syllable, clearly showing mouth and tongue movements during articulation.  This may be enticing for the child to imitate and recognize how the sound syllables are made by tongue and lips."
Features of Boo Articulation Helper:
Ideal for children ages 3 to 6 years:

With verbal dyspraxia or
With phonological impairment or
Who are currently learning English or
Whose caregivers think child should practice one or more speech sounds, or joining sounds into simple syllables

You can record and playback own sound production for comparison
You can also make Boo slow down, repeat himself, or articulate sound quietly
Parental lock allows you to disable or enable sounds as well as read instructions and tips from speech-language pathologists
NOTE: there is a free, LITE version with a few speech sounds and limited functionality so you can try before you buy
Check it out on iTunes to learn more!