Podcast: Play in new window | Download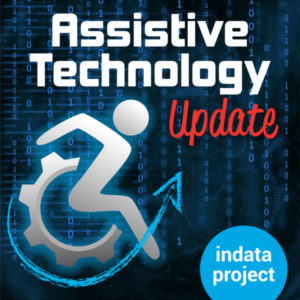 Your weekly dose of information that keeps you up to date on the latest developments in the field of technology designed to assist people with disabilities and special needs.
AMAC Accessibility Solutions and Research Center with Interim Director Carolyn Phillips | amacusg.org
A Bitcoin Whitepaper Braille Version has Finally Been Made Available | BTCMANAGERhttp://bit.ly/2CNT3Kd
Lyft announces a new partnership with Aira to make ridesharing easier for the visually impaired http://bit.ly/2oWpcNw
——————————
If you have an AT question, leave us a voice mail at: 317-721-7124 or email tech@eastersealscrossroads.org
Check out our web site: https://www.eastersealstech.com
Follow us on Twitter: @INDATAproject
Like us on Facebook: www.Facebook.com/INDATA
——-transcript follows ——
CAROLYN PHILLIPS:  Hey, this is Carolyn Phillips, and I'm the interim director of AMAC, Accessibility Solutions and Research Center, at Georgia Tech, and this is your Assistive Technology Update.
WADE WINGLER:  Hi, this is Wade Wingler with the INDATA Project at Easter Seals crossroads in Indiana with your Assistive Technology Update, a weekly dose of information that keeps you up-to-date on the latest developments in the field of technology designed to assist people with disabilities and special needs. Welcome to episode number 344 of Assistive Technology Update. It's the last one for 2017 and scheduled to be released on December 29.
Today I have a fun conversation with my friend Carolyn Phillips who is the interim director of AMAC, Accessibility Solutions and Research Center, at Georgia Tech. We also have some information about bitcoin and how braille readers might be able to have access to more information about bitcoin. And Lyft the ridesharing company has done yet another thing to make sure that their service is more accessible.
We hope you check out our website at www.eastersealstech.com, sent us a note on Twitter at INDATA Project, or call our listener line. We love to hear your questions and comments. The number is 317-721-7124.

***
Bitcoin has been in the news a lot lately. The value has just skyrocketed. We will wait to see how long it stays like that. From an accessibility standpoint, bitcoin is something that is a playfield leveler in terms of currency. There is a new initiative to make sure the white paper that is entitled "Bitcoin:  a peer-to-peer electronic cash system" is available to people who read braille appeared in gentleman named Adam Newbold started a crowdfunding effort and raised about $4000 and is working to create, in partnership with the American printing house for the blind, braille copies of information about bitcoin. Lots of details and you can find those on our show notes. I'll pop a link.
***
I've seen a couple of stories lately about some of the accessibility things that Lyft, the ridesharing service, is doing. Back in the springtime, they added features to make their service more accessible to people who work deaf or hard of hearing. Now they have partnered with Aira, which is an assistive technology service for people who are blind or visually impaired. We had them on our show not long ago. They worked hard to make sure their systems are integrated, and if you are an Aira user, it makes it really easy to get a Lyft ride. I'll pop a link in the show notes to a blog that will tell you about the details related to that, I hope we see more about Lyft and accessibility and its partnership with Aira. Check our show notes.
***
So I don't do a lot of this, but check out this audio clip that's going to be highlighting our interview for next week.
SPEECH SYNTHESIZER:  Swipe one finger left and right on the screen to hear available options. Once you have selected your desired choice, tap the screen twice with one finger. When the kingdom becomes trapped in perpetual winter, fearless and I joined forces with money Kristof and his reindeer sidekick to find Anna's sister, snow queen Elsa, and break the icy spell. Tap the screen twice with one finger to play. Please connect headphone to continue. American sniper. Child 44. Exodus: Gods and Kings. Hobbit:  the battle of five armies. In the heart of the scene. Night at the Museum:  secret of the tomb.
WADE WINGLER:  What you heard was a few sound samples from the interview that I have with David Brown next week. This is the world's first accessible in-flight entertainment system that is being featured on Virgin Atlantic Airlines right now. If you are interested in accessibility or airplanes or movies or those things, make sure you check out our interview next week.
***
I'm super excited about our interview today. It's because – I mean, I have a lot of friends in the field of assistive technology, but this is someone who is super special to me. Is fun when you get to have a laid-back conversation with a good friend to talk about some pretty cool stuff happening in her career.
I recently saw a no on the Internet that the AMAC Accessibility Solutions and Research Center, which is very well known at Georgia Tech University, has a new interim director. It just happens to be my friend Carolyn Phillips. She is on the line with us. Hey, Carolyn.
CAROLYN PHILLIPS:  Hey, thank you. As you know, I'm a huge fan of yours too. It's an honor to be able to talk with you today. Thank you so much.
WADE WINGLER:  It's good to have you here. You've been on the show a couple of times, and actually you've been in studio. That would be the only thing that could've made the interview better today is if you could have been here in Indianapolis.
CAROLYN PHILLIPS:  I love your studio. I'm thankful for this a virtual opportunity, but I always love seeing the great work you all are doing in your studio and your center.
WADE WINGLER:  You are not new to the field of assistive technology. You and I have probably worked together for at least 10 years, and you've been doing that a lot longer than that, as have I. For those who aren't familiar with you, let's start by talking a little bit about yourself, how you became interested in assistive technology, and questions about your day job, your primary roles, responsibilities, that kind of thing.
CAROLYN PHILLIPS:  Yes, yes. A little bit about me:  I am one of many folks that this is true within our practice and the work we do on a daily basis. Assistive technology is personal and professional for me. The victories that we have on a daily basis, but also the bigger visions and goals, the work we need to get done for future generations and even for folks right now, are very real for me. I have learning disabilities. I obviously have had those my whole life. I used to dream of the solution that we are caring in our hands in pockets, and even solutions like this. I have dyslexia, dysgraphia, some auditory processing issues, and I absolutely need assistance technology. I got into this field as a need so that I could be successful in college and high school and also in my career. That was how that began for me.
Pretty much everything I do, even on a daily basis, is geared towards how can we change a system, how can we develop a product to move from problem to product, problem to solution. That's a lot of the work we're doing here at AMAC. When I was offered this opportunity to work as interim director here at AMAC, Accessibility Solutions and Research Center, at Georgia Tech, I was just humbled and honored because I see the big picture and I see the great work we are collectively doing. One of the things that, even in this interview, is you can see a lot of these relationships go well beyond a physical ability. Is not an Atlanta thing. It's a national thing. It's a global thing. I think that's part of our strength, is being able to do that kind of collaboration and push the whole field of assistive technology, accessibility, inclusion, universal design forward.
WADE WINGLER:  You and I have known each other primarily – and you've been on the show before — because of your work at tools for life. Tell me a little bit about AMAC and tools for life and how are those things related.
CAROLYN PHILLIPS:  As you referenced, we are at Georgia Tech under the College of design. AMAC is the umbrella organization, and there are a lot of initiatives and projects that we have that are actively going on, whether it is research, development of product, or practice or service. Tools for life, the assistive technology act here in Georgia, is probably under AMAC. We also have the national Pass It On Center which is all about assistive technology re-use, best practices, technical assistance, training. We work with the AT3 national Center. That's all under AMAC.
WADE WINGLER:  In terms of AMAC, I know it's an umbrella, what are some of the core services in the organization?
CAROLYN PHILLIPS:  We are growing and developing all kinds of cool systems and products and ways of doing business. Our core services can be broken down into what are some of the areas that we've had problems with for years. We were born out of the concept of being that change maker. E-text, electronic text, when I was in college back in the early 90s, I would take a class in college and I would wait for my book. Sometimes that book would show up within three months and I'm well into my course. It may show up even three years later because people had to read the book. It was ridiculous. Our leader, the person who founded AMAC, Doctor Christopher Lee, he is the one who actually said we could do better. And I agree, we can do better. Once again, personally and professionally, I knew this had to change.
He created a system, and now you can get your book in electronic format. You can get PowerPoint converted into electronic format. We have a wide variety of formats now in different products and services we offer under our e-tech services. You can get a book within 24 hours, maybe even less. When they are saying, oh, it's going to take a while – it's not three years and not three months. They are saying it's going to take a while, three weeks at the most, which is incredible.
We also have real-time captioning, see you can be sitting in a meeting and somebody in my office is going to be captioning the meeting for you so that you can be participating in the meeting in real time or in a class or conference. That our real-time captioning. We are doing some research around that to see what kind of captioning really does make a difference. Is the size font a factor to consider?  Is the color of the font something we need to consider?  Thinking about all of that and wrapping research into all of these various things we create.
Also looking at audio description and trying to find tune and make it even better and working out the best practice. And ICT, information communication technology, accessibility is another area we've grown in. We had a massive open online course that is free to all of you. Feel free to take the course. It is offered through Ted X. We have over 7,500 students from 166 countries that are learning more about information communication technology accessibility and are getting credit for it if they want. It's a great way to learn more about the field. That's probably what you're going to find is the foundation of what we do, is pushing the field forward and that holistic approach to not leaving things in the lab but putting research and practice.
WADE WINGLER:  As we think about AMAC and all these different services, are we talking about services more to individuals or organizations?  Who is your customer?
CAROLYN PHILLIPS:  The other one that I do want to — and this is an excellent way to answer this question – one of my favorite initiatives that we have here is our braille services. We offer Science, Technology, Engineering, and Math braille. If you come here physically and see what we are doing, you can be on site and see all of these various programs in action. Our and customer within braille, for example, is actually that student who had doors closed before because they weren't able to go into the sciences or technology or engineering because their books were not accessible. The end user is the customer. But it's actually helping colleges' disability student services offices. It's helping publishers. Those are all customers too. So that we can get the information put into an accessible format and expand the whole field. I would even say some of the colleges that we have that our partners and members of AMAC have started advertising us, that they can indeed come and participate and enroll regardless of your disabilities, that we want to focus on the ability. That's the key here.
The other cool thing about our braille initiative is that we are connected within the prison system. We have a whole initiative about second chances and real job opportunities and career opportunities for folks as they get out. That's very exciting to be part of that.
WADE WINGLER:  That's really cool. You mentioned membership. Tell me about that.
CAROLYN PHILLIPS:  Through AMAC, we have memberships. Let's say for example you wanted to have an assistive technology evaluation, or you wanted to start an assistive technology lab, or you wanted to order a book in digital format, or you wanted to have you website or map that you've developed audited. We can do all that. If you wanted to get braille or also request real-time captioning or you have a video that you want to be audio described, you would join. You can go to our website and join. We have one of the tabs on our website is membership. You can also see what our memberships and initiatives are, and also our research. Those are all in primary focus is on our website.
WADE WINGLER:  Your office are doing a whole lot of work. I know that you are doing this because there are stories and people and lives being changed as you are doing this work. We see that here. It's where we get up every day. I want you to tell me a story. I know you're a good storyteller, so tell me a story about a life that's been changed.
CAROLYN PHILLIPS:  This is hard for me because one of the things I love about the work we collectively do, you do, I do, we do, is the stories, that personal impact, which is why we want to have that constant research and practice and academia. The first story that comes to mind is a woman, her name is Lisa. She was driving on the road minding her own business, just like any of us on an average day. She was in a car wreck, and that moment changed her life. She ended up in a nursing home and wanted to get out of the nursing home. The folks that we were working with — we are also partners with division of aging services – got in touch with us through their Money Follows the Person initiative. They said, hey, can you just come talk with her. One of our occupational therapy experts and AT specialists, her name is Rachel Wilson, went out and met Lisa. Sure enough, instantly – as I said, we move from problem to product, problem to solution.
She started talking to Lisa, and the next thing you know, we actually [Inaudible] her up pretty quickly. What are some of those everyday solutions, mainstream solutions, universal design solutions such as Alexa?  How do you use what's built in to your iPhone, those great accessibility features?  How did you use Amazon products or some things that Microsoft has created?  Where does assistive technology bump in so that we can make sure that Lisa can be independent and get dressed?
She has a spinal cord injury and is constantly trying to improve her fine motor skills. She works hard. But in the meantime, she's excited because she can turn on the lights with her voice. She can this to her audiobook. She can write an email and text with her voice. She can even unlock doors and open doors now. We are living in a very exciting time where the promise of assistive technology and promise of universal design is a promise that's been kept. We see that everyday.
WADE WINGLER:  That's an amazing, life impacting story.
CAROLYN PHILLIPS:  She's just one of many, as you know.
WADE WINGLER:  I know. We could probably do stories all day. We should do that for a show sometime, just talk about the stories. As you are thinking about the AMAC, accessibility solutions and research center, was in your crystal ball for the center?  What do you see as things on the horizon?
CAROLYN PHILLIPS:  I work with incredible folks here within AMAC. In this position, this new opportunity as interim director, I have really been amazed by folks that have been my peers for years. I just didn't know the depth and breadth of their work. If I'm looking into a crystal ball, what I'm seeing is the entire collaboration of researchers with folks who were in the field, that knowledge translation and how powerful that is. I have been within our labs at AMAC, and I have seen people that can actually move quickly, within hours, from you give them a problem and they have a solution. They love that process. I think in my crystal ball, we continue to see the world becoming more accessible and more inclusive. We see best practices. We see where everybody can truly live, learn, work, and play and communities of their choice for as long as they want to. And it's not something that is layered on later. It's not something that's added. Accessibility is not an afterthought, but it's actually core to the conversation of how we make sure that everyone is included.
That may sound kind of dreamy, but I'm seeing it in reality. I think that crystal ball is something that we are going to see manifest from our ideas, yours, mine, other folks cut into reality. It's going to actively change people's lives.
I have seen some of the most complex situations, folks with highly complex disabilities that come in, and we are able to find solutions that we could only dream of. It's becoming a reality. That makes me very excited and motivates me every day. I'm one of those that, Sunday night, I don't think I wish it were Sunday night and I had to work on Monday. I have no problem getting up and going to work.
WADE WINGLER:  One other thing I like about you is that you do a nice job of pairing up your dreams and a vision with very practical stuff. It's a good balance.
CAROLYN PHILLIPS:  I'm a huge fan of yours and your work. I think we are like-minded. I'm so thankful for this opportunity to talk with your great listeners and move the conversation forward.
WADE WINGLER:  Enough of this lovefest. You've been working in the field of assistive technology for number of years and have been using it for a long time as well. I want to back out our conversation a little bit something bigger picture. What have you seen as the biggest one or two changes in the field of assistive technology in your career?
CAROLYN PHILLIPS:  The biggest changes I would say are those daily solutions that are coming out. Universal design and assistive technology and accessibility being built in to my iPhone so that I can go get my iPhone, just like you can, or I can get my Google phone just like you can, what have you, and I can use it the same way you can. That was unheard of way back. That's huge. That's a game changer.
Using my voice for pretty much everything. Because of my learning disabilities, it's a true issue. In the past, we were very paper dependent, text dependent, form dependent. Having the freedom to fill out a form with my voice and do it quickly and efficiently is a game changer. I think having products that are rolling out, whether it's Amazon Echo or Google Home or Siri or Cortana, whatever it is, where we can instantly get information, have these answers – now we do have to double check them — but have those answers and be able to control my environment, once again game changers. Those are the things I think are really exciting and move the whole field forward.
WADE WINGLER:  Is interesting. As you were talking about that, I got to flashback to attending early trade shows, early Closing the Gap and CSUN and ATIA, and remembering that one time Microsoft showed up with a booth and they were talking about their built in assistive technology. I had a panic for a moment and said if they start building this stuff in, what happens to the world of assistive technology?  Our industry is going to go away and I'm not going to have a job because the stuff is all going to be built in and free. What we would do?  What would you say to a much younger Wade Wingler having a panic moment?
CAROLYN PHILLIPS:  I would say you and I are in jobs, and a lot of people are in jobs, that were not even on the radar when we were in elementary school. There was no director of tools for life at that time. There was no interim director of AMAC, accessibility solutions and research center. Those were not real things. What I would encourage people to do is go with the flow, not just follow, but be a part of the conversation. We have in our field such a valuable and powerful voice. Get certified. The International Association for Accessibility Professionals has this great certification. I just got certified. It's important to have those kinds of certifications behind you. Also, if you did a job search, you can find that companies are hungry for accessibility and they are hungry for assistive technology. That's a very hot, and will continue to be very hot, topic in the way of moving forward when it comes to product development and also service provision.
I understand your fear. I've had those panic moments. What I've done is take some breaths and think, now what do we contribute?  What I found is that time and again, we are invited to the table, we are invited to the lab, we are invited to the think tank. I think that's part of it, is what we have as users of assistive technology, what we have as leaders is valuable. We just have to keep that conversation going and active.
WADE WINGLER:  We could go on like this for hours, and sometimes we have. Sadly we are out of time for the interview today. I want to make sure that people are interested in reaching out to you, learning more about AMAC. What kind of contact information do you have?
CAROLYN PHILLIPS:  You can go to our website, www.AMACusg.org. You can find all the information I was just sharing with you about our services, research initiatives, and membership. We would love to continue the conversation.
WADE WINGLER:  Carolyn Phillips of the interim director of AMAC, accessibility solutions and research center, and my good friend. Thank you so much.
CAROLYN PHILLIPS:  Thank you. Take care.
WADE WINGLER:  Do you have a question about assistive technology? Do you have a suggestion for someone we should interview on Assistive Technology Update? Call our listener line at 317-721-7124, shoot us a note on Twitter @INDATAProject, or check us out on Facebook. Looking for a transcript or show notes from today's show? Head on over to www.EasterSealstech.com. Assistive Technology Update is a proud member of the Accessibility Channel. Find more shows like this plus much more over at AccessibilityChannel.com. That was your Assistance Technology Update. I'm Wade Wingler with the INDATA Project at Easter Seals Crossroads in Indiana.
***Transcript provided by TJ Cortopassi.  For requests and inquiries, contact tjcortopassi@gmail.com***