The Seeing AI app from Microsoft brings a myriad of object recognition tools to a single app.  It is a free app that turns the visual world into an audible experience.  It is a great tool for individuals with low vision as it provides information about who and what is around them.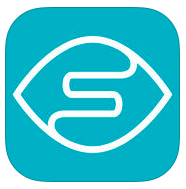 According to Microsoft's website, "Seeing AI is a Microsoft research project that brings together the power of the cloud and AI to deliver an intelligent app, designed to help you navigate your day."  All one simply has to do is hold up his or her phone to hear a description.
The app's first version offered text and object recognition via text-to-speech. Last month, Microsoft introduced version 2.0 which includes the following additional object recognition tools:
Currency (US, Canadian, British Pounds, Euros) – Identifies currency bills when paying with cash
Light – Detects how much light is in the environment
Color recognition – Describes the perceived color
Handwriting – Recognizes and reads handwritten text
Features of Seeing AI:
Speaks text as soon as it appears in front of the camera
Provides audio guidance to capture a printed page, and recognizes the text, along with its original formatting
Gives audio beeps to help locate barcodes and then scans them to identify products
Recognizes friends and describes people around you, including their emotions
Click here to learn more about the Seeing AI app on the App Store.