Learning Resources is a company that has helped millions of children develop a "love of learning…and build the educational skills that help them get ready to take on the world."  One of their 1,000+ educational products is the Sum Swamp Game.
The Sum Swamp promotes early math skills such as basic addition and subtraction.  Children will have a fun time learning math skills as they avoid the hilarious pitfalls of the Sum Swamp.  They journey through the swamp by adding and subtracting numbers on the game dice.
Game Contents:
2 number dice
1 game board
4 swamp creature game pieces
1 operations die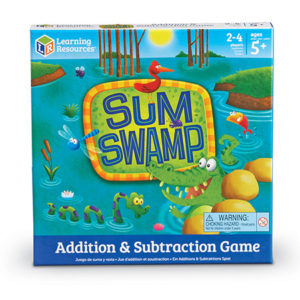 Sum Swamp Features:
Children will have a blast journeying through the swamp with their math skills to guide them.  They'll see funny creatures, face challenges, and race ahead through shortcuts
Promotes early math skills and builds confidence with numbers
Colorfully-illustrated game board measures 17″ long by 12″ wide; ideal for learning center tables and for home
For grades K+
2-4 players
Great for visual and tactile learners
Winner of 6 awards
Click here to learn more!