Learning and practicing homophones is often challenging.  Learning Resources offers a fun game, called Double Duel, that encourages children to practice their homophones!  It is a high-speed homophone game that requires active listening and vocabulary skills.
The Double Duel game engages players with four buzzers that each make a different sound: boxing bell, doorbell, honk honk, and boing.  In addition to the four buzzers, the game also includes 200 color-coded cards (level 1 = purple, level 2 = red).
Here's how to play:  
Each player presses a buzzer, one at a time, so all players know the buzzer sounds
Place the box of cards in the middle of the play area so all players can reach
Choose a player to read first.  Draw a card and read both clues to other player(s).  All players, except the reader, can buzz in.

Example: "Q: It's a color.  The wind did this. A: Blue/Blew"

The first player to buzz in and answer correctly keeps the card.  If the first player is incorrect, other players buzz in again for a chance to answer
If not one answers correctly, the card goes to the back of the box
The first player to 10 cards wins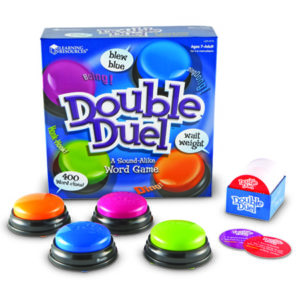 Features of Double Duel:
Contents include:

4 multi-colored buzzers
200 double-sided cards
Activity Guide

Each buzzer requires 2 AAA batteries (not included)
Ages 7 and up
3 or more players
Players build vocabulary by identifying words based on a description

They also practice and learn definitions of words that sound the same but have different meanings

Encourages peer interaction, taking turns, and socialization
Great for speech therapy
Click here to learn more about Double Duel!