Podcast: Play in new window | Download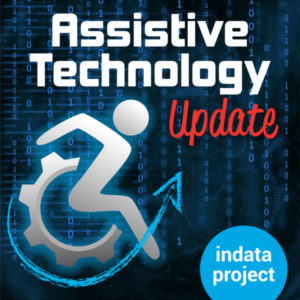 Your weekly dose of information that keeps you up to date on the latest developments in the field of technology designed to assist people with disabilities and special needs.
Show notes:
Miracle League – Stephanie Davis National Project Director | miracleleague.com
Comcast Promotes Paralympic Sponsorship, Assistive Technologies http://bit.ly/2tPWjVR
App: Track n Share Lite | www.BridgingApps.org
——————————
If you have an AT question, leave us a voice mail at: 317-721-7124 or email tech@eastersealscrossroads.org
Check out our web site: https://www.eastersealstech.com
Follow us on Twitter: @INDATAproject
Like us on Facebook: www.Facebook.com/INDATA
——-transcript follows ——
STEPHANIE DAVIS:  Hi, this is Stephanie Davis, national project director for the Miracle League Association, and this is your Assistive Technology Update.
WADE WINGLER:  Hi, this is Wade Wingler with the INDATA Project at Easter Seals Crossroads in Indiana with your Assistive Technology Update, a weekly dose of information that keeps you up-to-date on the latest developments in the field of technology designed to assist people with disabilities and special needs. Welcome to episode number 356 of assistive technology update.  It's scheduled to be released on March 23, 2018.
Today my guest is Stephanie Davis who is the national project director for the Miracle League Association, doing some amazing stuff with accessible baseball.  Also we have a story from my friend Tom Vlodkowski over at Comcast about what they're doing to promote Paralympic sponsorship and assistive technology, some cool stuff about Alpine skiing.  We have an app from our friends at BridgingApps called Track and Share Lite.
We hope will check out our website at EasterSealsTech.com, give us a note on Twitter @INDATA Project, or call our listener line.  We would love to hear from you.  The number is 317-721-7124.

***
If you've listened to the show for very long, you've heard the voice of Nikol Prieto, community outreach coordinator here at the end of the project.  Did you know that on our blog she does consumer highlights, where she goes out and meets with the people we serve to learn about their lives? Recently she talked with Berlin Fraser who is a retired engineer who has some vision issues but loves to work on his muscle cars.  Crystal Dumas is a community college professor.  And Dave Brezinski is a pastor.  Everybody we talked about uses assistive technology.  Nicole goes and meets with them and learns the real story behind the use of AT. You can find it on our website at EasterSealsTech.com. Look for posts called consumer highlights.  Check our show notes.
***
Are you interested in web accessibility? We pay attention to that here at the INDATA Project.  In fact, for the last several years, we've been doing an annual webinar where web developers can learn a lot of the nuts and bolts of a how to make their website or accessible.  In fact, we have partnered with Dennis Labrie who is with DQ Systems.  Dennis is somebody who has been focusing on web accessibility for a long time.  We are excited to announce that, once again, this year it will be on May 9, 2018, you're going to have a full day, free, basic web accessibility for developers training.  It's going to run from 11 AM to 4 PM here in the Eastern time, and it is targeted toward people who are doing web development.  So if you are brand-new to doing web development or brand-new to accessibility, this may not be the best training for you.  But if you are very experienced in web development and have some experience with web accessibility, I think this will be right in the sweet spot for you.
Some of the things that we expect Dennis to cover all the business case and why you need to pay attention to web accessibility.  He's going to talk about the guidelines and laws that drive the why behind web accessibility.  And then is going to break down things like semantics and techniques for making more accessible web content like layout and structure, how to handle images and alt tags, keyboard accessibility.  And then he will also get into things like how to deal with flash and validation, cascading style sheets. And then he will move later in the day on to testing, how you can use tools and checklist and some manual techniques including screen readers to make sure that the content you are developing is as accessible as it possibly could be.
We are really proud that we get to offer this at no charge to anyone.  Here is the scoop.  If you want to register, you need to mark this on your calendar.  It is May 9, 2018, from 11 AM to 4 PM in the Eastern time zone, featuring Dennis Lembry. To register, you're going to had your web browser to EasterSealsTech.com/A11Y, letter A, number 1, number 1, letter, Y. A11Y, if you don't know, is short for accessibility. When you get there, there is a link that says click here to register for the training. You simply fill out the form, and we will have a zoom meeting happening the day of that allows you to participate in the training.  There will be time for questions and answers, a break to make sure you don't get too tired watching webinar.  But it is exciting content.
Once again, if you are web developer and are interested in accessibility, we invite you to head on over to EasterSealsTech.com/A11Y and register for this free basic web accessibility training with Dennis Lembry.  Check our show notes.
***
Listen to this.
SPEAKER:  Sound is how I see the world.  [blowing wind] Sound paints me a picture. [running water] Sound give me rhythm.  As a visually impaired person, I don't see the slopes the way you do.  I see with sound.  Hearing the wind blowing through the gates and the voice guiding me down the mountain.
WADE WINGLER:  What you are hearing there is the voice of Danielle Olmsted who is a Paralympic Alpine ski team medalist.  I have to tell you, I got an email from my friend Tom Vlodkowsky who is the Vice President of accessibility at Comcast and said, Wade, you have to check this out.  I'm glad that I did.  I'm going to pop a link in the show notes over to the YouTube video where you can watch the entire video where you learn more about how Danielle and her husband work together as a skier and guide to do some pretty amazing stuff on the slopes.  The reason this is all being talked about is the fact that Comcast has done a lot to make their products more accessible to people with disabilities, more specifically their Xfinity line of products has the X1 was remote and it was a guidance and some stuffs specifically to the Olympics and Paralympic experiences that make it easier for people with disabilities to use.  I've spent some time with Tom at the Comcast world headquarters looking at their accessibility lab and other kinds of things.  It's interesting how focused Comcast is on accessibility.  There is some cool stuff going on with the Xfinity X1 was remote and the Olympics and a cool video that you should check out.  I'll pop a link in the show notes and you can enjoy it.
***
Each week, one of our partners tells us what's happening in the ever-changing world of apps, so here's an app with mentioning.
AMY BARRY:  This is Amy Barry with BridgingApps, and this is an app worth mentioning.  This week's featured app is called Track and Share Lite. Track and Share Lite is an app journal to track just about anything.  You can check areas related to health, life goals, your mood, habits, the weather, or even create your own category.  Thousands use Track and Share, regular folks, US Olympic athletes, people with chronic pain, rheumatoid arthritis, fibromyalgia, ADHD, and more.
Getting started takes a bit of time to set up, but our users who trialed the app liked the customizable feature in the free version.  The learning curve was easy, and our users loved the visual icons for the categories.  Another plus was the graphic feature which gives you a choice of viewing the graph a daily, weekly, or monthly.  We also have the ability to share your attractive data as HTML or as a dot-css file. This feature was helpful in sharing users' tract categories with counselors, therapists, and even doctors.
Our child users ranged in ages from 13 to 46.  The average time spent tracking was 3 to 5 days a week.  Users shared that it was an easy tool to incorporate into their daily lives, and the users that often struggled with taking time out of their day to record data in their selected categories felt like the more data created that they saw individual graphic format, the more it helps them to see their progress or declines, which also helped keep them on track.
Track and Share Lite is available for free at the iTunes Store and is compatible with iOS devices.  For more information on this app and others like it, visit BridgingApps.org.
***
WADE WINGLER:  In the US, spring is in the air.  I'm excited about getting outside, about being active.  It's pretty likely that I'll attend at least one baseball game this summer.  In fact, I've got little kids in my life, and I like to make sure they have the experience to sit in the stands and maybe even throw a ball around in the front yard.  Why is that relevant? Why am I rambling on about baseball today? I mean, you are listening to the show so you know I'm going to get to a point eventually.  I saw a thing in the press recently about a group I was only vaguely familiar with in the past called Miracle League.  It has to do with baseballs, and I saw lots of kids with disabilities.  I was excited when Stephanie Davis, who is the national project director for the Miracle League Association, agreed to come on the show and talk with us a little bit today about what they're up to.  Stephanie, welcome.
STEPHANIE DAVIS:  Thank you so much for having me.
WADE WINGLER:  We are excited that you are here.  This is a great topic, especially since we're getting into the springtime, and it is a timely topic.  Before we start talking about the Miracle League, tell us a little bit about yourself and how and why you became interested in the Miracle League.
STEPHANIE DAVIS:  It was about 18 years ago when I saw a special on HBO with Brian Gumbel and Frank DeFord where they had covered a story about the first of its kind accessible baseball field for children and adults with special needs.  From that point, I did some research on the Internet and found the founding family in Georgia who started that.  I basically told him I would love to start this in my town of Myrtle Beach, South Carolina.  The family invited me to come that Saturday and see a game and see the facility.  From there, I came back and got a group together and we started the second Miracle League field in Myrtle Beach, South Carolina.  That was back in 2001.
WADE WINGLER:  So there's lots of good questions of their.  Tell me about the founding.  Tell me about the original Miracle League and how it got its start, and what motivated the family to do that.
STEPHANIE DAVIS:  Back in 2000, the Alford family, they were a big baseball family.  It was Diane and her two brothers, Dean and Dan.  They ran the youth baseball here in Rockdale for many years as their kids came up and played T-ball all the way through high school ball.  Dean was the president of the Rotary club that year, and he was looking for a project to do as president of the Rotary club.  A parent from the youth baseball organization brought the idea.  It came from a little boy who had attended every one of his brother's baseball practices and games for years. He sat in his wheelchair outside the fence and washed every practice and game.  One afternoon, the coach looked over and said, hey, why don't we invite him on the field and let him play with us today.  He came out.  Everybody fought to push Michael around the bases, and it was such a great day for him because he got to play for the very first time in his life.
From there they noticed that he was tipping over on the basis or getting stuck in the mud or getting stuck on the edge of the grass, but the actual facility was not up to par for him to be able to participate in a safe manner.  That's when a few parents got together and said we ought to get together a league and see if we can do something to make it more accessible for the kids to get around the bases.  That's when the idea came to Dean Alford with the Rotary club.  That's where he took it, ran with it, and raise over $1 million for a first of its kind facility with a fully accessible field, restrooms, concessions, parking the entire complex.  That first season, they started with about 30 children, and it grew very quickly over the first few weeks to 250 kids that started participating here in Rockdale County in the Conyers, Atlanta area.
WADE WINGLER:  Wow.  That's an amazing story.  I'm starting to get a picture of what this all about.  Let me ask a specific question about who it's for.  Tell me about the players in the families and community.
STEPHANIE DAVIS:  The real nice thing about the Miracle League is it is open for all abilities. What we try to say is if you would not be eligible for a regular youth baseball program, you would be eligible for Miracle League.  We do service children and adults.  We opened it up for all abilities.  We don't base it off of age, we base it off of the ability.  Again, everything from a learning disability to something that would be more severe for the kids to get out and participate.  We are open for any child or adult with special needs.
WADE WINGLER:  Obviously is going to have some similarities and some differences from typical baseball.  What are those? How is it alike and how is it different?
STEPHANIE DAVIS:  It is very difficult to your T-ball program.  Everybody hits, everybody runs, everybody scores each inning.  The difference in our game is, of course, the venue.  We have adjusted the venue for a level playing field.  Everything from the dugout to the sidelines to the field is all rubberized and fully flat and accessible, so that if there is any walking devices or wheelchairs, there is no obstacle.  The second the main difference between us and typical baseball is the buddy system.  The buddy system is where each child would have a participant that would play with them and help them in their special needs.  Whether they needed help grounding the ball or thrown the ball or helping swing the bat, that's where we are a little bit different from typical baseball, and that every kid on the field has a buddy that helps them play the best to their ability.
WADE WINGLER:  Talk to me a little bit more about accommodations. Obviously a literally level playing field — the metaphor is not lost on me — is an important thing.  Are there other accommodations for the players or buddies or even people who are in the stands?
STEPHANIE DAVIS:  Not really.  What we try to do is to bring as much normality to these kids and players as possible.  Of course, the safer the facility, the more kids are going to come out and participate.  But what we try to do is keep it as typical as your youth baseball program so that these kids now feel like they are part of what their siblings are doing or what their friends are doing at school.  So besides the venue and besides the buddy program, we try to keep it as close to a youth baseball game as possible.
WADE WINGLER:  How many local leagues are there?
STEPHANIE DAVIS:  Right now we have over 300 Miracle League associations in the country and a few international as well, including Canada, Australia, Mexico, and Puerto Rico.
WADE WINGLER:  Does that mean 300 venues as well that are built this way?
STEPHANIE DAVIS:  Right.  We are a membership organization.  That would mean that we have over 300 members across the country.  The member is that community.  Conyers, Georgia is one of our miracle leaks across the country.  That would be 300 cities across the country and internationally.
WADE WINGLER:  I'm in Indianapolis.  Do you know off the top of your head, is there one nearby?
STEPHANIE DAVIS:  We have two groups in Indianapolis right now fundraising to build.  One is with the YMCA of Indianapolis, and another is going to be a private venture.  They are both in the planning and fundraising stages at this point.
WADE WINGLER:  Excellent. I will have to check those out when they become a reality.  That's exciting stuff.
So we talk about ages and we talked about the fact that almost anybody can play.  Are there any typical players, or is it really a wide variety of folks in terms of their disabilities or abilities?
STEPHANIE DAVIS:  It's a wide variety.  You will see each team have multiple abilities and multiple diagnoses. They range from learning disabilities to sensory, cognitive, a lot of kids with autism, just because typically that is a higher population.  Then you will have a handful of kids that are either in a walker or wheelchair, have some type of walking device.  But we do have a very large number of cognitive and physical disabilities together.  Every child is different, and every child has a different ability.  So you have all these kids mixed together on one team so that when they are playing another team, very are very similar to the team that they are playing.  So we don't have one team of kids with just autism and another team with down syndrome and another team of people who need walking devices. We do mix them up so that they are all playing together and that they are all up another team that would be compared to how they are.
WADE WINGLER:  If we do this right, people are going to hear this interview and be interested.  I'm guessing that we might have potential players who could be interested and maybe even sponsoring organizations that might be interested.  Let's break those down.  How do you reach out to find players, or how do players find the Miracle League? If somebody is in the audience and are thinking I want to play or my child wants to play, how do we go about that?
STEPHANIE DAVIS:  We do have a website, MiracleLeague.com. Basically all communication would come through my email.  That's where I would connect whether they are a player, volunteer, or donor, to a local league director.  I see you called from Indianapolis and wanted to see if you had a local league.  I would then copy you and our league director on that and connect the two of you.  That's worked for best to go through and see whether they are a player, volunteer, or donor, and then we would connect them to their local league.  The majority of the people want to be involved, even in the donor arena, where they would want to donate to their community, and that money stays in their own community.  That's where I would hook the two of them up.  They can go to our website and email or call our office, and then we would personally hook them up with their local league if there is one in their area.  If they call in there is not one in their area, then they may be interested in starting a Miracle League, and that's where we would get their information and send them a severe package, to see if it will be something that they would be interested in bringing to their community.
WADE WINGLER:  Who makes a good sponsor organization, and what kinds of things are involved in the starter pack? What does the starting up process look like?
STEPHANIE DAVIS:  The starter package would be a really nice booklet with a lot of pictures of the kids playing ball and playing on our inclusive playgrounds, because we do build complexes.  That would include a field, accessible playground, an entire inclusive complex, all the way down to restrooms, concessions, parking.  What we found a few years after built in the field is that these kids, it's great, they get to come by once a week during their season, but what about the rest of the days? [Inaudible] rest of the days of the year.  That's when we brought the idea of inclusive playgrounds.  Now the kids are out playing seven days a week, playing with their siblings, playing with friends from school.  The playgrounds have been a tremendous success of the Miracle League program and our complexes.
In the starter package, we would give you information on becoming a member of our organization.  It would give you all the benefits of becoming a member, all of the things we help with.  We consult with that local community as much as possible to help them put together the organization, construction of the complex, and also running the program.  We would put all that in the starting package, we would give them a booklet with a video, and they would take that and share with their community, whether it be there parks and rec director, a YMCA, city Council, Mayor, or even a private venture that they are looking at doing.  They can use that and start talking to people to see if there is some interest in bringing a Miracle League to their community.  If so, there is an application in the package as well, and that's where they could join the Miracle League Association along with the 300 other communities and cities that are already doing it, for us to give them as much help and assistance as possible to make get a reality for the kids in their community.
WADE WINGLER:  If somebody's listening and thinks this would be great, how do they know if they are a good organization — what are the good characteristics of an organization who is successful in doing this?
STEPHANIE DAVIS:  I really think it's the passion of the person who wants to spearhead this.  We've had everything from a mom or dad to do it all the way to the CEO of a company to parks and rec divisions across the country, YMCAs.  We also have Easter Seals that run the Miracle League through their organization.  There really is no wrong or right person.  I think if they have the passion and want to see it happen, we would help them with the tools to make it happen.  We would just need them to lead that line and organize a group, whether it be a Board of Directors if they are going to do a private nonprofit, or whether it be a committee to work with, one of the strong partners in their community.  It could be anyone, all the way from a mom or dad — a lot of times we get a call from a dad who says I coached my kids their baseball their entire lives.  I don't know where we would be today without the sports that we had growing up, so I want to give back.  We've been so blessed with what we've had in our lives, so we want to try to give back to somebody who might not have this opportunity.  It can be anybody that has the passion to take that ball and run with it.
WADE WINGLER:  I know that there are stories here.  You and I do what we do a lot of times because of the stories.  Tell me a story about a player or family whose life has been positively impacted by the Miracle League.
STEPHANIE DAVIS:  It's been a real joy to know an individual from the Atlanta area. Her name is Lauren, and she played for the very first Miracle League here in Conyers.  Lauren has brittle bone disease, and she is confined to a wheelchair.  She is blind and has problems hearing as well.  Brittle bone disease keeps her in the wheelchair because she's had hundreds of broken bones over her life.  Lauren participated in the Miracle League from about the age of five or six and up.  Obviously, that Miracle League started back in 1999 or 2000 when she joined.  She played over the years and ended up graduating from high school and going to college.  She is now teaching at her local high school in the visually impaired department.  We just knew one day that Lauren would look back.  We actually heard her say this.  What made you think that you could go to college and get a degree and be a teacher in the situation you are, being blind and in a wheelchair, with all the obstacles that you have? She'll tell you today is because of the Miracle League.  She said if I could play baseball, I could do anything in my life.  She really credits the Miracle League and the opportunity that she got to build that self-esteem to know that she could do anything in this life.  She is now one of the huge success stories of our program.
WADE WINGLER:  That's remarkable.  That's an amazing story. You have another one?
STEPHANIE DAVIS:  I could tell you one from Myrtle Beach when I directed it to there.  It was our very first game, and the kids were playing for the very first time.  We had media that works out, and they were interviewing and filming.  They went and interviewed one of the Miracle League players, a little girl with a cognitive disability.  She had sensory issues and was on the autism spectrum.  They asked her, what was the favorite part of your gift today.  She said, I remember coming around third base and looking over at the bleachers and see my mom with her beautiful smile.  I knew she was proud of me.  That was the success of the game today.
WADE WINGLER:  Those are missing stories, and I'm so impressed with what the Miracle League is doing. I know that we are going to have people in the audience who want to reach out to you.  Will you give us that contact information one more time?
STEPHANIE DAVIS:  Visit our website at MiracleLeague.com, and you can always contact us directly at the office, 770-760-1933.  I'm Stephanie@MiracleLeague.com if they want to send me a personal email.
WADE WINGLER:  Stephanie Davis is the national project director for the Miracle League Association and has been a delightful guest today.  Thank you so much for being in our show.
STEPHANIE DAVIS:  Thank you so much for helping us spread the word.
WADE WINGLER:  Do you have a question about assistive technology? Do you have a suggestion for someone we should interview on Assistive Technology Update? Call our listener line at 317-721-7124, shoot us a note on Twitter @INDATAProject, or check us out on Facebook. Looking for a transcript or show notes from today's show? Head on over to www.EasterSealstech.com. Assistive Technology Update is a proud member of the Accessibility Channel. Find other shows like this, plus much more, at AccessibilityChannel.com. The opinions expressed by our guests are their own and may or may not reflect those of the INDATA Project, Easter Seals Crossroads, or any of our supporting partners.  That was your Assistance Technology Update. I'm Wade Wingler with the INDATA Project at Easter Seals Crossroads in Indiana.
***Transcript provided by TJ Cortopassi.  For requests and inquiries, contact tjcortopassi@gmail.com***