Podcast: Play in new window | Download
281-4-6-18 Vibio Bluetooth Bed Shaker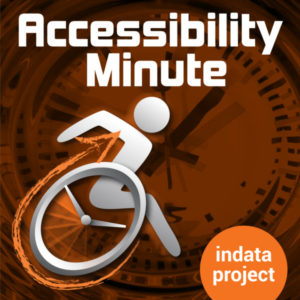 Hey there! Welcome to Accessibility Minute, your weekly look at Assistive Technology, those clever tools and devices designed to help people who have difficulties with vision, mobility, hearing or other special needs!
Standard alarm clocks aren't very effective at waking heavy sleepers or people with significant hearing loss.  There are a few options available for these individuals: extra loud audible alarms, bed shakers, or lamp flashers.  One of the newer bed shakers available from Harris Communications is the Vibio Bluetooth Bed Shaker.
The Bluetooth Bed Shaker is customizable via the free app available on both Android and iOS devices.  According to Harris Communications website, "Vibio's unique soft, cozy design harmonizes with your bed and won't disturb your bedroom Zen."
Features include:
Control multiple alarms through a free app
Be alerted to important calls and texts
Snooze from the app or pull the built-in "snooze strap"
Rechargeable battery lasts for weeks
Comes with bed shaker and charging cable
For more information, to read our blog, or to drop us a line, visit 
EasterSealsTech.com
.  That was your Accessibility Minute for this week! I'm Laura Medcalf with the INDATA Project at Easterseals Crossroads, in Indiana.