Podcast: Play in new window | Download
282-4-13-18 VocaTime Atomic Talking Watch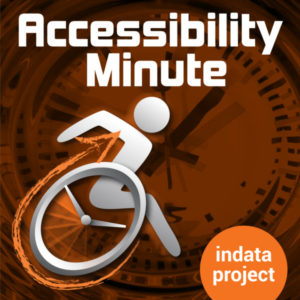 Hey there! Welcome to Accessibility Minute, your weekly look at Assistive Technology, those clever tools and devices designed to help people who have difficulties with vision, mobility, hearing or other special needs!
There are so many talking watches available on the market for individuals with visual impairments that it can be hard to choose one.  VocaTime offers a large selection of talking watches for both men and women.  One of their available options is their Atomic Talking Watch.
According to their website, the Atomic Talking Watch is the "ultimate talking watch" which synchronizes the voice perfectly with its hands to provide an easy setting and accurate timekeeping.
Other features of the VocaTime Atomic Talking Watch include:
Dual voice technology allows you to switch between American female or male voices
Bold, color-contrasting hands and numbers for easy visibility
High-quality leather band to ensure maximum durability
1-year limited warranty
For more information, to read our blog, or to drop us a line, visit 
EasterSealsTech.com
.  That was your Accessibility Minute for this week! I'm Laura Medcalf with the INDATA Project at Easterseals Crossroads, in Indiana.