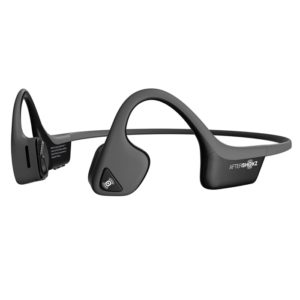 Earbuds (in-ear headphones) do not work for a lot of people. Many people can't find a set that fit them properly and they are uncomfortable. Earbuds also completely drown out any ambient sound and make you unaware of your surroundings. If you are one of those people that can't find comfortable earbuds and you are concerned about safety, you may like the AfterSkokz Trekz Air Wireless Bone Conduction Headphones.
These headphones are also beneficial to individuals who have hearing loss because with the bone conduction technology vibrations of sound are transmitted through the bones of the head and face directly to the inner ear. For people who have partial hearing loss, this can help them quite a bit.
This technology was originally developed for military use, but people with hearing loss, hearing aid users, and people concerned about hearing their surroundings while listening to audio through headphones like this technology. With these headphones you will feel a slight vibration on your face or head when the sound is at a high volume, but many people report getting used to it and not noticing it after using them for awhile. These headphones are wireless, lightweight, and water resistant.
The biggest advantage of using bone conduction headphones is that it gives you the ability to still hear the world around you since they are not directly in your ear. This feature helps you be aware of you surroundings while listening to music, audio books, or podcasts.
Being aware of your surroundings is a big safety feature when navigating out on busy streets or on a busy walking/biking path. They are also more comfortable than earbuds and easier to position correctly. It should be noted that people around you might be able to hear what is coming out of your headphones if you turn up the volume loud enough.
The headphones also feature dual microphones for taking phone calls, volume controls, and buttons to pause/play audio and the ability to answer phone calls. For individuals with some hearing loss who have a difficult time hearing the person on the other end of a phone call, this feature is helpful because the sound is transmitted directly to the inner ear and they are likely to hear the conversation more clearly.
These headphones have 6 hours of battery life on a charge. They are charged via a microUSB and take 1.5 hours to charge completely. You can purchase these headphones for under $180. The v4.2 Bluetooth connectivity allows you to pair with iOS or Android devices. These headphones are a safe and comfortable alternative to earbuds. They are beneficial to individuals who have some hearing loss or wear hearing aids.
Features of AfterSkoz Trekz Air Wireless Bone Conduction Headphones:
Bone conduction technology that sends music through your cheekbones so your ears remain open to sounds around you
Wraparound titanium design for flexible fit for comfort and stability
PremiumPitch+ ™ premium audio experience guarantee, which includes wide dynamic range and rich bass
v4.2 Bluetooth® connectivity
LeakSlayer™ technology with reduces natural sound leakage
6 hours of continuous music or calls on a single charge
IP55 certified to repel sweat, dust, and moisture
EQ presets boost bass & reduce vibrations on the go
Dual noise canceling microphones exclude surrounding noise, effectively enhancing speech
2 year warranty
Click here for more information on the AfterSkoz Trekz Air Wireless Headphones.