Podcast: Play in new window | Download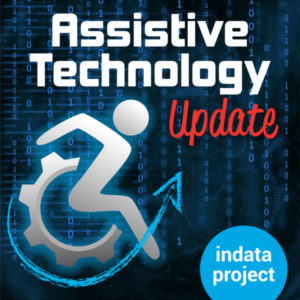 Your weekly dose of information that keeps you up to date on the latest developments in the field of technology designed to assist people with disabilities and special needs.
PT vs OT in AT – Dr Taylor McGann, Assistant Professor in School of OT at U Indy | mcgannt@uindy.edu | 317-781-5190
Physical Therapy versus Occupational Therapy in Assistive Technology
WWDC: Accessibility has become a requirement http://bit.ly/2lk0aDD
App: Toontastic | Bridging Apps www.BridgingApps.org
——————————
If you have an AT question, leave us a voice mail at: 317-721-7124 or email tech@eastersealscrossroads.org
Check out our web site: https://www.eastersealstech.com
Follow us on Twitter: @INDATAproject
Like us on Facebook: www.Facebook.com/INDATA
——-transcript follows ——
TAYLOR McGANN: Hi, I'm Doctor Taylor McGann, and I'm an assistant professor in the School of Occupational Therapy at the University of Indianapolis, and this is your Assistive Technology Update.
WADE WINGLER:  Hi, this is Wade Wingler with the INDATA Project at Easter Seals Crossroads in Indiana with your Assistive Technology Update, a weekly dose of information that keeps you up-to-date on the latest developments in the field of technology designed to assist people with disabilities and special needs.
Welcome to episode number 369 of Assistive Technology Update.  It's scheduled to be released on June 22, 2018.  Today we have Doctor Taylor McGann from the University of Indianapolis helping us unscramble the difference between PT and OT in AT.  Interesting stuff.  We've got a story from BridgingApps about an app called Toontastic.  And also a quick recap of what Apple did with accessibility and their announcement with WWDC recently.
We hope you'll check out our website at EasterSealsTech.com.  Leave us a note on Twitter@INDATA Project.  Or call our listener line.  The number 317-721-7124.
***
[1:20] WWDC introduces accessibility improvements
***
WADE WINGLER:  Not long ago, Apple held their annual WWDC where they talk about all kinds of accessibility.  I'm looking at a great article from Computerworld by Johnny Evans.  The headline is, "WWDC: accessibility has become a requirement." In the article, they talk about the fact that Apple has an increasing focus on accessibility.  They talk about how one in seven people in the world has some form of disability.  But their focus on accessibility really does reflect Apple's core design mission, which includes designing easy-to-use products, creating platforms that enable developers to create intuitive apps to do exactly what they need to do without imposing friction or demented too much attention.

This article goes down a rundown of some of the accessibility features that they think are the most important.  The first one falls into the category of hands-free productivity.  They talk about Siri shortcuts that will create verbally controlled ways to get things done, little ways and big ways, kind of like macros.  They also talk about group FaceTime where up to 32 people can be using FaceTime at the same time.  That can be used for signing which conversations between participants who might be deaf or who use American sign language.  They also talk about the fact that an Apple watch can now be used as a walkie-talkie, which will make it easier for folks who have a hard time handling and iPhone.  They talk about a change in AirPods to allow them to work with live listen, which is going to work with folks who have issues with hearing.  They also talk about a change related to speak selection which improves the way that selected text is spoken by the Siri voice.  There is handwriting OCR support in Apple Notes.  Improvements in the accessibility keyboard related to using a switch.  And even a way for MacBook Pro users to build animators shortcuts into their touch bar to do custom activities.
Those iOS improvements are going to rollback all the way to iPhone 5S. WWDC student scholarship winner John Ciocca is quoted in this article as saying, "Developers need to realize that accessibility shouldn't be a future.  It is a requirement." A lot of good stuff in this article.  I'm going to pop a link in the show notes over to Computerworld where you can read the details, watch some videos, and even find reference to the new podcast Accessible where the interview Apple's senior director of global accessibility and policy initiatives.  All kinds of good stuff happening there.  Make sure you click on the link in the show notes and check out all the stuff about WWDC and accessibility, how it has now become a requirement.  Check our show notes.
***
[3:46] App Worth Mentioning: Toontastic
***
WADE WINGLER:  Each week, one of our partners tells us what's happening in the ever-changing world of apps, so here's an app worth mentioning.
DERIN OFTRIZACK:  This is Derin Oftrizack [phonetic] with BridgingApps, and this is an app worth mentioning.  This week's featured app is Toontastic.  This is a fun, interactive storytelling app that encourages creativity through imaginative play.  It's great for learners ages seven and up and promotes language, story creation, expressive language, social skills, even writing.  Within the app, learners create their own animated films by choosing characters, setting the scene, then moving the virtual pieces around to tell the story.  The activity is similar to playing with action figures in real life.  The animation is fantastic and allows users to add their own voice and music.  Kids can share their videos in the Toontastic community and enter a film contest.
We've used Toontastic with typically developing children and teens with diagnoses ranging from developmental delay to autism with great success.  All kids love Toontastic.  They cannot get enough playtime on this app.  Learners really seem to enjoy the self-paced creative outlet.  Because the program can record voice, it encourages independence in creating stories to share and is very reinforcing to self-esteem.  Teachers can use this app as groundwork for writing lessons by having students create stories with to EasterSealsTech.com and the writing about them.  The app also teaches the fundamentals of storytelling like characters, settings, stories, etc.
We highly recommend Toontastic for users of all ages and abilities.  It is available in the iTunes Store for free.  Upgrades are, of course, available for purchase.  This is compatible on an iPad device.  For more information on this app and others like it, visit BridgingApps.org.
***
[5:45] Interview with Dr. Taylor McGann
***
WADE WINGLER:  So we are going to have an interesting conversation today.  It's about PT and OT, physical therapy and occupational therapy.  I'm so excited that Doctor Taylor McGann, who is an assistant professor in the school of Occupational Therapy right here in the University of Indianapolis is going to be with us today.  We have a really strong partnership with the University of Indianapolis.  Easter Seals Crossroads has lots of partners in different ways.  Doctor McGann is somebody that I've been getting to know a little bit.  We were actually at commencement together a few weeks ago and spent a little time saying hello.  I can tell you she's great so far.  We are excited to have a lot of faculty over there and excited to have her as a partner.
Before I jump into the interview, Doctor McGann, Taylor, welcome to the show.
TAYLOR McGANN: Thank you. Thanks for having me.  I'm excited to be here.
WADE WINGLER:  We are glad to have you.  This is going to be an interesting conversation because we are normally talking about I lot of higher tech things, but I know that as I teach assistive technology, I've often had students ask me, what is the difference between physical therapy and occupational therapy? I know that some of our listeners today are going to say that's a no-brainer, I know that, I deal with it all the time.  And some people are scratching their heads just as I have been.  We are going to dive into that a little bit.  I'm going to ask you that question again, but I want to know about you before we do that, your background and why you became interested in assistive technology, Occupational Therapy, disability, and these kinds of things.  Tell us about you before we get into the difference between the two.
TAYLOR McGANN: Absolutely. I grew up in South Bend, Indiana.  Logan Center has been a great resource I was able to get plug into in high school with different service opportunities.  That led me into the field of Occupational Therapy.  I didn't know what it was, but I saw this practitioner.  It looked like she was just playing with children all day.  I thought, man, I have know what that is because that's what I'm going to do for the rest of my life.  Little did I know about Occupational Therapy at the time, but that was what pulled me in.  I got my Masters up in Milwaukee, Wisconsin at Mount Mary University.  I entered a practice that here in Indianapolis and decided to go back and get my doctorate from Mount Mary as well.  I worked in outpatient pediatrics for my career before I transitioned just last year into the faculty position that I now have.
WADE WINGLER:  Excellent.  You are one of those people who, like my sister, knew early on, here's what I want to do and went for it and get it, like me who wanted around for a long time before I finally figured out what I wanted to do.
TAYLOR McGANN: I feel so fortunate to have found this field at such an early time. With assistive technology, during one of my field work rotations here at the Children's Hospital at Memorial, I was able to work with a lot of children who are using assistive technology.  And all of the Occupational Therapy programs, we get introduced to it, but it's not really until we are in the field do we get to see the depth of what assistive technology can do for our clients.  I started right away just adapting Candyland or any other game to facilitate the ability for these kids to play alongside their peers with their assistive technology.  That got me right away.  I just loved it.
WADE WINGLER:  That's good.  That's great.  At the zoom out to the profession a little bit.  This is a little bit of which came first, the chicken or the egg joke. Which came first, physical therapy or Occupational Therapy? Tell me about that.
TAYLOR McGANN: That's a good question. I don't know which came first.  We have been around since the moral treatment era.  Our roots are within that time period where individuals with disabilities were excluded from society can not included.  I'm not sure which came first.  That's something I should probably figure out, isn't it?
WADE WINGLER:  They might've emerged together and split off.  Who knows?
TAYLOR McGANN: Sure.
WADE WINGLER:  For the folks who don't know, what's the difference between physical therapy and occupational therapy?
TAYLOR McGANN: That's a popular question that a lot of people wonder. It's interesting because in some settings, there is this competitive nature between OT and PT, which in my personal opinion is unfortunate, because our two specialties blend so well together.  When they do blend as a cohesive team, it just enables us to really impact lives at a greater rate.  But in the most basic sense, when we are looking at the same client, physical therapy is probably going to be thinking function while Occupational Therapy is thinking occupation.  We both want our clients to be independent and successful couple we are going to approach it from different skill sets and areas.
WADE WINGLER:  When we say occupation, there's a piece of language we need to clarify.  We mean jobs?
TAYLOR McGANN: No, not at all. That's what everybody first thinks.  Occupation, this is just those meaningful activities that everybody goes through and has with everyday life.  It can be as simple as brushing your teeth on your own or getting yourself dressed.  It could be being a student, being a mother, or can be holding a job.  All that it takes to be able to interview and have time management.  It's anything that encompasses your daily activities.
WADE WINGLER:  When my six-year-old doesn't want to brush his teeth, and I say get up there and brush your teeth like it's your job, then I'm kind of getting close to that, right?
TAYLOR McGANN: You are getting close.
WADE WINGLER:  I have to use a little dad humor occasionally, even on a podcast.
TAYLOR McGANN: Absolutely.
WADE WINGLER:  I've always considered — and I'm ready for you to correct me — that physical therapy tends to be more gross motor and OT tends to be more fine motor.  Is that a myth?
TAYLOR McGANN: That's a myth and is a bit skewed. We as occupational therapist are also going to be looking at gross motor skills.  Depending on your setting, if you do have a physical therapist, you may just decide that the physical therapist will be working on gross motor function, and then we can kind of silo those areas to one another.  But we as occupational therapist can absolutely evaluate both gross and fine motor skills.
WADE WINGLER:  Okay, good.  I'm going to guess that a lot of people in our audience have seen physical and occupational therapy and maybe not recognized that that was what they were saying.  To help with that, what is PT and OT look like in different settings? What does it look like in a school setting, what does it look like for community employment or other settings?
TAYLOR McGANN: In a school setting, your physical therapist could be working with a child to achieve those age appropriate gross motor milestones but really looking at their physical endurance, their ability navigate down hallways and in between classrooms, while an occupational therapist could work with that same child on their attention to task, their sensory regulation, their cognitive processing, or maybe their social skills. In a community employment setting, you're going to see those physical therapist helping individuals to be regain strength after a heart attack or stroke, really looking at their endurance and physical functions so that they can perform various job tasks.  That's kind of where we blend again because occupational therapists can also rehabilitate injuries.  We are going to look at modifying the environment to me an individual's needs, addressing pain and time management, really allowing our clients to gain access to some of those creative adaptive devices.  In a hospital setting, if you've had a joint replacement, you will often have a PT and OT come in and see you to determine if you are safe to go home, or maybe you need a short rehab stay to make sure you are safe to be back at home.
WADE WINGLER:  In my experience with OT's in particular is that you find them doing work in some unusual settings.  Here at Easter Seals Crossroads, we had occupational therapists who are doing adaptive driving.  My first professional job was at a state inpatient psychiatric hospital where we had OT's doing psychiatric work as well.  I kind of see OT's showing up in unusual places.
TAYLOR McGANN: We definitely do. I think it's because we are a holistic health care profession.  You can really see that and everything because we are evaluating not only the physical body but also the mind.  That does allow us to be in a lot of different arenas.
WADE WINGLER:  You listed a few of these in a previous question, but are there other goals or therapeutic activities that PT's and OT's are setting and working toward with the folks they see?
TAYLOR McGANN: Absolutely. Both PT's and OT's are going to develop these plans of care that are going to address short-term goals and of course long-term goals.  What we are going to do is have increments of challenge for our clients to work towards.  But specifically with Occupational Therapy, those goals are consistent in the fact that they are tied back to the meaningful aspects of our clients' lives.  As I said that holistic piece, we are treating that entire person, the occupational being.  A lot of times I learned in pediatrics about things I never had personal interest in like Pokémon.  We make those goals tied to that person so that we can increase their motivation and their time with us to be more successful.
WADE WINGLER:  A lot people who listen to the show work in education or work as assistive technology professionals or practitioners or those kinds of things.  For folks who are in and AT or educational setting, how do we know when we need help from a PT or OT? How do we say, this is where you guys fit in?
TAYLOR McGANN: I think the easiest way to answer that is if a piece of assistive technology has been prescribed and set up with an individual but is not being generalized across different settings — let's say to have a piece of equipment they are using at home but are not successful with it in the community or at their job, we really need and OT in there to be able to evaluate the environment and the person and the fit between those components. So I think the best way with those follow-up appointments, how is your assistive technology serving you? If it's no longer serving that person, we probably know that we need to invite and OT into that conversation.
WADE WINGLER:  So how? Recognizing that our audience is global, how do we get a PT or OT involved when that need is there?
TAYLOR McGANN: I think you greatly depends on the setting you are working. If you're working in a larger setting where you have a rehab team or have an outpatient team, just making the initial contact with a manager just to identify is there anybody on the rehab team that maybe has a specialty in assistive technology or low vision or mobility, looking at how we can identify the people in our community and making those connections in order to start those partnerships.  It really does start with the networking.
WADE WINGLER:  You told us in the intro a little bit about your educational background.  What kind of education is required to be a PT or OT? And has that changed at all in the last several years?
TAYLOR McGANN: Yes. Right now to be an occupational therapist, the entry level degree is a Masters in OT.  That will not be the case come 2027.  The entry level degree with be at the doctoral level.  PT is already at the entry-level doctorate level.
WADE WINGLER:  So you have to go all the way through a doctorate program to be a physical therapist now, and that will be the case before too long with OT? How long does that take?
TAYLOR McGANN: It depends on the school. Some have some transition programs where maybe seniors and an undergrad can start working towards their graduate work.  You're going to see at least a three-year program in order to achieve getting that doctoral degree.
WADE WINGLER:  Is that going to be confusing in the hospital setting? Everybody is a doctor because we have there's nurse doctors, physicians and all kinds of stuff?
TAYLOR McGANN: It has the potential to get a little confusing. That's why we teach our students to advocate for the profession, so that people can start recognizing our differences right away.
WADE WINGLER:  There you go.  When is done right, it's a health care team.  The titles aren't as important as the fact that everybody is doing their part and working together.
TAYLOR McGANN: Absolutely. That's what I would hope to see, is that we have more places adopting the interdisciplinary care where we have PT, OT, speech, and assistive technology working together as a team Because that's what's going to make the biggest difference for the clients that we serve.
WADE WINGLER:  Absolutely.  So when you are in OT or PT school, do you learn about AT at all? A lot? And does that change after school? Is there on the job training in assistive technology for OT's?
TAYLOR McGANN: You to learn about it in graduate school. But as I mentioned, both of those PT and OT programs are at the entry-level, so we are going to be exposing our students to a wide variety of specialty practice areas.  What we encourage is if they do have an interest, let's say in assistive technology, that they would then pursue additional certification after they graduate through continuing educational opportunities.
WADE WINGLER:  I'm an ATP, and assistive technology professional.  That's what we sort of considered a high standard for credentialing for somebody like myself.  Is that you also for PT's and OT's? Do you guys become ATP's, or are there other standards that you reach for to add on war assistive technology training to your OT or PT credentials?
TAYLOR McGANN: Speaking to OT alone, occupational therapist can receive the ATP certification. But you can also become board-certified in other areas that encompass assistive technology.  Those can be a board-certified occupation therapist and driving and community mobility, maybe an environmental modification, or low vision.  Each of those board certifications has their own guidelines to follow to determine the individual's eligibility in order to apply or receive those at a credentials.  Some of those encompass assistive technology can we can see that as a blend.  But we do also definitely hold ATP as a high standard as well.
WADE WINGLER:  That's interesting, which makes me want to ask a business question.  For a lot of the work we do in clinical assistive technology here at Easter Seals crossroads, the ATP is preferred but not required from the funding source.  They definitely want to choose practitioners who have that kind of thing, but it's not 100 percent required to be paid to do that kind of work.  Does some of that boards of vacation play out in your field as well? If you're going to do low vision for example or driving, it is a "have to"to do that work and be funded, or is it a should or preferred?
TAYLOR McGANN: It's not a "have to." That's going to depend on the individual and how much they are wanting to advance in their career. But it would be preferred, I'm sure, by reimburses.  We also have to show our continuing education when we do our research.  You can show that you've taken X amount of hours in continuing education in different areas.  That helps to build your portfolio as a practitioner as well.
WADE WINGLER:  It sounds similar.  When you're thinking about the use of assistive technology amongst you PT and OT types, what's your greatest wish? Are there areas for improvement in awareness of assistive technology? If you could wave your magic wand, your assistive technology magic wand in your field, what would you wish for?
TAYLOR McGANN: I mentioned it earlier I would wish for more places where people can work where we could work alongside assistive technologists. Those partnerships would be easier to make, and that we would all have the time to go to one of the others place of employment and do those and services so that we would actually know the difference and everything that's available.  If I could have that wish, I think that's what it would entail for sure.  As we've talked, for sustainability purposes, when we are all meeting and need one time, we have to practice with due diligence to make sure those services are generalizing too many environments, making those long-lasting improvements for our clients.  My truly biggest wish would, if I had my wand, I would create a bunch of businesses that could employ all of us under one roof.
WADE WINGLER:  That would be awesome.  We would all have really cool take-home cards and be paid a lot.
TAYLOR McGANN: Absolutely.
WADE WINGLER:  While you have the wand out, let's do that.  There you go.  Here's the "Dear Younger Me" question.  What's your advice for a young Taylor McGann at the Logan Center who just got her fuse lit for OT? What would you say to somebody young, interested in the field?
TAYLOR McGANN: I would tell them to keep shadowing other healthcare professionals. Even if you know what it is you want to do, in order to do your job right, you have to understand the people you work with, especially when you are making a commitment to further your education at this doctorate level.  You are passionate about the area, but to be really successful, you have to be that team player.  I never repeated hours I spent observing people doing what they love to do.  It's inspiring and it gives you a vision for what you want your future to look like.  So for any young people in the healthcare field, I would just take it out there, network, and shadow so that you have a better understanding of our entire team.
WADE WINGLER:  Couldn't agree more.  If people want to reach out to you or want to learn more about what's happening in the school of OT at University of Indianapolis, is there any contact information or web resource you would like to provide?
TAYLOR McGANN: I have a short bio on the faculty page under the school of Occupational Therapy at UIndy. But I can also provide my email address, that is mcgannt@uindy.edu. I would also love to have conversation by phone. I can be reached at my office at 317-781-5190.
WADE WINGLER:  Doctor Taylor McGann is an assistant professor in the school of Occupational Therapy at the University of Indianapolis and has helped us understand a little bit more about the differences between PT and OT.  Is also been a delightful guest.  Thank you so much for being on the show today.
TAYLOR McGANN: Thank you. Have a wonderful day.
WADE WINGLER:  Do you have a question about assistive technology? Do you have a suggestion for someone we should interview on Assistive Technology Update? Call our listener line at 317-721-7124, shoot us a note on Twitter @INDATAProject, or check us out on Facebook. Looking for a transcript or show notes from today's show? Head on over to www.EasterSealstech.com. Assistive Technology Update is a proud member of the Accessibility Channel. Find other shows like this, plus much more, at AccessibilityChannel.com. The opinions expressed by our guests are their own and may or may not reflect those of the INDATA Project, Easter Seals Crossroads, or any of our supporting partners.  That was your Assistance Technology Update. I'm Wade Wingler with the INDATA Project at Easter Seals Crossroads in Indiana.
***Transcript provided by TJ Cortopassi.  For requests and inquiries, contact tjcortopassi@gmail.com***