Vibes Hi-Fidelity Earplugs allow you to experience noise protection in a "modern and discreet way."  The earplugs lower decibel levels of your environment without sacrificing sound clarity.  They are ideal for individuals with sensitivity to sound, such as those with autism, sensory processing disorder, ADHD, and more.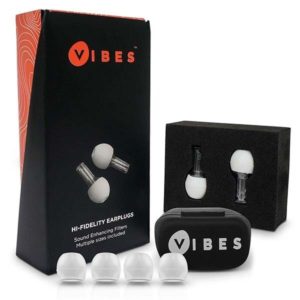 Unlike traditional earmuffs and foam earplugs that muffle sounds, Vibes Hi-Fidelity Earplugs use "acoustic filtering to lower the volume of the user's environment to a more comfortable level, while still allowing them to hear everything around them clearly and interact socially."
Vibes Hi-Fidelity Earplugs Overview:
Vibes lower the levels of harsh sound, protecting your ears from damaging decibels
Carefully constructed for durability, longevity, and comfort

Ear tips are washable, making them reusable and built to last

Minimalist design with clear outer sound tube makes Vibes easily accessible and virtually invisible
Available in three different sizes (small, medium, large) of soft, interchangeable ear tips to ensure a comfortable fit for different ear sizes
Comes with pocket-sized carrying case
Option to include an attachable cord that allows the earplugs to be hung around the neck to prevent them from getting lost
Click here to learn more about Vibes Hi-Fidelity Earplugs!