The Zoomax Handheld Video Magnifier Snow 10 Pro doesn't just magnify the world for those people with visual impairment. It features clear, human-sounding speech that brings the printed word to life.
It's a 10-inch high-definition video magnifier featuring text-to-speech, Reader Mode and three-way viewing capabilities.
The device is the perfect blend of portability, affordability and advanced functionality typically found in devices costing much more.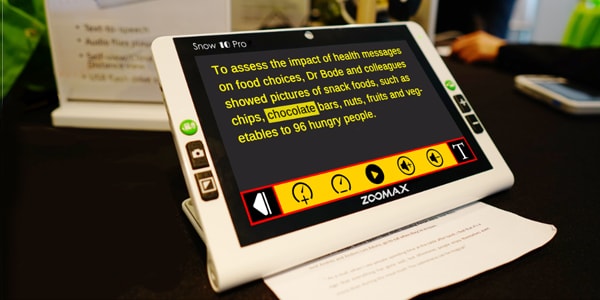 For people with visual impairment, reading and learning can be both frustrating and time consuming. But the Zoomax Snow 10 Pro offers world-leading speech technology and optical character recognition (OCR), technology that enables you to convert different types of documents, such as scanned papers, PDF files or images captured by a digital camera, into editable and searchable data.
The combined visual and auditory approach to reading with this product improves learning outcomes.
And if you just don't have time to sit down and read, Snow 10 Pro will read to you instead. You can choose between a male and female voice and select the reading speed you prefer. It can't do your work for you, but it can make things easier.
Normal magnifiers just magnify. Snow 10 Pro lets you save up to 1,000 images in either JPEG image format or in a text format to use on other devices.
For many people with visual impairment, reading lengthy articles or passages of text can be difficult. The reader mode allows you to take a picture of the text or page you want to read. Press a button to see a choice of a horizontal or vertical reading line, and the line helps you stay on track as you move from one line of text to the next.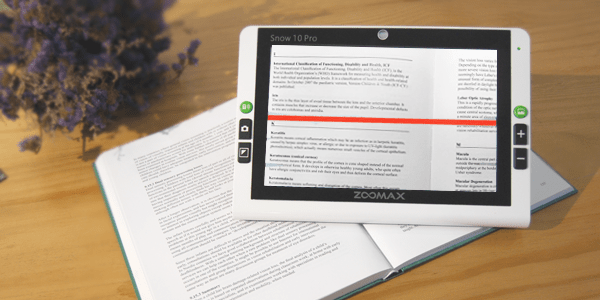 Snow 10 Pro is also the first video magnifier to offer audio playback from your own files. Just copy the files to a USB memory stick, and connect it to the Snow 10 Pro. Then you can listen to your favorite songs or audio book while using the device to continue reading text.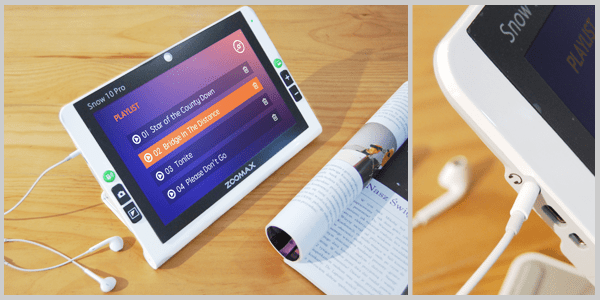 Features of the Zoomax Snow 10 Pro include:
Text-to-speech (in 20 languages currently, and more are coming!)
Magnification up to 19X
Full-color and 10 high-contrast color modes
Full-page scan and reading capabilities
Reader Mode to read lengthier articles
Close view, distance view and self-view
Audio file playable
Pictures/audio files accessible in USB drive
5 GB storage up to 1,000 images
Two-way transmission between PC/laptop and device
Standby mode
Two hours fast charging
Horizontal and vertical reading line and masks
LED light controls (4 types total)
Check out this video about the Zoomax Snow 10 Pro!
Don't let visual impairment slow you down. With this product, you can access virtually any printed material, press a button, and seconds later you will hear the words spoken out loud as they are highlighted.
For more information, visit http://www.zoomax.com/low-vision-products/10-inch-handheld-video-magnifier-Snow-10-Pro.html.