I have written about dozens of products from Fun and Function by now.  They offer a wide variety of tools to help individuals focus, regulate their senses, and more.  One of their most recent additions is the Fidget Backpack.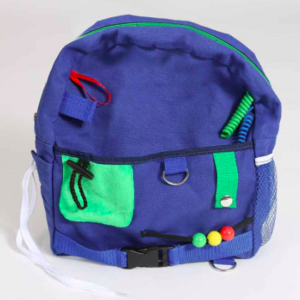 The Fidget Backpack is a dream backpack for children who love to fidget.  It works double duty, "engaging fidgety fingers with sensory activities while keeping schoolwork organized."  Exterior coils, webbing, toggles, and textured patches help children satisfy sensory needs while waiting for the bus or riding to and from school.  Snaps, buckles, and loops strengthen fine motor skills, while shoestrings provide practice for tying shoes.
Fidget Backpack Features:
Provides proprioceptive input
Supports tactile exploration
Helps calm and channel anxiety with versatile fidget tools
For ages 3-8
Use with adult supervision
12.5″L x 11″W with 8.5″W x 5″D outer pocket and side mesh pocket for water bottle

Straps adjust from 14″ to 28″L

Blue with green trim
Surface wash only
Fidgets include:

Ribbon, web loop, two covered coils, polyester (fleece) flap, webbed loop with metal D-ring to hold additional fidgets, webbed flap with metal snap, cotton string sewn securely with three plastic balls that move on the string, and webbed belt with plastic buckle, lacing string with metal grommets for learning how to tie
Click here to learn more.