Training little ones how to use the potty can be a huge challenge.  Consistency is key, and if you're looking for a way to remind your child it's time to potty, look no further than the Potty Time Potty Watch.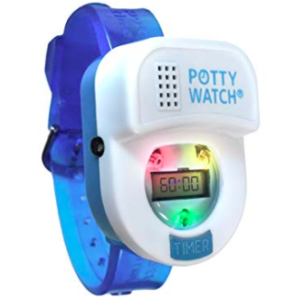 With the Potty Watch, you simply set it for 30, 60, or 90 minutes.  It automatically resets for consistent reminders all day long.  According to the company's website, "Kids are always on the move and rarely want to slow down for practicalities.  Potty Watch empowers them in the process.  Best of all, the training experience changes from confrontation to collaboration."
Features of the Potty Time Potty Watch:
Colorful lights and music let children know when it's time to go to the potty
Once the music and lights play, the timer automatically resets itself for consistent reminders all day long
You can set the timer to go off every 30, 60 or 90 minutes
Includes multiple sing-along songs with potty time lyrics to get your child excited about going to the potty
2 LR44 batteries required
Easy to use stainless steel buckle
Fits a large range of wrists from a small child to many adults
Available in blue, green, and pink
Click here to learn more!