Yesterday I wrote about Feed the Woozle, a cooperative game from Peaceable Kingdom.  Stone Soup is yet another example of a cooperative game from Peaceable Kingdom.  A cooperative game is where "everyone plays together, no one is left out, and everybody has fun!"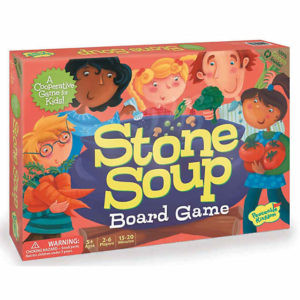 While playing this game, players work together to cook a soup by matching ingredients.  "Instead of players finding and making matches to see who can make the most matches, players play together to 'cook' a Stone Soup."  The object of the game is to match all the Soup Cards before the cooking fire is extinguished by the Fire Out Cards.
Features of Stone Soup:
A cooperative game – meaning that all players work together for one outcome and everyone wins or loses together.
Cooperative games eliminate stress, build self-esteem, and teach children that playing together can be fun!
For ages 5 and up
2-6 players
Takes about 15 minutes to play
Includes:

1 Game Board
10 Fire Out Cards
1 Magic Stone Card
24 Soup Ingredients Card

Children will learn and practice memory skills, social development, helping others, and cooperation.
This Peaceable Kingdom game is 100% green: it's printed with soy-based inks on FSC paper and includes recycled plastics
Click here to learn more!