Podcast: Play in new window | Download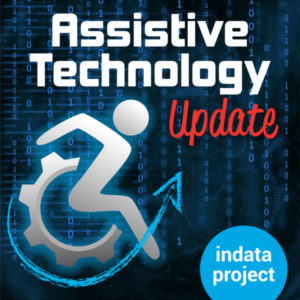 Your weekly dose of information that keeps you up to date on the latest developments in the field of technology designed to assist people with disabilities and special needs.
Show Notes:
Panel: Nikol Prieto, Brian Norton, Wade Wingler
Ring Doorbell – From $99
Nest Hello Video Doorbell – $229
Kohler Karing Intelligent Toilet – $4000
Bose Home 500 w/Alexa – $399
SimpleHuman Voice Activated Trashcan – $250
GE Smart Microwave – $139
JBL Link View Smart Speaker $199
Greater Foods Nourish Digital Food Scale $40
Garmin Speak with Alexa $119
JOSH ANDERSON: Welcome back, folks. Thanks for joining us for episode two of our Holiday Gift Giving Guide on Assistive Technology Update. Let's get on with the show.
***
Bose Home 500 w/Alexa – $399
***
All right, moving on with new technology and new things that are fun out there, smart homes are coming very popular and there's all kinds of new stuff from Alexa, Google home, all the different things. These are actually getting integrated into new stuff and there's all kinds of new smart home pieces. Nicole, why don't you start us off by talking about the new Bose system with Alexa?
NIKOL PRIETO: This is really cool. Both makes excellent speakers, and this is a wall-to-wall speaker. But the cool thing about it is it has Alexa built in. It has Wi-Fi capabilities and you have Alexa built right and so you can control every thing with your voice. You can control it with voice, touch, or the app. The cool thing about Alexa – I think you've heard a lot on our show talking about it – is all of the environmental controls and the you can control. You can turn light on. You can call somebody if you have an emergency, like Brian said, if you fell and his what alerted you, you can do the same thing with voice commands to call through different places like ask my buddy. You can set up commands on different websites like, if this than that, to get your device to control different home alerts or automatic doors or your television or thermostat. Not only are you going to get better sound with the speaker, you will have both those options. Alexa, if anybody has used it, does not have a great speaker a lot of times. Spell one that's one of the big things. That was Apple's big thing with the HomePod, was how good the speaker was compared to the other one. It's cool that some of the companies are starting to build those in and make those good speakers.
***
[1:50] JBL Link View Smart Speaker – $199
***
Brian, Google is bringing out some of the ones that have the screen on them now? I think that JBL Link view is one of them?
BRIAN NORTON: Yeah. I love my Google home, but what I don't like about my Google home – and what I've seen come out recently with Amazon Echo and those kinds of companies — they have an Echo show the has a screen included on it. I love seeing things that I say and having it come up on the screen so I can see the lyrics to the song I'm asking it to play, I see the joke, I can see those kinds of things in front of me. Recently Google came out with the smart view speakers. JBL has one. There are a couple of other places that have them as well. They are a couple hundred dollars. They are smart speakers and have a screen attached to them, so you can get the Google assistant on the screen and see your stuff, see what you are asking it and have things displayed for you. I personally love it and I love being able to see maps and other kinds of things that come up in front of me.
NIKOL PRIETO: Do you not know all the lyrics to the troll song by now?
BRIAN NORTON: No.
JOSH ANDERSON: Don't get him started.
BRIAN NORTON: What is troll?
NIKOL PRIETO: The Justin Timberlake troll song?
BRIAN NORTON: Can't stop the feeling?
NIKOL PRIETO: You don't know the words though.
JOSH ANDERSON: He just wants to watch the video. I've seen a lot of commercials for them. My dad is going to be moving to Florida before too long, and I thought about that being a Christmas present. It's a little bit easier than having to open a tablet and do all these other things where you can just connect right there it and video call.
NIKOL PRIETO: Or people who you sign language, it's a great future for them.
JOSH ANDERSON: It's a great one for them.
BRIAN NORTON: Identical thing is they have touch screens. A lot of these smart speakers are now building in some accessibility that will allow you to – if you have a difficult time talking, now you can interact with a touchscreen instead of just relying on your voice to be able to activate and be able to use a device like that. That makes it really useful for folks.
JOSH ANDERSON: That's nice that they're building some of that accessibility and, thinking about the market and being able to get it for folks.
***
[4:03] Garmin Speak with Alexa – $119
***
JOSH ANDERSON: I actually found Alexa for your car. I know the Amazon is making Alexa for your car, but I found a Garmin speak. Garmin was a company that used to make GPS devices before we all had smart phones with those things built in. But now they are starting to make some new things. The Garmin speak is really small, about the size of a silver dollar, and it hangs up on your dashboard. The back of it will come up with all your directions and everything, but it is fully Alexa enabled. You can have it play your music, access anything with Alexa, still play games with the kids on the road and everything. You can connect it be a Bluetooth to your stereo system or through an auxiliary cable if you need to. The old Garmin systems, you used at the buy discs and download new stuff in order to keep it up-to-date, otherwise it would eventually drive you in a pond. I only know that because one time it took me away and there was a pond. If you didn't of the it, that's how they got back to you.
BRIAN NORTON: Recalculating.
JOSH ANDERSON: Goodness. In order to keep up — and it's only about $119. It lets you control your smart home the same way Alexa would. If you want to turn something on while you're driving up the driveway or anything like that, you can always use it for those things as well. Pretty cool that they are starting to put those things into the car.
Brian, for all these things, you have to have Wi-Fi. What that is very important we all have in our home. Some of you are probably using it to listen to this podcast. Tell me about Google Wi-Fi and the new system that they are making.
BRIAN NORTON: These are interesting. I live in a house. It has upstairs, downstairs, and there's a lot of space to cover. Sometimes I know if I go to different areas of my house, I have limited Wi-Fi access. The reach for my Wi-Fi — the bandwidth becomes an issue. What these allow you to do is put these Google Wi-Fi – I would call them Wi-Fi extenders — around your home and they basically extend your network and create a network around your home. With all the smart home devices, you need the Internet. They are all based on Internet. As much as you can, to flood the area with Wi-Fi and good been with, it's going to be important. Google Wi-Fi will allow you to do that and set those up around your home. You can put two or three around and it's going to then really increase the signal strength throughout your home.
They are pretty inexpensive when you think about extenders. There are cheaper ones, but again, name brand and things like that. Google Wi-Fi is about $129 per extender, if you will. If you go to Google.com, you will find those. Again, they are all based on the Internet. All of these technologies require it, so you have to have good access and bandwidth to make them work well.
JOSH ANDERSON: I think I was looking, there is a deal if you buy three of them. If you have a pretty large home or a lot of dead spots – I know if you have really thick walls, things like that, it can't get through. I know in my home, there is one cable coming into the house and it's in the very back corner. If you don't have an extender, you are to getting get anywhere else in the house. You get in the backyard really well. So we are using these things to connect all kinds of devices.
***
[7:32] Ring Doorbell – $99; Nest Hello Video Doorbell – $229
***
JOSH ANDERSON: Wade, tell me about some of the doorbells that are out there. I think ring and nest make a new hello doorbell. How to those work and what are the differences?
WADE WINGLER: I don't have those at home yet. We do have some next step in our house. We've been using the cams as baby monitors is our kids were little. We have a nest thermostat which we use a lot. And we have them interacting with Amazon Echo so that we can tell the thermostat to turn up and down. We haven't done the adorable yet. Nest and ring seem to be the two doorbells that are the most popular. Basically the way they work is you replace your physical doorbell on your house with one of these devices, it's just a little bit bigger and thicker than a standard the doorbell button. It has the doorbell button and it has the camera. You have to hardwire it into your doorbell wiring, so this isn't as simple as a lot of Wi-Fi devices where you turn them on, plug them in, or pop batteries in and they do their things. This has to be wired into the doorbell. That's how it gets power to do that. It takes a little bit of electrical skills to make that happen.
But basically what happens is when a guest comes up – or anybody comes up to your house and hits the doorbell button, it rings an app on your smart phone and lets you know that somebody is at the door. Then, want to fire up your app, you can speak and see what's happening on the front porch. So you can see a video of who is there, you can talk to them in an interactive way, which is really good for folks who have disabilities for whom making it to the door is difficult. It's so much better because you don't even have to be in your home to see who is at your door. The person can ring the doorbell and you can answer them while you're on the beach in Florida, and they don't have to know that you are not there.
As I did my research on them, one is a Ford and one is a Chevy between the ring and nest. They are pretty similar in terms of what they do. They have similar pricing, both in that $200-$250 range. They both have high definition, 1080 P video and 160 degrees field of view so you will get a pretty good picture and wide field of view of the front porch or wherever you have the doorbell. They are all going to hook to your Wi-Fi and upload data to the cloud so that you can see and hear what's going on. A couple of the things that are different about them is the nest actually records and uploads to the cloud 24/7, so is sort of always on and you can always go back and look and see who was on your front porch at a particular time. The ring, on the other hand, either start recording when you log into the app on your phone and tell it to — one somebody pushes the button – or is his motion, it'll turn on and start recording to the cloud. You can have have to think a little bit about that, because although my preference would be in that case to have the nest since it is always on and always recording and I can see what's going on, it's going to use a lot more of your bandwidth and your Wi-Fi. If you have a data package that isn't unlimited, you could be spending a lot more data bandwidth uploading from the nest as opposed to the ring. This a little bit of difference in terms of their operating temperatures. The nest doesn't operate in as extreme temperatures. It operates between 14 degrees Fahrenheit and 104, which captures most places. But here in Indiana, it gets below 14 degrees every winter. The ring goes to five below and up to 120 degrees Fahrenheit. It's a little bit of a wider operating temperature on the ring. They both have my vision and both require a monthly subscription. The ring seem to be about three dollars per month and the nest seem to be about five dollars per month for the subscription so you can have the information uploaded to the cloud.
I think if you're using them exclusively for assistive technology, you can't go wrong with either one. You are probably going to need some help – I would need help getting it installed with the wiring and the physical part of that. If you have temperature extremes, you might want to think about the ring because it works in more situations. Pretty cool stuff. It's just part of our smart home ecosystem. I think we will see more of this all time.
JOSH ANDERSON: I know they are adding more to them. I even saw some of them could do facial recognition now.
WADE WINGLER: Yeah. The nest does familiar face alerts. If you are on my door again, it would say there is Josh.
JOSH ANDERSON: I could see how that could help out somebody with a visual impairment. Basically your phone would say yeah, Josh is at the door and you know not to go into it.
WADE WINGLER: Exactly. Or if you have the same UPS person every day, it would notice them.
JOSH ANDERSON: Exactly. Caretaker, anything like that.
***
[12:07] GE Smart Microwave – $139
***
JOSH ANDERSON: And connecting all that stuff, Nikol, in the kitchen you can connect your microwave?
NIKOL PRIETO: You can. Everything is getting smart. There is a GE smart microwave. I thought it was a reasonable price at $139. It's an Internet connected smart microwave and it works with Google assistant and Amazon Alexa. You can use your voice commands to operate the microwave. It does have a convection fan, so it's like having a small of an. It's also integrated with Yumly, which is a website with recipes. You can also use your smart phone to identify foods. You can scan your food and it will give some recipe ideas with what you have. It take some pressure off of you of coming up with a male.
Another cool thing, especially for somebody with low vision, is you can scan your barcode on frozen food and stick it in, and it will cook it according to the directions that the manufacturer has. That was a neat feature. It has the normal stuff too, the turntable to rotate food, kitchen timer, 900 watts. It's $139, the GE smart microwave.
BRIAN NORTON: I have that sitting in a box in my office. I need to put out and start scanning the barcodes on my food. That is cool.
WADE WINGLER: Cook something.
JOSH ANDERSON: We will pause really quick while Brian goes —
BRIAN NORTON: I'll be right back.
WADE WINGLER: Some Christmas cookies.
BRIAN NORTON: I have to cook my ham, my turkey.
***
[13:33] SimpleHuman Voice Activated Trashcan – $250
***
JOSH ANDERSON: So there are some other items for the home. Maybe they are not Alexa enabled, but they can still be pretty helpful. Nikol, there is a voice activated trash can?
NIKOL PRIETO: There is. It's the SimpleHuman Voice Activated Trashcan. It will come at the price of $250, so *cough* it's a little stiff.
JOSH ANDERSON: Will it take out the garbage too?
BRIAN NORTON: But it's stainless steel.
NIKOL PRIETO: It opened your trashcan with voice commands. If you have trouble the thing a lid or you have your hands full, you just say open trashcan and it will open that. Also you can use a motion sensor if you are not able to speak. It has a liner built-in where you can keep your trash bags. Like me, I go to the trashcan and take it out, and then I'm like I forgot my trash bags. There are 20 trash bags. It's a nice sanitary way to get rid of your trash. You're not, something going by, constantly touching the surface, and everybody else is going behind your and taking it.
JOSH ANDERSON: Definitely. We have one of the step trash cans, and no one in my family steps on it. They all just grabbed the lid and open it up. Every single time. And then I find myself doing it. That stuff is useless.
WADE WINGLER: We do that now because we have one of the motion activated trashcan where you wave your hand over it and the lid pops open. But our dog has triggered out that if he puts his nose over it, he can get into the trash and get whatever he wants. I have a motion activated trashcan that's turned off because the dog gets into it all the time.
BRIAN NORTON: It's going to be so fun in the winter.
WADE WINGLER: I know.
***
[15:02] Kohler Karing Intelligent Toilet – $4000
***
JOSH ANDERSON: Wade, I know you've been waiting the entire show to tell us about the intelligent toilet.
BRIAN NORTON: When you gotta go, you gotta go.
WADE WINGLER: I like that you give me doorbells and toilets, the inputs and outputs of the holiday season.
JOSH ANDERSON: I kinda figured that's why you are answering the doorbell most of the time.
WADE WINGLER: I can't come to the door.
JOSH ANDERSON: Just leave it on the porch.
WADE WINGLER: Interestingly enough, I didn't know what a smart toilet was before this topic was assigned to me. Kohler has a whole series of intelligent toilets that also come with cleansing seats. We are in Indiana, so we are not a big bidet culture here, but there is something to that. Especially with certain kinds of assistive technology needs, the use of a bidet is important. I'm not going into all the models and things these things can do, but one of the things that the smart toilets have in common is they generally have the bidet future. There is a self-cleaning wand that can protrude from the back of the toilet and move backward and forward, basically spray where you need spring. You can adjust that so is a more rearward spray or a more forward spray.
The reason that these are smart toilets is the have some features that are customizable. You can adjust the temperature, adjust the water pressure, adjust the positioning, whether you want it to oscillate or pulsate. You have all kinds of options with how that bidet feature works. But then they don't just stop. As you move up in the pricing and the bells and whistles, you get things like a built-in might light, so that when you lift the toilet seat, the whole bowl glows. You can get a heated seat which is adjustable and customizable.
BRIAN NORTON: I would pay for that one. That's a great winter.
WADE WINGLER: A warm place to sit when it counts in the holiday season. They also have an air dryer, so that after you use the bidet feature, you have an air dryer warm things and try things as necessary. They have adjustable features that allow hands-free lid rising and lowering as well as flushing, so that it will lift and lower the lid for you. In my house, we have a rule, everybody puts the lid down.
JOSH ANDERSON: My house too.
WADE WINGLER: There are self deodorizing and self-cleaning seats, which could be important. The thing that I really was struck by, with many of these higher and smart toilets, you can get personalized presets on a touchscreen remote. You can walk into the bathroom, grab your remotes, hit the Brian Norton button and it will heat the seat, like the bull, raise the lid, adjust the wind just right with the kind of temperature, pressure, and oscillation required for Brian Norton's personal needs. It will be preset for you and your needs.
BRIAN NORTON: Don't forget the blow dryer.
WADE WINGLER: Brian, you're going to have to customize your own toilet experience. That's just a little bit too personal. If you look at Kohler.com, look for their intelligent toilets and cleansing systems, you're going to find all the different makes, models, bells and whistles.
BRIAN NORTON: So these aren't — are these all – the whole toilet? Or are they just seats you attached to the current toilet you have?
WADE WINGLER: The ones I am talking but are a whole toilet that have all the bells and whistles. You can also get seats that do some of these things and get them as add-on features. Kohler seems to have a pretty conference of line of all your smart toilet needs.
NIKOL PRIETO: I think men —
WADE WINGLER: Are you proud of me for not laughing at any of that?
NIKOL PRIETO: I'm over here trying to be mature. My whole thought this entire time is men really plan their bathroom experiences. Moms go with urgency. I don't have time to grab a remote and program things.
JOSH ANDERSON: You program it before you go in.
NIKOL PRIETO: Brian Norton has set it to the Brian Norton setting. Sounds pretty cool.
BRIAN NORTON: That would be weird for the teen meetings that we have at my house every once in a while. What's this?
JOSH ANDERSON: Welcome Brian. Starting warming now.
NIKOL PRIETO: Does the toilet tell Brian he's awesome?
WADE WINGLER: Probably.
BRIAN NORTON: Great job, Brian.
WADE WINGLER: Great job, Skipper.
***
[19:31] Greater Foods Nourish Digital Food Scale – $40
***
JOSH ANDERSON: Going from the bathroom back to the kitchen, on another really cool device – not straight back.
WADE WINGLER: Wash your hands.
BRIAN NORTON: Don't you usually go from the kitchen to the bathroom?
JOSH ANDERSON: I guess it depends. I found a really cool digital scale. A lot of people are trying to watch what they eat and things like that and measure out there portions. It's called the Greater Foods Nourish Digital Food Scale, which is a mouthful. I use we are talking about food. If you think about that nutritional facts that are on the back of everything we eat, it's got a little screen on it with that. You put your item, tell it what it is, and it not only tells you how much the item ways, it tells you how many calories, fat calories, sodium, carbs, protein, cholesterol, all those things that are usually there. If you put an avocado on it, it will tell you how much everything ways but how many calories you will get. If you are trying to watch your carbs, your fat, have extra protein, you can see all that. As you make your food, it's going to be easier to stay on your diet or just be able to watch what you eat. That's available on Amazon for about $40. It's about the same as most kitchen scales. They are easy to clean, all touchscreen so you can wipe it off right after you are done using it.
***
[20:47] ***
JOSH ANDERSON: I know one thing that I always look forward to the holiday season is the food, the candy, the homemade goodies.
BRIAN NORTON: Fruitcake.
JOSH ANDERSON: Do you guys have a favorite holiday gift? Candy? Something you just look forward to getting this time of year?
NIKOL PRIETO: Yes. Peppermint ice cream. I love it.
BRIAN NORTON: I do love peppermint ice cream.
NIKOL PRIETO: And candied yams with marshmallows, which is a huge debate with our family because there are some that would prefer not to have marshmallows.
JOSH ANDERSON: Can you have candied yams without marshmallows?
NIKOL PRIETO: I don't think so.
BRIAN NORTON: You put brown sugar over the whole thing.
NIKOL PRIETO: Brown sugar and orange juice has to be in it.
JOSH ANDERSON: Most definitely. But then you put the marshmallows on top too.
NIKOL PRIETO: I think they are doing it wrong.
JOSH ANDERSON: You can let them know we took a vote and agreed with you. What about you, Brian?
BRIAN NORTON: I don't know if I have a particular – I do like anything pumpkin from Starbucks.
WADE WINGLER: Pumpkin spice life.
NIKOL PRIETO: That's Thanksgiving.
WADE WINGLER: Brian is late.
BRIAN NORTON: I do love peppermint ice cream. You can't go wrong with turkey. I love turkey. I love him.
NIKOL PRIETO: The meats.
BRIAN NORTON: There is one thing, windowpane Jell-O.
NIKOL PRIETO: What's that?
BRIAN NORTON: Have you ever had windowpane Jell-O? Or there is also – it's called pretzel salad. It's pretzels on the bottom, a pretzel crust, and then you have the strawberry gelatin thing on top with whipped cream on top of it. They call it a salad. It's really a desert. I crave that.
JOSH ANDERSON: I've never had that.
BRIAN NORTON: Windowpane Jell-O, which is just Jell-O, different colors of Jell-O all put into whipped cream. I got a whipped cream theme going. I have a great time with those.
NIKOL PRIETO: I've never heard of either one of those.
JOSH ANDERSON: I haven't either.
NIKOL PRIETO: Learn something new.
WADE WINGLER: I was raised with what I consider a lot of holiday staples. There was always a ham or turkey, mashed potatoes, noodles, dressing, cranberry jelly from a can, the Ocean Spray or whatever. Since then, we've developed some nutritional foods around the holidays that we really like. We tend to have a brisket for Christmas. I make a pretty mean biscuit. That's become something people ask for, so that's delicious and different. And then instead of the canned cranberry jelly, I make a cranberry sauce from scratch that's pretty good. It's super simple. The recipe goes like this. You put a bag of cranberries in the food processor, you wash an entire mandarin orange — like a Clementine — and throw it in with a little bit of sugar – or we use Splenda — and just run into the food processor. Maybe add a little bit of water or orange juice if it's too dry. It turns into a really healthy, nice cranberry sauce. Cranberries, oranges, and some sweetener.
JOSH ANDERSON: Do you peel the orange?
WADE WINGLER: We don't peel the orange. It's orange zest, that's what orange zest is. You don't use a huge orange, just one or two of the mandarin oranges. It's delicious.
JOSH ANDERSON: Nice. I love the candy around this time of year. Both my grandmas, unfortunately, half past, but one used to make cookies and all kinds of cookies. You go to her house and her entire washer and dryer would be stacked about three feet tall with baggies because she would give them away to everyone who came in the house. My friends – I used to have a roommate when I first moved on my own – they would all magically appear at my house after Christmas eve and take-home bags and bags of cookies. My other grandma would make candy, everything – they call it divinity, which is essentially balls of sugar.
WADE WINGLER: Egg whites.
JOSH ANDERSON: Yeah. It's amazing. All kinds of things but she also made amazing bourbon balls. After she passed, my mom was nice enough to give me all the recipes and I tried them all one year. I can't make any of it except the bourbon balls.
WADE WINGLER: That when you can do.
JOSH ANDERSON: I realized that grandma made them for the adults and the kids, because I made them per her recipe, and woah. Those things could get you. I'm hoping to revisit it and make all that stuff this year. Fudge is hard. I don't care what people tell you.
NIKOL PRIETO: Fudge is super hard.
JOSH ANDERSON: Mine came out more like putting. Not very good putting.
WADE WINGLER: Here's an easy fudge recipe since we are doing recipes on the fly. You can make microwave fight with a package of chocolate chips and a can of chocolate cake frosting, just a Betty Crocker half pint. Dumped both of those anything, microwave them for three or four minutes, and let them sit in the fridge and it turns to fudge. It's delicious and easy.
JOSH ANDERSON: I wonder if I could use my smart microwave and tell it to make me fudge.
WADE WINGLER: Probably. Then use your smart toilet.
BRIAN NORTON: You would be using that anyway.
***
JOSH ANDERSON: Thank you again for tuning in today. Do not forget to tune in next week for the exciting, thrilling conclusion of the Assistive Technology Update Holiday Gift Giving Guide 2018. See you next week.
BRIAN ANDERSON: Do you have a question about assistive technology? Do you have a suggestion for someone we should interview on Assistive Technology Update? If you do, call our listener line at 317-721-7124, shoot us a note on Twitter @INDATAProject, or check us out on Facebook. Are you looking for a transcript or show notes? Head on over to our website at www.EasterSealsTech.com. Assistive Technology Update is a proud member of the Accessibility Channel. For more shows like this, plus so much more, head over to AccessibilityChannel.com. The opinions expressed by our guests are their own and may or may not reflect those of the INDATA Project, Easter Seals Crossroads, or any of our supporting partners. That was your Assistance Technology Update. I'm Josh Anderson with the INDATA Project at Easter Seals Crossroads in Indiana. Thank you for listening, and we'll see you next time.
***Transcript provided by TJ Cortopassi. For requests and inquiries, contact tjcortopassi@gmail.com***