I always preferred handwriting my notes to typing as I absorbed information better.  The reMarkable Paper Tablet is an electronic-ink-based tablet that's designed to come as close to paper as possible, while offering all the benefits of a digital screen.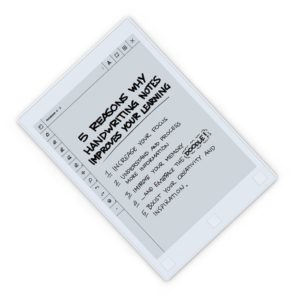 reMarkable is the "only digital device that feels like paper."  It is a great tool for taking notes, reading and reviewing documents.  It's ideal for notetaking as it features no distractions like social media, e-mail, or notifications.
According to the product's website:
"We've spent four years developing technology that mimics the tactility and immediate response of paper.  The very qualities that make paper so simple to use, yet at the same time, our most powerful tool of creation: our CANVAS display."
Features of reMarkable Paper Tablet:
A notetaking system that makes it easy to organize your notes and notebooks
All your notes available in one place
Convert handwritten notes to typed text
Supports 33 different languages
With no backlight or glare, reMarkable offers a paper-like reading experience you won't find on any LCD display
Stay organized with access to all your notes and documents on all devices – sync notes and documents via WiFi
Click here to learn more!