Staying in touch with family, friends and caregivers is crucial for people with disabilities, especially in the cold grips of winter. The Panasonic DECT 6.0 cordless phone makes communication easier in a variety of ways.
Sight and Sound
This phone is particularly helpful for low-vision users. It features a high-contrast, backlit keypad, large buttons, a white backlit LCD display and a talking caller ID that announces incoming names and numbers in either English or Spanish.
It also has a call block button that allows users to block up to 150 unwanted calls, allowing people with disabilities to focus on the important calls from loved ones and healthcare providers.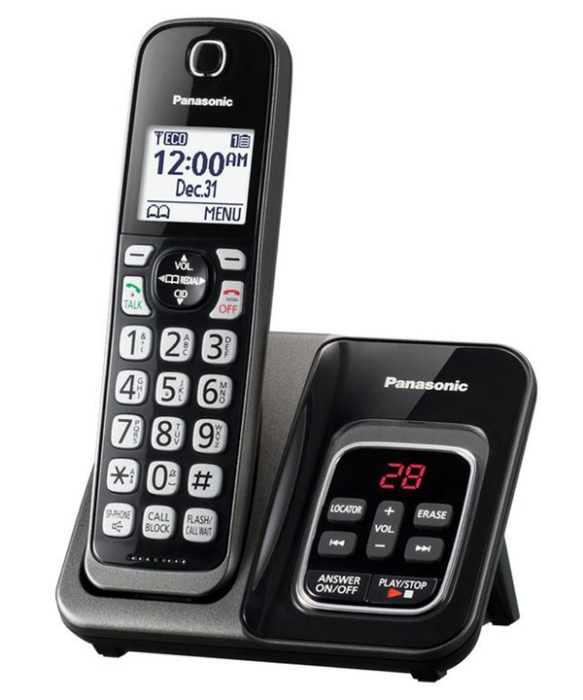 Other helpful features include a digital answering machine, speakerphone with adjustable volume, 10-hour talk time and the capability to answer calls by pressing any key — another plus for users with visual impairment.
The Reviews Say it All
But don't just take our word for this great product. Check out these rave reviews from some of the many highly-satisfied users …
"Love that it says the person's name when a call comes in, which is great for my partially blind mother. The large numbers make it easy for Mom to make a call, and the speed dial is very easy to operate. It also has a feature where you can block any calls from unidentified callers. I would recommend getting this phone." – E.R., Amazon Customer
"I got this for my great grandma, who is 105. She wanted to be able to see buttons and hear people better. She is able to do both with this phone. My parents also have the same phone, and they love the ability to block up to 150 numbers. My old Panasonic phones are dying, and I will replace them with this phone." – Amazon Customer
"I love this phone. Names and phone numbers are large enough to read without reading glasses, and I love that it announces who is calling. I couldn't be happier with this product, and I will recommend it to friends." – LilyBell, Amazon Customer
"The fact that this phone announces who (or what number) is calling is a plus. Big screen and big buttons also make this a great phone, making it convenient for people who may have sight issues, as the numbers and screen are easy to see and use." – Erich, Amazon Customer
"Works great, easy to learn, well-made, and it has great sound. Can't beat it." – Amazon Customer
Click here for more information, including the phone's user manual.