Podcast: Play in new window | Download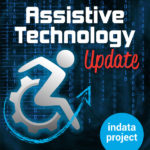 Your weekly dose of information that keeps you up to date on the latest developments in the field of technology designed to assist people with disabilities and special needs.
Show Notes: Eskenazi Health Website: https://www.eskenazihealth.edu/programs/empowerment Larry's email: Larry.Markle@eskenazihealth.edu Indiana Business Journal Story on IEEI: http://bit.ly/2ISkcU4

——————————
If you have an AT question, leave us a voice mail at: 317-721-7124 or email tech@eastersealscrossroads.org
Check out our web site: https://www.eastersealstech.com
Follow us on Twitter: @INDATAproject
Like us on Facebook: www.Facebook.com/INDATA
Transcript:
LARRY MARKLE: Hi, this is Larry Markle, and I'm the program director for the Initiative for Empowerment and Economic Independence at Eskenazi Health, and this is your Assistive Technology Update.
JOSH ANDERSON: Hello and welcome to your Assistive Technology Update, a weekly dose of information that keeps you up-to-date on the latest developments in the field of technology designed to assist individuals with disabilities and special needs. I'm your host, Josh Anderson, with the INDATA Project at Easter Seals Crossroads in beautiful Indianapolis, Indiana. Welcome to episode 407 of Assistive Technology Update. It's scheduled to be released on March 15, 2019.
On today's show, we are very excited to have a conversation with Larry Markle, who was the program director for the Initiative for Empowerment and Economic Independence at Eskenazi Health here in Indianapolis, Indiana. If you have a question about our podcast, maybe somebody that we should interview because you can always give us a call at 317-721-7124. Send us an email at tech@eastersealscrossroads.org. Or drop us a note on Twitter at into the project. Enough about us, let's go ahead and get on with the interview.
Research has shown that individuals with physical disabilities actually graduate college at a higher rate than their classmates without disabilities. But they face a harder road in finding meaningful employment after graduation. Our guest said he is doing something about that. Larry Markle is the program director for the Initiative for Empowerment and Economic Independence at Eskenazi Health in Indianapolis, Indiana, and was nice enough to come on the show today and tell us all about the program. Welcome to the show.
LARRY MARKLE: Good morning. Thank you for having me. I look forward to talking to you about this.
JOSH ANDERSON: Thank you so much for coming on. I can't wait to learn more about the program. Before we start talking about it, you've had a pretty varied career in accessibility. How did it all get started?
LARRY MARKLE: I was fortunate enough, after I finished my schooling, after I finished my Masters degree about 20 years ago, an opening was in Ball State's disability services offices for an assistant director. I had switched ideas about what I wanted to do when I "grew up" a few different times. I realized I wanted to settle on working in higher education administration. I wanted to work with college students. As an undergraduate, I had pretty significant back issues to where I had to withdraw from one university and attend a different university. I had a huge back brace, walking around with a cane for a while. I had a real difficult experience on the initial campus I went to. I went to a very large campus that was not terribly accessible. I had a small inkling that disability operations were out there in universities and saw that something that I thought was going to be a good fit for me in terms of higher Ed administration. I was fortunate that the assistive director position was open at Ball State at the time I was looking, and I was hired by a gentleman named Richard Harris at Ball State. Richard, for people who know disability in higher education, which it is one of the founders in the field of disability services in higher education, a legendary person in the field who started the national professional organization. I was able to get hired, was fortunate to be hired by Richard in 2000 and served for five years as his assistant director. Richard retired in 2005, and a national search for his replacement as director of disability services at Ball State, and I was fortunate enough to be chosen for that role. I then served as director of disability services at Ball State for 13 years prior to leaving last summer, the summer of 2018, to take this position at Eskenazi Health.
JOSH ANDERSON: I think it's important to let our listeners know that Ball State was just given a great honor. Do you want to mention that?
LARRY MARKLE: I was so pleased to see that Ball State was selected as the top school in the country for students that have physical disabilities. There was a really nice write up in the peace and this received terrific attention in the media in the Indianapolis area. I think that's just a reflection of a commitment that was made by Ball State administrators years ago. Initially under the leadership of Richard Harris, who I mentioned before, but even more broadly, the president and other administrators at the University recognized that disability was such an important part of the diversity fabric, and Ball State developed a reputation many years ago, well before 504 and the ADA, as a place that was welcoming for students with disabilities. Their reputation has grown over the years to where we, at Ball State, would continue to see so many more students with physical disabilities than other schools in the state would have. It just became a really nice feather in the cap for Ball State.
It's always nice to be recognized for the work, and I'm so pleased for Courtney Gerrit, my replacement as director at Ball State, and her staff to get this recognition.
JOSH ANDERSON: We are very proud to have Ball State here in the state and have that recognition. We could probably spend all day talking about that, but our listeners are here to hear about the Initiative for Empowerment and Economic Independence program. Go ahead and tell us a little bit about the program.
LARRY MARKLE: I will probably go on for an extended period of time talking about the program, so interrupt me when you need to.
JOSH ANDERSON: We have all the time of the world.
LARRY MARKLE: I'm going to abbreviate IEEI, because the title is kind of long.
JOSH ANDERSON: Perfect.
LARRY MARKLE: This is a program that started in 2013 at Ball State in my time there. As you mentioned in the introduction, we know that students with physical disability's are graduating at high rates. In fact, we at Ball State did some of that research that was published nationally, in our research showed that at the six year mark, when graduation rates are typically measured, that our students who have physical disabilities had a higher graduation rate than students without disabilities. That's wonderful news. That shows that students with disabilities are achieving what they set out to achieve when they come to college. They are graduating. But I knew over the years in working with so many talented students with physical disabilities that there was a real disconnect for them after graduation in finding equitable and sustainable employment. So many just wonderful people were either underemployed or unemployed. That was so disappointing to me.
A critical figure in the development of IEEI — in fact, the key figure — is a guy by the name of Greg Farebach. Greg, a legendary character in Indiana and even nationally for his work relative to accessibility, is an attorney in Indianapolis. Greg was on Ball State's board of trustees, he's on the board of directors for the health and Hospital Corporation in Indianapolis, and that's the parent organization for Eskenazi health. Greg was always so gracious with his time and money for Ball State students with disabilities. Greg comes to me probably about a decade ago and says, "Larry, we need to build a bench." I'm like, "Greg, what are even talking about? Neither one of us can build anything." He goes, "I'm in many leadership positions on many boards, and very rarely do I ever see anybody else with a disability in such positions. I'm going to retire at some point, and we had to start developing a bench of younger people with disabilities to step into leadership roles. What are we going to do about it?" That led us to do some research with current Ball State students, Ball State alums, to find out what is it that they are unemployed or underemployed. We found that in many cases, our students with physical disabilities — let me back up. When I say physical disabilities, we are looking specifically at students who are wheelchair users or have other mobility or orthopedic disabilities, who are blind or low vision, deaf or hard of hearing. What we found is that in many of those cases, the students work doing the things they should have been doing in college to set themselves apart for employment after graduation. As awful as this sounds, I had this conversation with so many students over the years. I would say, "It's not fair, but you have to be better than that student without a disability to allay or offset any fears, stereotypes, misconceptions, biases, whatever you want to call them, that employers might have." So we realize that our students weren't doing internships. Good internship is going to show the prospective employer that students can do the job, the student has done the job already, the student has what it takes to be a good employee.
Realizing our students were doing internships, and frankly using Greg's connections here at Eskenazi health, we started an internship program in 2013 with just one Ball State students, and very carefully selected the student — it was a wheelchair user — to be the first intern at Eskenazi health through this program. Fortunately it worked, and Eskenazi, and subsequent years, asked for more interns. We sent more interns, and it kept building. I got to the point a couple of years ago where the staff here at Eskenazi health said, "Hey, it's great that we have this program with Ball State. We appreciate your students. But we would like to extend this to campuses beyond Ball State. Can you put us in touch with your counterparts in disability services outside of the Indianapolis area?" So we did, and more students came in. The program received some very generous funding from outside sources as well as Eskenazi health funding the book of it internally, to the point where I was asked if I would consider coming and directing the program with the goal being that not only would we extended to the Indianapolis area colleges and universities, but expanded statewide. And in addition to Eskenazi health, incorporate other employers in the Indianapolis area who would take interns as part of the program.
Very long answer to your question, Josh, but we are to the point now where this is a program that is for any Indiana college student that has a physical disability. It could be any college across the state of Indiana, or it could be a student who is an Indiana resident who was attending a college or university out-of-state. To this point, we've had 44 interns who have completed 73 internships, meaning some students come back to us for a second or third time. For this coming summer, we've had 60 applicants. My hope would be that we could hire maybe 40 of those students this summer for internships.
That's the background of the program. Eskenazi health has paid for the great majority of internships thus far, but we also have employer partners. For example, Eli Lilly last year hosted to interns through this program. Lilly is going to have at least two more the summer. Old National Bank had in turn last year, and it will have another this year. We've had terrific interest from other employers as well. For example, the state government is asking about hosting some interns this summer. The Indiana Pacers, Indiana Motor Speedway, Fifth Third Bank, health and science innovations, several other partners are asking to host interns. When we do have employers host interns through the program, we will do a little training relative to disability. But the key message we are trying to get across is that this student, prospective intern, is very qualified, top-notch college student who happens to have a disability. Our expectation here at Eskenazi and with our partners is that this in turn is going to have the same expenses that any intern, with or without a disability, would have. We will provide the accommodations needed, but we don't want standards lowered, expectations lowered. We want a very robust experience for the student with a disability, and we demand that these are paid internships. Eskenazi pays our interns, and we want these to be full-time internships when possible as well. That's the ask that we have of our employer partners as well, that they pay the interns at the rate they would pay an intern without a disability.
JOSH ANDERSON: Very nice. I know paid internships are hard to find anyway, so that's great that you have all these different people on board. I want to go back and touch on — you said the expedition is not lowered for individuals. But there are some accommodations that are offered. Can you go over some of those accommodations?
LARRY MARKLE: Sure. I think the best accommodation that we offer is housing for our interns who aren't in the Indianapolis area. IUPUI apartments are right around the street from us at Eskenazi health, so we've partnered with IUPUI's housing to use some of those apartments in the summer for our interns. We pay for housing for the interns, and it's right across the street. They walk, roll over, get to work. If they are interning someplace outside of Eskenazi health, we would pay for any transportation between the apartments and where it is the enter needs to go. If the intern lives in the Indianapolis area and is going to be commuting, driving into work each day, we will pay for the parking garage, get a parking tag for the intern. We also give each of the interns a meal card. At Eskenazi health, that would cover your lunch, maybe coffee at Starbucks each morning. And of course, if there is any sort of assistive technology need, we've had some students who use a JAWS, ZoomText, and other types of assistive technology, we would take care of as well. Even for our partner employers — so if we are facilitating an internship for a student that's going to be at Eli Lilly, Lily would pay the student salary, but we would offer to house the students in the accommodations needed that we would take care of.
JOSH ANDERSON: That helps a lot of folks down the road, because once those employers conceal accommodations help someone, then it opens her eyes. They can say a lot of folks do those jobs as well. You are helping only those students but a lot of other people.
LARRY MARKLE: We like to think so. We like to think that what we are doing is benefiting the student with a disability. That's why we put the program in place. But also, I hope that we are hoping to educate the employers about the terrific work that these college students with physical disabilities can do, and if we can get people thinking of disability as part of diversity, that's what we are really looking to do. We are trying to show that this person with a disability whom you might not have considered before may be the absolute best person for the job, but often just can't get to the door, literally and figuratively, to get a chance to get the job. We hope that in addition to benefiting the students, we hope that there is benefit as well to the employers for the program.
JOSH ANDERSON: Tell me a couple of the stories of folks who have gone through the program and where they are now.
LARRY MARKLE: Sure. I mentioned before, we've had 44 interns thus far in the program. I think with the 44, 41 are either currently graduated and currently employed, to graduated and in graduate school, still undergraduates at the University. I mentioned before that the program is open to students who finished their first year of college. We've even extended it up until a year after the student has graduated with the thinking being, as we talked about before, that many students don't do internships when they are in college, so we will even offer an internship up to a year after a student has graduated. Having said that, we still have a lot of students who in turn with us to this point who are still undergrads. Eskenazi health has hired two of our interns for full-time positions here, and they're both doing really well in their jobs.
One of my favorite stories is one of the first interest we had at Eskenazi health, graduated from Ball State, and now has a really good job but he is a great fit for with the city of Indianapolis in the mayor's office for disability affairs. Another of our early interns for Ball State did a couple of internships, one here Eskenazi health, another with a PR firm in Indianapolis. Upon graduation, he got a job doing IT work at Rutgers University. A nice mix of outcomes for the students. One of the good things that we're going to do going forward is we've hired an outside researcher to do a full assessment and evaluation of the programs. We hope to have really good data going forward about the interns' experiences while they are here, the employer expenses, what they gain from it. But also in a couple of years when we have more data to look at, I hope we get a really good outcome for the interns, we can provide good outcomes as to what they're doing to how the internship helps steer them towards what they wanted to do vocationally.
JOSH ANDERSON: The program was recently featured in the Indiana Business Journal as a 2019 healthcare hero. Can you tell our listeners a little bit about that?
LARRY MARKLE: What a really neat honor that was for us. One of our former interns who was hired here Eskenazi health, a woman named Leslie Marsh, worked with Eskenazi public affairs department to nominate IEEI for this healthcare hero award through the Indianapolis Business Journal. I'm still kind of new to working in healthcare. I'm still a higher education guy. But my friends here at Eskenazi health tell me that this is a very big deal, that we were selected for this award. I think more than anything, it shows how unique IEEI. That kind of recognition amongst many candidates who are doing incredible work in healthcare is a big deal for us. More than anything, it just gets the word out for us, gets the word out to prospective interns, but more importantly gets the word out to employers as well, that employers that may want to take an intern, that would partner with us, but employers looking to hire, maybe if this condition that we receive helps employers realize that it's a population that we can look to in hiring positions. That's the kind of recognition we want.
JOSH ANDERSON: Along that same line, what does the future hold for the program? Where does it go from here?
LARRY MARKLE: I'm really looking forward to something that are coming online for us this year. We've received my support internally from Eskenazi. Eskenazi pay the sellers of two full-time employees, myself included, and foots the bill for 25 interns a year, a significant outlay of resources by Eskenazi health. Eskenazi has made this happen. We've also had funding from many external sources as well, CICEF, Christopher and Dana Reeve foundation, Fifth Third Bank, and the Eli Lilly endowment. Part of the generous gift that the Eli Lilly endowment gave was for us to open a center here Eskenazi health to continue the internship program but add some elements as well. At some point over the next year or so, we will open a center that's going to be named for Greg Farerbach, as it should be, that the internship program is going to be the key cog in the center, but we are also going to do other things as well. It's going to be a real focus on education and outreach, primarily to K-12 and colleges and universities, to reach out to students, parents, educators, and others to talk about the program and give younger students with disabilities help, let them know that this is a program, this is something you can aspire to. We're going to put mentors out there, meaning alumni of our internship program, connecting with younger students with similar disabilities to show what possibilities exist for students with disabilities. We really want to promote amongst younger students that because you have a disability doesn't mean you can't major in anything you want to. Hopefully it will open up doors for younger students with disabilities so they can eventually achieve their full potential. The education and outreach will be part of it. We will do some employer training and education as well. We hope you do quite a bit of research, to hire researchers to delve into some of these topics. And also some public policy work, some advocacy.
There are so many disincentives for people with disabilities, for college graduate with disabilities, in finding work relative to benefits and many other areas. We hope to do some public policy advocacy as well with the center that will come online in the next year or so.
Big plans with this integer program being the critical component of what we do going forward. We hope to have more interns. That's the goal. My goal is at some point to have at least one intern from every college or university in the state. I have visited every college, so since I have started at Eskenazi health I have visited with the disability services and career services offices at each college in the state. We followed up with individual students as well. We've interviewed plenty of students at each school. My goal eventually would be to have at least one student from every university. This summer, as I mentioned before, we had 60 applicants and 26 different colleges represented amongst those applicants. Sorry for the long answer, but we have ambitious goals going forward with what we're going to do.
JOSH ANDERSON: That's good. It's an amazing program and I love that it's going to continue to grow and you are still looking to the future and how to make a better. If our listeners want to know more about IEEI, how would they do that?
LARRY MARKLE: A couple of different ways. On Eskenazi health's website, if you just type in "IEEI," you will get to our website. There's a really good video that the communication folks did where several of the interns and the supervisors have been interviewed. That on our website, and a little bit more information on our website including contact information. I always think the best way to contact me is via email. And very accessible payment I would encourage anybody that has interest in learning more, would like to ask me to come speak to the organization about what we're doing, I would be happy to do that. My email is peaceable, larry.markle@Eskenazihealth.edu.
JOSH ANDERSON: Perfect. We will put a link to both of those in our show notes. Thank you so much for coming on the show today.
LARRY MARKLE: It's been a pleasure. Thank you so much for having me.
BRIAN ANDERSON: Do you have a question about assistive technology? Do you have a suggestion for someone we should interview on Assistive Technology Update? If you do, call our listener line at 317-721-7124, shoot us a note on Twitter @INDATAProject, or check us out on Facebook. Are you looking for a transcript or show notes? Head on over to our website at www.EasterSealsTech.com. Assistive Technology Update is a proud member of the Accessibility Channel. For more shows like this, plus so much more, head over to AccessibilityChannel.com. The views expressed by our guests are not necessarily that of this host or the INDATA Project. This is been your Assistive Technology Update. I'm Josh Anderson with the INDATA Project at Easter Seals Crossroads in Indianapolis, Indiana. Thank you so much for listening and we will see you next time.
***Transcript provided by TJ Cortopassi. For requests and inquiries, contact tjcortopassi@gmail.com***