Looking for an app to teach your child or student about grammar? Check out the Sentence Master Pro app on Google Play! Sentence Master Pro is a fun language app designed for younger students.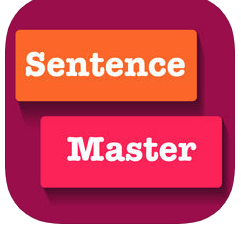 According to the app's description, it is a "fun and educational game for kids and English language students of all ages who want to learn and improve their language skills in a more entertaining way."
Here's how it works:
The game consists of putting the scrambled words from each level in order to form a correct sentence

There are several difficulty levels: beginner, skilled, professional, expert, and sayings

If you make a mistake and click the English word in the incorrect order, there is a time penalty
Once you have finished the sentence you will receive a score based on how fast you were and your total number of errors
Click here to learn more about this fun, educational app!