Many Braille printers are rather large and bulky. If you're searching for a more lightweight option, check out the TactPlus printer! The TactPlus is the "world's smallest and lightest Braille tactile and 3D imaging printer."
The printer uses Thermal Technology and Capsule Paper. Braille and graphics are made in one easy step as the printer heats up the Capsule Paper.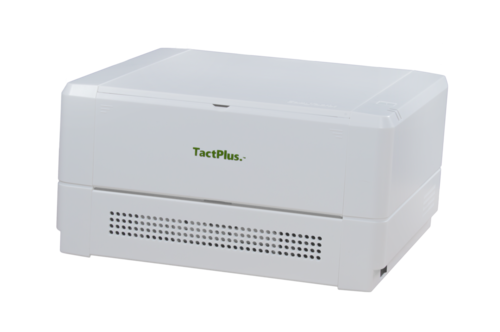 According to the company's website:
"As a Braille printer, TactPlus improves the quality of life for individuals with visual impairments. The printer is small and lightweight and can be easily taken on the go.

As a graphic tactile printer, it helps volunteer and educational institutions. 3D imaging assists individuals with visual impairments learn through touch."
TactPlus Printer Features:
3D imaging and Braille printing available in one lightweight, compact printer
Because the printer is small and lightweight, you can print anytime, anywhere
Prints silently – a feeding sound of less than 50 decibels
User-friendly
Audio guidance to assist individuals with visual impairments
USB, Wireless, and LAN Interface
Click here to learn more about this device.