Getting out of bed isn't easy for many people. And those people with hearing impairments have the added difficulty of not being able to hear an alarm to help them wake up.
In comes the HomeAware Smartphone Signaler. The Signaler alerts you to your morning alarm. In addition, it alerts you to your mobile calls, traditional landline calls, text messages, emails and more.
Choose Your Alert Style
The HomeAware Smartphone Signaler gives users the option to choose how they want to be alerted. You can choose an extra-loud 100dB audible alert, flashing strobe lights or a powerful bed shaker.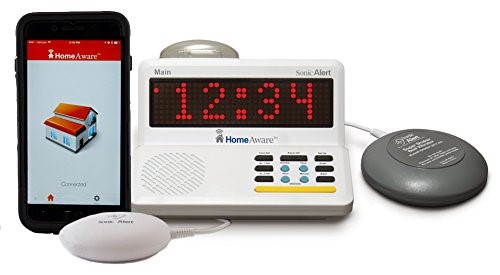 One in every 10 people in the world has or will experience disabling hearing loss. Users are in control of their lives with the customizable options from HomeAware.
Here are some of its features:
2-inch scrolling display with Caller ID
USB plug charges your cell phone while you sleep
Low battery/broken link monitoring
1,000-foot range with an additional 1,000-foot per extra receiver
Automatic dimmer dual alarm and snooze functions on alarm clock
Link up to 15 transmitters and receivers to the main unit
Signaling More Independence
Those who are hard of hearing (HoH) or deaf can find solace in the HomeAware Smartphone Signaler. They don't have to constantly monitor and check their devices to see if they have messages. They will clearly be able to "feel" or "see" if one comes in.
The Smartphone Signaler is also compatible with all traditional and new HomeAware receivers. You can also add transmitters to be alerted to different events, like a baby cry or smoke, and add extra receivers to be alerted in additional rooms.
People with a hearing impairment will be able to take a bit of their independence back with this device and give loved ones more peace of mind.
Watch this video to see how it works:
For more information and details on this device, visit SonicAlert.com.