Podcast: Play in new window | Download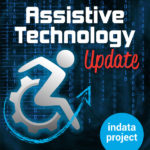 Your weekly dose of information that keeps you up to date on the latest developments in the field of technology designed to assist people with disabilities and special needs.
Show Notes: On today's show we take a trip back to our first episode from June 2nd of 2011 and pay homage to the first episodes with all news story content. We hope that you enjoy and will be back to our normal interview format next week. Very First ATU Episode: http://bit.ly/2PHyBlN
INDATA Accessible Web Webinar Info: https://www.eastersealstech.com/a11y/
Apps worth mentioning: www.bridgingapps.org
Exoskeleton Story:http://bit.ly/2PNwEEI
WSU eating device Story:http://bit.ly/2PJTPzr
ASD and Machine Learning Story: http://bit.ly/2PF5AqW
Anxiety App Story: http://bit.ly/2PQWfg5
Aria in Boston Story: http://bit.ly/2PH8bkg
Augmenta11y Story: http://bit.ly/2PKIwY8
——————————
If you have an AT question, leave us a voice mail at: 317-721-7124 or email tech@eastersealscrossroads.org
Check out our web site: https://www.eastersealstech.com
Follow us on Twitter: @INDATAproject
Like us on Facebook: www.Facebook.com/INDATA
JOSH ANDERSON: Hi, I'm Josh Anderson, manager of clinical assistive technology services for Easter Seals Crossroads, and this is your Assistive Technology Update.
Hello and welcome to your Assistive Technology Update, a weekly dose of information that keeps you up-to-date on the latest developments in the field of technology designed to assist individuals with disabilities and special needs. I'm your host, Josh Anderson, with the INDATA Project at Easter Seals Crossroads in beautiful Indianapolis, Indiana. Welcome to episode 414 of Assistive Technology Update. It's scheduled to be released on May 3, 2019.
On today's episode, we are going to do something a little different. I was looking back through and actually realized that our very first episode came out almost 8 years ago. I believe it was eight years ago this coming June. So I thought, why not go back and listen to the episode and maybe make this one a little more like it. So back then, we do not do interviews. It was just the news stories. It was also only about three minutes long, so you'll notice when we play that first episode, it sounds a little bit different. But, much like technology has changed a lot in the past eight years, this show has changed a lot too.
So we are going to start the show today by listening to the very first episode and then we are just going to get in and actually do news stories this time. A little bit different, no interview this week, but we will go over some of the things in the news related to assistive technology. I hope you all really enjoy the show today. Next week we will be back to our normal format. But I thought why not a little blast from the past and go back to the way things used to be eight years ago. Of course, this is not Wade Wingler. The suggestion is in here. But other than that, let's go back to the old format, just the way the show used to run. Let's get on with the show.
***
Are you interested in spending a day learning more about web accessibility? Join us for our web accessibility for developers 2019 webinar where you can join renowned web accessibility professional Dennis Lembry for a full day of training. This webinar training begins with a background on disability, guidelines, and the law. That many techniques for designing and developing an accessible website are explained. This is basic through advanced levels that are going to be covered. The main topics include content structure, images, forums, tables, CSS, and Aira. Techniques on writing for accessibility and testing for accessibility will also be covered. If you are involved in web design or development, you don't want to miss this wealth of practical knowledge. This is completely free, but you do have to register for it online. Webinar will take place on May 8, 2019 from 11 AM to 4 PM. For more information or to register, go to EasterSealsTech.com/A11Y. We will go ahead and put a link to that over in our show notes.
***
Are you looking for more podcasts to listen to? Do you have questions about assistive technology? About an accommodation or maybe how something works? Are you really busy and only have a minute to listen to podcasts? Guess what, you are in luck, because we have a few other podcasts that you should really check out. The first one is Assistive Technology Frequently Asked Questions, or ATFAQ, hosted by Brian Norton and featuring myself, Belva Smith, and a bunch of other guests. What we do is we set around and take questions about assistive technology, either about accommodations, about different things that are out there, or about different ways to use things. We get those questions on Twitter, online, on the phone, and in many other ways. We are also trying to build a little bit of the community, as sometimes, believe it or not, we don't have all the answers, so we reach out to you to answer some of those questions and help us along. You can check out anywhere you get your podcasts and wherever you find this podcast.
We also have accessibility minutes. Accessibility minute is hosted by Laura Metcalf. If you've never heard her voice, it is smooth as silk and you should really listen to that podcast. She's going to give you a one minute blurb about different kinds of assistive technology, kind of wet your whistle a little bit and just let you know some of the new things that are out there so that you can go out and find out more about them. Again, check out our other shows, Assistive Technology Frequently Asked Questions and accessibility minute available wherever you get your podcast.
***
WADE WINGLER: Hi, this is Wade Wingler with the INDATA Project at Easter Seals Crossroads in Indiana, and this is your Assistive Technology Update, a weekly dose of information that keeps you up-to-date on the latest developments in the field of technology designed to assist individuals with disabilities and special needs.
First off, have you ever wished that your iPhone had a larger screen, larger buttons, or other large print features for low vision? Well, iPhone Islam is planning to release a new application designed to convert your iPad into an iPhone. This app is reported to allow you to make voice calls, FaceTime calls, SMS messages, and more. Although a jailbreak is required, this may prove to be a very promising telephony tool for people who are visually impaired.
Ever wish you didn't have to physically handle credit cards? Google has just announced a new service called Google wallet that's going to take advantage of near field communications technology. That means that you will be able to pay for your gas, your groceries, and gadgets with your cell phone. For some people with physical challenges, this may open up a new way to independently pay for everyday goods and services.
Speaking of money, did you ever wonder how people with limited vision can tell a one-dollar bill from a five-dollar bill or a ten-dollar bill without sighted assistance? There is a new iPhone application from the Looktel group that does just that. For $1.99, you can download the money reader application that will quickly and accurately tell you if you're holding a one-dollar bill or a twenty. According to Looktel, this is just the first product in their plans. Imagine an application that you could use at the food court, at the mall to determine the location of a Starbucks, a Burger King, or a Taco Bell. Object recognition is an up-and-coming technology, and we look forward to more developments in this area.
Want more? Find links to all this great new technology and check in our block at Easter Seals Crossroads or follow us on Twitter @INDATAProject. Until next time, this is been your Assistive Technology Update.
***
WADE WINGLER: Listeners, there you have a blast from the past. For our new listeners, that was Wade Wingler who hosted the show for many a year before stepping away from the mic and letting me take over. I must admit, you can tell a lot of changes. For one thing, instead of being a half hour long show, that was almost 3 minutes, I do believe. So we've definitely increased in the amount of time that this show has. As you see, it's also just really fast news stories, not much commentary, just a quick thing. So if you really think, that show has morphed into accessibility minutes, one of our other shows. What I really love about listening to that, besides that great bass line at the beginning — I've got to see if I can find that music and work that back into the show — just think about the technology that's changed in those eight years. An app that you had to jailbreak your iPad to use it as an iPhone in order to make FaceTime calls or send SMS text messages. You can do all that from an iPad nowadays, sometimes without the need for an app and definitely not the need for a jailbreak. Google was going to be introducing Google wallet. So if you think Apple has Apple wallet, Google wallet, all the different pay options and everything. An iPhone app that will allow you to read money; now there are all kinds of apps that can help you recognize money, recognize items, know where you are, so we can really look back and see how much technology as well as this show has changed. That first show was put out on June 2, 2011. We did not actually start doing interviews on the show until episode seven, which was back on July 15 of 2011. Hopefully we can replay this episode eight years down the road. Thanks for going down that little trip down memory lane with me.
***
AMY FUCHS: This is Amy Fuchs with BridgingApps, and this is an app worth mentioning. This week's featured app is called Jabberwocky. Jabberwocky uses face ID technology to turn the latest generation of iPhones and iPads into communication devices. The app is laid out as a QWERTY keyboard with word production and a message bar where you write the message. The face ID tracks your face. Think of your nose as the pointer. Then you select by resting or dwelling on a key. The dwell time is adjustable, and there is a blank space to allow you to rest while skinny with your eyes for the next key or word. You can also draw words by quickly dragging the cursor to all of the letters of the word, similar to the draw feature on some phone keyboards. This app is great for older children and adults with literacy skills to type out messages. Individuals with fine or gross motor difficulties are able to interact and touch the screen using this app and you face ID technology. The app is not yet equipped with multiple voices or the ability to export text written in Jabberwocky to another app such as notes or emails, but this is an exciting new innovation for accessing a device, as well as it will both communication application. Jabberwocky is available for free at the iTunes Store for iOS devices. For more information on this app and others like it, visit BridgingApps.org.
***
JOSH ANDERSON: Thank you, Amy, for the app worth mentioning. Since we started off the show today with a blast from the past, that's may be talk about some technology from the future. If we think back to growing up as kids, at least if you grew up like I did, robots were always the evil thing. The Terminator, other things like that, were really scary with the destruction of mankind. Well, I found a great story at Mainline Today. Through the help of a robotic exoskeleton, a Collegeville man gets the chance to walk again. It was talking about some of the new technology. We've seen these for a little while, but we are starting to see a lot more stories about them. These are kind of the robotic legs.
The story is by Melissa Jacobs, and it talks about a gentleman in the South Philadelphia area that's been using this exoskeleton called Exo GT for a couple of years, and just how it's really changed his life. His bone strength has gotten better, he has increased muscle tone, bladder and bowel efficiency, better skin texture. You have to think if you are not sitting in the wheelchair. The gentleman says he hasn't walked since he's 16 years old, so for 30 years this gentleman has been in a wheelchair and now he's actually able to use these – I don't know, I guess you would call them robotic prosthetics – in order to be able to walk. He does still need a little bit of assistance, and he really had to learn how to balance and shift his weight in order to use that item again. It says here when he first started using it that he could take about 300 steps in an hour and now takes about 1700 every session. Used to be he wore himself out, now he's wearing out the batteries on the thing.
It does say that the device does have a couple of drawbacks. The batteries weigh about 47 pounds, so it's definitely pretty heavy. A lot of folks use crutches, canes, in order to be able to stay on balance and be able to use a little bit more. It says there are about four or five different manufacturers that make these kinds of things since they were approved by the FDA in 2012, so going back to that original episode from 2011, these were approved by the FDA a year after, but we definitely don't see them all the time in mainstream society. One of the main reasons for that is it does say the least expensive run about $90,000, and it says that the Exo GT that they are talking about in the story is about $140,000. Luckily they were able to get a donation from Independents Blue Cross for $280,000 so they could get two of these units in order to use them with their folks.
Very cool story, we will go ahead and put a link to that in our show notes.
***
Sticking with the theme of robots, I found a story over at WDTN.com by Judith Retana, and the story is called, "WSU first university to introduce assistive eating device for students." It talks about the Obi robots. If you don't know what the Obi robot is, it's a device that sits on a table, it has an arm, it is a feeding device. It will take down the spoon, the fork, pick up the food, bring it up to the individual's mouth, allow them to eat it, and go back and get more food. Essentially it removes the need for having a care attendant at all times, at least for that feeding portion of it.
The story talks about Wright State University, and it says that they have received a grant for $15,000 from the Christopher and Dana Reeve foundation to purchase three of these Obi robots to be able to assist their students with special needs who need help with eating. They talked to a student in here named Sarah Faith Davis. It says she's studying communications there and is also learning how to use this device. She just had some difficulty scooping up food. Sheets quoted as saying in here that, "Students like me, we like to be as independent as possible." So if you really think about the whole college experience and the social aspect of that – sitting on the quiet, studying, or talking, or doing anything like that – and having lunch, it can be kind of weird, especially for individuals who aren't used to personal care attendants to kind of deal with this person looming over the individual you are talking to and feeding them. This actually allows the individual to be independent and do that on their own.
It talks in here about Jon Dekar who is the individual who created the device. He said he was actually inspired to make it after his grandfather developed a degenerative neuromuscular disease. He said he researched different assistive eating devices and just couldn't really find one that could get the food from the plate to the person. And then also he had a lot of challenges with making it sleek, simple, and almost invisible when used in public. One would think about all this assistive technology to help individuals in college with reading, writing, math, computer access, all this stuff, this robot can help them with one of those aids in daily living, something that would normally take another individual to assist them with and now they're able to do it on their own. Definitely kudos to Wright State forgetting those for their students, big kudos to the Christopher and Dana Reeve foundation for that grant in order to help those folks become more independent.
***
Moving away from robots and moving into machine learning as we take our tour of things that would kill you in James Cameron movies, I found a story over at ecnmag.com, a short story by Texas State University. We may have had a story about this a little bit before, but this talks about using machine learning to help folks with autism spectrum disorder recognize facial expressions. It actually starts by saying there are really only seven universal facial expressions in humans: happiness, sadness, fear, disgust, anger, contempt, and surprise. You could probably mix those together, because I know I've been angry and surprise before, but I guess you could probably, if you are just looking at the movement of the face, break it out into those different expressions. It talks about how individuals with autism spectrum disorder can have a lot of difficulty distinguishing among these emotions while they are talking to other individuals.
So some researchers at Texas State are developing mobile applications to help children recognize facial expressions on a device screen. I believe we had a story about folks trying to use Google Glass to do this; Otsimo, they were working on that as well, folks we interviewed back some episodes ago. So very cool. It does have one part in here that I thought I had to read. One of the quotes from Dr. Valley says, "I don't think even five or ten years ago, we could have had this discussion based on the technology available." So as we are having a flashback episode for something from 2011, I thought it was nice to sit here and have a story where they mentioned that back then, we wouldn't even be having a conversation about this kind of technology.
It does say as kids use this to identify, they will also begin to identify how folks work. It says by the summer they are hoping to have the app verified by Apple and start the process of clinical trials for patients, and then see if direct improvements can be made in the technology. Just to end the story on a very creepy note, they even talk about maybe using facial recognition for airport security and authorities to identify potential threats based on those nonverbal cues. So the story kind of ends on what I consider to be a little bit of a creepy note in technology gone awry, but I can definitely see how that facial recognition and recognizing emotions has great use for individuals with disabilities.
***
Did the end of that last story give you a little bit of anxiety? I know for some folks, it can. There are a lot of folks in this world that suffer from anxiety all the time. Believe it or not, that is leading into something. I have this story hear from homecareinsight.co.uk. It says, "Cornwall trials smartphone app proven to reduce anxiety, aid independence." It's by Sarah Clark. It talks about the Cornwall Council and a smartphone app called the Brain in Hand app. Is a portable support system that allows users to quickly find their best coping strategies, access a daily diary, receive prompts, and many other different things that usually they would actually have to have a care provider there to help them. It says it also has a built-in anxiety monitor. This can be accessed by a team of professionals that can get in touch with the user and help them solve problems if the individual can't figure them out themselves. You think if that anxiety level gets way too high, that individual can call them, maybe FaceTime them, intervene in order to be able to help the individual. It says this Cornwall Council is really working to trial all different kinds of technology and ways to support people and let them be able to live a little bit more independently.
It does make sure to mention here that the technology does not replace contact with the real person, but it can enable a person to be more independent and not have to rely on having that therapist or person there with them all the time. It has a quote from one of the Cornwall residence that's been using the app for about five months. She says she can pick different faces which help her communicate to people around about how she's feeling. It also reminds her about appointments. For example, it will remind her when she asked to go work in the charity shop.
So very cool. We've talked about a few different apps that help out with anxiety or help with emotion and help with these other things, but I really like the way they built in reminders and the timers and those things in here that can really help you with the routine. I'm sure they were probably smart on the way that they put it all together. I know for me, when I look at my calendar, sometimes it actually causes more anxiety when I look at all the things I need to do. But if I just get a pop-up sometimes that says hey, in 15 minutes you have this meeting at work tomorrow don't forget to do this, it can be a little bit easier and not as overwhelming.
It does say here that nationally, the Brain in Hand app has helped 4000 people reduce anxiety and improve their independence, which lowers the demand on careers and support services. So a very cool app to help with anxiety.
***
We've talked about Aira before on this show, and I believe that Wade interviewed them way back in the day. I found a story on the bostonglobe.com that says, "T [which I believe is their transit rail system] offers app to help the visually-impaired navigate the system." We've had a few stories about this before where Aira is starting to be used in different places such as schools, some businesses, department stores and things like that. Of course, if you're not aware, Aira is an app that goes on your phone. If you pay the monthly service fee for it, you can actually get a pair of glasses so folks can see what you see. You log in – it's made for folks who are blind or visually impaired. This person called an agent, you will log into them, and they will be able to see through your glasses, your phone, something like that, tell you where you are, what's around you, and help guide you. They did not replace the white cane or the dog, but they are there to help you get more information. Aira itself, if you are a paying customer, has a monthly fee, but more and more places are starting to offer this service for free. Basically, you show up wherever they are, you can open up that app and you are using their account. Or if you are an Aira user, someone who does pay for it, you will be using their account is supposed using your minutes as it is a monthly fee.
It says right now this isn't actually completely available. They are trying to work with the different folks who are blind or visually impaired and ride their transit system to start having them try it out. It says they have approximately 3000 blind and low vision riders, and they were to have them try it out and test the technology's performance before they really support it. They also want to review possible funding options such as private grants. It does say in Boston, Aira is already free for users at Boston Logan International Airport, Worchester Regional Airport, Bank of America branches and ATMs, and several other locations across the state of Massachusetts. So Aira, a very cool app, a very cool program, but I love the way that some of these businesses and other places are starting to pay to really help the access of individuals who are blind and visually impaired.
***
We will stay in the world of apps for our final story today. I found this at yourstory.com, and it's entitled, "These 20-year-olds developed an app to help students with dyslexia learn better." The story is about an app called Augmenta11y, but it's spelled A-U-G-M-E-N-T-A-eleven-Y, so the accessibility code built in to the name of the app. I found this story and I went ahead and downloaded the app and started playing with it. It's very cool. It actually uses augmented reality to kind of change the text. So if you think about a lot of apps that we've used in the past have OCR, so they will snap a picture of something and then read it back to you. A lot of times after you have that picture taken, you can change how the text looks. This app does it a little bit differently. It pulls that text out and changes it right there on your screen before you even push a button. There are different settings you can change for the background, the font, the way the text appears, the size, a lot of different things you can alter and change in order to make it easier to read. They will pop up in different boxes on your screen with different pieces of text. You can type on them and then it will actually make that larger, a little bit easier to read. It does have OCR in it, so you can have it read to you as well. There are just tons of different things. And also very cool to sit here and find out that it was a bunch of twenty-somethings that created this app that put this together.
Very need, and of course the story is good. It talks about the team themselves that created it. The app is free on both iOS and android. It talks a little bit about the stories and the beta of it as well as some other apps that have been developed by folks that they worked with. Again, the app is called Augmenta11y, and it's A-U-G-M-E-N-T-A-eleven-Y. You can find that on the App Store or on the Google play store and it is free to download. Go ahead and download it and start using it for those individuals that you might work with or might know that have disabilities and see if maybe you can help them.
***
I want to take a little bit of time out to thank you all for listening to us every week and also for going ahead and listening to us today and putting up with a totally different episode. I just wanted to pay homage back to about eight years ago when this show was first started when it was only news stories. There were no interviews. Thanks for going along on this journey with me. Thanks for listening to those old shows and paying homage back to Wade. I want to thank him for starting Assistive Technology Update and letting us get to episodes in the four hundreds already. We will be back next week with our normal programming with interviews so you will not be forced to listen to just my voice for the full half hour. Thank you again for listening and being a part of our program. We can't wait to see you next week.
***
JOSH ANDERSON: Do you have a question about assistive technology? Do you have a suggestion for someone we should interview on Assistive Technology Update? If you do, call our listener line at 317-721-7124, shoot us a note on Twitter @INDATAProject, or check us out on Facebook. Are you looking for a transcript or show notes? Head on over to our website at www.EasterSealsTech.com. Assistive Technology Update is a proud member of the Accessibility Channel. For more shows like this, plus so much more, head over to AccessibilityChannel.com. The opinions expressed by our guests are not necessarily that of this oath or the.. This is been your Assistive Technology Update. I'm Josh Anderson with the INDATA Project at Easter Seals Crossroads in Indiana. Thank you for listening, and we'll see you next time.
***Transcript provided by TJ Cortopassi. For requests and inquiries, contact tjcortopassi@gmail.com***