Freedom Scientific is the "largest worldwide manufacturer of assistive technology products for those with vision impairments or learning disabilities." One of their available products is the omniReader.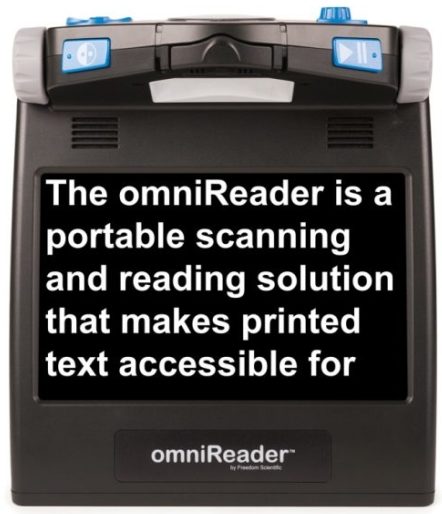 The omniReader by Freedom Scientific is a portable, lightweight scanning and reading solution for individuals with visual impairments. To use the device, simply press a button and the omniReader will read the printed text aloud. You can also use the screen to magnify objects to see them more clearly.
Features of the omniReader are:
Instantly read and magnify text
Large, easy-to-use controls with customizable settings
Magnify small objects and fine print in Live Viewing Mode
Connect a headset to listen to documents privately
Save multi-page documents
Scan material in 17 different languages
Read from and save to a USB thumb drive
Lightweight design weighs about 1.51 kg (3.32 pounds)
10-inch color display
Click here to learn more about this device!