Podcast: Play in new window | Download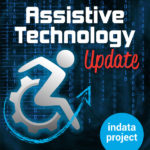 Your weekly dose of information that keeps you up to date on the latest developments in the field of technology designed to assist people with disabilities and special needs.
Show Notes: Kevin Grogg MS, ATP, RET – Service Owner for Assistive Technologies with Ernst & Young www.ey.com
——————————
If you have an AT question, leave us a voice mail at: 317-721-7124 or email tech@eastersealscrossroads.org
Check out our web site: http://www.eastersealstech.com
Follow us on Twitter: @INDATAproject
Like us on Facebook: www.Facebook.com/INDATA
KEVIN GROGG: Hi, this Kevin Grogg, and I'm the service owner for assistive technology within Ernst & Young, and this is your Assistive Technology Update.
JOSH ANDERSON: Hello and welcome to your Assistive Technology Update, a weekly dose of information that keeps you up-to-date on the latest developments in the field of technology designed to assist individuals with disabilities and special needs. I'm your host, Josh Anderson, with the INDATA Project at Easter Seals Crossroads in beautiful Indianapolis, Indiana. Welcome to episode 420 of Assistive Technology Update. It's scheduled to be released on June 14, 2019. Our guest today is Kevin Grogg from Ernst & Young, and we are going to get on with the interview.
When I was at ATIA last winter, I had the pleasure of meeting our next guest and learning how he provides workplace accommodations all over the world for Ernst & Young. I was really amazed. So our guest that is Kevin Grogg, and he is here to tell us about providing accommodations and assistive technology support for a large global company and some of the challenges and triumphs associated with this large task. Welcome to the show.
KEVIN GROGG: Think you, Josh. I appreciate you inviting me to be here.
JOSH ANDERSON: Thank you so much for coming on. Before we get started, can you tell our listeners a little bit about Ernst & Young.
KEVIN GROGG: Definitely. And I'll start with an acronym. Within Ernst & Young, we call ourselves "EY." I'll refer to our company as "EY" from here on in the interview. EY is a professional services firm, and that does encompass many different areas as far as taxes, advisory services. The we could think about it is if you have a CPA who takes care of your individual taxes, EY can be the CPA for Fortune 500 companies. We have multiple service lines that, in addition to helping with taxes and the financial needs of your company, we will work with artificial intelligence — AI; robotic process automation — RPA; and others as we help a business grow into the future. I'm from IT, so I very much center on taking advantage of your technology so that you can do a better job agribusiness to help yourself grow so that, when our tax areas and such are helping you as the CPA for large businesses, it all flows well, and EY helps your business to your job well.
JOSH ANDERSON: It's a large company. Is that correct?
KEVIN GROGG: To say the least. It surprised me when I came on board. I've been there for three years. As of 2019 we have eclipsed 300,000 within the firm itself. That encompasses 150 different countries as well.
JOSH ANDERSON: We will get into the challenges associated with working all those folks in a minute, but first, can you tell us a little bit about yourself and your background?
KEVIN GROGG: Sure. Within assistive technology, I've been in the field for roughly 16 years through students and IT in my other career, which was exercise science. So maybe something a little bit different from what I'm doing right now. I do have a Masters degree in exercise science and biomechanics. My Masters thesis involved Paralympic athletes from the 1996 Paralympic games in Atlanta. One of those things I was fortunate, my hometown hosted the Olympics. Through my graduate studies, we worked the Olympic Games, but my thesis was with Paralympic athletes. At that time, there was no way I could realize that thesis started me down the road of assistive technology. I did spend a few years in IT at the Paralympics, and then I was fortunate to transfer to a hospital in the Atlanta, Georgia area known as Shepherd Center. It is a catastrophic care hospital specializing in spinal cord injury and brain trauma rehab. I spent two years in research, and I transitioned into the full assistive technology department. But we did there — a multifaceted approach. We were responsible for the fabrication of our unique technology solutions that, the way I like to say it, made patient's lives a little bit easier.
Example, we would make nurse call systems with a sip and puff tubing so that a patient who was not able to grasp the remote control that comes in every hospital room. If you can't reach out and push a button, how can you call a nurse on your own? We would make specialty units that would plug into the nurse call system, or you could blow through a straw, and that would trip the system. Through that, you could call the nurse on your own. We had ways you could make landline phone calls from your room on your own with sip and puff, and you could also channel serf on the wall mounted TV using a different sip and puff. We fabricate all of those very specifically because there wasn't someone in the market that sold it where we could use it throughout the hospital in an academic way. So we made those ourselves and train our nurses, trained everybody, therapists, PTs — physical therapists — OT's — occupational therapists, on the use of that. When a patient transitions into a rehab phase, you can probably guess we did a lot with Dragon naturally speaking with voice dictation. Whether that was your cell phone, your laptop, how could a patient interact with technology if you are physically not able to reach out and touch it.
I was fortunate to spend a total of 15 use as Shepherd, and I've been at EY for the last three. As you can guess, it's very different in how we approach assistive technology within EY, because everyone I work with is somewhere else. At the hospital because it was always we are in the same room, working together, you can make hands-on changes real-time. It's a little different now. We have our assistive technology at a distance. All of our meetings are on Skype, never in the same place, and that's probably the biggest differences in challenge. While it can be a challenge, we do rely on a team of local IT support personnel throughout the world when we do need a hands-on assistance to complement the virtual world.
JOSH ANDERSON: Go into that a little more. How do you provide that assistance at a distance?
KEVIN GROGG: What we do is first of all we have a number of ways that individuals can contact us. I guess first of all, my customers are EY employees. I am not – it's what we call client surfing. I'm not going to be in a client office. I'm backward to be outside EY. I'm serving customers within the 300,000 people who make up EY. Everything is over Skype. We have multiple ways individuals can get in touch with us through our internal systems. We do have different internal system throughout the IT area, shared mailboxes and such, so that any individual throughout the globe can send an email to a specific address and automatically generates what we call an IT ticket within our system that will automatically notify myself that we have an individual who is asking for assistance. What we will do at that point is we will reach out one on one. Even though we have 300,000 individuals within EY, we offer one-on-one assistance because while we can do many things with technology, you need to hear a real voice, a live voice listening. When I meet with someone new, almost every time cost the first line for me after introducing myself is, "You speak. I'll listen." Different people are going to divulge different amounts of information. We can receive referrals from what we call our talented team, which is our HR. It differs throughout the globe. HR can send us from different areas. We might hear directly from individual in other areas. We might have a workplace accommodation area or specialist in a certain country that that person might not exist in other nations. They might contact us as well. We keep it highly varied because every country does have a little bit different way of carrying out a process. At the same time, a single email address can go for everyone everywhere. A lot of times we will socialize leading with the address since that's something anybody can reach out to us. At the same time, if individuals are reaching out on behalf of other individuals, that's where it helps to have a few different ways of contacts.
JOSH ANDERSON: What are some examples of AT assistance that's available to those internal customers?
KEVIN GROGG: Available to everybody throughout the globe is a service we have called the EY App Store. This is not assistive technology itself. This is throughout the organization, we have a few assistive technology programs as part of our service that exist in the EY App Store. It works just like Google play or App Store from Apple. Individuals can go to a specific web address within the EY intranet. There are thousands of programs that can be downloaded. Some of them might be very specific to what we call a certain service line in a certain country that maybe has a certain way of carrying out a process. Very very specific. Or it can be very broad.
The assistive technology programs that we currently have within the EY App Store, we have Dragon NaturallySpeaking. We just brought Fusion 2019 which is a combination of JAWS 2019 in ZoomText 2019. As a small add-on, we have learning tools for one note. Even though it's primarily used in the educational settings, we have found it extremely beneficial for individuals with dyslexia within EY to have the read back controls. In addition to the speak or read aloud command that we can find within Word, within Outlook. Within one note, we can use learning tools. Unreasonably specified on that is every employee receives a laptop at EY usually within your first day or especially within your first week of employment. We have Microsoft Office on every laptop, and in turn it will have one note on it.
When I started three years ago, I noticed that we weren't making use of the learning tools. We reached out and were able to make use of it, and we have it for download in our App Store, free of charge for our individuals to download it. It turns out it fell under the umbrella of the Microsoft contract, so we weren't incurring any additional cost. It's one of those myriad features that you wouldn't know about within Microsoft unless you specifically worked with it or asked for it.
So what we do now is we update it once or twice a year and send the updates to the app store. Those updates automatically go to everyone's machines. It will move from a version 1 to a version 2 automatically. Our users do not have to do anything specific except maybe click on the, "Yes please allow this update." We have that for Dragon. We will have that when fusion 2019 becomes 2020 so that we can continually update our software as we go along. Then the user does not have to actively participate in ask for anything once they have the software on their machines. They might have to just allow the update.
JOSH ANDERSON: That makes it easy, especially with that many folks that they can just go get those things without having to contact you to get the approval.
KEVIN GROGG: Exactly. One thing we can do within the app store, we can always our application up for preapprovals. We try not to do that within assistive technology. If you feel that the software is going to benefit you download it, try it. We do enact something called 90 day metering which, if software is not launched on your machine for 90 consecutive days, it will automatically uninstall itself. While we want software to be truly available, anytime anywhere for our employees, at the same time if it's not being used, we don't want to be paying for licenses that aren't in use.
JOSH ANDERSON: That makes total sense. When you came aboard at EY, was is a new position?
KEVIN GROGG: Brand-new, no precedent. It gives me an advantage. I'm the first one in this position and it was specifically titled assistive technology service owner. It sounded like an interesting challenge. The first thing that came to mind was how can you do this effectively remotely? I only worked in a hospital environment. It was definitely interesting to see how they worded it, first of all. And second of all, as I went to the interview process, asking the questions of how did this position come about because – working in assistive technology, a lot of times we can be a niche within a niche. It was interesting how this came about. Admittedly, Ernst & Young would not have been the first or hundreds company I would've associate with a position like this. It was definitely interesting to know that the company itself had been thinking ahead as far as knowing the assistive technology can benefit some individuals in ways that maybe even us in the field didn't think about.
JOSH ANDERSON: Along the same line of this being a new position, if you could go back in time and tell yourself something the first day on the job, may be something different to implement, something you would do differently, what would it be?
KEVIN GROGG: If I went back and tapped myself on the shoulder my first day, what I would say is that remember, even though you applied for a position that said assistive technology service owner, only a few people within EY are going to know or even be familiar with that term, with assistive technology. Understand that most people are not going to know. The people who hired you and the people directly involved, sure; however, most of those 300,000 probably are not going to be familiar with what is assistive technology. You are going to need to explain it well. When you are socializing it, it takes significant time to grow the service and build a contact base. What I would tell myself is it truly is a marathon. Even after a few years, like three years now, we are still discussing ways of how we can grow this service. Also what we look to do is that we are growing is service at the same time there is only one service owner, myself. I do have an individual or two who will work with be from time to time and can assist me in a few different areas. I like to say we are our own micro business. We have 300,000 people, so my supervisor and I are constantly working on how do you balance the supply and demand. I've told them before, if we are truly usually successful, if I thousand people reach out at the same time for assistive technology service, that's difficult to provide the one-on-one consultation that's a foundation of our service. It really is a balance between supply and demand.
JOSH ANDERSON: I bet it is. Can you give our listeners some examples of the folks you've assisted since you've been on this job?
KEVIN GROGG: I will give a couple of specific examples. You saw one of these at ATIA. I'm still changing names and such while in this scenario. First of all, we had an individual — I'll call her Sarah, at her real name. We didn't hear directly from Sarah because she had just undergone surgery and was going to be rehabbing her voice for about three months. Sarah at this time couldn't speak, so what we were doing was our live meeting between Sarah and myself was Sarah typing into Skype, into the chat. We actually received the call from our HR area. I was put in touch with Sarah. We worked together. What we did was a lot of listening, letting her carry the conversation. We have multiple Skype meetings, and through that, we always try to ask a better question. That comes from listen first. What we did was found out that Sarah used a tablet computer. That opened up the possibility of apps to assist in this area. What she wanted to do in that specific instance was even though she was unable to speak, because Skype meetings made up all of her day and that's how she did business, how could we make a synthetic voice for her that can communicate and enunciate for her while she was working through PT and OT to rehab her voice?
We found an app, and I actually found this app at a previous ATIA conference. The good news with this app was you simply type and press the speak button and it enunciates for you. At the same time, that's all well and good. I think many of us in this field know – okay, it speaks out of the tablet. You are not done yet. I'm testing all this on my system as well, and the first thing that comes out, says, this isn't loud enough whatsoever. We could make it enunciates couple at the same time you have to be able to hear it on the other end. All we had to do on her machine was we did change from the headset to the microphone that was built in to the laptop itself. That was the only change we made on her system. We installed the app. Under the thing about our app is [INAUDIBLE] always keep privacy and security in mind. We always go under the assumption that a mobile device can be lost because stolen, or something else so we are not able to locate it. The good news with this application is that once you type in, hit enter, they enunciated, it was gone, out of memory. That was another reason for choosing it. We did pair a Bluetooth speaker with the app so that you could bump up the volume. My regulation was the same speaker that I owned because it was inexpensive but could really hit high volumes. Also, I could troubleshoot it very well because it was something I owned anyway.
We ended up spending about $100. There is time involved in addition to that. But what we did is we had a local support individual help out with the pairing and such and show the individual this is how it pairs, this is how it works. And specifically where do you put the Bluetooth speaker as well? We found out when you put it behind the laptop, people can't hear it. You need to put it specifically in front of. Those things together, a loud voice, consistent voice that this person used for 10 weeks. She made a small testimonial for us as to how well it worked for her. Essentially we gave her a synthetic voice for about three months that she was able to use while her voice was rehabbing. When she was finished with rehab, she was very happy with what we did and gave us a testimonial in her own voice saying how well it worked and encouraging other people to take advantage of the service.
JOSH ANDERSON: Nice.
KEVIN GROGG: I'll give you a second instance. We had an individual – I'll call him John – in Brazil. We received a call from our talented team, our HR folks in Brazil saying John is an eye gaze user. He only has volitional control over his facial muscles and such. This is how he uses a computer. He has to use a personal computer. It did not work switching back and forth between a work computer. What the individual was doing was he was simply emailing his boss from his personal account. That's how he did his job. So he really had no interaction with the EY internal network at all.
What we did is we have a virtual desktop interface team within EY. They are located in the US and the UK. We brought them on board to work with our local IT support in Brazil. We drove the teaming on that so that as our virtual environments progressed, we were able to have our local IT professional in Brazil install an icon on John's desktop, and John simply took it from there. The main thing I made sure to describe to our local support is that you don't have to worry about John and the uses of eye gaze. He's an expert on that. I think that's the biggest thing. I think our IT professionals thought they would have to be learning eye gaze. I think our biggest benefit from the assistive tech team is that we were able to work with them and say all you have to do is set this up and explain a little bit to John how this works. John will take it from there because he is an eye gaze expert.
It's His family has made a video for is showing how he maneuvered around the screen. We didn't show his Outlook mail or anything like that. We cut the video and such to show that within EY, to really educate our employees, you're helping John, number one. That's the number one thing we wanted to do so that he accesses everything now within the network. He's in Skype meetings. He's in all the chats. All of the things everybody takes for granted everyday, he can do that now. He could not do that beforehand. So we had a fully participating member of EY. You can only imagine how much more productive he is based on what he was able to do beforehand. A secondary benefit from that was educating everyone within EY regarding we have an individual who does his job with his eyes. That was a big education component for the rest of the firm because like we spoke about earlier, very few people will know what assistive technology is. But at the same time, now they saw it in action. I think that, along with helping John, we educate so many individuals. John is a contributing member of EY, he just does this – we call it alternate access. He has an alternate way of consuming his information. This is what we represent within EY. That's our message to the rest of the firm. As you can guess, it is given us tremendous positive feedback as far as many people not even knowing that technology was available but seeing it in action, seeing it in use, knowing that every day John is contributing and doing the same thing that everybody else is doing just in a different way. That helps as well knowing that many people have different ways of consuming information.
JOSH ANDERSON: What advice would you give to a large company looking to employ this kind of strategy and someone like you to implement it?
KEVIN GROGG: I would say work with your HR staff first. We call that a talented team within EY. Especially if you can look at individuals within your HR area who have experience with workplace adjustments. Even though I am an IT employee within EY, half of my conversations are with individuals outside of IT, especially our talent team or our HR area. For many countries, individuals from our talent team are the primary contacts. Some other countries it might be IT, it might be individuals contacting me directly more so than others. Highly variable. But I would say start with HR because every country will have an HR staff.
JOSH ANDERSON: If our listeners would want to find out more about EY, where can they go?
KEVIN GROGG: EY.com.
JOSH ANDERSON: That'll be really easy. We will go ahead and put that in the show notes anyway. Thank you so much for coming on the show in talking about all the great work you do at EY.
KEVIN GROGG: Thanks for having me and allowing us to socialize what we are doing at EY.
***
JOSH ANDERSON: Do you have a question about assistive technology? Do you have a suggestion for someone we should interview on Assistive Technology Update? If you do, call our listener line at 317-721-7124, shoot us a note on Twitter @INDATAProject, or check us out on Facebook. Are you looking for a transcript or show notes? Head on over to our website at www.EasterSealsTech.com. Assistive Technology Update is a proud member of the Accessibility Channel. For more shows like this, plus so much more, head over to AccessibilityChannel.com. The views expressed by our guests are not necessarily that of this host or the INDATA Project. This has been your Assistive Technology Update. I'm Josh Anderson with the INDATA Project at Easter Seals Crossroads in Indiana. Thank you for listening, and we'll see you next time.
***Transcript provided by TJ Cortopassi. For requests and inquiries, contact tjcortopassi@gmail.com***