Looking for a colorful, interactive map for your child or students to learn more about the USA? The Talking USA Map is a fun way to teach basic information and general knowledge about all 50 states!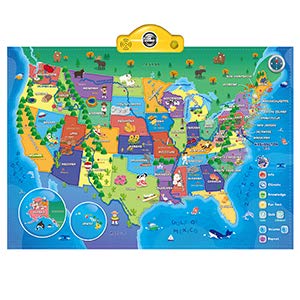 According to MaxiAids description, it is "the most valuable and educational interactive, touch-activated talking map" available on the market. The map can be hung on a wall, or children can interact with it as a colorful playmat on the floor. It features over 500 cool facts about the different states and a quiz mode to test their knowledge!
Features of the Talking USA Map:
This map is part of ThinkGizmos Awesome Interactive Map Series which "aims to keep children learning whilst having fun"
You can easily change the mode on the map by pressing any of the following buttons:

Info
Climate
Knowledge
Fun Fact
Quiz

There are also buttons to adjust the volume or have something repeated
Comes with an easy to read instruction manual and 3 AAA batteries so you can start using it immediately
Ideal for early learners ages five and up
Measures 30.5 x 21 inches
Want an Interactive World Map, too? Check it out on ThinkGizmos!