Podcast: Play in new window | Download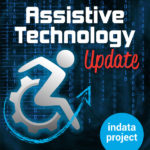 Your weekly dose of information that keeps you up to date on the latest developments in the field of technology designed to assist people with disabilities and special needs.
Show Notes:
Brandon Conrad – Sales Director at Matchware Website: www.Matchware.com Email: brandon.conrad@matchware.com  
BeMyEyes Story: http://bit.ly/2JDsOeC
Lyft Stories:
Wheelchair accessibility: https://engt.co/2JCwHk1
Blind and Low Vision Access: http://bit.ly/2JAcr2m
iOS 13 Stories:http://bit.ly/2JCZg0F and: http://bit.ly/2JDqHrh
——————————
If you have an AT question, leave us a voice mail at: 317-721-7124 or email tech@eastersealscrossroads.org
Check out our web site: http://www.eastersealstech.com
Follow us on Twitter: @INDATAproject
Like us on Facebook: www.Facebook.com/INDATA
—————Transcript Starts Here————————————-
Brandon Conrad:
Hi, this is Brandon Conrad and I'm the sales director of MatchWare, and this is your Assistive Technology Update.

Josh Anderson:
Hello, and welcome to your Assistive Technology Update. A weekly dose of information that keeps you up to date on the latest developments in the field of technology designed to assist individuals with disabilities and special needs. I'm your host, Josh Anderson, with the INDATA Project at Easterseals Crossroads in beautiful Indianapolis, Indiana.

Josh Anderson:
Welcome to episode 425 of Assistive Technology Update. It's scheduled to be released on July 19th, 2019. On today's show we're excited to have Brandon Conrad, from MatchWare, on to talk about MindView 7. We got a quick story about Be My Eyes from a volunteer's perspective, a couple of stories about Lyft, and to look ahead at the new accessibility features for iOS 13.

Josh Anderson:
We talk a lot about apps and things made for individuals with disabilities here on this show but we don't, always, talk about the, perhaps the helpers, the folks that are helping them use these kind of things. So, I've had a fun article over on the Guardian. It's by Erum Salam. And this article is about someone that tried Be My Eyes as the helper, as the sighted person, to try to help them out. And I just found it fun because it starts off and, "Hey," they thought. "Wow, this is a really cool idea. I'm going to go ahead and get on it." And then they didn't get any calls.

Josh Anderson:
And it kind of talks that they, actually, got in touch with the CCO of Be My Eyes and who, actually, kind of started everything. Who thought, "Well, I'm really hoping somebody volunteers," and actually, within the first 24 hours, they had 10,000 volunteers and now they, actually, have millions of volunteers whereas users are about 138,000 folks. So they, actually, have more volunteers than users which I thought is super cool. But it does say they did … the person did, finally, get a couple of calls.

Josh Anderson:
The first one, they were on the subway and, of course, couldn't answer it. The second one, the person actually was having them read instructions to make a dish in a totally different language. They did, actually, were able to read part of that language but they decided to make sure they were giving them the right information, Googled everything, and made sure that they gave them the right stuff. It is just very cool because it talks about just that relationship, or what they call charitable reciprocation, which I thought was neat. But we will go ahead and put a link to that over in the show notes. Just a fun little story over at the Guardian, talking about Be My Eyes from the perspective of the volunteer.

Josh Anderson:
After years of working with individuals with disabilities, I can tell you that, a lot of times, a barrier to employment, to medicine, to really well a lot of stuff, is transportation. And a lot of folks without disabilities will tell you transportation can be a big challenge as well. And a big change that we saw in that was ride sharing apps. So, when we think of those, Uber and Lyft, and how easy it is to just kind of open an app and have a ride show up, usually, within a reasonable time. Unless you're like myself and kind of live in the country, in which case, neither of those things really exist but that's a whole other story.

Josh Anderson:
Well, I found an article over at engadget.com. It's entitled Lyft expands wheelchair accessible rides in LA and San Francisco. This article is written by Amrita Khalid, and it talks about a new thing that the ride sharing company, Lyft, is doing in LA in San Francisco with dedicated Toyota Sienna vans. So, I know both Uber and Lyft have had some lawsuits and been a little bit of trouble for accessibility but it looks like Lyft, at least, is listening to them and making some changes here.

Josh Anderson:
I had a quote here in the article from Anthony Foxx, who's the chief policy officer at Lyft, and he said that, "At Lyft, we think of accessibility broadly and are thrilled to take this next step in expanding mobility options in San Francisco and Los Angeles counties." So, it says that they're, actually, partnering here with First Transit and all the vans will be 2019 Toyota Sienna vans and will have a folding ramp for side entry. It says that it, really, all you have to do is download the Lyft app and turn on access mode. After you download the app, you enable access mode by tapping the menu icon, and then settings and slide the toggle to the right to enable wheelchair access. It also says there's no bump up in price for these. So, I believe, originally, if you wanted an accessible vehicle, you had to pay a little extra, and having more of these on the road should kind of cut down on wait times as well.

Josh Anderson:
It doesn't say anything in the article about whether Uber is following suit but I'm pretty sure, considering the competition that these two are in for those ride shares, we'll probably see something like that from Uber very soon. So please, don't take this story as an endorsement for Lyft itself, but it is really good to see these companies start thinking about these kinds of things. And I know for individuals with disabilities, having some more options for transportation would always be a great thing. We'll put a link to that story over in our show notes.

Josh Anderson:
So, sticking with the Lyft, I also found another story over at Smart Cities Dive. And this is Lyft to provide autonomous rides to visually impaired passengers. This talks about a partnership between Lyft, the autonomous vehicle company Aptive, and the National Federation of the Blind. It's going to provide self-driven rides to blind and low vision riders as part of its Las Vegas pilot program.

Josh Anderson:
Author of this article is Chris Teale, and the article talks about the blind and low vision convention that was in Las Vegas, and how Lyft is actually using its autonomous vehicles to not just give individuals who are blind and low vision rides, but it's also creating braille guides for these individuals and putting them there in the vehicle so that they can actually feel these, and it gives them information about the autonomous vehicle, how it works and kind of what it's doing as they go. So, there's also going to have other sensors and technology in the car to inform riders about their surroundings, how much farther they have and all these other that can really help them out. So, especially as Lyft and Uber probably move themselves more toward this autonomous vehicle world, it's very nice that they are thinking about individuals who are blind or low vision and making sure that they're comfortable using these vehicles as well.

Josh Anderson:
It's also a neat partnership that Lyft is not only working with Aptiv, which makes the autonomous vehicles, but also the National Federation for the Blind just because they're going to do a good job to make sure that those needs are met. So, I promise all of our stories this week will not be about Lyft but, just because I happened to find two there and see that they are thinking about this accessibility and some of the technology that goes around it, I wanted to make sure to include those both in the show and we will put a link to the story over in our show notes.

Josh Anderson:
Here we are in the middle of summer but we all know that, come fall, Apple always releases its new operating system. So iOS 13, as well as the new iPadOS and macOS Catalina 10.15. And all of these, actually, have brand new accessibility features that are going to be built into them. I haven't, actually, seen any of these as, of course, these are not available yet but I wanted to go over some of them and how excited I am for really reading about these. I'll put a couple links in the show notes. One to idownloadblog.com and the other one to MacRumors just because it talks a little bit more in depth about each of these.

Josh Anderson:
So, one of the big things that's going to be on there is voice control. So, if you kind of think you can use Siri to do a lot of things on your iPad, on your Mac, on your iPhone, but not kind of everything. So, this has, for those who have used a voice control of computers, it has a show numbers. So I can sit there and show numbers and anything that's clickable or touchable will pop up with a number next to it and I can say number two, and it will sit there and click on number two for me. So, maybe using this voice control, I can pretty much control my entire computer, iPhone or iPad just by the use of my voice.

Josh Anderson:
It says that the voice control that is going to be built in uses Siri's machine learning so that it can, actually, learn the way that you speak in the way that Dragon and some other dictation and speech recognition softwares work in order to make it to work a little bit better for you. Also, it says on the newer versions of iPhone. So those, if you think of the X, the XR, the XS, those that have the facial recognition, it will know when you turn away from the phone and it will stop listening to you. So, I haven't seen that yet but a very cool feature if that is, actually, built in there.

Josh Anderson:
So, another one that's going to be built into the macOS is what's called Hover Text. So, macOS has had a pretty good a zoom feature on it for quite a while but, occasionally, you don't want to zoom the entire screen. Some folks have a lot of difficulty with that. So this Hover Text, when it's turned on, if you hover the mouse over a piece of text, it will actually sit there and make that piece of text a lot larger so that you're able to read it without having to magnify the entire screen. This can be extremely helpful for folks with, maybe, minor vision loss who have difficulty reading text but don't want the pictures, the screen and everything to be magnified because it can, sometimes it can be difficult to find where you are, what you're looking for and what you're working on if you have that entire screen magnified.

Josh Anderson:
And then, probably, the thing that I know most people have been excited for, especially in the accessibility and assistive technology community, is mouse support for the iPhone and iPad. It says that a USB mouse can be connected to an iPad or an iPhone for the very first time. This feature will be, especially, helpful for those folks who really can't use a touch pad due to mobility challenges. Now, iPads and iPhones have had switch access for years that has been very helpful and useful. Perhaps for the individuals who don't need to completely use a switch, being able to use a mouse and a joystick, something like that, it may be a little bit easier to be able to access everything on the iPad and iPhone just by simply plugging something in. So, it's going to be very helpful. Very cool. And I'm sure there'll be some other things that'll come out with it as well.

Josh Anderson:
The other thing that's going to be a little bit, I don't know if it's super helpful, but it definitely shows that Apple is thinking about accessibility a little bit more is the way that you access that accessibility settings are going to be a little easier to get to. Used to be able to go to settings, to general, to accessibility, to find all these different parts. They've moved it out of the general part. So, it has just under settings. You scroll down, I believe you'll scroll down past general, and accessibility will be right there on that main screen. We'll put a link to a couple of stories that go a little more in depth in these over in the show notes. And as we get a little closer to the actual release of these updates, we will try to review them and maybe even have someone on to talk about them a little bit more.

Josh Anderson:
Sometimes planning out a paper, presentation or project is the hardest part of the whole process. From writing [inaudible 00:10:57], to planning and training, to, well, producing this podcast, getting everything in place and making it flow correctly can be a major barrier to getting things completed. Our guest today is Brandon Conrad from MatchWare and he's here talk about a great mind mapping software called MindView 7 that can assist with getting our thoughts and ideas out, and help us in school, work and our daily lives. Brandon, welcome to the show.

Brandon Conrad:
Thanks for having me.

Josh Anderson:
I can't wait to talk about a MindView and everything but, before we get into it, tell our listeners a little bit about yourself.

Brandon Conrad:
Yeah, definitely. So, I've been here at MatchWare for, gosh, 13 or 14 years now. Prior to that, I worked for, I guess it was about 10 or 12 years with behavior disorder kids, autistic and just general kind of tough kids. And working with them, trying to mainstream them back into school, we, at that company, would use mind mapping just on paper. And that was when I lived up in Kansas, Missouri area. And then I tell people I got tired of eating steak, and wanted to eat some fish for a while, and moved to Florida and found MatchWare. And, at that time, MatchWare was producing mind mapping software and MatchWare's been around for almost 30 years now. So yeah, so that's kind of where I started and kind of where I ended up.

Josh Anderson:
Well, I can't really blame you for the move to Florida from Kansas. That's for darn sure. Probably, especially, around this time of year.

Brandon Conrad:
Exactly.

Josh Anderson:
So Brandon, what exactly is MindView 7?

Brandon Conrad:
Yeah, so MindView 7, just to get a little bit of history. So, we've been developing this for the last, gosh, 15 years or so. When we originally started developing MindView, it was a mind mapping tool. And for those that aren't familiar with mind mapping. Essentially, mind mapping is a structure that starts in the middle and explodes outwards, and it's all theory based. And really the meat and potatoes of that theory is that it engages both sides of the brain. So, it doesn't matter if your left brain thinker or right brain thinker, mind mapping is great for everybody.

Brandon Conrad:
So, about 15 years ago, we developed a planning and brainstorming tool for students. And then, as we started evolving the software, we started giving the students the ability to add content to the mind map, cite sources. We also started integrating with Microsoft office and Google Docs here recently. So, then it evolved really into a reading and writing tool for the students as well. And then, I want to say it was probably seven, eight, nine years ago, we started getting requests for assistive features in the software. So, we really started looking into that and we saw that students that were diagnosed with dyslexia, ADHD, on the autism spectrum, they had some common diagnosis, and this common diagnosis were struggles with sequencing data, struggles with communication and even memory retention.

Brandon Conrad:
So, what we started doing eight years, or so, ago, is really starting adding assistive features in the software because we started to see a growing need for that universal design for learning software, where all students could use a software. You're not just buying for a certain sect of the … in education. So that's kind of the evolution of MindView, is really a mind mapping, brainstorming, planning software, and then evolved into a reading and writing tool as well.

Josh Anderson:
Nice. And you mentioned a lot of features there, Brandon, so I'd like to unpack a few of those. Can you talk a little bit about the Office and Google Docs integration?

Brandon Conrad:
Yep, definitely. So, once the student creates the mind map, which essentially what they're doing is creating an outline, they can add … and each section of that mind map is going to be a different heading when exported over to Word. When they're developing the mind map, they can actually add the paragraphs associated with each of the headings. They can add the content such as citations. They can add files. They can add pictures. And the cool part about exporting over to Word is that the student can choose APA, MLA, Chicago, any type of academic format so that, when MindView you gets a hold of it and exports it over to Word, it creates a cover page, headers, footers. It automatically creates a table of contents. It lays everything out in that academic format and creates the bibliography. So, essentially, what we're doing is taking all the information that the student compiled in a visual way and helping them format it when it gets over to Word or Google Docs.

Josh Anderson:
Oh, that sounds so much easier. I think the first time I saw this, I was like, "God, I wish this was … I had this in college," because it would've made everything so much easier. And you can kind of do the same thing with PowerPoint. Is that right?

Brandon Conrad:
Yeah, definitely. Same thing with PowerPoint. What we'll do is, in exactly the same way, each branch will become a slide and any of the content that the student places on the branch will be placed on the slide as well. And, you know, one thing that's interesting about the PowerPoint export. We all know what PowerPoint's used for. Presentations, primarily. But it was interesting when we polled our users, what they use PowerPoint for is, actually, to create flashcards because there's certain subjects in school, particularly like sciences and like economics, biologies, where vocabulary is the hardest part.

Brandon Conrad:
So, what they'll do is create the visual mind map of all the vocabulary words, export it over to PowerPoint, save it as a PDF, and then you've got flash cards on your smart phone. As you're going to class or, just sitting somewhere, you can just flip through the flashcards, which was a really interesting and innovative way that the end user was using the PowerPoint export.

Josh Anderson:
Isn't it amazing how sometimes, yeah, you think you have this great idea and the end user's like, "Oh, I use it for this." You're like, "Oh, that's an even better idea. That works great too."

Brandon Conrad:
Exactly. Exactly. Exactly.

Josh Anderson:
And MindView can also do some other features. So, like some things with time chunking. Can you tell me about that?

Brandon Conrad:
Yeah, definitely. There's a couple other things that really kind of spawned off of just the reading and writing software. So, a lot of students struggle with executive function disorder and, when students have this, they have a challenge with planning, brainstorming, and organizing. So … and that's right up mind mappings alley. It's pretty much the definition of. So, a lot of students will use it as a graphic organizer, electronic notebook, because you can attach multiple files to the map. So, as they're going through the class, through the semester, everything's all in one spot, and it really enhances that Word export because they export it out to Word and it becomes a nice study guide. So, it's a really, a nice study tool for the student as well.

Brandon Conrad:
And then, as you were mentioning, there is a time management piece to it because a lot of students, well, a lot of students and a lot of my colleagues struggle with time management.

Josh Anderson:
I feel you there.

Brandon Conrad:
So, what the student can do is they can map out all of their assignments and add due dates to those assignments. And then, with a click of a button, we can roll that into a timeline form. So, you've got a timeline of their semester where they can manage it and see where they might have to start some projects a little bit earlier than expected because multiple things are due on one day.

Josh Anderson:
Nice. I can see how that could be useful. Like you said, not just in school, but just in business or, well, darn near anything in life. It could definitely be helpful. Brandon, one thing I always have liked about MindView is the user interface. Tell our listeners a little bit about it for those that haven't seen it before.

Brandon Conrad:
Yeah, definitely. And that's one of, I guess, our competitive advantages in the market. So, we've been around a while and we're Microsoft Gold Partners, and we are grandfathered in and to be able to use the Microsoft Office interface. Now that doesn't, necessarily, mean we love all of Microsoft's products, but they are industry standard. So, to be able to use that interface means that the student doesn't have to learn a whole new interface. All they have to learn is what software does. So, it really, dramatically, decreases the learning curve for the student.

Brandon Conrad:
And not only does it look like an Office tool, but it also functions like an Office tool. So a lot of those keyboard shortcuts are going to be the same. It also … we went through a … just a little added note here. We went through a three year accreditation to be able to say that we work with all screen readers on the market as well. So JAWS, ZoomText, et cetera. We're also fully integrated with Dragon. So, speech to text and text to speech. And then we use WorldCat for their citation feature. That's built into the software as well. And we even use TextHelp predictive texts. That's built in. So, it's a pretty powerful piece of software and it's, at this point, it's a mature piece of software as well.

Josh Anderson:
For sure. I mean, that does a whole lot than just mind mapping. And I like that you guys thought about the screen reader integration there at the beginning. It seems like a lot of folks kind of … that's very end of the road. So, the fact that you took the time, that's very forward thinking on that.

Brandon Conrad:
It's not an easy thing to develop. So, I think, when other software companies are looking at that, the reason it is maybe a feature that's later than earlier, is because of the time of development and [inaudible 00:21:05] correctly. So, it's definitely a very expensive feature to put in a software.

Josh Anderson:
It is. It is but, sometimes, it's even harder to do way down there at the end. So again, kudos for getting that all in there. Brandon, can you tell me about, maybe, some folks that this program's assisted?

Brandon Conrad:
Yeah, definitely. You know, on our website, which is matchware.com, there's a lot of testimonials and case studies of students that had ADHD, or students that were on the autism spectrum. But I think the most interesting study that's getting ready to come out. We're a global company, and there's a region in France … and the study hasn't come out so I don't have all the juicy details, but it's kind of like a State, like the State of Georgia.

Brandon Conrad:
They had bought the software for the entire state, and ran a two year study involving MindView and a couple other software. And out of that two year study, they found that their dropout rate was around 14% but, because they introduced MindView, their dropout rate, in that two year, after that two year period, was around 3 or 4%. So, it was almost a 10% retention rate. And I know retention rate, especially in universities with competition and enrollment, is really important. I think that study is, probably, the most interesting because it's not just specific for students that have a learning difference. Any student can use the software and benefit from it.

Josh Anderson:
Well, that's a huge difference. So, I can't wait to read that study. That'll be very cool. Brandon, what's on the horizon for MatchWare and MindView. I mean, you've already got a lot packed into that but is there anything you guys are working on?

Brandon Conrad:
Yeah. You know, the way we've been successful over the last 30 years or so, we don't really design the software. So, our development cycle tends to be every couple years, which is fairly long when we're talking about software because a lot of software company, they want to put out a new version just to get the proceeds from the upgrades. But, what we do is, we put out a version of the software and we let it sit on the market for about a year. And then we are, constantly, doing webinars with students, with faculty, anybody. That's what, pretty much, the sales team does on a daily basis. They'll do three or four webinars a day.

Brandon Conrad:
And, basically, what we do is we listen to what the customer wants. So every salesperson has a check mark, an Excel file of, this feature was requested, this feature was requested, this feature was requested. So, when we go … after that first year, we'll have the yearly product meeting. Basically, we just tally it up. So, we allow the users and the people that are seeing the software really design it, which makes us really successful in the market because we're putting in the most requested, most popular features.

Brandon Conrad:
So we don't, necessarily, have a path, right now, of what's going to be in the next version. What we always try to do is make it easier to use, put more assistive features in there and really focus on the Office, and now that Google Doc, integration. So, those are the three areas we focus on. Besides that, we really let the consumer design it and they'll tell us what they want in it. And that's what we'll design.

Josh Anderson:
That sounds like a great way to just keep it useful. And also you don't, accidentally, get stuck with, I don't know, group think or what you think's more helpful. It's what your end users are. So, that's very cool.

Brandon Conrad:
Well, yeah, and you know, we see a lot of that in the market, and we refer it as a kind of bloatware where you're just putting in features just to put in features that maybe only 2% of the users would actually use. And we feel, when you do that to the interface, it makes the interface much more complicated because you're confronted with so many other choices that, half those features, you might not even use but you still are confronted with learning about what that icon or what that button does. So, we try to keep it as simple as possible. And there's a fine line between powerful software and really easy to use software. So, we're always trying to balance on that tight rope.

Josh Anderson:
Brandon, for our listeners who want to find out more about MindView, about MatchWare and everything, what's the best way for them to do that?

Brandon Conrad:
Yeah, definitely. You can go to our website, which is matchware.com and that's M-A-T-C-H-W-A-R-E dot com. Or you can always email me directly. My email address is Brandon, B-R-A-N-D-O-N, period, Conrad, C-O-N-R-A-D at MatchWare dot com.

Josh Anderson:
Perfect. We'll put both those in our show notes so folks can find out more. Brandon Conrad, thank you so much for coming on the show today and talking about MindView 7.

Brandon Conrad:
Yep. Thank you. Thanks for having me.

Josh Anderson:
Do you have a question about assistive technology? Do you have a suggestion for someone we should interview on Assistive Technology Update?

Josh Anderson:
If you do, call our listener line at (317) 721-7124. Shoot us a note on Twitter @INDATAproject or check us out on Facebook. Are you looking for a transcript or show notes? Head on over to our website at www.eastersealstech.com. Assistive Technology Update is a proud member of the Accessibility Channel. For more shows like this, plus so much more, head over to accessibilitychannel.com.

Josh Anderson:
The views expressed by our guests are not, necessarily, that of this host or the INDATA Project. This has been your Assistive Technology Update. I'm Josh Anderson with the INDATA Project at Easterseals Crossroads in Indianapolis, Indiana. Thank you so much for listening and we'll see you next time.