Podcast: Play in new window | Download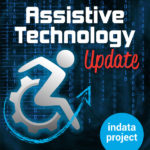 Your weekly dose of information that keeps you up to date on the latest developments in the field of technology designed to assist people with disabilities and special needs.
Show Notes: https://floreotech.com
Democratic Website Accessibility Update: http://bit.ly/30hm0cK
Samsung Good Vibes Story: http://bit.ly/30e61w7——————————
If you have an AT question, leave us a voice mail at: 317-721-7124 or email tech@eastersealscrossroads.org
Check out our web site: https://www.eastersealstech.com
Follow us on Twitter: @INDATAproject
Like us on Facebook: www.Facebook.com/INDATA
—————-Transcript Starts Here———————————-
Vijay Ravindran:
This is Vijay Ravindran, and I'm the CEO and co-founder of Floreo. And this is your Assistive Technology Update.

Josh Anderson:
Hello, and welcome to your Assistive Technology Update, a weekly dose of information that keeps you up to date on the latest developments in the field of technology designed to assist individuals with disabilities and special needs. I'm your host, Josh Anderson, with the end data project at Easterseals Crossroads in beautiful Indianapolis, Indiana.

Josh Anderson:
Welcome to episode 434 of Assistive Technology Update. It's scheduled to be released on September 20th, 2019. On today's show we're really excited to have Vijay Ravindran on to talk about Floreotech, and how they're using virtual reality to teach skills to individuals with autism. We also have an update on a previous story from the Democratic hopefuls for the White House in 2020 and their website accessibility. So, see what they've been doing with some of the suggestions made to them in a previous story, as well as a story about some new app for Samsung called Good Vibes. It's there to help individuals who might be deaf-blind with distance communication. We are also joined by Amy Fuchs with BridgingApps, with an app worth mentioning.

Josh Anderson:
We're excited to announce that you can now find Assistive Technology Update on the Spotify app. That's right. We finally made it to the big times, everyone. Just kidding. But if you do like to listen to your podcast through Spotify, you can now listen to Assistive Technology Update through that app. Just search for Assistive Technology Update. You can also always hear us on iTunes, on your other podcast apps, on Stitcher, or go straight to our website at www.eastersealstech.com. So without further ado, let's go ahead and get on with the show. And if you don't have time to listen to a full podcast, be sure to check out Accessibility Minute, our one-minute long podcast that will help you learn about new assistive technology. Check it out wherever you get your podcast.

Josh Anderson:
We've had Bella Smith on here before to talk about some of the work she does with individuals who are deaf-blind and just how that can be a bit of a challenge, not just finding folks, but also finding things that are able to help them. I found a really great story over at the Hindustan Times, and it's from the Indo-Asian News Service out of New Delhi, and it's about Samsung. It says they launch solutions for deaf-blind and visually impaired. It talks about the app called Good Vibes, and Good Vibes is a two-way communication app. On one side, the user interface is all Morse code-based. So, if I want to communicate with my sighted partner or with somebody else, I type everything in, in a Morse code–that is all dashes and dots, so taps, long taps, and those kinds of things–in order to get that information in there.

Josh Anderson:
On the other side of the user interface, the other user has a visual interface like you normally would; you can talk to it and have text come up; you can type in text. Then that's going to come through to the deaf-blind as a Morse code vibration, so you can really have that two-way communication. Of course, the deaf-blind individual would need to know Morse code in order to be able to do the taps and different gestures, as well as have those vibrations come out. But just a very cool thing there that Samsung is going to be putting on there. Again, the app is called Good Vibes, and it looks like it was actually made in New Delhi. And it looks like that Good Vibes app is currently just on the Samsung Galaxy Store, but it will be made available on Google Play and other Android smartphone users soon. It doesn't say if this is just in India at this time, or whether it's worldwide, but it's still a very cool app and we can't wait to learn more about it.

Josh Anderson:
We're about a week removed from the latest primary debate between the 10 Democrats. We did a story a while back on website accessibility. A story had come out from the Miami Lighthouse about how every single one of the Democratic candidates, all of their websites were not accessible. That was back when there were 25, 30, 50 of them. I'm not sure, but there were quite a darn few going. So they've revisited that a little bit and looked at the 10 that were in the debate last week to see if maybe they've listened or changed anything, or anything like that. Well, actually it says that some of them have. It says that Andrew Yang and former Vice President, Joe Biden have had the most improved websites. And then, Elizabeth Warren was right after that, and then Cory Booker was right behind. It says that Vermont Senator Bernie Sanders and Minnesota Senator Amy Klobuchar haven't actually made any improvements at this time. And actually, it looks like the Minnesota Senator Amy Klobuchar's website has actually become even more difficult to use.

Josh Anderson:
It's a very interesting article, and I will put a link to this over that I found in Time by Abigail Abrams, and it really digs into some different things that everyone has done. Some of the candidates actually reached out to the Miami Lighthouse after that original study was published in order to find out, "How do I make this a little bit more accessible?". So it seems like they've actually been listening to that and trying to make theirs a little bit more accessible. While others, it says, "Have added website accessibility statements, which function as a promise that they're committed to making their sites more accessible in the future."

Josh Anderson:
So I guess that's something; at least they're working towards it. What I really, really liked about this, and something I think we've talked about on some different shows and has come up on a couple of the interviews, if you notice, is what people say as opposed to what people do, or maybe even trying to help someone who maybe can really help themselves without really knowing the right way, because you're not really in their shoes. There's a nice little thing in here that says: "That this shows while many candidates are talking about disabled people on the campaign trail and there's some hot button issues, they still have a ways to go when it comes in including them in the conversation." I think that's a very cool thought, but I love that somebody actually has this in there and is actually kind of holding these candidates accountable to make their stuff accessible also.

Josh Anderson:
Also, and I think I said this originally, when this story came out, if I was running for a public office, especially the highest office in the United States, I would want every single vote I could get. And man, if you open that up to individuals with disabilities, individuals who are blind or low vision, if you're the only person whose information they get to hear, well, you kind of got a bit of a hand up. But also, what if you have the best things to say? Don't you want to make sure that every American has access to that and can be able to hear what you have to say, be able to hear what your policies are and what you want to do? I mean, a lot of these folks are also focusing on healthcare, and healthcare and disability kind of run hand in hand a whole lot.

Josh Anderson:
Sometimes it's just they have to think of these things. And I realized that most folks probably don't always think of accessibility and maybe those of us in this field think about it a little bit more. But I do love what Miami Lighthouse has done in holding folks accountable and really telling them what's wrong. I love that some of them have reached out to the Miami Lighthouse to try to make their stuff more accessible and that that stuff is getting on their radar. So again, I found that all over in a story from Time by Abigail Abrams, and we'll put a link to that over in our show notes.

Josh Anderson:
Occasionally, we're lucky enough here at Assistive Technology Update to have our friends over at BridgingApps on to talk about an app worth mentioning. Well, today we're lucky enough to have Amy Fuchs on to tell us all about the Voice Dream Scanner app. Go ahead and take it away, Amy.

Amy Fuchs:
This is Amy Fuchs with BridgingApps, and this is an app worth mentioning. This week's featured app is called Voice Dream Scanner. Voice Dream Scanner is an iOS app that can take pictures and perform optical character recognition, OCR, on those images. After doing this, the text can be read, discarded, or saved. This app comes from the same developer who made the fantastic Voice Dream Reader. While it is not necessary to own Reader to use Scanner, they work extremely well together. You can even scan directly from Reader using Scanner. When taking a picture, the app will produce a tone when it detects text in the camera's view. This tone will become louder if more text is recognized and/or the accuracy confidence is higher. This is very helpful if you are blind, as it gives a better idea of what you will capture.

Amy Fuchs:
Auto scan mode is supposed to take a picture automatically if the device sees text and is held steady for about three seconds. The recognition happens very quickly once the picture is taken. If enabled in settings, the app will begin speaking text shortly after OCR is finished. From initial tests, it appears this app does a better job than most others available, having only a few minor errors when text was read aloud. The app also has no difficulties recognizing text from pictures of pages that are upside down, as it seems as though images are automatically rotated and cropped. This is very helpful for a totally blind person who may not always get the picture perfect. The voice setting screen contains options to change the speech rate, language, and select a voice. By default, the app uses the included iOS text-to-speech voices. If you have Voice Dream Reader installed and purchase custom voices, it is also possible to use them here.

Amy Fuchs:
Voice Dream Scanner is a fantastic app. While it is not free, the price is more than reasonable and the recognition is top-notch. If you are looking for an OCR app that does not break the bank, give this one a try. If you enjoy Scanner, consider checking out the other Voice Dream apps on iOS. Voice Dream Scanner is available for $5.99 at the iTunes store for iOS devices. For more information on this app and others like it, visit bridgingapps.org.

Josh Anderson:
Virtual reality allows users to immerse themselves in gaming, movies, music, experiences, from attending a movie with a faraway friend to riding a death-defying rollercoaster, to being chased by a T-Rex. These devices have mainly been utilized as entertainment devices to delight and sometimes, frankly, frighten their users. Well, our guest today is Vijay Ravindran, co-founder and CEO of Floreo, and he is using VR as a learning tool for individuals with autism. Vijay, welcome to the show.

Vijay Ravindran:
Thanks for having me.

Josh Anderson:
I'm really excited to talk about Floreo, but before we get into that, can you tell our listeners a little about yourself?

Vijay Ravindran:
Yeah, sure. I am a proud Oklahoman; I grew up in Oklahoma and got into software development after college. I was at amazon.com for many years, in the early days, from 1998 to 2005, so I got to be part of the early rollercoaster. I took a detour and got involved with Democratic politics and built technology that was used during the Obama 2008 campaign. And then, spent seven years with the Washington Post Company working on news and looking at products to help with digital journalism.

Vijay Ravindran:
But I'm here today primarily because I'm a dad, and my son, Manoj, who is nine, was diagnosed on the autism spectrum when he was two and a half. For us, since the diagnosis, helping him as much as possible, making as much progress as possible, has been the main thing I think about.

Josh Anderson:
I got to admit one of my favorite things about this show is learning the path that people take to get into this. I can tell you, your path before is very unique in everything that you've done, but it always seems to be a family member or a friend or something that draws us all into this. Vijay, go ahead and tell us what is Floreo.

Vijay Ravindran:
Yeah. Floreo is a virtual reality system for teaching social and life skills. We use virtual reality, which is a technology that allows a subject to wear glasses and be able to be immersed and absorbed in a different environment from the one they're in, in the present. The display is responsive to head movement, which allows the feeling that you're somewhere where you're not. We take advantage of that technology to then create social and life situations that are developed based on established clinical therapy practices or based on stimulating situations that happen in the real world, and we then use this as a context to then teach skills.

Josh Anderson:
Very cool. When did you start Floreo?

Vijay Ravindran:
Floreo was started in early 2016, so it's a about three-and-a-half-year-old startup.

Josh Anderson:
And where'd the idea for it come from?

Vijay Ravindran:
Yeah. As I mentioned, my son, Manoj, is on the autism spectrum. When he was six-years-old, I was leaving my prior job and I was noodling around with different types of technology. I had an early version of the Oculus Rift virtual reality headset; started using it, and then getting more interested in it as just a general technology. And then, Samsung came out with a virtual reality headset, and right after they came out with the headset, Google released an application for virtual reality based on their Google Maps Street View [inaudible 00:13:22]. My son has a deep, deep affinity for maps and navigation. Many, many kids have deep interests like mine, and for him it's around maps and navigation, and so when Google Street View VR came out, I wanted him to try it.

Vijay Ravindran:
So, I had him try it out. He went on a walk down the street in our neighborhood and started leaving the city and had a great time. Coming out of it, he was really excited about playing with the virtual reality headset the next day. So, we started planning his play in a way that was really interesting for a parent raising a kid with autism. He then did something that was really magical, which was he started some pretend play that we'd never seen before. He started engaging in pretend play wholly outside of the technology, based on what he had done in the technology. That is what triggered this notion that, "Well, I wonder if this could be a therapy medium that could reach kids that sometimes are very difficult to reach with traditional methods."

Vijay Ravindran:
And so, I started trying out every different application I could find on him and basically taking notes and starting to map and design what could it be a therapy system. That eventually led to starting a company and putting some money behind it and hiring a software developer to work with me on implementing it. And then, eventually, engaging with professionals, a neurodevelopmental pediatrician who has at Children's National at the time, and a clinical therapist.

Josh Anderson:
What are some of the learning modules that are available on it?

Vijay Ravindran:
Yeah. We have a growing library of over a hundred lessons today, in Floreo. The learning modules range in a few different flavors. Some are really based on those building block skills that are really important for development as a whole, such as eye contact, or imitation, or gestures. We have others that are based on life situations. The one that's received the most publicity was also the basis for a large NIH grant that we shared with Children's Hospital of Philadelphia, is based around how to navigate an interaction with the police and be able to communicate enough in a clear way to keep everyone safe.

Vijay Ravindran:
We've since expanded those types of life situations to how to cross the street, how to navigate a school hallway, how to engage in small talk with peers, how to navigate a cafeteria situation at school, how to find a seat in the classroom. So, a lot of these life situations. And then, we're working on one in partnership with Drexel University Autism Institute, on how to navigate the TSA and airport security.

Vijay Ravindran:
And then, the third area that we've been working on is around sensory regulation and calming. Here, the thinking is that affluent schools today are building out sensory calming rooms for kids with autism, ADHD, anxiety. But for most schools and in many other situations, including the family's home, that type of room is out of reach, both because it's $50,000, in many cases, involving real estate that they don't have. And so, we're creating a portable, accessible, virtual reality set of calming and sensory relation scenes with the idea that in lieu of having a fully built out calming room, that you could use something like Floreo to potentially help a child relax.

Josh Anderson:
Oh, nice. That'd be great. Because, yeah, like you said, not everyone has the space or especially the money to kind of build such a thing. But yeah, if you could just put on the headset, that'd be wonderful.

Vijay Ravindran:
Yeah, absolutely.

Josh Anderson:
I know you've got all those kinds of working, are you guys working on anything else coming down the pipeline? Any other new modules or anything? I'm sure that you do, but is there anything you can tell us about?

Vijay Ravindran:
Yeah. Yeah. We have an endless list of interesting trainings and interventions that we think could be helpful, and they basically come from customer feedback at this point. We have a combination of autism therapy clinics, special education school programs, and parents who are using the current systems. We're working on a model for bullying, and spotting bullying, and being able to get out bullying situations. We continue to expand our small talk conversation lessons because there's really a limitless number of scenarios where helping someone get into a back and forth conversation to deal with all the different branching that happens, where that conversation can go, can be helpful.

Vijay Ravindran:
And then, the area that we're taking a hard look at, we're trying to find the right partners for, is around job-readiness training. So, interviewing, participating in meetings, office dynamics that you should follow; the types of social skills that sometimes hold back people that otherwise would be able to hold down jobs.

Josh Anderson:
That's great. I was almost hoping that was one you'd say. Because I came from the role of a job coach before I came into assistive technology, I know that was always… Individuals with autism, one of the biggest challenges was they had every skill they possibly needed, would probably be the best employee, but man, getting past that job interview sometimes is just the hardest part. So, something that could help them… Because I could do my part, but having a person sitting there telling you, sometimes is much more of a hindrance than a help. So, I'm glad that's something you guys are working on.

Josh Anderson:
So, Vijay, tell us about the supervised experience. Because whoever's working with the individual can see what's going on and work with them. Is that correct?

Vijay Ravindran:
Yeah. This is the key technology that makes Floreo a unique system. What I found out very quickly back when I was experimenting with my son is that I couldn't see what he was seeing in VR. He'd have the headset on and he would be reacting and asking questions, and I had no idea because it was his world inside of the virtual reality headset. So, one of the first capabilities we built out is that we stream a live view of what the child is seeing in the headset to an iPad. From that iPad, we enable a supervising adult to be able to decide which lesson to go into; to be able to, in some cases, puppeteer some of the characters and scenes. We also provide sample dialogue in cases where the parents needs help in engaging the child in a therapeutically appropriate way.

Vijay Ravindran:
We also allow data collection to occur. You can imagine, especially in the context of something like ADA, there's a lot of really important data capture needed, so we incorporate that in real-time, as you're going through the lesson. So, that supervisory experience is used as a way to also realistically assess how the child is performing sometimes. We try to do some things in an automated fashion. If you're looking in the right direction at the right moment, we can credit it. But there's a lot of interactions where the child might need a native utterance based on how a character talked to them, and we need someone to evaluate the quality of that response; to decide whether to repeat it or to move forward because it's successful.

Vijay Ravindran:
And so, we handle all of that from the iPad, and we give the adult a means to see what they're seeing in the moment, to provide appropriate coaching. And even, when necessary, provide hand over hand or other physical techniques to help them get through a lesson.

Josh Anderson:
Excellent. I can see how that's helpful for the user and the adult, or the parent, or the therapist and all those. Vijay, how much does this system cost?

Vijay Ravindran:
Yeah. There's several different ways that you can acquire Floreo today. The one that's available for parents and anyone that wants to do it themselves is… You need, today, an iPhone 7 or above and an iPad that's 2014 or later, and you can go to the iOS app store and find Floreo; download it. You subscribe with one month free, and it says $50 a month thereafter. We have been very intentioned by the prices to make this accessible to people who want to try it out.

Vijay Ravindran:
Separately, and this is more popular amongst schools, and clinics, and some of our more enterprise partners, is that you can either buy with equipment or without, a one year license. One year licenses are $500 for the license. For $1,500, you can get the equipment as well, all set up, ready to use. We provide training, as well as access to our chief medical officer and clinical therapists, who are trained and helpful in thinking through the best lessons that can be applicable for a given child.

Josh Anderson:
Vijay, tell me a story about someone that Floreo's helped.

Vijay Ravindran:
Yeah. We've gotten some really great anecdotes along the way. Probably the most excited one, which also ironically is not an autism case, was I was at a public county intermediate unit. These intermediate units provide assistive technology and special education services to multiple school districts. This one was in Pennsylvania, and they were dying to tell me about their success story with a child who had PTSD and schizophrenia. In the IEP for the child, the individualized education plan, they particularly wanted to work through some fear scenarios out on the street, and so they used our police interaction modules, as well as How to Cross the Street.

Vijay Ravindran:
They went through that and it was a big success, and they were able to then practice in the real world and saw that case [inaudible 00:23:23] as well, with crossing the street. There's so much pressure on these special educators around some of these IEP items. In many cases we're finding is that we're providing a solution where they're simply before. If you wanted to practice crossing the street before, you basically had to do it on the real street with real consequences. So suddenly, there's a way that you can practice that skill. Repeat it. Fail. Do it again. It's fine.

Josh Anderson:
Yeah. I love that you brought up how it can help folks not just with autism, but I mean, with, like you said, schizophrenia, PTSD, all across the board. I could really see how some of these skills could almost be helpful to individuals without disabilities, just to be able to kind of learn some things.

Vijay Ravindran:
I think that's right. We decided to focus on the autism community because there's such a clear body of therapies and intervention being used today on a wider range of areas, all of which we think virtual reality could play an important role in it. But long term, when you put a product like this in the hands of highly trained professionals, they end up finding new ways to use it in ways that you hadn't envisioned, and even, in some cases, where you haven't fully researched yet. But at the same time, they can make that judgment call about whether it's [inaudible 00:24:38]. And so, it's been really neat to watch these professionals who love the people they're working with, that they're trying to help in any way possible, put this into practice.

Josh Anderson:
Awesome. Well, I can't wait to kind of hear how it grows and changes here in the future and everything. If our listeners want to find out more, how would they do that?

Vijay Ravindran:
Yeah. You can go to our website, which is at floreotech.com. F-L-O-R-E-O-T-E-C-H dot com. From the website, you can get access to the research we've been doing over the last three years, including our work with Children's Hospital, Philadelphia. You get a link to download. Right now to Apple. We're working on the Android version that is in pilot testing at a school district in Massachusetts right now, so we hope to have an Android version soon.

Vijay Ravindran:
You can also sign up for a newsletter, while on the website, to get updates. Every month or so we're releasing new content, so new lessons every month flow to the app. We also share with the community the research that's been published and other important partnerships we're engaging in. From there, they can also talk to any of the professionals at Floreo if they have questions about whether this could be helpful for them, either at their practice or if they're a parent with their child. We are ready and able to talk through whether this technology could be helpful.

Josh Anderson:
We'll put links to all that on the show notes. Vijay, thank you so much for coming on today and telling us all about Floreo. We'll have to have you on sometime again in the future just to hear how things change and some of the new stuff as it comes out.

Vijay Ravindran:
Wonderful. It was a pleasure talking to you.

Josh Anderson:
Do you have a question about assistive technology? Do you have a suggestion for someone we should interview on Assistive Technology Update? If you do, call our listener line at (317) 721-7124, or shoot us a note on Twitter @INDATAproject, or check us out on Facebook. Are you looking for a transcript or show notes? Head on over to our website at www.eastersealstech.com.

Josh Anderson:
Assistive Technology Update is a proud member of the Accessibility Channel. For more shows like this, plus so much more, head over to accessibilitychannel.com. The views expressed by our guests are not necessarily that of this host or the INDATA Project. This has been your Assistive Technology Update. I'm Josh Anderson, with the INDATA Project at Easterseals Crossroads in Indianapolis, Indiana. Thank you so much for listening, and we'll see you next time.