Podcast: Play in new window | Download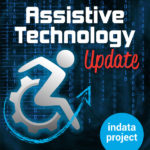 Your weekly dose of information that keeps you up to date on the latest developments in the field of technology designed to assist people with disabilities and special needs.
Show Notes:
Website: www.techsage.gatech.edu
Contact Liz: liz.persaud@gatfl.gatech.edu
Contact Carolyn: carolyn.phillips@gatfl.gatech.edu
Theatre Captions Story: http://bit.ly/31hBZs3
Aging and Autism Story: http://bit.ly/31gTLeL
——————————
If you have an AT question, leave us a voice mail at: 317-721-7124 or email tech@eastersealscrossroads.org
Check out our web site: https://www.eastersealstech.com
Follow us on Twitter: @INDATAproject
Like us on Facebook: www.Facebook.com/INDATA
———-Transcript Starts Here—————————————-
Carolyn Phillips:
Hello, this is Carolyn Phillips and I am the Director of Tools for Life here in Georgia and I am happy to be with…

Liz Persuad:
Liz Persuad, I'm the Program and Outreach Manager with Tools for Life. And this is your Assistive Technology Update.

Carolyn Phillips:
And this is your Assistive Technology Update.

Josh Anderson:
Hello and welcome to your Assistive Technology Update, a weekly dose of information that keeps you up to date on the latest developments in the field of technology designed to assist individuals with disabilities and special needs. I'm your host, Josh Anderson with the End Data Project at Easter Seals Crossroads in beautiful Indianapolis, Indiana. Welcome to Episode 438 of Assistive Technology Update. It's scheduled to be released on October 18th, 2019. On today's show we're very excited to have Liz Persuad and Carolyn Phillips back. Now you might remember they were on the show earlier to talk about the TechSAge project and they both from tools for life at Georgia Tech and today they're going to talk about universal design in aging and disability and why these things are important and some of the things to consider about universal design and how they can help folks.

Josh Anderson:
We also have a story about theater captions and an app that can help out with that as well as a pretty fitting story about aging and autism and some of the challenges presented in that situation. Please don't forget if you ever have questions or maybe somebody that'd make a great interview. you can always email us at tech@eastersealscrossroads.org. Call our listener line at 371-721-7124 or shoot us a line on Twitter @enddataproject.

Josh Anderson:
Are you looking for more podcasts to listen to? Do you have questions about assistive technology? Are you really busy and only have a minute to listen to podcast? Well guess what? You're in luck. Because we have a few other podcasts that you should really check out. The first one is Assistive Technology Frequently Asked Questions or ATFAQ, hosted by Brian Norton and featuring myself and Bella Smith and a bunch of other guests. What we do is we sit around and take questions about assistive technology, either about accommodations, about different things that are out there or about different ways to use things. We get those questions from Twitter, online, on the phone and many other ways. We're also trying to build a little bit of a community as sometimes believe it or not, we don't have all the answers.

Josh Anderson:
So we reach out to you to answer some of those questions and help us along. You can check that out anywhere that you get your podcast and wherever you find this podcast. We also have Accessibility Minute. So Accessibility Minute is hosted by Laura Metcalf and if you've never heard her voice, it is smooth as silk and you should really listen to that podcast. She's going to give you just a one minute blurb about some different kinds of assistive technology, kind of a wet your whistle a little bit and just let you know some of the new things that are out there so that you can go out and find out a little bit more about them yourself. So again, check out our other shows, Assistive Technology Frequently Asked Questions and Accessibility Minute, available wherever you get your podcasts.

Josh Anderson:
Let's take a quick trip over to the theater. So this story comes to us from DC Metro Theater Arts and it's titled Magic Time, A Theater Buff Auditions the Gala Pro App, written by John Stoltenberg. The story talks about all about the Gala Pro app. So the Gala Pro app for those who don't know what it is, it is actually a live captioning app for use at the live theater. So if you can really think of the challenges if you're hearing impaired, deaf or anything like that, if you go to the theater, you're really going to miss a lot of what's going on. There's a lot of people talking, maybe a lot of other kinds of sounds and you probably don't want to have something really bright kind of showing to come up.

Josh Anderson:
So it talks about the Gala Pro app, but actually the individual that wrote this, John Stoltenberg, goes to the theater quite often and it looks like this was his first time really trying to use this. He is hearing, but he can see how this can be really helpful to someone who's deaf or hard of hearing. So the Gala Pro app is free. You download it to your Android or iOS device. It can work on phones or tablets. Once you download it, you go into the theater, you let it know kind of what it is that you're going to be watching, you turn on airplane mode, turn off notifications and then connect to the wifi there. It actually gives you the username and password to get on it so that everything's kind of all in one. You don't have to worry about your phone going off, lighting up too much.

Josh Anderson:
And then everything's displayed on a black screen with kind of a red font, so that not a lot of lights coming out so that you don't annoy or kind of interrupt the enjoyment of the show for others around you. And it says the app actually uses artificial intelligence to kind of know where it is in the play. So if an actor misses a line, it can jump ahead. It says that actually all the lines and everything are kind of fed into the app, but then it's smart enough to know how to kind of change how it does everything. You can change the font size. You can change the brightness somewhat in order to make it kind of work for you. This isn't available everywhere. It says available on Broadway. The story actually comes to us from the DC Metro area.

Josh Anderson:
So it's available there, but very kind of cool to be able to check this out maybe at some different places as you go to the theater to be able to kind of have that feedback. So it could even help with understanding. Really, if you have any hearing kind of disability, you think those folks are talking very quickly, sometimes over each other and it can be very challenging to really understand what all's going on. So really to be able to have this, those real life captions as everything's happening, it could be very, very helpful. So we will go ahead and put a link to this story over in our show notes so that you can check it out.

Josh Anderson:
I found a very fitting story for today's interview over at commonwealthmagazine.org and it's titled The Challenge of Aging with Autism. It's by Joanne Simmons and Elizabeth Zwick and it talks about how much progress has been made in diagnosing, supporting, educating kids with autism, but there really hasn't been much done for individuals who are aging. So again this fits along a lot with what we're actually talking about with our guests today. It says in the article that many older Americans with autism are often actually misdiagnosed. So this can have mismatched services, maybe the care that they don't need. There's also little to no real research on how autism changes with age.

Josh Anderson:
So this can even have some different challenges because maybe the challenges the individual had as they were younger change, progress, just are very different by the time the individual is actually older. Talks in here about how we need a little bit more research, perhaps more services. Of course it touches on how home health care age, there's a huge shortage of them and I know we've talked about that a few times on this show as well. Of course, there's also the issue and it does mention it here that a lot of folks do age out of parental care, which can have a lot of kind of issues as well as some kids with autism are taken care of by a parent or a grandparent and those folks can eventually get disabilities themselves as they age or ultimately can pass away and kind of leave these individuals with really no one to kind of take care of them.

Josh Anderson:
It goes into some fixes, training of course is a big thing and just better preparing medical professionals, nursing home staff, other folks in order to deal with individuals and be able to help them a little bit more along with life and with aging. Then it gets into the part which is a little bit more about of course what we're all interested in, innovation and technology and how these things might be able to help individuals with autism as they age. And it actually talks about the Arc Tank and the Arc Tank is a collaboration between the Northeast Arc and Nancy Laurie Mark's family foundation and this is a competition that funds pioneering and positively disruptive ideas to enhance the lives of persons with disabilities. Looks like they're getting some missions and are looking to fund creative solutions to help address challenges facing older individuals with autism. So those finalists are going to be judged on November 19th.

Josh Anderson:
So we'll have to maybe check back on this story a little bit and see if maybe we can find out kind of made it through. I just thought this was a really good article that just talks about some of the challenges that individuals face and since that was our topic today for the interview, I thought it was a great one to put in there. So we'll go ahead and put a link to that over in our show notes.

Josh Anderson:
On the show over the years, we talk a lot about universal design assistive technology, usually though as it relates to education, navigating the community, working, shopping and maybe other things, but we really don't touch on it much on how it relates to the aging population. Although I really guess technically we're all the aging population as we're all a little older than we were when this podcast began, but I digress. Hopefully you know what I'm talking about. Well we're lucky enough to have Liz Persuad and Carolyn Phillips back on the show today to talk about assistive technology and universal design and how it relates to aging. Liz, Carolyn, welcome back to the show.

Liz Persuad:
Thank you so much.

Carolyn Phillips:
Yes, we're thrilled to be back. Always a pleasure to work with you and also get to give more information out and connect with your audience, your listeners. So thank you.

Josh Anderson:
Oh, we are so excited to kind of hear about what you got to say. Now last time I had you on the show though, we got right into talking about the TechSAge project and I completely skipped over letting our listeners even know anything about you. So before we get started today, Liz and Carolyn, give me just a little overview about who you are, what you do and maybe your favorite color? You don't have to do the favorite color part.

Carolyn Phillips:
All right. So this is Carolyn Phillips and I am very happy to be working with Liz. Liz, you and I have been working together pretty much my whole career.

Liz Persuad:
Definitely mine.

Carolyn Phillips:
Long time.

Liz Persuad:
December it'll be 18 years.

Carolyn Phillips:
18 years, look at us. That's a long term. [crosstalk 00:10:43]. So we have been working together and primarily focused on assistive technology. The work that I do and Liz that you do, it really is working with the Assistive Technology Act here in Georgia and it's here at Georgia Tech called Tools for Life. Assistive technology, It's personal and professional for me and I don't want to speak for you Liz, but I think the same is true for you. And it's exciting the more that we get to do because we live in that space of working with individuals, working with communities of people, helping people live their best life and then we get to translate that right back into research and help influence research and also helping influence design and development. So moving from problem, which we see in real time to solution, which we also get to see in real time, it's a very exciting environment to get to work in.

Liz Persuad:
It is. I am very lucky. I feel like I have just moved through life and then I found this place, y'all found me and I'm here where I'm supposed to be. This is exactly where I'm supposed to be in my life. So I often am very open. If you see me, you can't deny it, but I am somebody living with a disability. I'm an assistive technology user. I often share that I use upwards of almost 30 pieces of assistive technology every day from the time I wake up to the time I go to bed. I've had a disability. I was diagnosed when I was nine months old with a form of muscular dystrophy called spinal muscular atrophy.

Liz Persuad:
But I do feel like I get to get up every day, get dressed and continue living my life even though it just translates into my job, right? Because I'm kind of sharing my life. I'm sharing strategies and solutions, talking to people about the way the world works for folks with disabilities and what is AT mean for independent living? What does universal design mean? And then we get to have these awesome conversations as professionals with developers and researchers and I'm satisfied on the inside because I'm like, "This is my life and y'all are working for me and you're working for generations after me and this is awesome. This is it all just ties together in a beautiful package." And my favorite color is purple.

Carolyn Phillips:
Yeah. And I was going to add that's a shared love of purple, my favorite color as well. And I love hearing you talk Liz. As you know, I'm a big fan and loved doing presentations and keynotes and pieces like this podcast, so much fun with you. I also have disabilities and live with them every day and thanks to the convergence of technology, so many solutions being on one or two devices. I used to say, "Gosh, I use 23 different types of assistive technology." Now I really have to carry around two and that's it, which is pretty amazing,, yes.

Carolyn Phillips:
So it's exciting the evolution and part of that evolution is this project that we get to work on that is funded by the Department of Human and wait, the Department of Health and Human Services. Under that is the Administration for Community Living, ACL. And there's a really cool innovative group called NIDILRR and they funded TechSAge. TechSAge is one of those cool projects that's focused on helping people that are aging with a disability, which is a huge difference than aging or just having a disability. So technology research, development training, all focused on aging with a disability in that very important experience.

Josh Anderson:
And that kind of leads us right into, let's start off by talking about universal design and how it relates to aging, but for who doesn't know, real quick, what is the concept of universal design?

Carolyn Phillips:
All right, well universal design is a concept that one of our colleagues, John Sanford was on the original team that came up with this. He was working in [Mesa's 00:15:09] lab in North Carolina and they started coming up with some of these concepts and principles and basically universal design, it's designing for everyone. It's really making the mainstream be the rule and so you don't necessarily have to have assistive technology. And there are principles that have been developed that are linked in and ones that we try to follow, whether it's the built environment or if it's the virtual environment. One of the things that Liz and I get to do is train people on these universal design principles. As a matter of fact we're coming up with a video series. It's focused specifically on universal design principles and Liz and I are happy to share the principles with you if you're interested.

Liz Persuad:
I mean the seven principles of universal design, maybe you could Google search it. They pop up. We live and breathe these every day and we are excited about this video series because it is going to dive deep into these uni principles, if you will and give examples, share visuals and just talk about the history of it. So everything from equitable use to flexibility in use, simple and intuitive use, the perceptible information, tolerance for error, low physical effort and then just size and space for approach and use. And there's so many great information on their research behind these universal design principles that we do encourage you all to take that deeper dive. I just love the idea of universal design. I mean this is something that I said every day and we talk about it and I'm just like "Common sense people, right?"

Liz Persuad:
I mean, you'd be talking about the mainstream technologies that can be leveraged by people disabilities and how any population, how that is such a game changer. As Carolyn was talking just about universal design, giving us that refresher, I was thinking about commercial I see watching TV and there's these faucets that, beautiful faucets for your sinks and all you got to do is reach your hand up and touch it and then your water comes out. Well, guess who can wash their own hands on the run now? Me. I don't have to have somebody with me to turn on the faucet, to help me reach and all those things. So now it's something that's completely independent. Math, universal design, that's all built in that's beneficial to not just me, but everybody. Everybody wants that.

Carolyn Phillips:
One of the things that my partner and I and our children are doing is we are in the process. We've moved out of our house that was built in the forties by my aunt and uncle here in Atlanta and we are completely renovating it with universal design principles within throughout. And so that anybody, everybody can come visit us. It should not be dependent upon whether or not you can step six inches and you can bear weight on your left and right leg and that you can hold onto a rail, blah, blah, blah. So we will have ramps. Our big thing really is equitable use. So anybody can use our front porch. Everybody can use our front porch. We're going to have a ramp built in, which is great. A simple and intuitive use, so a lot of the things that we're implementing will be Smart Home technologies that we're talking about and that we're developing within the TechSAge project of how do you use the internet of things to have lights come on and at the right time?

Carolyn Phillips:
There's also a whole other level when you're talking about simple and intuitive use of making sure that you can time things. So have, and actually use that and create moods if you will, for your whole house, have music that comes on at a certain time or reminders. If you have somebody who has cognitive disabilities that remind you at a certain time. So there's all kinds of cool things, low physical effort, making sure that everyone can cook in our house that wants to cook, the tolerance for error, that you actually have appliances that speak. So you have that bi-modal input and that it's not just dependent upon a beep that it actually reads it back to you. And also think about size and space and making sure that all of that is appropriate. And I think it's important when we're thinking about equitable use. To me it goes back to civil rights. Everyone should be able to go through the front door, everybody should.

Liz Persuad:
I mean I think it also, as you're designing homes, even if you're living in this state of architecture and you're looking at buildings for companies, organizations out there, it does speak to our values, our internal values, of what we really see as equitable use and who we value in our society, in our community. So all of these things are unbelievably important. Just thinking about simple solutions, like replacing your door knobs with levers. I mean thinking about your personal space in your home and your friends and your family, people that you love and care about that you want to invite in and share that space with you. All of these things are incredibly important.

Carolyn Phillips:
My daughter uses a speech device and she thankfully has gotten to connect with Amazon Echo team and they're incredible folks working on developing these technologies and really progressive. And so one of the things that they showed her, because the way that she accesses information is often by pointing, like tapping. And so they created an interface. So it takes basically Alexa that's dependent upon voice. Well, if you can't use your voice in the same way as other folks, but you sure can tap or point, then you need to have a different interface. And so using the Amazon Show, we're able to actually connect all kinds of things in our house and make all kinds of things possible thanks to that Tap It app.

Carolyn Phillips:
It's a very simple interface and something that's a game changer, not just for Mira, but actually for all kinds of folks. There were some people that I'm working with who want to age in place and that show and that tap it were indeed the bridge because people wanted to have a concrete way of interacting with the environment, but had very limited range of motion. And that's where we're talking about with when it comes to universal design.

Josh Anderson:
So let's say that someone's looking to kind of implement universal design. Carolyn you kind of said, you're redesigning your entire house and thing. Where would they start? I mean I think that's where a lot of people kind of get tripped up. They look at this giant picture and they see so much to do. Where would you recommend they start? Or where did you start? Kind of just to kind of get a jumping off point.

Carolyn Phillips:
So when we're talking about universal design, one of the things that Liz and I spend a lot of time doing is trying to have everything baked in as opposed to layered on. It's less expensive if you think about the lifespan of someone when you're building a house and how we can make that something that someone could age in place or what have you. So if you don't have the luxury of building your own house, but you're having to go in and retrofit or what have you, then what we're really talking about is more of a person centered approach. And so it's sitting down with an individual and thinking of all the different ways that they're trying to utilize that space so that the space actually works the best for that individual. So it could be, "Hey, I get really cold. I can't regulate my temperature because I have a spinal cord injury."

Carolyn Phillips:
And so that's where we would start is universal design using your voice, just like anybody else from a device that is available on the mainstream so that you can regulate your temperature. Now if we wanted to take that to the next level, and let's say you're designing for multiple folks or anyone who shows up, then there are some ideas that are out there that we have and in the video series it'll show some of those of how do you design a space to be open and friendly so that anybody can navigate it? Kitchens, we're having a lot of fun designing our kitchen so that it can meet these principles. Bathrooms, some of the bathroom technology's incredible where you actually can say, I want the water at this temperature.

Carolyn Phillips:
So if somebody has a tough time telling what temperatures are and that sometimes happens with dementia or with some other neurological disease processes, then they can actually make sure that they are not going to burn themselves or they're not going to be too cold. So just thinking through and seeing what are the priorities for the person. And we're very person centered, obviously that's pretty much our whole careers have been that way and so thinking from that perspective.

Josh Anderson:
So folks want to find out more about universal design and aging or even the TechSAge project, how would they do that?

Liz Persuad:
They can absolutely reach out to us. We would love for folks to this is the TechSAge website. They can do that by going to techsage.gatech.edu, techsage.gatech.edu. Again on that website, you'll be able to learn more about the TechSAge project, just really check out what's happening with research, even take a look at some of the completed projects, find out what's going on with development training, and really and truly we're looking for research participants. So if you're interested in that there's a whole section that you can dive deeper and sign up as well. And then also if you want to reach out to Carolyn and I, my name is Liz and my email address is with liz.persuad@gapfldotgovtech.edu and I would be absolutely happy to get connected with you and even point you to other team members on the TechSAge team.

Carolyn Phillips:
And they can also reach out to me. This is Carolyn. My email address is carolyn.phillips@gatech.edu. That's georgiatech.edu. And thank you so much for this opportunity. We appreciate it. Love being on your show.

Josh Anderson:
Oh, most definitely. We'll look very forward to having you on next time to talk about some more great things that can help individuals with disabilities and especially help them as they age. Thank you so much.

Carolyn Phillips:
Thank you.

Liz Persuad:
Thank you.

Josh Anderson:
Do you have a question about assistive technology? Do you have a suggestion for someone we should interview on Assistive Technology Update? If you do call our listener line at 317-721-7124. Shoot us a note on Twitter @enddataproject or check us out on Facebook. Are you looking for a transcript or show notes? Head on over to our website at www.eastersealstech.com. Assistive Technology Update is a proud member of the Accessibility Channel. For more shows like this, plus so much more head over to accessibilitychannel.com. The views expressed by our guests are not necessarily that of this host or the End Data project. This has been your Assistive Technology Update. I'm Josh Anderson with the end data project at Easter Seals Crossroads in Indianapolis, Indiana. Thank you so much for listening and we'll see you next time.