If you're looking for something for a personal alarm in case of emergency – check out the MYPAL. The MYPAL is rechargeable personal alarm and light. It was originally created for women's personal safety, but can be beneficial to many individuals of all ages and abilities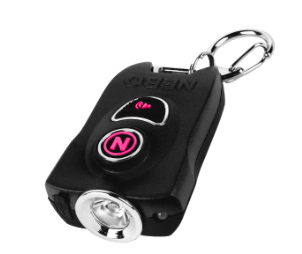 There are various light modes that make the MYPAL ideal for any task at hand:
High (150 lumens) – 1 hour / 51 meters
Medium (50 lumens) – 2 hours / 31 meters
Low (15 lumens) – 5 hours / 18 meters
Green – 40 hours / 1 meter
Red – 40 hours / 1 meter
Turbo (400 lumens) – 40 seconds / 82 meters
In addition to various light modes, the MYPAL also features an ear-piercing 115dB safety alarm and distress strobe to provide safety right at your fingertips. Its compact size fits perfectly inside a bag or purse, or easily connects to a keychain.
Features of the MYPAL:
Made of anodized aircraft-grade aluminum; water and impact resistant
Mode recall feature
Battery charging indicator lets you know when you need to charge the battery
Micro-USB to USB charging cable included
Rechargeable battery included (recharge time: 2 hours)
Operation: two top-positioned buttons to independently control light and alarm
Check it out on MaxiAids.com to learn more!