Podcast: Play in new window | Download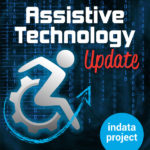 Your weekly dose of information that keeps you up to date on the latest developments in the field of technology designed to assist people with disabilities and special needs.
Show Notes: 
Caitlin Conner, Founder and CEO of Be More Adaptive
Website:  BeMoreAdaptive.org  
INDATA and Easterseals Crossroads info:
INDATA Website: www.eastersealstech.com
Easterseals Crossroads Website: www.eastersealscrossroads.org
Find your local tech act: www.eastersealstech.com/states

——————————
If you have an AT question, leave us a voice mail at: 317-721-7124 or email tech@eastersealscrossroads.org
Check out our web site: https://www.eastersealstech.com
Follow us on Twitter: @INDATAproject
Like us on Facebook: www.Facebook.com/INDATA
—————–Transcript Starts Here—————————
Caitlin Conner:
Hi, this is Caitlin Connor and I'm the CEO and founder of Be More Adaptive, and this is your assistive technology update.

Josh Anderson:
Hello, and welcome to your assistive technology update, a weekly dose of information that keeps you up to date on the latest developments in the field of technology, designed to assist individuals with disabilities and special needs. I'm your host, Josh Anderson with the INDATA Project at Easterseals Crossroads in beautiful Indianapolis, Indiana. Welcome to episode 442 of Assistive Technology Update. It's scheduled to be released on November 15th, 2019.

Josh Anderson:
On today's show, we're very excited to have Caitlin Connor on to talk about Be More Adaptive and how we can assist individuals with disabilities in finding resources to be able to help them out and build a little bit of community. We're also going to have a little overview of what exactly is INDATA that Josh mentions every single time on this podcast. Don't forget, you can check us out on Spotify now, and we're very excited that you decided to take time out of your day to join us, and let's go ahead and get on with the show.

Josh Anderson:
Are you looking for more podcasts to listen to? Do you have questions about assistive technology? Are you really busy and only have a minute to listen to podcast? Well, guess what? You're in luck because we have a few other podcasts that you should really check out. The first one is Assistive Technology Frequently Asked Questions or AT FAQ hosted by Brian Norton and featuring myself, Belva Smith and then a bunch of other guests. What we do is we sit around and take questions about assistive technology, either about accommodations, about different things that are out there, or about different ways to use things. We get those questions from Twitter, online, on the phone, and in many other ways. We're also trying to build a little bit of a community as sometimes, believe it or not, we don't have all the answers.

Josh Anderson:
So we reach out to you to answer some of those questions and help us along. You can check that out anywhere that you get your podcast and wherever you find this podcast. We also have Accessibility Minute. So Accessibility Minute is hosted by Laura Metcalf, and if you've never heard her voice, it is smooth as silk. You should really listen to that podcast. She's going to give you just a one minute blurb about some different kinds of assistive technology, to wet your whistle a little bit, and just let you know some of the new things that are out there so that you can go out and find out a little bit more about them yourself. So again, check out our other shows, Assistive Technology Frequently Asked Questions and Accessibility Minute, available wherever you get your podcasts.

Josh Anderson:
Our guest today, Caitlin Connor, is going to talk a little bit about resources and finding those resources. In that conversation, she really got me thinking that while I mentioned the word INDATA and Easterseals Crossroads at the beginning of every single show, I never take any time to explain what the heck those things. So Easterseals Crossroads, we're a comprehensive provider of rehabilitation services here in central Indiana. Our programs, which is the clinical assistive technology INDATA Project, actually provides services to folks all across the state of Indiana. Some of our other programs are more centrally located, so Marion County, which is more the Indianapolis area. Easterseals Crossroads was awarded the Indiana Assistive Technology Act grant, INDATA, in October of 2007. Now that consists of federal funding targeted to increase the availability of assistive technology to Hoosiers with disabilities. They're actually 56 programs of this type in the United States and U.S. Territories. I'll put a link over in the show notes to eastersealstech.com/states.

Josh Anderson:
If you go to this website, you can actually find your local AT act in your area, so one of those other 56 programs across the United States, if you don't happen to be in Indiana. So what exactly is an AT act and what is INDATA? Well, to put it real simply, INDATA has two purposes and those purposes are to get the word out about assistive technology and to get assistive technology in people's hands. So we'll start with getting the word out about assistive technology. How possibly would we do that? What is a way that we can reach a whole heck of a lot of people, tell them about assistive technology and make sure that they know some of the newest and best stuff out there? Why not podcasting? I think podcasting is a darn good way to go. So podcasting is one way that we do get the word out about it.

Josh Anderson:
We've been doing this show since 2011, but that's just one of the ways that we get the word out. We also travel around. We talk at all different kinds of conferences. Just a few weeks ago, I presented at an [APSY 00:04:47], which is a organization, the Indiana chapter of APSY, which has helped folks find employment and is really focused on just helping individuals with disabilities find employment. Next week, I'll be presenting at the Indiana Governor's Council on Disability conference, ATIA. I'll be down there in January presenting. So we go and just try to get the word out to folks so that they can know that these resources are there, that there are these things that are able to help them. We also go around and talk to other schools. If you ever do check out our YouTube channel, we have tech tips. A lot of the things that maybe we talk about on this show, or that have been mentioned on some of our sister shows, we will actually do small little videos showing you how these things work.

Josh Anderson:
So really just getting the word out on assistive technology, making sure that folks know these things are there for them. We also do full day trainings here at Easterseals Crossroads throughout the year, webinars, you name it. We just try to do everything that we can to make sure that as many people learn about assistive technology as possible, but it doesn't stop there. It doesn't stop at just getting the word out. The other job is to try to get this technology into people's hands. So in order to do that, we have an equipment loan library. So we've got a library of about 2,500 different assistive technology devices, and that's everything from portable ramps to iPads with some of the apps that we've talked about on this show, computers with adaptive software, alternative access devices, different keyboards, different mice, switches, all kinds of stuff. Adapted toys. Really almost anything assistive technology you can think of, and these devices are available for loan to individuals in the state of Indiana to try out.

Josh Anderson:
You got to think a lot of assistive technology may be expensive. Maybe you don't know what's going to work for you. Maybe you're just not sure what there is out there. Well, you can go to our website and search different things. You can come in here and try out some different stuff and then have those things loaned to you for 30 days. So just like the library, except for it's assistive technology equipment. So again, that gets these devices in people's hands. I know I keep talking about these things in relation to Indiana, but again, if you go to that eastersealstech.com/states, that's going to bring you to all the different AT act programs. So you can click on whatever area or state or territory you're in and it can take you to their websites so you can find out about their loan library and the things that they offer.

Josh Anderson:
Along with the loan library, we also do device demonstration, so folks come out straight to your door throughout Indiana, bring different devices and show them to you. So again, showing you what's out there, letting you know what resources there are for you and what things might be able to assist you with any challenges or barriers that might be brought on by disability. We partnered with Star Financial to offer alternative financing program, which offers a low interest extended term loans for folks to be able to buy assistive technology. We also have a depot and our depot takes in desktop and laptop computers, as well as other pieces of assistive technology. They clean these things up. They clear the hard drive. They get all the information off there, put a new version of Windows 10 on it, a version of Microsoft Office, and then they give those computers out to individuals in the state of Indiana with documented disabilities.

Josh Anderson:
So the INDATA Project does a lot of stuff here in Indiana, not just this podcast and our other podcast, but also as I said, a YouTube channel with a lot of different tech tips and other pointers and help. Blogs, Twitter, trainings. As I said, the loan library and other things. So a lot of folks don't know that these AT acts are out there. Again, there's 56 programs like INDATA, maybe not as good. Wink, wink, but just like INDATA all over the United States. In fact, some of them have even been mentioned on this show. Our friends at Georgia Tech that have been on the show before are part of the assistive technology act in Georgia.

Josh Anderson:
Again, all kinds of resources out there for you folks to try out and see if maybe there's something out there that might be able to assist. Or maybe you hear about something really cool here on the show that you want to try out, maybe get ahold of your local AT act and see if that's available for loan or for demonstration. We'll put a link to our website, eastersealstech.com over in the show notes. I'll also put a link to the organization that we're based in eastersealscrossroads.org, and a link to that eastersealstech.com/states, so that you can look up the program closer to you.

Josh Anderson:
Finding resources, assistance, support, and information for an individual with a disability can be a huge task. There's a lot of information and assistance out there, but navigating it and finding it can sometimes be challenging. Let's all admit the internet is a big place. Our guest today is Caitlin Conner, founder and CEO of Be More Adaptive, and she's taken on the task of making this process a lot easier. She's here to tell us all about it and a little bit about herself. Caitlin, welcome to the show.

Caitlin Conner:
Hey, thanks for having me.

Josh Anderson:
Thank you so much for being on. Now, I know you actually have a pretty interesting story. So before we start talking about Be More Adaptive, could you let our listeners know a little bit more about you?

Caitlin Conner:
Absolutely. So I actually was not born an amputee. I was made an amputee five years ago. I wasn't completely alluded by disability, though. My brother has cerebral palsy and my other brother had epilepsy, so disability was something I didn't realize it was normal for me. But five years ago I had quite a bit of change in life. I had just gotten married. We had just gotten back from our honeymoon. This was just a few months after my brother had passed away. Then right after our honeymoon, we found out that my mother-in-law had stage four liver and colon cancer, and this hit the family pretty hard. So we were actually on our way to go eat dinner with her after her first chemo treatment, and she finally wanted to eat, so it was a big accomplishment. We decided instead of riding with them that we wanted to enjoy the weather and take the motorcycle because it was about to be the heat of the summer here in Texas and that's never fun.

Caitlin Conner:
So we got on the motorcycle and as tradition seems to go within a block from our house, we were T-boned by a girl who was texting while driving. So the initial impact of this accident actually took away 75% of my ankle. It shred it into the gearing of the motorcycle and it was on the car and the road and it was a problem. Then my now ex-husband, we co-parent really well, but he was also injured pretty badly in the accident. He broke his sacrum, fractured his femur, broke his pelvis all the way down the right side, and then the clutch of the bike punctured his gut, which luckily missed the major organs, major vital organs, and that's how we started our marriage. We got sent to two separate hospitals. I was life-flighted and this was the day before my birthday, so happy birthday.

Josh Anderson:
Oh, wow. That is definitely not a birthday gift anyone wants to get. That's for sure.

Caitlin Conner:
I did get a really good gift that day, though. I woke up 2:00 AM on my birthday and I learned that I was four weeks pregnant.

Josh Anderson:
Oh, wow. Now that I guess … I don't know if that makes up for it, but that definitely at least adds something good to it.

Caitlin Conner:
It did for me, because for our particular situation … because we knew that his mom had cancer and my mom was grieving over the loss of my brother, we both knew we wanted to be parents and so we actually started trying to have a kid. So she was the good news.

Josh Anderson:
That is definitely the good news. It's nice to look on the bright side like that.

Caitlin Conner:
Absolutely. She is now going to be five in February. She survived the accident and she's just my focus on how I can press forward and try and be a better version of myself.

Josh Anderson:
Well, congratulations. That is excellent. And really, before we get into Be More Adaptive, also that changed some of the other things you do in life. Is that correct?

Caitlin Conner:
Yeah. Quite a bit. One of the big things about my story is me getting into athletics, which ended up leading towards Be More Adaptive, but I was never an athlete before I lost my leg. I learned how to do all these sports after I lost my leg.

Josh Anderson:
That's amazing. I know my wife and I actually watched one of your videos just to do a little bit of research and of course she looked at me and goes, "Well, why don't we work out?" I was like, "Well, I don't know if we need to … Maybe let's go ahead and do that before an accident makes us have to workout and be in a little better shape."

Caitlin Conner:
Yeah. Don't waste your time. You get one life, now's the time to live it. Don't take as long as an accident to occur for you to start living.

Josh Anderson:
That is no way to wait around, for sure. So tell us a little bit about Be More Adaptive.

Caitlin Conner:
So Be More Adaptive, it was started with my journey, actually. When I amputated in the hospital, I was there … I had seven surgeries in right about two weeks, and pretty much as soon as they amputated, the hospital's like, "All right, you can go home." I was like, "What does this mean?" So I tried searching as hard as I possibly could to find somebody to relate to. Actually two days ago, I, for the first time in almost five and a half years, found somebody that I can relate to who is actually coincidentally in Houston, Texas, where I am. It's actually very hard to find not only another amputee who's a mom, but somebody who was pregnant during an extreme life changing accident at the same time. I had literally found this woman the other day and she didn't go through amputation, but she did go through paralysis, which is just as difficult, if not more difficult.

Caitlin Conner:
So I just started trying to network and find people I could relate to because I had no idea what I was doing. I didn't know what to consider normal. What should I be doing? What shouldn't I be doing? So I started looking for resources and somehow sports happened before it became a nonprofit, and it was a Facebook group first. It was called The World of Adaptive Sports and Fitness. It was only related to sports and fitness and physical disability at the time. That was because that's what I related to and what I understood. I don't have as much knowledge on intellectual differences and I didn't have people that I could lean on for that at first.

Caitlin Conner:
So now Be More Adaptive covers all lifestyles … Or, I'm sorry, all life topics. We cover all life topics, as well as all disabilities, intellectual, physical, whatever it may be. The concept is at any one point, somebody can become disabled in any way possible. It can be an accident. It can be trauma, it can be illness. It can be you're born that way. So how can we get resources to people out there, whether it's temporary or permanent? How can we pull these resources? Because I had to do a ton of researching to start finding the resources I needed just to live a normal life and not everybody has time or the understanding of how to find those resources.

Josh Anderson:
Oh, for sure. For a lot of folks, I mean, it's a traumatic event. So I mean, even getting all your thoughts together to be able to go out and find these kinds of things can be a big challenge. So what kind of information and resources are they able to find at Be More Adaptive?

Caitlin Conner:
So our goal is to literally take every resource imaginable in the world globally and put it in one place. This is going to be a longterm process. We're working on our database, our Everything Adaptive database, and that will include everything from sports and fitness to adaptive fashion, to workplace and job availability for people who are inclusive and for people with disabilities, as well as ADA rights and compliancy. Basically any topic that relates to a human being who is adapting to life somehow. We want to be able to put all our resources in one place.

Josh Anderson:
Very nice. You actually have some partners in this, right? Did I see that on the website? Who are some of your partners?

Caitlin Conner:
We do. We have over 80 partners currently and they grow daily and that's because we want to partner up with people who already exist and help them continue to exist by sharing who they are. Everything from the Challenged Athletes Foundation, which was actually one of our first and one of the first to impact me in my adaptive life from Camp [Navability 00:17:51] to Camp For All to [Unitable 00:17:54], [inaudible 00:17:56]. There's a lot of different things on there, which I can't remember off the top of my head, which is a good problem to have.

Josh Anderson:
That's a very good problem, and I nor do I expect you to try to name all 80 and I want to make sure you don't leave any of them out. Plus, it'd be a really boring podcast if we just named off 80 names. Now, Caitlin, where would you like to see Be More Adaptive go in the future?

Caitlin Conner:
Well, long term, I'd love to see Be More Adaptive global to where any country, any state, any city can log in or find us online and utilize the resources that we can provide. It's meant to be non-biased. We're not here to take sides. We're here to provide resources. The only resources we won't provide are people who aren't actually resources. Maybe they present themselves as a nonprofit, but they don't actually provide. We don't want to work with people like that. We want to make sure that we're putting people in the right hands and that's really just as simple as that is. We want to make sure we're directing people to a true resource that can actually help them.

Caitlin Conner:
But my longterm goal is to be able to go to countries where having a disability is taboo, where you're not allowed outside your home. You're at the back of the tribe. You don't get to eat with anyone else and to be able to provide internet access and education so that they can start improving their lifestyle. And by touching one, we can touch many. So by helping improve this person who in their eyes is considered the weakest link, we can in turn improve the entire population. If this world would understand that the 20% of disability, if they would understand if they built up that percentage of the population, they would be making the entire population stronger.

Josh Anderson:
I think a lot of people don't realize how different individuals with disabilities are treated in some countries, or lesser. They really are.

Caitlin Conner:
Absolutely. It's such a waste of brainpower. There are so many good minds out there that just because they're not physically able, they're definitely mentally able. Those who may not are mentally well are definitely physically able, so there are strong suits that everybody has.

Josh Anderson:
Yeah, and being able to help folks just be able to show those, or really even get the opportunity would be great. So let's say that I'm a nonprofit or I help individuals with disabilities. How can I help Be More Adaptive? Or how can I make sure that people can be able to find my resources through there?

Caitlin Conner:
So right now it's super easy to partner up. We're working on the legal process of actually having a technical legal partnership form. That's just to protect both parties. But really if you just get involved in our close group, in our community that we have, you can share your resources. If you come up to me and say, "Hey, I want to partner, I want to get involved," just tell me what you're doing. That way when people come up and ask me for a resource I know who to go to. I can't tell them it exists if I don't know it exists and I don't have time to search every single day. That's why I'm currently working on finding more people to help build this database so that it's easily searchable, not just to myself, but everybody looking for this resource.

Josh Anderson:
Oh, for sure. Like you said, you don't have time to look every day and there's so much that just falls through. I know working in assistive technology, a lot of people don't even know most of this stuff exists, that there are these gadgets and things and other stuff that can help them along the way. But if you've never seen it or if you've never even dealt with disability, if it's something … an amputation and accident as something that comes on later in life, it's hard to find those things. Because like you said, you don't know they even exist.

Caitlin Conner:
Absolutely. I mean, how easy is it to get lost in a search engine? Especially if a nonprofit or maybe a business entity doesn't know how to market themselves to even get out in that search engine in the first place.

Josh Anderson:
Oh, yeah. Most definitely.

Caitlin Conner:
That's actually my day job, is marketing.

Josh Anderson:
Oh, really? Oh, nice. Well, look at that. You were perfectly made for this kind of thing.

Caitlin Conner:
I like to network.

Josh Anderson:
That is perfect. Caitlin, if you could go back or if you could just give one piece of advice to someone who's a new amputee, what would that be?

Caitlin Conner:
Try everything. I mean, you don't know if you can do it if you don't actually try to do it. Growing up my dad used to tell me to try something new every day. Usually for him, it was telling me it was chicken nuggets when it was really chicken gizzards and thought it was funny, but it actually paid off later in life and it became something, "Well, if I can't do it this way, then I need to try another way." Or, "If I don't know if I'm good at something, then I should try it just to see." How do you know if you don't like that food if you don't put it in your mouth? You just don't know.

Josh Anderson:
It's funny, my mom did the same thing, but with chicken livers and they don't taste like chicken nuggets.

Caitlin Conner:
It's not the same.

Josh Anderson:
No, it's just not the same, but you're right. I would have never known that had I not tried it.

Caitlin Conner:
Yeah. But maybe there's like 10% that's like, "Oh, I love chicken livers."

Josh Anderson:
Oh, yeah. [crosstalk 00:22:48]. Exactly. You know what? If they make them, somebody definitely likes them. Talking about that, I know we talked a little bit about you in sports, but you've tried some other things since your amputation, is that correct? You do modeling now and other things?

Caitlin Conner:
Yeah, I have. I never expected to be a model. In fact, I was that kid in school that had really low self esteem. I didn't fit in and I was a major goofball and I didn't know how to tone it down. So it was one of those things where I'd look on TV and see people model and go, "Oh, that'd be so cool to do," but it was never something I actually understood. Also getting into modeling, you learn it's not quite what people paint it to be.

Josh Anderson:
It's very cool that you not only got into that, but opened the door for maybe other folks who might have an amputation or just a different ability to know that just because you don't look like maybe all the other models doesn't mean that there's not a place for you and you're important to be there so that other folks can see.

Caitlin Conner:
Absolutely. I like to do the same thing with businesses as I do with modeling. I like to point out that because they're excluding this percentage of the population, they're excluding their own profits. So it turns the table on them to not only say, "Hey, you're not being inclusive," but "Hey, you're missing out on something for yourself too." You have to turn it into that dollar sign for some people to understand. Not that everybody works that way, but there definitely is a large group of people that just think about profits. So if you turn it around and say, "You know? You may think it costs a little bit more to have somebody here to sign for me and interpret, or it may cost a little more to put up a temporary ramp, but if you don't, my friends and people I relate to aren't going to buy your product. It's that simple."

Josh Anderson:
Yeah, and that makes a big difference. I think, at least I know in the technology world, computer access and things like that, you're seeing a lot of companies make their things more accessible so that they can open up to a whole new marketing group. I mean, that's folks that can buy your product. Not only folks who they tell their friends and stuff won't buy your product, but if it's accessible, they can buy it and they'll want to.

Caitlin Conner:
Absolutely, and because they should.

Josh Anderson:
Oh, most definitely. It should just be that way anyway, but I like the way that you do take that profit angle with them. Because sometimes yeah, that does just make it a little bit more real for them. Now, Caitlin, how can our listeners find out more about you and about Be More Adaptive?

Caitlin Conner:
Well, you can find Be More adaptive online at bemoreadaptive.org. You can also find us on Facebook and Instagram. It's all connected together. It's all under the name Be More Adaptive. On Facebook, we do have a closed group, which is protected to keep out predators, but you basically just go in and answer a couple of few security questions. If your profile is not extremely private and I can see enough to make sure you're not a weirdo, that's there to … Or somebody who's just trying to sell a bunch of stuff. That's not what we're here for. We're here to communicate and grow a community, but definitely take part in that group. They all serve different purposes. We're working on creating our interface for the community to have a one place to be, but right now we do have all these different interfaces that people can take part in.

Josh Anderson:
Very good. Well, Caitlin, thank you so much for coming on our show today, talking about your story, talking about everything and telling us more about Be More Adaptive.

Caitlin Conner:
Absolutely, and thank you so much for having me.

Josh Anderson:
Do you have a question about assistive technology? Do you have a suggestion for someone we should interview on Assistive Technology Update? If you do, call our listener line at (317) 721-7124. Shoot us a note on Twitter at INDATA Project, or check us out on Facebook. Are you looking for a transcript or show notes? Head on over to our website at www.eastersealstech.com.

Josh Anderson:
Assistive Technology Update is a proud member of the Accessibility Channel. For more shows like this, plus so much more, head over to accessibilitychannel.com. The views expressed by our guests are not necessarily that of this host or the INDATA project. This has been your assistive technology update. I'm Josh Anderson with the INDATA Project at Easterseals Crossroads in Indianapolis, Indiana. Thank you so much for listening and we'll see you next time.