Podcast: Play in new window | Download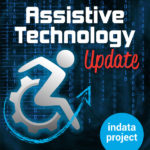 Your weekly dose of information that keeps you up to date on the latest developments in the field of technology designed to assist people with disabilities and special needs.
Show Notes:
BITES Info and Group: www.eastersealstech.com/bites
——————————
If you have an AT question, leave us a voice mail at: 317-721-7124 or email tech@eastersealscrossroads.org
Check out our web site: http://www.eastersealstech.com
Follow us on Twitter: @INDATAproject
Like us on Facebook: www.Facebook.com/INDATA
———————Transcript Starts Here———————–
Brian Norton:
Hi, my name is Brian Norton, Director of Assistive Technology at Easterseals Crossroads and for the INDATA Project. This is your Assistive Technology Update.

Josh Anderson:
Hello, and welcome to your Assistive Technology Update, a weekly dose of information that keeps you up to date on the latest developments in the field of technology designed to assist individuals with disabilities and special needs. I'm your host, Josh Anderson, with the INDATA Project at Easterseals Crossroads and beautiful Indianapolis, Indiana. Welcome to episode 443 of Assistive Technology Update. It is scheduled to be released on November 22nd, 2019. On today's show, we're excited to have Brian Norton, well, a director here at the AT program and the one who runs our INDATA Project. He's on to talk about the BITE Support Group, which was started a while back and just talk about the new things that are coming to it and how it's changed and morphed into a whole new program.

Josh Anderson:
We also want to remind everybody that next week is Black Friday. With it being the day after Thanksgiving, we will have our annual gift giving guide where myself and some special guests, will just talk about some cool things that we've found that are technology-based, maybe assistive technology-based. We'll have some different kind of banter and be able to talk. I got to admit it's one of my favorite times of year, just because I actually get to see folks that I work with but rarely actually get to see in the office and actually being able to sit down and talk with them is always just a nice change of pace. We hope you enjoy it as well. But for this week, we're going to go ahead and stick with our normal format. So let's go ahead and get on with talking with Brian about BITES.

Josh Anderson:
I was lucky enough this week to attend the 2019 Indiana Conference on Disability presented by the Indiana governor's council for people with disabilities. I want to take just a moment out of the show to say how impressed I was by the entire show. I really enjoyed it. If anybody is listening who was actually at that conference, who had anything to do with putting it on excellent job. Had a wonderful time and really looking forward to going back again.

Josh Anderson:
Folks, our guest today has been on the show quite a few times and I'm sure we'll be on quite a few in the future, including in the next coming weeks. But Brian Norton is our director of Assistive Technology here and also leads the INDATA Projects. But I had him on today because I wanted to talk about our BITES Support Groups. So Brian, welcome to the show.

Brian Norton:
Hey, thank you, Josh. It's fun to be a part of AT Update and not just on ATFAQ. So it's good to-

Josh Anderson:
I forgot to name drop that. That's right. He's also the very popular host of ATFAQ, which is our frequently asked questions show. Now, Brian, last week on the show, I did talk a little bit about INDATA just because I mentioned it all the time and I want you to actually talk about what it was but can you tell us a little bit about your role with INDATA?

Brian Norton:
… Yeah, really. I'm the director of Assistive Technology here and director of the INDATA Project. As Josh probably mentioned in the previous show, INDATA is one of 56 federally funded Assistive Technology Act Programs. Every state, every territory has one of those. For me here in Indiana, I basically just oversee the day to day operations. I make sure that we're hitting our goals, our objectives and really making sure that as we get direction from ACL, which is Administration on Community Living, who is the arm of the federal government that oversees the Assistive Technology Acts. We're implementing those things that they want us to be able to do. I'm just making sure that we're moving in the right direction and we're getting the word out about assistive technology and that we're getting devices into people's hands so that they can learn more about them and utilize those no matter where they find themselves at home, work, school or play.

Josh Anderson:
He's also my fearless leader and the person who actually hired me. I guess I got to be nice and could probably take that away.

Brian Norton:
One of the best decisions we've ever made.

Josh Anderson:
Oh, it's early folks, he's still in a very good mood. So Brian, the reason I had you on the show today was to talk about BITES. Can we start off with what does BITES stand for?

Brian Norton:
BITES stands for Brain Injury and Technology Educational Supports. So Brain Injury Technology and Educational Supports.

Josh Anderson:
Now you've been on here to talk about it before just, and I just want to have you on because some things are changing but when was BITES actually started?

Brian Norton:
So really about three years ago. We started this program. It was originally started as a in person group here at our facility in Indianapolis, Indiana. We are partners with a lot of different partner organizations that work with a lot of folks who have brain injury. We thought maybe there's an opportunity because we went to a lot of these support groups to talk about INDATA and what we did… And a lot of these groups are more about either social activities, making sure that folks with brain injury can be around folks who have similar needs and are out doing social activities and those kinds of things. Or it was an educational group learning about basically what brain injury is all about. If you're injured in certain areas of the brain, what are some of the things that you might struggle with and here are the ways that you can help cope with those. So teaching them coping skills for the different areas of need that they might have.

Brian Norton:
But we didn't ever find that there was a real good understanding of the technology and the educational supports that could go along to be able to help folks with brain injury be more independent in their daily lives. And so we wanted to design a support group that specifically met that need, where we are all about the technology. Basically allowing folks and giving them tools and tips for using technology to assist with everyday tasks. We want to teach them effective ways to use their smart devices. We want to provide a safe environment to ask technology questions. If there's something that they're struggling with on their device or their computer at home, want them to be able to ask somebody who might have some good knowledge about how to fix some of those things and then really create a community. We want community within this group to help people with peer support mixed in with technology professionals, service providers and other people with brain injuries so that they can be a part of a community that if they have questions or they need to reach out to somebody, they have someone and some place to go.

Josh Anderson:
For sure. I know some of my favorite things in these meetings just because I was a part of this program as well, it was when folks would come in and tell us about the apps that they use just because it was something really important and especially in any sort of disability services, make sure you're working with folks not really for them. I mean, even though well, we might like to say or think we're the experts on some things, it really depends on what the person actually needs and them getting to share what apps they used and how they used them and then feed off each other with those kinds of things. And you find out what's really important and what they really need. That was always one of my favorite parts of that. But Brian, what were some of the pitfalls and issues we had with that model?

Brian Norton:
Well, I think especially here in Indianapolis or in the Indiana area, there's a lot of things for folks to get involved with, right? There are these social support groups. There are these educational support groups. What we really struggled with is finding a time that met a majority of people's time schedules or their schedules and really trying to find a time that would help us have basically critical mass. We wanted to be able to build a group where there was a bigger community where folks could really get a variety of different opinions, a variety of different voices speaking into their situation. I think that's where we were not really expanding as much as I would have hoped to be able to get more people involved in the process, involved in the group. I think that was maybe our biggest pitfall. So yeah, I think that's probably the biggest thing.

Josh Anderson:
What's the new plan?

Brian Norton:
We decided, oh, earlier this summer, and we've been doing a lot of planning again with these other agencies, other support partners that we have in the brain injury field here around Indiana to really redesign and re-look at what we were doing with BITES. We all felt like it was very valuable. It's a valuable way for folks to be in touch with other folks and to really kind of again, do all of those different things that we talked about before by talking about technology, creating that safe environment, providing peer support but we wanted to be able to reach a larger audience. What we ended up doing is we opened up or created an online closed Facebook group.

Brian Norton:
That Facebook group is called BITES, Brain Injury Technology and Education Supports. Basically, it's a place where all of those things happen because really in that Facebook group, you can post new things about new technologies, right? You can upload files about different types of technology for different types of needs. You can do Facebook lives. We were doing in person presentations every time we met but now we can do those online. Then really with Facebook, we can reach a very large audience and really create a larger group, a larger support network for folks to be able to again, have more voices pouring into that process. I'm really excited. Currently, we have about 90 members of our group, whereas before in the in person meetings, it was really awesome. Sometimes we would have upwards of 15 or 20 but then sometimes there were 10 that came. We're being able to reach a larger group.

Brian Norton:
And again, it's still a great mix of folks with brain injury, who have brain injury. Then also, service providers or professionals in the field and we're all getting together. We're talking about these different things and really just information sharing and support is what we're all about. I would encourage folks if they're interested, to check it out and to let us know. If you go to basically facebook.com/groups/bitesgroup, B-I-T-E-S G-R-O-U-P, you'll get a glance at our page. Then if you're not a member of our group already, which would be a lot of the folks that are probably listening to the podcast, you can just click the join button. That's going to be on the top upper right, I'm sorry, upper left side of the screen underneath our logo and join the group. We'd love to have you. But again, I want to make sure folks understand it's specifically about supports for folks with brain injury.

Josh Anderson:
And especially the technology geared because I know there's some other groups out there for individuals with brain injury as well.

Brian Norton:
Yeah. [crosstalk 00:11:21].

Josh Anderson:
Like awareness and again, social educational types of groups.

Brian Norton:
Oh yeah. And with that it is moderated as far as content and things. So you don't have to worry about being judged or harassed or anything like that. It gives the online version of what I said I really enjoyed about the in person groups was just folks sharing information. I mean, we put information on there as well and links to even this podcast if it's something that might relate to brain injury or that kind of stuff. But then also folks, and it's a great place to just maybe go ask questions. If maybe I'm having this issue, is there something out there that help me? I mean, it may be one of us that answer that question. More than likely though, it'll be someone else who like, "Oh, I've had that issue too. Here's what I've used and it's really helped." Or, "Here's what I used and it really wasn't worth a darn. I'd try something else." And yeah, just being able to build that community a lot more than we could in person [crosstalk 00:12:11] and just be able to actually get folks here.

Brian Norton:
The good thing I would say is for those folks that were attending in person, I mean, I would be remiss to say there wasn't some disappointment that we were discontinuing our in person meeting. However, I'm still connected with a lot of them. We still go out to a lot of the other groups and still talk about technology in person here in Indiana. We're doing that a lot. I'm still being able to interact with those folks that were a part of our in person group. But now we're opening those doors up for a lot of other folks to be able to join in in the process.

Josh Anderson:
That is important yet. We're going to them at their groups as opposed to trying to get everyone to come because I mean, transportation isn't always easy. Getting to Indianapolis isn't always easy. We're actually trying to go to those groups and Brian, whenever we're at those groups, what's some of the technology or kind of things that we discuss during those meetings?

Brian Norton:
Also on the Facebook group that we're doing now, we're talking a lot about different types of apps, different types of therapy that folks can do. There's information about music therapy and how that can make a difference for folks or different types of adaptive gaming controller types of things. I mean, I think about brain injury and brain injury is a disability that can touch all areas of a person's life. It can affect your mobility. It can affect your vision. It can affect your intellectual cognitive abilities, your ability to remember things. So many things are impacted or could have an impact. Your ability to communicate with other folks that there's a whole lot of technology that can pour into or that we want to make people aware of. And so again, apps are a big thing. We talk a lot about just even different questions like what's one piece of technology couldn't do without? Or if people have questions, we're in the chat rooms talking with folks, trying to answer their questions through the chat room feature of Facebook as well. I mean, there's just so much.

Josh Anderson:
Brian, you mentioned this a little bit but just to make it a little bit broader, what are some of the other challenges that are really faced by individuals with traumatic brain injury? I mean, I know you brought up some of the things and some that I would always bring up is that a lot of times with traumatic brain injury is that is something you acquire. So it's not something you're born with. I've learned to accommodate and deal with. It's something that's new and different and you have to deal with it differently. But maybe what are just some of your favorite apps that you've used for individuals with traumatic brain injury or something that you see that really help out a lot of folks with maybe some of those shared experiences?

Brian Norton:
Sure. I think we talk a lot about different types of memory apps. Whether you're using an Android device or an Apple device, there's a whole lot of memory apps. It doesn't have to be some app you have to download just simply understanding what's built in to those particular devices through accessibility settings, maybe even through using some of the apps. How do you use the iCalendar or notes on on your smartphone and how to do that effectively. How do you set appointments and reminders or the alarms that go along with those things. It doesn't necessarily even have to be something special or something that you download. We spend a lot of time just talking about some of those things that are built in and how to use them more effectively. We do a lot of that.

Brian Norton:
One of my favorite posts on the Facebook page someone had shared something about how to save your parking location. I mean, simple things like that. So Google, you can use Google maps and there's a feature in there where you can pinpoint your parking location in a parking lot. I would venture guess, we've all walked out of the department store at some point and thought, "Gee, what? Gee, golly, I don't know where my car is." This will allow you to be able to walk right to it. Other things where we do talk a lot about the built in accessibility features, we've got lots of different videos on those types of things. Another one that we talked about that I liked as well is we talked about Otter.ai .

Brian Norton:
When you're in meetings, sometimes processing what's being said and it's hard to keep up in the conversation, I struggle with that myself, Otter.ai Lets you basically transcribe the conversation. That you're sitting there at the table, you've got your device listening, it's actually transcribing everything that is said into written text so that you can go back and listen to it at a different time. That's just helpful for folks who really do struggle with processing information quickly when things are being talked about. Maybe you're at a doctor's appointment, maybe you're at a meeting with a therapist or some other important meeting, maybe it's at work, it's a great way to be able to record those things and then take it back, reread it. Hopefully, it'll help you be able to retain that information and give you a little bit more time to process it and to be able to better understand it.

Josh Anderson:
Nice. I know Craig Burns, who's a member of the program as well along with some other members of our mobility cognition team. He's also done a lot with folks with games.

Brian Norton:
Yeah, [crosstalk 00:17:28].

Josh Anderson:
I mean, there's some brain training games that I'll let you talk about but I know one he uses a lot it's called Cut the Rope. It's really, I can't remember if you're a little frog or something like that. He used that to think through, you have to cut this rope and then he moves to another spot. You have to cut it and just keep moving him along by making him swing but it makes your brain work. But it also gives you all that kind of mobility-

Brian Norton:
[crosstalk 00:17:50] coordination kind of thing.

Josh Anderson:
Yeah. And it starts off easy. I don't think it's very expensive, a couple dollar app but I know he's used that. Then Brian, what are some of the brain training apps that [crosstalk 00:17:59]?

Brian Norton:
Yes. One of the popular ones that we find a lot of people using is something called Constant Therapy. That's just a bunch of therapy exercises all over the map doing a variety of different things but it does a real good job. We've heard a lot of great things about how that helps folks with memory and other types of processing activities.

Josh Anderson:
Well, there's also Elevate and some other brain training ones as well. They're mostly games, so you maybe don't realize it and they get harder as you go along, you hit goals and then they move along. I have a lot of those have a monthly fee or maybe a onetime fee. And actually Constant Therapy, we actually had the created one of the folks from them on the show a while ago also, which was really cool. Brian, just because you mentioned him, you mentioned some partners and I know that some of this was grant funded as well. Can you tell us about the partners and everything?

Brian Norton:
Yeah. Our main collaborative partner is the Brain Injury Association of Indiana, so the BIAI. They basically are a group here in Indiana. They are Brain Injury Association. One of the things that we do is we connected with them because they keep a running list of all of the different support groups that are happening throughout Indiana. As a part of our outreach efforts with BITES, we try to go to one meeting at each group every year. That's our goal to have some in person interaction with them throughout Indiana. But then also just to keep abreast of what groups are out there, who haven't we been speaking to. I mean, the INDATA Project is all about information and access and so we're trying to share information. This is one of the ways that we do it. Definitely, the Brain Injury Association of Indiana is our partner on this particular phase of the project as we move to our closed Facebook group.

Brian Norton:
We have also worked with the Rehabilitation Hospital of Indiana before. They were the collaborative partner when we were doing some of the in person meetings. Because they meet with a lot of folks, they have a very well known Brain Injury Program over there. They actually provide oversight and leadership to the Indiana Brain Injury Board where these topics are talked about from the state perspective. Just a great group to be able to partner with and collaborate with because they're in touch with a lot of folks and they can spread the word about what we're doing and how it's helpful for folks. Those are the two main collaborative partners.

Brian Norton:
I would also mention Comcast is a partner in all this as well, Comcast Foundation. They are the ones that provided the initial seed funding for the project to help us get the in person group going. Then also provided some additional funds later on to help us with moving it into the online platform and trying to figure out what that will look like. We're very thankful for the funding that Comcast provides to us to be able to continue this particular program on into the future.

Josh Anderson:
Brian, tell me about somebody that you've worked with through the BITES program who it's made a real impact on them.

Brian Norton:
Yeah, there's a particular individual. He came to our group. I think he heard about it through one of our partners and really for the most part he would probably be a self-described loner at home after his brain injury. He was hit by a truck, suffered a brain injury in a car accident and really just stayed at home. Didn't do a whole lot socially, out in the community. He said he would always play video games or eat or do those kinds of things but it never really got out in the community and this just offered him an outlet. I think before his injury, he was very involved in the technology field and so when this particular group got started, he was really interested because that's something he associates with. He likes technology.

Brian Norton:
We've had lots of opportunities to talk to him since. One of the things he would say is just this really just affords him the opportunity to get out of the house, just to be around other people, to socialize with other people around a topic that he cares about and he thinks a lot about. Again, I think there's a social piece to this particular project being around a peer support group that you can be in communication with but then the technology I think makes it very unique in the space.

Josh Anderson:
Yeah. I think you brought up a good point there because like you said, this individual, he didn't want to just go around, be around other folks with brain injury and that be the only thing in common. But when it was technology, well, that's something he's interested in. He can meet other folks who are interested in technology as well, who just happened to have a brain injury. You know what I mean. That's not our only linking factor, the only thing keeping them together. That's very cool. So Brian, what are the next steps or where would you like to see this program go in the future?

Brian Norton:
Yeah. Well, right now we're in the growth phase. We're really trying to grow the program. We're trying to make sure that people know it's out there and really put people in touch with the group, get them connected to the Facebook group, sign them up. Then, we're going to continue to post stories. Usually two or three times a week, we're posting our own information but what I would love to continue to see grow is just the involvement of the folks who are part of it. I think a lot of folks are casual Facebook users where they just really simply scroll the stories. We have 90 people who are part of our group at this point and there's lots of great information in there to store.

Brian Norton:
But we really want to start again developing and really continuing to grow the group aspect of this where folks have that peer support and asking questions and posting their own stuff about the things that they use and how it's helpful for them in their daily lives. That's I think, where we want to grow. We're continuing to reach out to support groups here in Indiana to continue to meet with them, let them know about this particular group and then getting them connected to the group as well. But really just two things. A, growing the group itself but then also growing that community center, the feel of the group so that we're communicating back and forth.

Josh Anderson:
Awesome. And just being able to be a resource-

Brian Norton:
Yeah, absolutely.

Josh Anderson:
… Which is really all along with INDATA's goals right there. So Brian, for our listeners, and you mentioned this earlier but just to make sure that I get it right in the show notes, for listeners who want to find out more about BITES or maybe even find that Facebook group, what's the best way for them to do that?

Brian Norton:
The best way and probably the easiest way and this is different than what I said earlier, if you go to eastersealstech.com/bites, B-I-T-E-S, there's information about the group but there's also a link to the Facebook group.

Josh Anderson:
Oh nice. Okay.

Brian Norton:
You can just join and it talks about how to join the group once you're there. I would say eastersealstech.com/bites. Look for the link if you want to sign up but it also then provides you just that four or five different lines about what the group's all about and what we really strive to be about.

Josh Anderson:
Very cool. And for folks… I'm Facebook illiterate so I have to ask this question. If I'm a Facebook user and I want to find it, do I just search groups BITES?

Brian Norton:
I believe you can. You can search for the group itself. However, the simpler way is just go to our website, click on it so you're not getting caught up in all the other things that might come up when you searched for that.

Josh Anderson:
No, that makes sense. Well, Brian Norton, thank you so much for coming on the show and telling us about the new way that BITES group is working so folks can go check that out. Maybe we'll have you here on about a year or so and see how it's progressed from here.

Brian Norton:
We'd love that. Really would love that.

Josh Anderson:
All right. Excellent. Thanks again.

Brian Norton:
All right. Thanks Josh.

Josh Anderson:
Do you have a question about assistive technology? Do you have a suggestion for someone we should interview on Assistive Technology Update? If you do, call our listener line at (317) 721-7124. Shoot us a note on Twitter @INDATAproject or check us out on Facebook. Are you looking for a transcript or show notes? Head on over to our website at www.eastersealstech.com.

Josh Anderson:
Assistive Technology Update is a proud member in the Accessibility Channel. For more shows like this, plus so much more head over to accessibilitychannel.com. The views expressed by our guests are not necessarily that of this host or the INDATA Project. This has been your Assistive Technology Update on Josh Anderson, with the INDATA Project at Easterseals Crossroads in Indianapolis, Indiana. Thank you so much for listening and we'll see you next time.