Traditional smartphones aren't always ideal for individuals with visual impairments or other special needs. Oftentimes the icons and text are too small, for example. The Simple Smartphone strips down the complicated features of a regular smartphone, while leaving all the convenience and connectivity of one.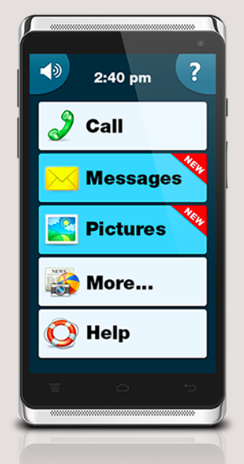 According to the Simple Smartphone's website, it is "the #1 option for people searching for a simplified cellphone experience." It comes with an optional 24/7 emergency response monitoring service, a new long-click texting feature, and uncomplicated software, and much more. Most importantly, the Simple Smartphone makes it easy and affordable to stay in touch with the ones you love!
Overview of the Simple Smartphone:
Customizable keyboard features larger buttons which allow you to see everything on your screen easily
The new long click feature "enables simple and convenient operation while avoiding random, unwanted clicks"
The built-in camera gives you extra time to stabilize an image before capturing it

It is also easy to share photos with family and friends
The Picture Center automatically saves and organizes all of your photos (whether taken on your device or sent to you from someone else)

In the event of an emergency, you can press the built-in SOS button which will:

Call a family member or the company's 24/7 emergency response center
You can send a message notifying up to 3 preset contacts that you're in an emergency

The Family App "enables family members to get information and help the user manage their Simple Smartphone by:

Adding new contacts remotely
Set up safe areas remotely
Get battery status or location of the device
Simple Smartphone user will always be reachable so family members can call their loved one if they think they're in an emergency
Family members can also remotely restart the device and more
Click here to learn more about this device.