For years I have been looking for a car mount that is easy to get my phone on and off of.  Several car mounts require strong fingers and dexterity that I simply do not have.  I recently stumbled upon the Miracase Car Phone Mount, which is a 2-in-1 multifunction dashboard and windshield mount.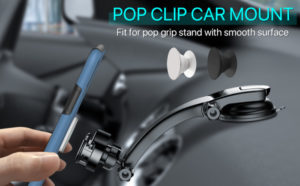 Ideally, I was looking for a car mount to connect my Popsocket to.  In the past I have tried magnetic phone mounts, but my phone would often fall if I hit any sort of bump.  I recently purchased one of these Popsocket vent mounts, but my phone kept turning off due to it getting too hot on the vents.  The Miracase Car Phone Mount offers the stability, security, and accessibility that I've been looking for!
Overview of the Miracase Car Mount:
This universal car mount is suitable for both windshield and dashboard usage.  Furthermore, "it will not block your views and will provide you a comfortable driving experience
Pop Clip and Magnetic 2-in-1 head: if you have a pop grip stand, it'll slide right into the pop clip car mount

Additionally, you may also use it as a magnetic car holder by attaching the provided magnet to the back of your cell phone

Adjustable by three knots so you can turn your phone in any angle you need
One-hand operation: you simply pull out the pop hook, slide your pop grip stand into the mount

Or you can press the hook back and put your phone on magnetically
Click here to learn more about the Miracase Car Phone Mount!