Podcast: Play in new window | Download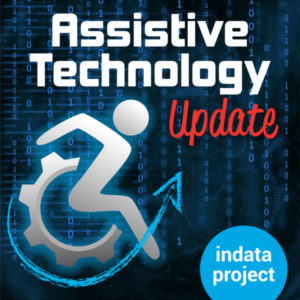 Your weekly dose of information that keeps you up to date on the latest developments in the field of technology designed to assist people with disabilities and special needs.
Show Notes:
Steve Sutter, President Createability
Find MeMinder on the App Store and Google Play Store
MeMinder training videos on YouTube, search for MeMinder——————————
If you have an AT question, leave us a voice mail at: 317-721-7124 or email tech@eastersealscrossroads.org
Check out our web site:
https://www.eastersealstech.com
Follow us on Twitter: @INDATAproject
Like us on Facebook:
www.Facebook.com/INDATA——————–Transcript
Starts Here————————
Steve Sutter:
Hi, I'm Steve Sutter with CreateAbility and this is your Assistive Technology Update.
Josh Anderson:
Hello, and welcome to your Assistive Technology Update. A weekly dose of information that keeps you up to date on the latest developments in the field of technology designed to assist individuals with disabilities and special needs. I'm your host, Josh Anderson with the INDATA project at Easterseals Crossroads in beautiful Indianapolis, Indiana. Welcome to episode 447 of Assistive Technology Update. It's scheduled to be released on December 20th, 2019.
Josh Anderson:
On today's show, we're very excited to have Steve Sutter, president of CreateAbility here in Indianapolis, Indiana. And he's on to talk about one of their main programs called MeMinder. We also have Amy Fuchs on from BridgingApps to tell us about an app worth mentioning. We want to thank everyone who listened to our holiday gift giving guides. It's always really fun to be able to do those podcasts, but I'm really looking forward to getting back into the interviews like we do the rest of the year.
Josh Anderson:
Here we are just a few days before Christmas. I hope that everyone is having a great holiday season so far. Maybe getting a little bit of time off work, a little bit of time to spend with family and friends. And thank you so much for taking your time out of your day to tune in here and listen to us. So without any more of me sitting here talking, let's go ahead and get on with the show.
Josh Anderson:
If you're looking for more podcasts to listen to, do you have questions about assistive technology? Are you really busy and only have a minute to listen to podcast? Well, guess what? You're in luck because we have a few other podcasts that you should really check out. The first one is Assistive Technology Frequently Asked Questions or ATFAQ, hosted by Brian Norton and featuring myself, Bella Smith and then a bunch of other guests. What we do is we sit around and take questions about assistive technology, either about accommodations, about different things that are out there or about different ways to use things. We get those questions from Twitter, online, on the phone and in many other ways. We're also trying to build a little bit of a community as sometimes, believe it or not, we don't have all the answers. So we reach out to you to answer some of those questions and help us along.
Josh Anderson:
You can check that out anywhere that you get your podcast and wherever you find this podcast. We also have Accessibility Minute. So Accessibility Minute is hosted by Laura Metcalf. And if you've never heard her voice, it is smooth as silk and you should really listen to that podcast. She's going to give you just a one minute blurb about some different kinds of assistive technology, kind of wet your whistle a little bit, and just let you know some of the new things that are out there so that you can go out and find out a little bit more about them yourself. So again, check out our other shows, Assistive Technology Frequently Asked Questions and Accessibility Minute available wherever you get your podcasts.
Amy Fuchs:
This is Amy Fuchs with BridgingApps. And this is an app worth mentioning. This week's featured app is called Talking Typer. Talking Typer is an iOS version of the Talking Typer Windows program made by the American Printing House for the Blind. The app is a typing tool that can help people learn to type on a computer keyboard. The program includes 35 typing lessons with the possibility to create new lessons or edit existing ones. Lessons can be tailored to an individual's specific requirements or needs. The app can be used without account information, but creating administrator and student accounts allows you to secure settings with a password and tailor the app to an individual student's requirements. It is also possible to create groups, to manage multiple students simultaneously, assigning lessons to individuals or groups of students and tracking their progress. The lesson screen contains sections to take the built-in lessons, track practice drills and track custom lessons created by administrators.
Amy Fuchs:
The primary difference between lessons and drills is that lessons log time, errors, typing speed and accuracy while drills do not. The instructions will tell you how to place your fingers and where the keys are located. When you begin, you will be asked to type the letters, words or phrases and press the space bar when finished. This continues until the lessons or drill is over. Once complete, you will be told your time, accuracy, words per minute and number of errors. The app has 35 lessons divided into two categories. The lessons increase in complexity as you go through them.
Amy Fuchs:
Talking Typer is a fantastic tool for learning to type if you are new to a keyboard. It is also an excellent tool to hone your existing typing skills, so it may be worth checking out even if you are an advanced typist. The ability to customize lessons may also be appealing to some. For $5, you will not be disappointed. Talking Typer is available for 4.99 at the iTunes store, and it's compatible with iOS devices. For more information on this app and others like it, visit bridgingapps.org.
Josh Anderson:
Today we're very excited to have Steve Sutter on. Steve is the president of CreateAbility right here in Indiana and they do a lot of great things with technology, especially to help out individuals with intellectual disabilities and other needs. Today he's on the show to tell us all about one of their main programs called MeMinder and some really exciting updates that just came out for the program. I think I met Steve when I first started kind of doing this work and he's been a great resource to, not only us, but also to the individuals with disabilities who use the things that CreateAbility makes. Steve welcome to the show.
Steve Sutter:
Great to be here.
Josh Anderson:
Well, I'm excited to talk about CreateAbility and everything, but can you start off by telling our listeners just a little bit about yourself?
Steve Sutter:
Oh, let's see. I graduated from Purdue and had a career at Hewlett Packard for 18 years and all of a sudden got this vision to help people with special needs using technology. That was in 2001. So we've been doing internet of things stuff before it was a thing.
Josh Anderson:
So you were doing internet of things when it was just internet of.
Steve Sutter:
Yeah.
Josh Anderson:
Oh, perfect. Excellent. Excellent. And so let's go ahead and start off with just, what is MeMinder?
Steve Sutter:
MeMinder is a talking pictures to-do list that's for people with memory or sequencing problems, such as people with executive functioning disorder or some kind of problem like that. Autism, Down syndrome, who want to be able to be more independent in vocational settings, chores, homework, those kind of things. And it helps them by staying on task and knowing what to do next and in what sequence and how much time to spend on that task.
Josh Anderson:
Oh, very nice. And when was it originally launched?
Steve Sutter:
Back in 2015.
Josh Anderson:
Okay, so it's been around a little while.
Steve Sutter:
Yeah, we're now in 17 different states and should have three more by the end of January.
Josh Anderson:
Oh, very good. Very good. Well, the reason we have you on today is because there's a big new update for MeMinder. So what is included in that new update?
Steve Sutter:
What we're trying to do is better address those needs of the people with executive function problems. So we've added three new things that really help them in that day. First off, sequencing. Some people didn't want to look differently. They didn't want to have some kind of app that made them stand out in the workplace.
Steve Sutter:
So we let them put it in a jogging bicep strap, and they just literally tap at it and swipe at it to advance to the next step in the sequence. It can give them a full video in that sequence or step-by-step pictures and can talk through their Bluetooth or connected headphone so they just looked like everyone else.
Josh Anderson:
Oh, awesome.
Steve Sutter:
We also found that a lot of people do the same job, many, many times in a shift, such as those with custodial food service, flowers, landscaping.
Josh Anderson:
Most jobs really, most jobs.
Steve Sutter:
But they wanted step by step instruction on how to get ready before they go to work. So we made a pre section, in other words, a section that is only shown at the beginning of their day and including getting ready to work and getting there and clocking in and then they get into the circular part of their job.
Steve Sutter:
And then they'll have a post part of the job where they can then say, "I'm done with my shift now, what are the things I need to do again? Oh yeah, that's right, clock out, get my stuff out of the locker, arrange transportation, feed the dog…"
Josh Anderson:
Oh yeah, all those things.
Steve Sutter:
Yeah. We also found a lot of supervisors wanted people to be more independent by being able to QA their own work. So we have a step you could add to any of the tasks, where you just check a little box and it automatically makes them go into verifying that what they did with a photograph. So if it was cleaning, you would go right into the camera app and it uses the built in camera and they snap a picture of the clean restroom, the condiment tray is full, whatever it is they need to do. And it could help in feedback that, "Oh yeah, I see that that's not what was posted, it doesn't look like the picture that I'm supposed to be doing," and helps the manager be able to verify they did it to a certain level of verification.
Josh Anderson:
Oh for sure. One that probably also gives them the chance for kind of coaching there that, "Hey, you did a really good job, but you forgot the ketchup goes on the left," if it's like a condiment or something like that.
Steve Sutter:
That's a perfect example.
Josh Anderson:
Right, yeah.
Steve Sutter:
Another area was cloud backups. So you can click a button and it will back up that entire setup. If you've spent lots of time customizing this app, you can now safely put it in the cloud, so if IT would accidentally reset the device or something happened or the device was lost or stolen, they can now get right up and running in zero time with just downloading the setup.
Steve Sutter:
It also allows a public library where you can share that with other locations, who want to do that same kind of thing at a different location.
Josh Anderson:
Oh, that'd be perfect. I could see it even with maybe a new employee or something like that. If you had somebody that had maybe some of the same needs, and want it again, was using the app, could they kind of bring that down from the cloud and have the kind of skills already in there?
Steve Sutter:
Exactly.
Josh Anderson:
Oh, nice. So that really cuts down on setup time and maybe even makes the employer a little bit more apt to want to hire folks with disabilities.
Steve Sutter:
Yeah. Like most Burger Kings are the same, most McDonald's are the same. And we'll have a way for them to not share that with other people if they don't want to with a private library.
Steve Sutter:
And lastly is just some improvements in usability. We used to have to make you swipe to the left, to check off a task that had been complete. Now you can swipe at a direction you want. Those kinds of things are all added. So usability, cloud backups, photographs, pre, post and the circular part of your job. And then being able to have these sequences that can be presented at audio tasks. If you don't need the whole pictures, talking pictures or full video for video modeling.
Josh Anderson:
Nice. So a little bit of everything to kind of help. And we talked a little bit about it, about kind of work and things like that. But what else can MeMinder or help with?
Steve Sutter:
It's really graded. Anything where the individual, again, has some problems staying on task, knowing what to do next in what sequence. And so that pops up in educational systems, transition to the workplace in early jobs. As a matter of fact, project SEARCH is now testing out this in the hospitals, in the local Indianapolis area.
Josh Anderson:
Oh very nice.
Steve Sutter:
And we're talking with the national level as well. Being able to be used in workplace settings where managers may not really know what all they've signed up for. So the job coach is trying to help them transition out to be more independent. So MeMinder becomes a great fading tool where even tasks can be faded as well as the individual gains experience. And yet you can specify different levels of detail.
Steve Sutter:
So if I'm on my game, you might just need to say, make coffee. If I'm really needing some help today, and I have these days myself, you're going to have to be very detailed. It's like, where's the coffee stored, where's the filters, how much water do I put in? And then if I'm in halfway in between one of those extremes, you can vary that as well. So just by setting those different parameters in the cloud, automatically trickles down to MeMinder to adjust to that level of detail for that individual.
Josh Anderson:
Oh, that's great. I can see how that can really cut down on anxiety for the individuals as well, because I know a lot of times when I used to be a job coach, as you kind of transition out, the individual can become very nervous at work. And I mean, for any of us, if you're anxious and nervous, it's really hard to remember what you're supposed to do, especially in the right order.
Steve Sutter:
It is for me.
Josh Anderson:
Yeah. I was going to say for just about anybody, it is. You don't know how many times I forgot, I'm glad I didn't accidentally mute your headset, your a microphone, because I forget those kinds of things sometimes. You brought this up a little bit, Steve, but just to kind of get into a little bit more, what are kind of all the disabilities or barriers that this can kind of help overcome?
Steve Sutter:
Well within autism, within ADHD, within Down syndrome, a big change is happening in the US government in their support of the 14(c) certificates. Those are the certificates that would help offset the cost of this employee and supplement that employee's wages. Those are waning and becoming very difficult to get. And a bigger program called WIOA, I won't go into all the details of that, but he really says that some of the sheltered workshops work enclaves that were available for years to help people with special needs with intellectual disabilities, to have a place where they could work in a quiet environment that was structured around them. Those are going away and people will be pushed, encouraged would be the correct PC term right, to find competitive employment and actually competing with the general workforce. Well, they're going to need support. They're going to need some kind of assistance.
Steve Sutter:
And so far, this been supporting that MeMinder is good support in that situation. So it's designed to run on any mobile device that you can buy today, even runs on some Windows 10 devices, if you want to use that surface, but is really available in all the app stores for just $75 and very easy to acquire. It's got a training set of videos in our YouTube channel that guide you step by step in how to use this. So it can be out of the box, very simple as a talking pictures to-do list, at it's high end, it can be very sophisticated with full video modeling, scaled to the level that they're at cognitively that day.
Josh Anderson:
Very nice. And it's funny you bring that up, I can't remember, I listen to the news a lot, but I've heard one of the presidential candidates talking about getting rid of sheltered workshops and all this and while I was sitting there like, well, that's a really great idea. But like a lot of politicians, a great idea, but nothing really behind it as far as well, okay that's great, but you're relying on the employers to kind of make difference and be able to do this, but how do you fill that gap? How do you kind of do that?
Josh Anderson:
And it's funny you brought that up, because I just saw that the other day and thought, wow, what a really great idea, how are you going to make that work?
Steve Sutter:
What are the supports? Where are they? How do I get them?
Josh Anderson:
Exactly. Exactly. So Steve, in your opinion, and I guess everything would probably, we talked about it by being your opinion, but what makes MeMinder unique and really sets it apart from maybe other queuing apps or things like that?
Steve Sutter:
You're right, there's some great stuff out there already. History has shown us that people with intellectual disabilities not only can use technology, they thrive with it. They can really hit the mark with it. The issue becomes, who in their support group, their job coach, the job developer, assistive technology support group, parents, who is going to create these tasks, these pictures, these prompts for them? And that's become, we've kind of shoved the problem to another group. So what we've tried to do was, really unique, is that we've made it very easy for those support staff. You literally go to our website called BEAM and you select the tasks that you want.
Steve Sutter:
We have hundreds of them already set up for you and you just click on the ones you want. They show up on the device within 30 seconds, you can specify the Tuesday schedule different than Wednesday and every third Thursday. You can have alerts, go to staff members if the certain task hasn't been completed by a certain hour of the day. All those kind of things. We've really helped try to fill in and make it easy for the support groups, the people that really are there behind that individual because it really does take a village in a vocational placement, residential placement, those kinds of things all take a cast of many people and that's really rubbery or shiny.
Josh Anderson:
Nice. Just because you brought it up and it's something I definitely want to talk about. Tell us more about BEAM.
Steve Sutter:
BEAM. BEAM is a website, that cloud based tool that lets all the people surrounding that individual around that person's [inaudible 00:18:54] plan, be able to tie in and be able to monitor what's going on. You can assign roles and responsibilities to each member in the team and then track that to make sure it happens. So the individual, of course, is one of those members of the team. And you can not only get timestamps of when, let's say, Johnny, accomplishes each of those tasks in MeMinder, but you could find out, did the person who comes and fills their med tray, did they get that accomplished this week? Did the individual that comes in and does lighthouse duty work or laundry? Did that happen? Did the person who was going to pick them up for their appointment, did they show up in time?
Steve Sutter:
So all of those can be coordinated in BEAM plus gives a really simple chat box for everyone to communicate within that circle of care. Because we found that over time, each of us know something special about our Johnys and we may not have a tool that's easily available for us to share that information. So we could send a note, I could say, "Hey, Josh, next time you're in to Johnny's house, can you check to see if he is going to be low on eggs or how's his med tray? Does he have any extra trays left? How about milk? Is he out of milk? Has he been feeding his dog?" Those kind of things. And it allows us all to coordinate and communicate the aspects that we know about our Johnnys.
Josh Anderson:
No, that's perfect because I know a lot of times I, as assisted technology professional work with a team, a job coach, maybe some other folks, managers and that kind of stuff and so-and-so really likes phone calls, so-and-so really only wants text messages. So-and-so only likes emails. So it's really nice to just have one place where you know that information is really getting through because you always have the person who doesn't reply to the emails or doesn't reply the text or did they get it, do they pay attention? Did they see it?
Josh Anderson:
But being able to kind of have it all in one place and be able to go to it, that's really great. Steve, tell me a story about someone you've kind of helped or worked with, that's worked with MeMinder and how it's helped them?
Steve Sutter:
I think one of the tear-jerking stories that are just also kind of funny, and that is an individual was able to live on their own for the first time ever. They were able to now have the right supports to know when to do what tasks and when not to do certain things and led to, here's how to make spaghetti. Here's how to make dinner and invited, actually wrote invitation, handwritten as well as they could, little invitations to their parents to come over for dinner.
Josh Anderson:
Oh, that's awesome.
Steve Sutter:
Served up the whole meal that they had prepared by themselves without burning or a fire department showing up. That's a big deal. That really spoils your dinner when the fire department has to show.
Josh Anderson:
It really does.
Steve Sutter:
So they went on, served a meal, chitchatted afterwards, served them coffee and then calmly and quietly said, "Okay, it's time for you to leave now." They were that level of independence. They were that level of confidence and self determination that they could be so self advocating that they could not only invite them to come, but invite them, it's time to leave, this is my house. You did your job, mom and dad, but I'm on my own now, thank you, bye.
Josh Anderson:
That's awesome. And I think that's something that a lot of people need to know because parents of individuals with disabilities and individuals with disabilities sometimes get, I don't know, that feeling of, well, this is never going to happen. There's no way Johnny can be independent and sometimes the individual thinks that, sometimes the parents think that and kind of get that. So I'm sure that was probably really great for that individual. And it was probably really great for his parents too.
Steve Sutter:
It was.
Josh Anderson:
Being able to kind of have that sort of experience. Very, very cool. Steve, what does the future hold for MeMinder? I mean, I know you just came with a big update, so it's not a fair question probably, but where do you see it going in the future?
Steve Sutter:
Well, MeMinder is our flagship product and we invested a lot of money and a lot of time and a lot of energy around it, so where we think it would go in the future is, there's interest in the areas of soft skills. Many times when individuals lose a job, it is not because they didn't show up. Of course that is a deal breaker, or the quality of work or quantity of work, it's a lot of soft skills. So what are the things we can do that would add in prompting for soft skills?
Steve Sutter:
One lady recently lost her job because she didn't smile, and she thought in her own head, "I must be serious. They must know that I am taking this job serious." But what she was presenting was I'm mad and people just got, they didn't want to work with her anymore. That's a sad story to have everything fall apart because you forgot to smile.
Josh Anderson:
Well, not only forgot but she thought she was doing the right thing. She was, I'm taking this seriously. I'm very invested. And just not realizing that that smile shows you're invested and which really doesn't make sense if you really think about it on kind of just a level of if I'm smiling, well, I'm having fun. I should look serious and be working.
Steve Sutter:
Right, right. Another area is, and we have to be careful about this, is augmentative reality. So for example, Apple has a set of tools that's just amazing now, where you can actually, well, you've probably experienced it if you've ever shopped at Ikea. You can pick out a chair and actually look at it in your living room. Imagine if we were able to add assembling for those in like product assembly, mailers, stuffing mailers, custodial work, condiment trays, pet stores, any of those kinds of things you could now present a visualization, if I can say that properly, on exactly how it's supposed to look when you're done. [Inaudible 00:25:07] next step. And then the next step is adding on top of that, so that opens up some opportunities for us as well.
Josh Anderson:
For sure. And I can see how you could do that with some things around the house as well, or really kind of anything that you guys are doing. Well very cool, you guys are really kind of keeping up on that and keeping that new technology. And I think that's why MeMinder has been around for a while and definitely will be. So Steve, you brought this up earlier, but how can our folks find out more and actually get MeMinder for themselves?
Steve Sutter:
So it's on both the Apple and the Android store. It's $74,95 and you just search for MeMinder. M-E-M-I-N-D-E-R and then on YouTube, there's a series of video trainings on our YouTube channel. Again, just search for MeMinder 3.0.
Josh Anderson:
Perfect, and if they want to find out more about you and CreateAbility, how would they do that?
Steve Sutter:
Our website, createabilityinc.com.
Josh Anderson:
Excellent. Well, Steve Sutter, thank you so much for coming here on the show and talking to us today about MeMinder and the new updates for it. We'll have to have you back on some time to talk about some of the other interesting things that CreateAbility is doing.
Steve Sutter:
I'd love that. Thank you.
Josh Anderson:
Thank you.
Josh Anderson:
Do you have a question about Assistive Technology? Do you have a suggestion for someone we should interview on Assistive Technology Update? If you do, call our listener line at (317) 721-7124 or shoot us a note on Twitter at INDATA project, or check us out on Facebook.
Josh Anderson:
Are you looking for a transcript or show notes, head on over to our website at www.eastersealstech.com. Assistive Technology Update is a proud member of the Accessibility Channel. For more shows like this, plus so much more head over to accessibilitychannel.com.
Josh Anderson:
The views expressed by our guests are not necessarily that of this host or the INDATA project. This has been your Assistive Technology Update. I'm Josh Anderson with the INDATA project at Easterseals Crossroads in Indianapolis, Indiana. Thank you so much for listening and we'll see you next time.