Podcast: Play in new window | Download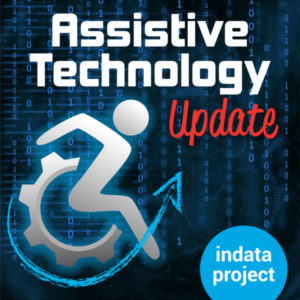 Your weekly dose of information that keeps you up to date on the latest developments in the field of technology designed to assist people with disabilities and special needs.
Show Notes
Accessible Lime Story: 
http://bit.ly/37DiT3i
——————————
If you have an AT question, leave us a voice mail at: 317-721-7124 or email tech@eastersealscrossroads.org
Check out our web site:
http://www.eastersealstech.com
Follow us on Twitter: @INDATAproject
Like us on Facebook:
www.Facebook.com/INDATA—————–Transcript
Starts Here—————————Nathaniel Swenson:
Hi, this is Nathaniel Swenson and I'm the Director of U.S. Operations for Assistive Technologies at Kinova Robotics, and this is your Assistive Technology Update.
Josh Anderson:
Hello, and welcome to your Assistive Technology Update, a weekly dose of information that keeps you up to date on the latest developments in the field of technology, designed to assist individuals with disabilities and special needs. I'm your host, Josh Anderson with the Indata Project at Easterseals Crossroads in beautiful Indianapolis, Indiana. Welcome to episode 454 of Assistive Technology Update. It is scheduled to be released on February 7th, 2020.
Josh Anderson:
On today's show we're very excited to have Nathaniel Swenson on. He is the Director of U.S. Operations for Assistive Technology for Kinova Robotics. He's on to talk about the JACO robotic arm and how it can assist individuals with disabilities and their needs. We also have a great story about a new exoskeleton that's being tested over in India, as well as some changes that Lime is making to their scooters to make them more accessible to individuals with disabilities.
Josh Anderson:
Also, all of us around here is still kind of riding high from attending ATIA last week, which of course is one of the biggest assistive technology conferences that there is down in Orlando. For one thing, it was a heck of a lot warmer than it is up here in Indiana, and that was a darn nice change. But also it was great to just be able to attend some really great learning sessions, to be able to try to stay on top of my game as an AT professional. Also, learn from other folks who provide these kinds of services all the time. Also, to see all the new tech that was out there. We'll be talking a little bit more about that kind of as the months go on here, but for now, let's go ahead and get on with the show.
Josh Anderson:
I'm going to start off our news stories this week with one from a Newz Hook over in India, and this is GenElek's Robot Exoskeletons give disabled people a chance to walk. This is talking about some exoskeletons developed by a company called GenElek Technologies, which is over in Delhi. This startup focuses on developing affordable exoskeletons that can help people with spinal cord injuries, paralysis, and other conditions affecting lower limb mobility.
Josh Anderson:
So there's been other ones of these kind of in the news, all different kinds of exoskeletons and things to help individuals, especially with lower limb mobility challenges. But it says in this that they're actually trying to develop lightweight and low cost kind of options for folks. The story itself goes into talking about the Cybathlon. I'm sure I mispronounced that, but it's the Cybathlon 2020. This is a well known competition where individuals with disabilities will compete with the help of advanced assistive devices and different assistive technologies, and these powered exoskeletons are going to be actually in this race. It actually says that there are different challenges, different kinds of obstacle courses and things that the exoskeleton will have to get over, and be able to, to move with.
Josh Anderson:
They talked to a couple of different athletes here who say they really like wearing the exoskeleton, it really helps, it's light and comfortable to wear for a long time. It looks like they're really trying to keep the price as low as possible to make this actually accessible to individuals with the disabilities who can actually use it. As you remember last week we had on Jose from ProstheTech, and he was talking about trying to make prosthetic hands that were able to have movement and everything, and keep those at a low cost. So it's good that these individuals are actually thinking about creating this amazing technology, but also making it to where individuals who can actually use it can have access to it. So we put a link to this story over in our show notes, and I might just have to find out a little bit more about the Cybathlon 2020, because that sounds extremely interesting.
Josh Anderson:
So a while back we had some stories about Lime scooters about individuals kind of just leaving them in the way, leaving them in curb cuts, leaving them on sidewalks and basically making cities kind of inaccessible for individuals who maybe use wheelchairs or had other mobility challenges. Well, I found a story over at Fast Company and it's by Mark Wilson, it's called E-scooters are Leaving People with Disabilities Behind, and Lime Wants to Fix That. So it talks about Lime scooters, which is a big kind of rideshare scooter company. Basically these e-scooters, if you have not seen them in your city, you probably will be soon. But they're small scooters, handlebar, two little wheels. The newer versions of the wheels are a little bit bigger. But really you walk up with an app and you can rent this for a little bit of time.
Josh Anderson:
The idea behind them, of course, is just a different mode of transportation, as well as what they call kind of the last mile. So maybe from your house to the bus stop, from your bus stop to where you're going, or just that last mile of travel that maybe isn't accessible by public transportation or another way that you're able to get there saves you from having to kind of walk. What I really love is at the beginning of this story, it actually starts talking about accessible scooters. And if that is an oxymoron, because even for able-bodied folks, these things can be a little bit tricky to ride. It talks about the rash of hospitalizations from injuries, head related injuries, and other things that these have kind of led to.
Josh Anderson:
But then as I was talking about that Lime did some studies and found that 8% of their riders have either a temporary or permanent disability. So perhaps a broken bone, autoimmune disorder that kind of makes walking hard. So what they've done is they've created a Lime scooter. That's more accessible. It has a little seat on it, the handlebars are a little bit farther apart, so it's a little bit easier to balance. So this might be able to be used by somebody with some different disabilities. But it does get into kind of the point of it doesn't help an individual in a wheelchair, it doesn't help an individual who's blind. So I understand that they are kind of trying to make their product a little bit more accessible in any step in the right direction is a good step, but it's definitely the first step.
Josh Anderson:
It's one of those things that will have to be worked on, and looked at, and kind of as Lime maybe gets into some different areas and expands, hopefully this is something that they'll think about. Maybe a whole nother kind of stream of customers that they could open things up to. Now, most Lime scooters or any of these kinds of scooters you just walk up with an app, basically find it on the road. They're pretty much always on and you just go ahead and walk away with it, and then just drop it off and leave it wherever you want to whenever you're finished.
Josh Anderson:
Now, these accessible scooters, it's a little bit different. You can actually turn it off to save power and that way you can make sure that you're never really stranded. Also, these are rented by the day and not for just a short time. So for $32 a day, or $16 for those on public assistance, you can have it dropped off at your home for your dedicated use. No one else would be able to use that scooter. So that's again, another step kind of in the right direction, something that they're doing to kind of be able to help out, and maybe make these things a little bit more accessible. Or just have another transportation option for individuals with disabilities. Again, long way to go but hey they're making those steps. It looks like they're going to start testing these in the Bay area, so San Francisco and Oakland are. Then maybe roll them out different places. Again, hopefully they get some great feedback and can end up making these a little bit more accessible. We will put a link to the story over in our show notes.
Josh Anderson:
So there are a lot of devices out there to help individuals with disabilities be more independent. But what if there was one device that could be transported with the individual and complete most of the tasks that a human arm could do? Well, our guest today is Nathaniel Swenson ATP from Kinova Robotics. He's here to tell us about the JACO Assistive Robotic Arm, which can do just that. Nathaniel, welcome to the show.
Nathaniel Swenson:
Thanks for having me, Josh.
Josh Anderson:
Yeah. I'm really excited to get into talking about JACO, but before that can you tell our listeners a little bit about yourself and your background?
Nathaniel Swenson:
Yeah, it's been an interesting journey to wind up here. I started out as a bicycle mechanic and I did that for about 15 years. Wrenched on bicycles while I was working my way through college, where I earned a degree in architecture. That was my first exposure to universal design and universal access. I think that's where the bug that got me here was first planted. I also, worked for a while with my own business. I was a carpenter and I did design build and remodels, but I just wasn't finding a sense of real connection or satisfaction in my work life.
Nathaniel Swenson:
So I sought out a career in assistive technology. I started working for a small wheelchair company in Seattle called dependable medical equipment in 2011. I've been working in complex rehab ever since. But it wasn't until I met JACO at a convention three years ago that I really found my true calling, and that is to put robotic arms on wheelchairs and start to help people open the world up for themselves.
Josh Anderson:
I think I always love to hear how people get into this kind of field. You were the first bicycle mechanic I've talked to who that kind of led in. So that's awesome. Well, I know JACO was made by Kinova Robotics. Can you tell us a little bit about Kinova?
Nathaniel Swenson:
Yeah, there's actually a really great origin story. Everything starts with a man named Jacques Forest. Jacques lived with muscular dystrophy. At the time he was growing up in Quebec there wasn't really any such thing as accessible transit, accessible curves, accessible buildings. If you had certain diagnoses or if you were using a wheelchair, you were essentially home bound. Jacques and his family sought to change that, so they started a small company called Minibus Forest and for our American listeners, a mini van is called a mini bus up in Canada.
Nathaniel Swenson:
So they started a successful van company and that spread and grew to the sort of advocacy that turned into Quebec's nationally funded, Accessible Transit Program that we see today. So he was a pioneer in that, but he was also an inventor.Towards the end of his life, he was only able to use his thumb to operate his power wheelchair, but through his ingenuity and with the help from his build team, he was able to create and build the world's first wheelchair mounted robot.
Josh Anderson:
Oh.
Nathaniel Swenson:
So he controlled that first robot. It was made out of a desk clamp, some barbecue tongs, bicycle cables, windshield wiper motors. It was just an ingenious contraption. But what I really love about his story is one of the first things he did with that robot was he drove outside and he picked a flower and then he gave that to his sister. So one of the first known acts of assistive robotics was this act of love.
Nathaniel Swenson:
Now, while all of this was going on, his family of course, was observing the progress. His young nephew, Charles Deguire, grew up and inspired by a Jacques invention he created JACO, the robot that we all know and love now. The reason it's named JACO is because Jacques nickname was Jaco. So he named his robot in Jacques honor. [crosstalk 00:11:22] that was the Genesis of Kinova.
Josh Anderson:
I love it. I love the very first thing he did with the first robot was he had to go pick a flower.
Nathaniel Swenson:
You know, we frequently focused on medical necessity and these kinds of clinical things, but it's a social side of this business that's so important to all of us.
Josh Anderson:
It really is and it's the thing that a lot of folks really do take for granted. So getting more into it, what exactly is JACO?
Nathaniel Swenson:
JACO is a wheelchair mounted and controlled robotic arm. So we typically mount JACO to the base, the seat rail of a power wheelchair. Then it is wired into the chair's electronics. So it's powered by the 24 volt battery system in the chair. Then however someone drives their power chair. That's how they control their robot. So they might be driving with a joystick, maybe they use a sip-n-puff, or head array drive control. It doesn't matter how you operate the wheelchair. What the user is doing is sending directional commands forward, backwards, left, right. So we just take that signal and send it into our robot.
Josh Anderson:
Nice. So anything can control it, that's great. So there's no extra control or something else to have to do. When was JACO first introduced?
Nathaniel Swenson:
Here in the U.S. I think our first user received her robot around 2012. So about seven years ago or eight years now.
Josh Anderson:
Oh awesome. So it's been around for quite a while. What all can JACO do?
Nathaniel Swenson:
It's almost easier to list what you can't do with the robot. So a lot of the things that we take for granted, you can absolutely do with JACO. Something that might seem simple to us, but it's a huge deal if you can't do it. JACO can scratch an itch. Some other big deals, JACO can open doors. I mean that both literally and metaphorically.
Josh Anderson:
Mm-hmm (affirmative).
Nathaniel Swenson:
But the literal door opening is pretty important. If you are using a wheelchair, you might have approached entrances to public buildings that have "Accessible door buttons."
Josh Anderson:
Mm-hmm (affirmative).
Nathaniel Swenson:
Well, if you can't use your arms to push those buttons, that's not an accessible door. But with JACO, you can reach out, push the button and open the door. Of course you could push the button for your elevator and go to different floors within the building. But you can also use the robot to eat and drink. You might be familiar with dining specific robots, like the Obi?
Josh Anderson:
Mm-hmm (affirmative).
Nathaniel Swenson:
There's a lot of great assistive robots that are focused just on feeding. But with JACO, what you can actually do is drive over to refrigerator, open the door, grab a meal that's been prepared for you, take that container over to the microwave, put it in, cook it, take it over to the table, have your meal. When you're done if you want to, you can even drop your dishes off in the sink or dishwasher. So we're talking about a new level of independence and dining that's not possible with just a food specific robot.
Josh Anderson:
Oh, definitely, or you don't have to have two or three robots to accomplish that task you can just use the one.
Nathaniel Swenson:
Exactly. Yeah. It is worth mentioning a couple of things that you can't yet do with the wheelchair mounted assistant robot.
Josh Anderson:
Mm-hmm (affirmative).
Nathaniel Swenson:
So one of our main focuses with an assistant robot like JACO because it's working very closely with its human user is to make sure that it's absolutely safe to use. One of the things about industrial robots that is dangerous is how quickly they can move, and how powerful they are. So on an assembly line robot might be moving at something like 9′ per second, and it might have a payload capacity of hundreds of pounds. So there's a safe zone around that industrial robot that you don't go within when it's moving.
Josh Anderson:
Mm-hmm (affirmative).
Nathaniel Swenson:
The opposite is true of JACO. So it moves slowly enough that we don't have what you would think of as a ballistic movement. So it's not going to be karate chopping or punching or taking over the world like that.
Josh Anderson:
Well, that's definitely good, and because you kind of mentioned it, how much can it lift or how much force or power does it have?
Nathaniel Swenson:
Mm-hmm (affirmative). It's payload capacity is about 3 1/2 lbs. So we're talking about something like a 1/2 gallon of milk. So most of the items that you would interact with on a daily basis, we're talking about medical necessity, food items, medicine, bottles of water, and most interior doors in homes.
Josh Anderson:
For sure, and there are a few different versions available. Can you tell us kind of the difference?
Nathaniel Swenson:
For a while we were introducing a smaller version of JACO called MICO, and it's essentially the same robot, the same design and operation, but it just had a slightly shorter reach. The initial idea with that was to have a smaller form factor available. I think we imagined that it would be ideal for pediatric power wheelchairs for example.
Josh Anderson:
Mm-hmm (affirmative).
Nathaniel Swenson:
But what we found is that people actually enjoy the full reach of the full-sized JACO. So the reach from the shoulder joints of the robot, which again is down by the knee of the user is about 3′.
Josh Anderson:
Wow.
Nathaniel Swenson:
So the JACO Generation-2, is the one that we're offering right now for power wheelchair users. But in the future, there will be different iterations of the robot coming down the line.
Josh Anderson:
You can get it in a two finger and three finger version. Is that right?
Nathaniel Swenson:
That's correct. Yeah. I would say the majority of our users opt for the three finger version.
Josh Anderson:
Mm-hmm (affirmative).
Nathaniel Swenson:
If you think about most of the activities that we use our hands for it's the pincer finger, right? That's the thing that sets us apart as primates that opposable thumb, and then that forefinger. So most of the tasks can be accomplished with two fingers, but that third finger comes into play when you're grasping and lifting larger objects or turning door knobs, for example.
Josh Anderson:
You kind of just mentioned this, so I'll go ahead and get into it, Nathaniel. What does the future kind of hold for JACO and for Kinova itself?
Nathaniel Swenson:
That's a big question. Yeah I think-
Josh Anderson:
[crosstalk 00:16:52] We could probably fill a whole show, right? But-
Nathaniel Swenson:
No. It's a 2-pronged answer to me. So there's developing new technologies and coming out with more and more advanced robots. Making them lighter, way more powerful, and more power efficient.
Josh Anderson:
Mm-hmm (affirmative).
Nathaniel Swenson:
Also, finding ways to bring the costs of the devices down.
Josh Anderson:
Mm-hmm (affirmative).
Nathaniel Swenson:
But I think what the future holds that's really exciting for me is greater access for more users. So right now in the U.S. we have about 80 users. There are more than a million people using power wheelchairs and living with upper body limitations who can benefit from some type of assisted robotics. So what the future holds that's exciting is an easier time getting the robot covered by insurance. That's the big deal, right? We don't want you to have to pull out your checkbook and write a check for this device. We want to educate insurance companies, clinicians, and other providers about the life changing potential of assistive robotics. So I think what the future holds is just an increasingly easy pathway to funding. We've seen that over the last three years, we've gone from around 0% insurance coverage, and now we're up into the mid 50% success rate-
Josh Anderson:
Oh, wow.
Nathaniel Swenson:
… and climbing.
Josh Anderson:
Wow. That's really good. I know that can be kind of one of the hardest parts to really convince… We'll really just raise that awareness for folks who don't know and have never really dealt with it. They can't really understand how, like you said, life changing something like this can be.
Nathaniel Swenson:
Yeah. For anyone who's tried to obtain any type of assistive technology, whether that's a crutch, a cane, a walker, manual wheelchair on up to the most expensive complex where you have power chairs. They know that there's a lot of hoops to jump through and there's a lot of red tape. So we actually have a family advocacy program and we assist with that entire process from first, introducing you to the device, to getting prescriptions, going through the therapy eval, then handing in a packet to your insurance company that medically justifies the device.
Josh Anderson:
Very nice. That's great because most folks don't know how to find that information and navigation of those kinds of things can be extremely difficult for anyone, especially if you're dealing with a loved one and kind of their independence also.
Nathaniel Swenson:
Right. Yeah. Our ability to self-advocate varies. So we want to make sure that no matter how easy it is for someone to go through that process, we just level that playing field. You asked about the future and I kind of went off on a tangent there about the process to obtain the robot. I think some exciting things that are happening here in Seattle, where I live at the University of Washington, they're doing some studies with artificial intelligence, and automated feeding with the robot. So I think that's probably the thing that's coming in the future that's the most exciting is the overlap of AI and assistive technology.
Josh Anderson:
Oh, definitely. Then yeah, because that really cuts down on training and things like that, because the individual would just kind of train the robot by using it. Right?
Nathaniel Swenson:
Yeah.
Josh Anderson:
Excellent. Well kind of talking about that a little bit can you tell me a story about someone that maybe you've worked with or that you know that has been assisted by JACO?
Nathaniel Swenson:
Yeah, so many. As I mentioned that there's 80 users in the U.S. and that sounds like a large number, but it's actually kind of a small family. Everyone that I've worked with has touched my life and made my work seem very meaningful. But I think someone who probably made the most impact on me was a young man that I worked with. It's interesting to see how different people take to the robot, usually within the first five to 30 minutes, they're starting to develop meaningful control of the robot when they first meet JACO.
Nathaniel Swenson:
So during that therapy eval we're doing things just like taking a drink of water, opening some doors, maybe picking an object up off the floor. But this young man, I connected the robot to his chair and he was immediately fluent with it. It was like they were just long lost friends that were finally reunited. He just did all sorts of amazing things with it. The day that I installed his robot, I always ask people to give me a list of things they'd like to do around their home. Usually it's things like, open the refrigerator, have a snack. But what this young man wanted to do was open the deadbolt on his front door, open the door, and then drive down the street to his mailbox, put a key in the mailbox and take his mail out. I was a little bit nervous because usually that's the sort of thing that you would be able to do after you practiced for a couple of weeks.
Josh Anderson:
Mm-hmm (affirmative).
Nathaniel Swenson:
But within the first hour of owning his new robot, he went out and got his mail and there was just this new level of independence. He was talking about things that he didn't think he'd be able to do. He was talking about going to college-
Josh Anderson:
Oh wow.
Nathaniel Swenson:
… And the work that he was going to do when he grew up. Unfortunately he passed away before he got to go to college, but his memory will always stick with me. It's the thing that drives me in my work because there was no challenge that was too formidable for this guy. He would just take on the world and do it with a smile.
Josh Anderson:
Wow. That definitely has to keep you showing up for work every day, and working hard to be able to help more folks like that individual.
Nathaniel Swenson:
Absolutely.
Josh Anderson:
Has there ever been… Because you said that folks kind of tell you what they want to be able to do with it. Has ever been anything really surprising or that you hadn't even thought of that maybe somebody wanted to do?
Nathaniel Swenson:
Yeah. My favorite moment, there was a young lady and when I met her, she was just a really happy 11 year old driving around in her power chair using a head array. When I first put the robot on her chair in the first couple of minutes, she was just kind of flexing the fingers of the robot and getting a sense for how to move it around with her head array. Her dad said, "Let's play catch." He threw a tennis ball towards her and my heart sank because I didn't think it would be possible for them to play catch.
Josh Anderson:
Mm-hmm (affirmative).
Nathaniel Swenson:
But on that very first toss right out of the air, she just grabbed that tennis ball with the fingers of the robot.
Josh Anderson:
Wow!
Nathaniel Swenson:
I thought, "Well, I can't believe that happened. There's no way that'll happen again." So I got my video camera on when I started filming and they just proceeded to play catch over and over. Now I should point out here, the robot doesn't move fast enough to throw the ball. So she would drop it in her dad's hands and then he'd step back and throw it again. She just kept catching the ball. So I'm careful not to tell people a long list of things I can't do with the robot because they often will surprise us.
Josh Anderson:
Oh, I'm sure that they do. I'm sure they do all the time. Because yeah, I'm sure that's something that the dad never thought he'd be able to do. Again, and the young lady probably never thought she'd be able to do. I think you kind of brought it up earlier that yeah, just that social interaction kind of thing of being able to just have that little bit of extra, I guess mobility would be maybe not the right word, but access can really change things.
Nathaniel Swenson:
It's an interesting kind of hybrid of access and mobility because power chairs and mobility devices are essential, right?
Josh Anderson:
Mm-hmm (affirmative).
Nathaniel Swenson:
They get us from point A to point B, they get you in the room. But when you're in the room the number of things that you can do is diminished if there's an effect on your upper limbs. So much of life happens at our fingertips, it's really great to be able to give people access to those types of activities. You know, we're talking about parents being able to feed their baby with a bottle.
Josh Anderson:
Mm-hmm (affirmative).
Nathaniel Swenson:
Or just something simple, like being able to shake someone's hand with the robot when you're making introductions. It's also interesting to see the way it changes caregiver roles, someone who maybe used to stand off to your side and hold your cup of coffee and help you take sips, is now sitting down at the table across from you and you're having a conversation, and you're just using the robot to drink now.
Josh Anderson:
Oh yeah. They can drink their own cup of coffee and it's just sitting there like… I mean, I'm looking around the room right now and I'm like, "Oh, the light switch." You know, just being able to do that and not… I mean, sometimes you may have those kinds of accommodations in your room or your house, but if you're somewhere else, those things probably aren't built in. Or raising your arm in class. I'm just thinking, [crosstalk 00:24:56] trying to think of all the different things that, again, we just take for granted that could really… I mean, there're adaptations for, there're other things, but I mean, just being able to do it just like everyone else does. Which is really kind of the goal of assistive technology kind of in the long run anyway-
Nathaniel Swenson:
Absolutely.
Josh Anderson:
… Is being able to do those kinds of things. Well, Nathaniel, how can folks find out more about JACO and about Kinova?
Nathaniel Swenson:
Yeah. If you're interested in learning more our website is a great initial resource. So just go to kinovarobotics.com and your inquiry will be funded to my team here in the U.S. and we'll get back to you that same day, and let you know what the process looks like. But it's not daunting, you might think to get something cutting edge or complicated like a robot would be very difficult, but it's the same process that you would go through to get a new wheelchair. Like I mentioned earlier, we have our family advocate and our goal is to guide you through the whole process and make it as easy as possible.
Josh Anderson:
Excellent. We'll definitely put a link to that over in the show notes. Our guest today was Nathaniel Swenson ATP. And again, he's with Kinova Robotics and talking about the JACO Robotic Arm. Nathaniel, thank you so much for coming on today and telling us all about it. We're just excited to see everything that ends up coming out in the future, and folks definitely go and check it out. Nathaniel, thank you again.
Nathaniel Swenson:
Thank you, Josh.
Josh Anderson:
Do you have a question about assistive technology? Do you have a suggestion for someone we should interview on Assistive Technology Update? If you do call our listener line at 317-721-7124. Shoot us a note on Twitter at Indata Project, or check us out on Facebook. Are you looking for a transcript or show notes head on over to our website at www.eastersealstech.com Assistive Technology Update is a proud member of the Accessibility Channel, for more shows like this plus so much more head over to accessibilitychannel.com.
Josh Anderson:
The views expressed by our guests are not necessarily that of this host, or the Indata Project. This has been your Assistive Technology Update, I'm Josh Anderson with the Indata project at Easter Seals Crossroads in Indianapolis, Indiana. Thank you so much for listening and we'll see you next time.