I have covered several apps to help individuals with math, but I haven't written about any Chrome extensions.  If you're looking for an online tool, check out the EquatIO Chrome Extension.
The EquatIO Chrome Extension is a "perfect partner for Google Docs plus Sheets, Forms, Slides, and Drawings."  The extension lets you add mathematical equations, formulas and more to documents with a simple click!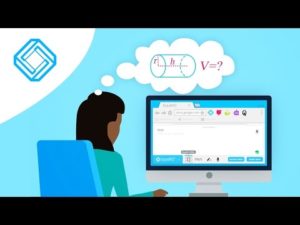 One neat feature about this extension is it allows you to dictate formulas and equations aloud.  It transforms your spoken input into written expressions.  "It even ignores those 'umms' and 'errs'" if you get lost for words.
In addition to spoken input, you can also handwrite equations on your device, and the add-on will create "beautifully formed mathematical expressions."  Please note, this feature is only available on the premium version.  However, prior to committing to a subscription to the extension, you're able to try it out for free for 30 days.
Overview of the EquatIO Chrome Extension (Premium version):
Users can easily create math expressions including equations and formulas
"Makes math and other STEM subjects engaging and rewarding for every student"
Compatible with Google Docs, Forms, Slides, Sheets & Drawings
You can input equations using your keyboard, or by handwriting recognition (touchscreen or touchpad), and voice dictation
Compatible with LaTeX input for advanced users (LaTeX is the typesetting and mark-up language widely used for mathematical and scientific documents and publications)
Ability to create interactive digital math quizzes
Chemistry formula prediction
And much more!
Click here to learn more about the EquatIO Chrome Extension.
Download the extension by visiting the Chrome Web Store.