Podcast: Play in new window | Download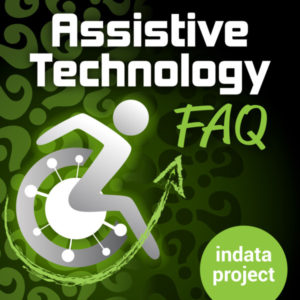 ATFAQ119 – Q1. Web accessibility tools, Q2. Remimder apps, Q3. Proper name for a computer mouse, Q4. Barcode readers, Q5. What that freeze button for, Q6. Tools to help with balance, Q7. Wildcard Question: Taxes… on your own or does someone do them for you
Panel: Brian Norton, Josh Anderson, Belva Smith, Tracy Castillo
——-Transcript Starts Here————————————-
Speaker 1:
I have a question.
Speaker 2:
Huh?
Speaker 1:
Like, what…
Speaker 2:
I've always wondered.
Speaker 3:
What about, do you know…
Speaker 4:
I have a question. I've always wondered…
Speaker 1:
Like, I have a question.
Speaker 2:
I have a question.
Speaker 1:
No, I have a question.
Speaker 3:
I have a question.
Speaker 5:
I have a question.
Speaker 6:
Welcome to ATFAQ, assistive technology, frequently asked questions with your host, Brian Norton, director of Assistive Technology at Easterseals Crossroads. This is a show where we address your questions about assistive technology; the hardware, software, tools and gadgets that help people with disabilities lead more independent and fulfilling lives. Have a question, you'd like to answer it on our show. Send us a tweet with the hashtag ATFFAQ. Call our listener line at 317-721-7124 or send us an email at tech@eastersealscrossroads.org. The world of assistive technology has questions and we have answers. And now let's jump into today's show.
Brian Norton:
Hello and welcome to ATFAQ, episode 120. My name is Brian Norton and I'm the host of the show and we're so happy that you've taken some time to tune in with us this week. We have a great lineup of assistive technology questions for you today, but before we jump into the questions, I just want to take a moment to go around the web because we're using Zoom today to record our call, and introduce you to the folks that are going to be on the show with me today. So, first, I have Belva. Belva is the vision team lead for our clinical assistive technology team. Belva, [inaudible 00:01:26]
Belva Smith:
Hey everybody.
Brian Norton:
And we also have Tracy Castillo. She's the INDATA program manager, INDATA.
Tracy Castillo:
Hey everyone, it's Tracy.
Brian Norton:
There you go. And then also we have Josh Anderson. Josh is the manager of our clinical assistive technology program, but also the popular host of AT update; one of our other podcasts here. Josh, do you want to say hey.
Josh Anderson:
Welcome to the show everybody.
Brian Norton:
Perfect. So, before we jump into the actual questions today, I just want to take a moment to, for folks who may be new to our podcast, want to talk a little bit about how our show works, where you can find it, and how to tell other people about it. So, the first is, as far as the show is concerned, we receive feedback and come across various assistive technology questions each week. And we go ahead and format that into a show and then we try to answer those questions as best we can.
Brian Norton:
Throughout our show, we are always looking for feedback and so as you guys listen to the questions, if you guys have answers or maybe you can fill in the answer that we give a little bit more fully, we would love for you to chime in to provide those. And so if you have questions or feedback, you can get ahold of us by giving us a call on our listener line. That listener line is 317)-721-7124, or you can email us at tech@eastersealscrossroads.org, or send us a tweet with the hashtag ATFAQ. We would love to hear from you.
Brian Norton:
And as you tell people about our podcast, we have it listed in a variety of places, so they can find us just about anywhere you can go get regular old podcasts. You can find us on iTunes, you can go to Google Play Store, to Stitcher, to eastersealstech.com, to ATFAQshow.com; all different places to be able to find the podcast, and we'd love for you to share the podcast with other folks. So-
Belva Smith:
Hey Brian, I have a quick question.
Brian Norton:
Sure, yeah.
Belva Smith:
What show number is this?
Brian Norton:
This is 120.
Belva Smith:
Got it, thank you.
Brian Norton:
And so we've been doing this for, I want to say four years now. Is that right?
Josh Anderson:
120 episodes. [inaudible 00:03:46]
Brian Norton:
Yeah, 120 episodes worth. I don't know. It was a February, some year. I can't remember how long ago, but yeah. For quite a long time and just really fun to get to sit down, hear from people and try to help in their situations. And so, thank you guys for being a part of the show and for letting us kind of chime in as we do the best that we can, so. I did want to mention a couple of things that are coming up as far as the INDATA project is concerned. So, in May, we will be offering a webinar for web developers. And so if you are a web developer and want to know more about that, we have a full day webinar that is going to be offered.
Brian Norton:
Dennis Lembree, who's kind of a world renowned accessibility professional in that arena is going to be hosting that webinar for us, and you can find out more about that by going to eastersealstech.com/a11y. And I'll just be honest with you, there's a lot of heavy content in there. It's not for someone who's just kind of recreationally going in and creating websites. This is for your heavy developers. And so, if you program websites and are looking at ways to include accessible content into your sites, it's a great place to kind of learn some of that, and Dennis does a great job leading us through that day. And then the other thing that we have that coming up, we also are offering a full day training in May.
Brian Norton:
I believe that is, sorry, in June; June 18, I believe. It's a Thursday. And you can find out more about that by going to eastersealstech.com; going to services and looking up full day trainings, but it's going to be a training specifically on the builtin accessibility for Windows, Mac and Chrome. And so we're going to take a look at those main computer operating systems and talk about what goes on with the accessibility within those programs, and so what they have available. So love to hear, I'd love to see you guys there and have you participate in those opportunities. Both of those trainings are free and are sponsored by INDATA, which is Indiana's Assistive Technology Act.
Brian Norton:
So without further ado, we're going to jump into our first question for the day. The first question is, can you or someone on your team recommend a tool that we can use to check web pages for accessibility, particularly for a screen reader? And also could you point me to a website for best practice of creating web pages that JAWS can read, particularly that would address images, links and surveys. There's a student, this is from a professor at a university. There's a student who says they can figure things out, but we aren't doing it right. I don't know where to find out what is right, and so thanks for any guidance you can share.
Josh Anderson:
Brian, I feel like you just shared that by talking about the webinar.
Brian Norton:
Yeah, so that is one of my points. Come to our webinar. Again, eastersealstech.com/a11y. You'll learn a lot about that stuff and it's a great place to kind of get some of the basics but also get a lot of the heavier content if you're really looking to make your page accessible. I'll also point people towards a free accessibility tool that's out there. This is something that I use quite a bit when I'm asked to come out and take a look at a person's website or even when I'm auditing our own website to make sure that our site's accessible. I use the WebAIM toolbar, and so you can find that. It's called, it's actually WebAIM's WAVE toolbar. So it's the WAVE toolbar and it's made by WebAIM.
Brian Norton:
And what it does, it does a really great job of, you basically just stick in the URL for the website that you have. It'll pull up that website and it flags all accessibility errors or issues within a site, and what I love about it is it actually when you click on the little flags or the little icons that appear, it gives you a table related to what those issues are. But then, when you click on those icons, it gives you code level examples of what the issue is and maybe suggestions for how to fix those as well. And so, it flags accessibility errors and issues within a website and then can provide you with code level examples on how to fix those. It's really useful, it's free. It's just a extension in your Chrome browser, and so something to consider and something to look at.
Tracy Castillo:
Hey Brian, so the question was they wanted to know if there was like a list or something that they could use to find standards. So, you mentioned before them over at w3.org; the standards web design. Those folks have a comprehensive list as well.
Brian Norton:
So, yeah, so the worldwide web consortium or the w3c.org. They actually are the ones that actually set the standards, and so, and guidelines for creating accessible content, and so they… You can dig into really, really high level coding examples and product examples as far as what accessibility will look like. And so, definitely take a look at that. It's again w3.org, and so take a look at those as well. That's the worldwide web consortium. I will say those folks-
Belva Smith:
Brian, I found a webpage… Well, a blog actually that recommends five different website accessibility checkers, and that is www.mediacurrent.com; website accessibility checkers, and they just have a list of five of the most current popular accessibility checkers. Some, I noticed were free, some were not free. And then I noticed, in the question they were asking specifically about designing pages for a student who's using JAWS. Josh, I'm leaning on you for some help with this one, because didn't Freedom Scientific just recently release program to help with designing web pages for JAWS?
Josh Anderson:
I think so but I tried to look for it and I couldn't find it, but I know there was some kind of a checker or something like that they were supposed to be coming out with, but I tried to kind of look for it and I found information kind of scattered here and there but could never really find exactly what I was looking for.
Belva Smith:
Yeah, I couldn't find it either. I did a quick search for it as well. So, what I would suggest is perhaps just contacting tech support basically at Freedom Scientific and I'm sure that they would be happy to share that information with you. But pretty much, if you make it work for any screen reader, it's going to work with JAWS or NVDA because it's, they're all basically using the same kind of background information, I am assuming, because I'm not a programmer so I don't really know.
Brian Norton:
Yeah, and there's also a lot of companies out there that offer accessibility checking. So, if you're not feeling comfortable doing it by yourself, you can contract with a company to come in and do that. If you go to eastersealstech/… Eastersealstech.com/a11y, we have a couple of those companies listed, but then we also, along with the web, a lot of folks are looking for document accessibility these days and you can get… I've included a couple of videos and webinars related to how to create accessible word documents, how to create accessible PDFs, how to create accessible PowerPoints. And so you can get some of those as well as far as being able to create accessible documents. And so, go check out our website. It's again, eastersealstech.com/a11y to learn more about some of those types of things. I think it might be helpful.
Brian Norton:
All right, so our next question is, I was curious if you had any recommendations to help someone at work with memory concerns. I've seen apps that can help with reminders, but any suggestions if their work isn't necessarily consistent day to day. There's a quite a bit of critical thinking for this person's role and it's project based. They do use consistent computer programs including Excel and have resources to look up how to use as needed. So again, any AT recommendations for someone who has memory concerns at work.
Josh Anderson:
So, I went a couple different ways on this one. For one, if they're using Excel, I assume hopefully they probably have Outlook too. And there's tasks and reminders and stuff you can put in there. So, you don't even have to use a different kind of tool and those can be done day to day. You can make it to where, it can remind, like when you set up tasks, you can have it remind you every day at 7:00 AM, remember to do this, this and this, or remember to look at this. When you put things on your calendar, you can set up reminders all kinds of different ways. But then also, I know they kind of talked about apps and I know they… Okay, ready?
Brian Norton:
Yep.
Josh Anderson:
And I know they kind of mentioned apps, but there's some, there's kind of like some big ones like OmniFocus. I know, I've kind of used it in the past and you can really set up some pretty, I don't know, kind of intense things on there for a project. You can break it down into different parts. You can have different reminders; bells, whistles for each step of those kinds of things. I even thought for projects and stuff like that, even some mind mapping software or apps could be kind of helpful as well just to help plan out all the different parts. I know we've used Basecamp before and Teams can be good ways, if they're doing collaborative kind of projects, they can help with those kinds of things. Or you can just stick a bunch of poster notes to your computer monitor and that might be helpful too. But it kind of depends on a little bit of just what the person's comfortable with and making sure you don't put too much stuff in place.
Tracy Castillo:
Yeah. For myself, I go back to my personal assistant, Alexa. I always ask her remind me to do something at a certain time or in a few minutes, I'll say, "Hey, remind me to, I've got to get someone on a computer, to put someone on the computer at X and O time, so."
Brian Norton:
When I was working with folks back in the day, directly one-on-one, something that I would always do for, especially for folks with memory concerns, is really, obviously, we would cover things in person, and so we'd go and cover a particular topic, make sure that I was able to demonstrate to them how to do something and then they would demonstrate things back to me that they understood what was going on. But in the case that we would, obviously we would need to, we wouldn't meet for a week or two. I would create little how to user guides. I used to call them David Letterman's top 10 list. Here's the 10 things you need to know and keep closest to you as you use the program, because they're going to be the most vital things that you need to use within it.
Brian Norton:
And so I'd create little how to guides, and that way they would have something to look back at after, when I'm not there, if they've forgotten anything. I know for folks who were blind or visually impaired, I've seen folks use little tape recorders and be able to Mark those tapes when they're covering the training, [inaudible 00:15:58] jumped around to different important topics, but there's a variety of ways to kind of help. Again, help people remember when you're not there, when they're not able to reach you on the phone or catch you to be able to get reminded of something specific or a task like that. Having some sort of just even a physical paper or booklet that has some commonly used things and have those things written out for folks.
Belva Smith:
So I'm looking at this question as a two parter, and the first piece of information that I'm pulling from the question is the fact that their job isn't necessarily consistent every day. So, I'm thinking that they need to not only be reminded of the task on hand for this day, but then also, they might need some assistance with how to use. So, my thought is kind of what you were saying, Brian, is to have some how to notes available, but also perhaps just a whiteboard, like a chalkboard in their room. I said whiteboard, but I meant chalkboard, where they could just like jot down the things, and then they can erase them as they knock them off.
Belva Smith:
So, if you give them, for example, 10 different tasks that they might need to get done today, having those reminders are good, but they also then have to go dismiss those reminders. So maybe just a whiteboard, I don't know. I'm probably the least qualified person to try to answer that question because this doesn't seem, I mean this doesn't include the kind of things that I'm used to trying to solve with a consumer.
Josh Anderson:
No, Belva, you bring up a good point though. I've worked with individuals before with traumatic brain injury, which can cause some definite issues with memory and remembering to do things and stuff like that, and life isn't the same every day, especially now. But, and that ended up being pretty much what they used, was a dry erase whiteboard. Just because, technology, they weren't real comfortable with technology, then it's well to remembering how to use it, how to do these other things. So yeah, just little notes and I mean even in a work situation you can say, "Okay, tomorrow I need to do this, this and this." Put it all there. It's right there in front of your face, and that can be kind of a low tech good solution too.
Tracy Castillo:
Yeah, I liked that little notes idea because it's kind of like on the fly. Sometimes if a person is on an inconsistent job basis, they may just get information on the fly that they have to jot down or take notes on. That's kind of why I brought up the Alexa or the personal assistant even on your phone because you could just simply [inaudible 00:18:40]. If you have an Apple to say, "Hey, Siri, tell me in 20 minutes to go to wherever you need to go or do whatever you need to do."
Brian Norton:
I think that's important to remember too. It doesn't always have, I mean when we say assistive technology, I think we all jump to software or some sort of electronical device to be able to solve a problem. It could be simple, it could be pen and paper, it could be a whiteboard, lots of simple things to help with reminders work just as well, and it really depends on the person. In a lot of situations like this one, an evaluation by an ATP, some sort of assistive technology professional would be really helpful just to kind of understand all of the different options, because it's going to be very individualized for the individual, whatever they really do struggle with. We want to better understand not only the person but the situation, the different things that they're going to have to deal with day in and day out, and what they really struggle with day in and day out.
Brian Norton:
And so I think having an evaluation could be really helpful in situations like this to kind of drill down and better understand and get something that's very tailored to that individual, because some people… I've worked with folks and they want nothing to do with something technology related. They want pen and paper. They just got to figure out a way that we can use the pen and paper, so they can take full advantage of it. And so I've seen, you mentioned whiteboard, and we actually have a couple of things in our loan library, which are… There's little whiteboards that sit in front of your computer, your computer keyboard, in between you and the monitor. In fact, one of our staff members uses this; the person who's in charge of our loan library, uses this, and he puts all of his daily to dos on those and as he works through it, he does exactly what you do, what you mentioned, Belva, he erases them off his whiteboard.
Brian Norton:
So he sets up a daily task list and then just erases those, and so, again, what works for him doesn't work for me. I use something called Todoist. That's a little program where I keep all of my tasks and I love… What I love about that program is I can, it's cross platform so I can, it's web based and so I can use it on my phone, my computer, my tablet. I can email, so there's integration into your email program. So, where I can email something from my email directly into my task list and organize things there. It's a pretty sophisticated little note taking system, however, for, again, for some folks that just doesn't work.
Josh Anderson:
Brian, didn't Microsoft buy Todoist. Isn't that actually kind of part of Microsoft now?
Brian Norton:
I'm not sure if they, I think they bought a program. I don't think it was Todoist.
Josh Anderson:
Okay.
Brian Norton:
I'm trying to remember. It was Wunderlist. They bought Wunderlist.
Josh Anderson:
Wunderlist? Okay, got you. I knew it was another one that I'd used before, used with folks before, but I couldn't remember which one it was.
Brian Norton:
Yeah. [crosstalk 00:21:40].
Belva Smith:
And I guess my last comment on this question is I'm going to basically mirror what you said, Brian. I do think it sounds like a job evaluation would be very helpful for this individual, but the last thing that might be of something to consider would be like a smart watch, like an Apple watch. Because Tracy, you had mentioned that if you're in a meeting and you're given additional tasks or new tasks, well, you're not going to have your whiteboard with you. But you can just simply record that and turn that into a reminder that will then pop up 15 minutes when you're going to be back at the office and you could, or at your workspace, and you could add it to your whiteboard. And then also you can set alarms and timers and reminders and all that with the watch, and that's something that you would have with you everywhere you go. So, because I'm thinking, yeah, just being able to be with the individual and see what works best would be very important.
Brian Norton:
Yeah, I totally agree. I would love to open it up to our listening audience. If you have any feedback on this particular question, maybe there's tools that you've used for similar situations. Love to hear from you. You can do that in a variety of ways. You can give us a call on our listener line. That's 317-721-7124, or send us an email at tech@eastersealscrossroads.org. Again, love to hear from you. Thanks.
Brian Norton:
All right, so our next question, this will be a quick one, I think, maybe not but Belva jokingly said this during our last podcast and I wrote it down because that is a question, right? And it's maybe a question we've all asked in the past, but is it mice, mouse or mices?
Belva Smith:
Well, I jokingly asked that but I really didn't know, but I did look it up and we all know that in technology world, a mouse is something that we use to move our cursor around on our screen. And in most cases, a plural of a mouse would be mice. However, in the world of technology, more than one mouse is simply mouses.
Brian Norton:
Interesting.
Josh Anderson:
Are you sure it's not mices.
Belva Smith:
No, I'm positive.
Josh Anderson:
Okay, just making sure.
Belva Smith:
Well, I'm positive as Google can be because I got the answer from Google.
Josh Anderson:
Okay, so just to go farther on that, is it octopuses or octopi?
Belva Smith:
I don't know.
Josh Anderson:
Because I've heard it both ways.
Brian Norton:
That's a good question.
Belva Smith:
I have no idea. [crosstalk 00:24:33] always being beat up by grammar Nazis. They're always after me and on my desk at work, I have a mouse that I use to control my computer. But if I don't like that one, I have a cabinet full of mice that someone could borrow.
Josh Anderson:
Mouses. You have a cabinet full of mouses unless it's an infestation of actual mice, which is a big problem.
Brian Norton:
Well, that is interesting because isn't it mice? It's mouses?
Tracy Castillo:
Mouses?
Belva Smith:
In most cases, the plural of mouse is mice, but more than one computer mouse is simply mouses.
Brian Norton:
Well, interesting. I would've never guessed that. Huh, Interesting. See, we are all about all things assistive technology, all things technology; answering the most important questions here on ATFAQ, so [crosstalk 00:25:28].
Josh Anderson:
Burning questions.
Brian Norton:
Burning questions. We've all had that question before, I'm sure.
Belva Smith:
No wonder no one wants to open a cabinet full of mice.
Brian Norton:
There was a bunch of mouses in there. Oh my gosh. I'm glad we could clear that up for everyone. I know that's been a burning question for a long time. So, if anybody has any comments on that, I'd love to hear from you. You can give us a call on our listener line. That's 317-721-7124. Or send us an email at tech@eastersealscrossroads.org or if you'd like to tweet, you can do that too with the hashtag ATFAQ. We'd love to hear from you. Thanks.
Brian Norton:
All right, so our next question is, I need to read barcodes daily for my job. Can you advise me of the differences in using the i.d. mate Galaxy versus using a barcode app on my smartphone? What would you recommend?
Belva Smith:
Well, this is one of those cases where I definitely would suggest an evaluation to actually figure out which device would be good. And with the assistance of our lending library for INDATA, we would actually be able to try both options to see which one might be best. But to answer the biggest question about what's the difference is, the i.d. mate obviously has, I think like the last time I looked like 10 million barcodes built into it. But with the i.d. mate, I did use that in a job of accommodation many, many, many years ago for an individual who was totally blind and packed parts for a manufacturing company and they actually developed themselves the barcodes that he needed because it wasn't, I mean he was packing the product to be shipped out so they weren't, they didn't automatically include the barcodes.
Belva Smith:
But they learned how to create their own bar codes so that they could identify the parts that had been manufactured, and then they would also include in that barcode information, how many should go in the box, if he was shipping it to company A and how many should go in the box if they were shipping it to company B. So that obviously, to my knowledge, is not something that would be able to be done with an app. So there's one big feature that would be different. Also, for the barcodes that don't already exist with the i.d. mate, you can go ahead and if it's… So, for example, if you scan a bottle of Coke and it does not exist in the knowledge base, then you can go ahead and record what that product is and as much information about that product as you want.
Belva Smith:
And then the next time you read it or scan it, it will read it. So, I'm pretty sure that that's something that can be done with some of the different apps on the phone, but there's also other features that come with the i.d. mate such as the ability to take quick notes if you need, as we were talking about, with one of the other questions earlier. If you needed to just set a quick reminder to yourself or take down a phone number or something like that, that's an option that you can do with the i.d. mate. You can also do your web updates. So as new barcodes become available or new software information becomes available, you can simply connect to the internet and do that. And there are other features with the i.d. mate that I'm not going to go into because they don't really relate to this specific question.
Belva Smith:
But then, okay, why would I want to spend the money, which I think is around $1,500 for an i.d. mate if I'm walking around with my smartphone already in my pocket, and there is more than likely a free app that would be available. My biggest reason why you might want to consider having a specific device would be, you got to remember that you will be using the battery on your phone. So, if you're working an eight hour shift, by the time you get off of work, more than likely your phone battery is going to be dead. So if you needed it to get a ride home or to get directions, any of those things, you're not going to be able to do it because you've already used your battery life up. And then also lighting seems to be with the apps.
Belva Smith:
Lighting seems to be a big problem that you won't face with the i.d. mate because the i.d. mate works fairly well with or without good lighting situations. Also with your phone, you're going to… In my experience, and I've had quite a bit of experience with different clients working with this type of a situation. With the phone, it's a little more difficult to try to locate the barcode. Now, some of the apps have figured that out and they've added a feature for making noise to kind of help you get to where you need to go, but you also, with the phone we'll be using no matter what, the internet to get your answer. So, if you're a metal building or a brick building or in a basement, you may or may not have connection to the internet.
Belva Smith:
Now, the i.d. mate has those 10 million plus barcodes stored within the device, actually on a SD card, and partially on the device. But again, you don't have to have that internet connection to get that information. And I have, in fact, I had a client who said, "No, I don't think I'll add that extra device to carry around. I'm just going to try to use my phone." And I can tell you that the things that I just mentioned were the complaints that he came back with and we did eventually end up opting to go ahead and get a specified device for reading his barcodes because it was easier, did not use up his phone battery and he did not require, because he actually was working in a basement of a big government building, and he did not have to have internet connection. So having that specified device just made his job easier, made it more efficient. So having the phone, having the smartphone is good, but maybe not the best choice for doing your job.
Brian Norton:
Got you.
Belva Smith:
Back to you Brian.
Brian Norton:
Yeah. Well done. Well said. No, that was great. I've used both of [crosstalk 00:32:22]. What's that?
Josh Anderson:
[Diddo 00:32:24], yeah. Pretty much, yes, what she said.
Belva Smith:
You guys have to excuse us because we are using Zoom. We are kind of interrupting each other because there is a little bit of a lag in there for when one person stops and another person starts.
Brian Norton:
Right. You know, I [crosstalk 00:32:42]
Tracy Castillo:
I'm sorry, this is driving me nuts. I feel like my shirt's sideways and I'm like trying to fix the lettering. It's really disturbing me.
Belva Smith:
We also normally are not looking at ourselves as we do this.
Tracy Castillo:
Exactly.
Josh Anderson:
Yeah, we were all making faces and doing stuff while Belva was talking.
Belva Smith:
Really? I wasn't even looking at y'all.
Tracy Castillo:
[crosstalk 00:33:08]
Brian Norton:
We do try to have fun on the show and so you, even when we're in the studio we have fun, but it's a little bit different kind of fun when we're just staring at each other through the computer, so. I will say, I've used both the i.d. mate before and a smartphone, and I think you gave a very good explanation on the differences there. I think, again, depending on that situation, either one can make the difference for the folks depending on what they're doing, but I've been really impressed with the i.d. mate. Just simply, I love the feature where you can create your own barcodes.
Brian Norton:
I've seen people that use that all over the house, not just on grocery items and other kinds of things. I've seen people [inaudible 00:33:54] them on or somehow attach them to their clothing so they know that it's the blue blazer instead of the black blazer or the black shirt over the beige shirt. So, just interesting ways to be able to use that because it has that learning feature available to it. So, both are really great options and depending on the situation, either or could work for you. The i.d. mate is a little expensive. From what I remember, it's over a thousand bucks, is that right? Did you mention that, Belva
Belva Smith:
I think it's around $1,500.
Tracy Castillo:
I'm sorry, I sell it for 1800.
Belva Smith:
Okay. And I've never know exactly the price of something because I don't keep up on the prices, but, yeah.
Brian Norton:
Yeah, we try to recommend what's most appropriate and don't really worry about the price other than we want to make sure it's the most cost effective solution for someone, but it's got to be able to meet their needs. And sometimes, and the situation, that job accommodation you were talking about in that parts shop, the i.d. mate was, and it is the more expensive option, but it was the right choice.
Belva Smith:
Absolutely. In that particular situation, without that particular device, he wouldn't have been able to do the job, because as I said, he was totally, totally blind. So the fact that they were able, they weren't even using the 10 million barcodes that were in there at the time. They actually bought barcode labels and created somehow their own information on those labels so that it only contains the information that he needed. And that was, I mean that was amazing.
Brian Norton:
Very cool. Well I would love to hear from folks, maybe you have some experience with the i.d. mate. Maybe you use a particular smartphone app for barcode scanning. Love to hear what you guys are using and your experience with those. Feel free to give us a call on our listener line. That's 317-721-7124, or send us an email at tech@eastersealscrossroads.org. I'm sorry, that was our website. Or send us an email at tech… No, that's right. Send us an email at tech@eastersealscrossroads.org. Love to hear from you. And so, yeah, thanks.
Brian Norton:
All right, so our next question is, on handheld magnifiers, why is there a freeze button? This was sent to us from a service provider and he said, most people I demo and show the functionality of its state that they don't think they'll ever really use it, and in fact it sometimes causes a little fear [inaudible 00:36:30] just been able to show them a few times basically because it's actually taking pictures of something. Maybe you could highlight the benefits and reasons why that button exists. And so Belva, I know you had some answers for that.
Belva Smith:
Yeah, with that, I'm going to say the fear of the unknown. If you don't really know the purpose of the button or the purpose of the action, I can see why it might be a little fearful for you. However, there is a purpose in that button. For example, a simple example, if you were looking for a phone number in the phone book, if people still have phone books, right? Or Maybe they don't, I don't know. Maybe you're looking at the phone number for your doctor on your prescription bottle. That's a better example. So, you can actually locate the phone number on the bottle, press your freeze button, walk away from the pill bottle with your magnifier and go to the phone and then bring that phone number back up so that…
Belva Smith:
Well, actually it's never gone away, it's still going to be there on the screen, so that you can then have that phone number with you in a different location. So, it's kind of like copying something and putting it on the Windows clipboard and taking it where you need it and then obtaining that information. So, that's the purpose in it, and you can also magnify it from… Some of them, not all of the magnifiers will allow you to go ahead and zoom in bigger on it. But most of them, I think now once you… It's actually like a snapshot. Once you have that snapshot, you can go ahead and zoom in on it. So, ways that I have used that particular button in different job accommodations. I had a lady who in doing her inventory in a little C-store, she couldn't see obviously the labels on the shelves that were over her head as well as the ones in front of her face.
Belva Smith:
So, she would just hold the magnifier up there, get it to where it looked like it was lined up, hit the freeze button and then bring it down and then she would have the information that she needed. Oftentimes, that information would need to go back with her to an area where she would have to enter certain information off that tag into a database. So again, she's got that information there with her. So, in most cases, the magnifier also, it's not like it's taking the picture and going to store the picture. Some of them do store the picture, but not all of them do. Some of them, it's just a capture, I think that's where it actually developed the names freeze, because it's really just a freeze frame. And then the minute you hit that camera button again, it's gone.
Belva Smith:
It's nowhere on the device. Now again, some of them do have the SD cards and the capability of saving it, and in certain job accommodations we've had to make sure to go with the ones that do not actually store the information for lots of different reasons. And other job accommodations, we've had to go with the ones that will store the information because the person may want to get that information only one time and not have to keep going back to the same shelf or the same box to get that information over and over again. So, it really does serve a good purpose. You just have to… I mean, maybe the purpose isn't going to be for everybody, but for certain individuals, it really does have a good use.
Tracy Castillo:
I know I use it. I use the magnifier on my phone and the COA tags I get for our computers, the numbers are extremely small on them. So, I take a picture of the whole stack of stickers I have and I'm able to zoom into each one to get the numbers off each one of them. I find it extremely helpful. And then on top of that, like you said, it doesn't store it to the phone, it doesn't store it to the device. After I hit the button again, I can take another picture, so it just, I like it for that. Yeah.
Brian Norton:
Yeah. So, and I've used it in a job accommodation as well. I was working with a physical therapist and she worked in a kind of a med rehab facility and she had low vision, and the challenge that she had was she was needing to read the oxygen levels, so there was an oxygen tank off of some of the patrons for that particular healthcare facility. They had oxygen tanks on the back of their wheelchairs and what she would have to do to be able to read those, she had to stoop way, way down toward the ground to be able to read those, the levels, the gauges on that particular tank. And it was just uncomfortable for her to stay down there for a long period of time. So what she would do is, she would use that freeze frame.
Brian Norton:
She'd go down there, just snap a picture of that oxygen gauge and then bring it up where she can then more comfortably look at it, and then write things down and other stuff. And so it keeps you out of some awkward positions when you're trying to look at things. And I think the original way it was explained to me maybe by one of the manufacturers was, if you ever opened up the phone book, I know we don't use phone books anymore, or much anymore. But when you would open up the phone book, you'd finally find the number you're looking for and then as you turn and grab the phone, the wind breeze blows the page over and now you got to find it all over again. It just makes those types of things a little bit more easy to handle, and be able to kind of save you time and effort to be able to kind of get to that information.
Josh Anderson:
You both mentioned phone books. I just want to throw that out there, and there's a lot of people looking at the-
Belva Smith:
[crosstalk 00:42:25] Josh.
Josh Anderson:
You did, and then Brian just ran with it.
Brian Norton:
I love my phone books. It helps hold my monitor up high enough so I can see it and don't hurt my neck. Now, so I would love to hear how folks use that particular button. If you guys have any examples of how you might use that feature, I'd love to be able to share that with folks. You can give us a call on our listener line. That's (317)-721-7124. Or send us a tweet with the hashtag ATFAQ or send us an email at tech@eastersealscrossroads.org. We'd love to hear from you. Thanks.
Brian Norton:
All right, so our next question is, I have a consumer who has cerebral ataxia. She has trouble balancing herself. She uses a cane and an electric scooter. She's a teacher's assistant in an afterschool program and she tries not to stand or sit too long and she does have to walk, crouch and kneel in the classroom in order to assist with some classroom activities. She also has to help with snack time. Anyways, what type of equipment would you recommend her to assist with these activities? She is working from home currently as we all are. It would be good to plan ahead for when she gets back to the classroom in a few months. So any suggestions that folks might have?
Josh Anderson:
So, Brian, in the question, it kind of said that one kind of issue she had was pouring drinks for the kids as they might spill and there's some different things you can do with kind of handles and such to really assist with gripping. Also, kind of non-skid like coasters or even non-skid mats, so that you don't have to try to hold whatever you're pouring plus the cup at the same time, so the cup will stay still, different holders and things like that. If you think of, I remember like in the old days, the little thing that you stuck in your car window, so you actually had a cup holder when cars didn't come with cup holders. I dated myself there. We talked about phone books and old car cup holders [inaudible 00:44:19] we lost half the audience under 30 now. But little things like that, they can just kind of help because then you're only keeping one thing steady and not having to worry about it.
Josh Anderson:
As far as with having to crouch, kneel, walk and do all those things. That was a little bit more difficult. But I mean there are small stools that could be used. They kind of go up and down kind of like an office chair and things that not only have wheels but also have a small stopper on them so that whenever you sit on it, the stopper will actually go, so it gives you some stability in that you kind of be pulled up so you can move around a little bit, which might make it a little easier because you could go down kind of at their level and work for a little while, then be able to raise yourself up and get out of it.
Josh Anderson:
But that's kind of a little bit harder one and kind of an issue that I know a lot of folks really do kind of run into, but there's lots of stuff out there. If you look at anything for eating, drinking and stuff like that for folks with tremor, there's all different kinds of things, but most of them are kind of based on keeping things steady. So, and a lot of that's done with different grips, adding handles or, like I said, kind of non-skid stuff can be really helpful too.
Tracy Castillo:
I just want to bring up this. This question actually brought back some stuff because before I came to INDATA, I was working at the schools and I was in a preschool daycare room setting, and I remember the drinks coming in single serves. I mean, is there a way that they could just bring her a single serve drinks? I mean, that seems to be more helpful than trying to make sure she doesn't spill it. But I mean there are different types of handles for two liters and other things that are interesting, but still would probably need something like Josh said, like the anti-skid mats for the cups.
Belva Smith:
So I noticed the takeaway from the question for me was, what equipment would you recommend? This is one of those that would definitely benefit from a job site evaluation so we could actually get into the environment and try some different things, but something that came to mind while I was listening to Josh, perhaps one of those like gardening wagons that are kind of low that you can sit on and you could actually roll yourself around the table to help the student and then back around to help that student. And then also a Reacher. But again, this is just reaching from the darkness without being able to actually be there to see the individual and the environment.
Brian Norton:
No, those are great suggestions. You mentioned evaluation. It would be a great opportunity for an OT to come in; an occupational therapist. That's kind of what they do. So, as you're on the job and you're having difficulty with different tasks, they're going to help you not only maybe build core muscles in certain areas to help with you, help you be more steady, but also look at ways to accomplish certain tasks. With things like, maybe it's a brace, maybe it's a crutch, maybe it's a walker, a stool like Josh mentioned, or a wagon like Belva mentioned. Any of those types of things, they could come in and look at that from the occupational therapy standpoint and offer some assistance on those situations. And then, I mean our 80 professionals, assistive technology professionals, they might be able to offer assistance.
Brian Norton:
Several OTs have their ATP certification so they can kind of blend those practices together, but certainly inviting someone out so they can see the space, see where you work and where you operate, what you have to do, and to figure out how can we make this not only effective for you but as safe as possible to be able to do those different tasks. And so not sure if we have any OTs listening today, but I would love for you to chime in on this question. Help us fill in maybe any gaps that we have in some of our answers about what you might be able to do and help with this particular person's job, but I'd love to hear from you. You can give us a call on our listener line. That's 317-721-7124, or send us an email at tech@eastersealscrossroads.org. Love to hear from you. Thanks.
Speaker 11:
And now it's time for the wild card question.
Brian Norton:
All right, so our next question is the wild card question. And this is where I send the mic over to Belva and she's prepared a question that we haven't had any time to think about. And so Belva, what you got for us today?
Belva Smith:
Well, as we all know, the world's been shut down because of the Coronavirus. And our state here in Indiana has, and I don't know, does this mean every state? Maybe. Has extended our tax deadline to July the 15th instead of April 15th. So, my question for you guys is, do you guys do your own taxes? Do you have an accountant? How do you handle your taxes?
Brian Norton:
Yeah, so [crosstalk 00:49:38].
Josh Anderson:
I'll go real quick, because… okay, go ahead Brian. Okay, I'll go. [crosstalk 00:49:45].
Belva Smith:
Brian, you're up.
Brian Norton:
All right, so yeah, for us, so my wife owns a business and so we actually have our taxes done because it has a whole bunch of extra paperwork. I used to do my own taxes. I used to use TurboTax to do that. But, and I found it pretty easy, simple to work through. I'm not sure about how accessible those programs are. I haven't used a screen reader or tried anything like voice input on those programs, but that's the program I had used to put my taxes together. It worked pretty well for me, but nowadays, because of the complexities of the business that she owns, we just usually have it done for us, which I love. The only thing I don't love is I used to be one, the kind of person who would get it done February; the first week of February. Now, I wait till the first week of April basically before we can get it done, before they can fit us in and get it done professionally, so I have to wait.
Belva Smith:
Josh?
Tracy Castillo:
I'm echoing Brian's.
Belva Smith:
Okay.
Tracy Castillo:
I forgot about you Josh. I used to use TurboTax. You can go.
Josh Anderson:
Cool. Yeah, I used to use TurboTax too, and now I use, I think Credit Karma because you can do it through them for free and it's pretty easy. It doesn't take very long at all.
Belva Smith:
So I personally, I'm like you Brian. I do mine myself and I typically try to have them done by the no later than the second week of February. And I use OnLine Taxes or it's actually olt.com. There is a small fee for me to do it on there, but what I like about it is it keeps all of my information in one safe place for me. Like, I can go back 10 years and look at my taxes. But to do both my state and federal, it's under 15 bucks, so that's not too terribly bad.
Belva Smith:
Todd, however, because he also is a small business owner, he uses an accountant and now like you said too Brian, he finds himself waiting until there's an available slot. Well, his available slot got kicked aside because of everything being shut down. So he's at a point now where he does not have a date for getting his taxes done. Surely, it'll happen. And if not, like you said, he'll just have to find someone else. But I would definitely say if you've got a small business, have an accountant do it. It's probably the best way to do it. But if you can do them yourself, and what I also like about the OLT is it's very simple. It does not allow me to make a mistake.
Belva Smith:
I used to work at H and R block and this website was actually referred to me by one of the tax preparers there because it's almost full-proof, because if you don't answer a question, it won't let you go to the next step. And then also it gives you the opportunity to review it at the end. So, that to me is a good option. Now, for my clients who are using JAWS, some of them do like to do their own taxes. And I do know that TurboTax online and TaxAct online are both fully accessible using Jaws 2019 or obviously newer than that. Using one of the older versions of JAWS, you might have some issues, but using an updated browser and an updated screen reader, both of those are available.
Belva Smith:
So, luckily I got mine done before everything got shut down, so my taxes are done for this year. I don't have to worry about it, but I'm imagining that the normal April scurry for getting your taxes done will now happen to us in July when it's 95 degrees outside.
Tracy Castillo:
Yeah.
Josh Anderson:
Right, exactly.
Tracy Castillo:
Yeah, I usually get them done at the end of February and I have not gotten mine done because we went from me doing them every year and this year we were going to get someone to do it for us to make life so much easier. I haven't gotten done yet. It's driving me nuts.
Brian Norton:
Well, hey, I just want to thank you Belva for the wild card. Want to just kind of put… I think my audio is cutting out.
Belva Smith:
You were cutting out, but you're good now.
Brian Norton:
Okay. Well, hey, well that's our show for today. Just want to thank the folks here in the studio who are with me today. Thank you Belva. Do you want to say goodbye?
Belva Smith:
Everybody stay healthy and we'll see you in a couple of weeks.
Tracy Castillo:
Bye.
Brian Norton:
And Tracy?
Tracy Castillo:
I'm sorry. I jumped the gun on that one. Today I'm like let's [inaudible 00:54:47]. Today, I'm going to say bye. See you guys later.
Brian Norton:
All right, take care. Josh?
Josh Anderson:
Bye everybody.
Brian Norton:
Excellent. Well, yeah, and we would love for you guys to be a part of the show. So, if you have an opportunity, give us a call, let us know what questions you might have, also what feedback you might have. Love to hear from you. You can do that again through our listener line, through our email address or by sending us a tweet. Yeah, thank you. Take care. And it seems like every week we have at least one weeper, so here you go.
Speaker 12:
If I was curious, I would probably not call ATFAQ.
Brian Norton:
Hey, Christopher. [crosstalk 00:55:26]
Speaker 12:
[crosstalk 00:55:27] they spotted me. [crosstalk 00:55:29] they could see me.
Brian Norton:
So my slippers are starting to smell. I don't wear my shoes anymore. I just wear my slippers.
Tracy Castillo:
Throw them in the washer, can't you?
Brian Norton:
That's not a bad idea. I didn't think of that.
Josh Anderson:
And so what else is fun is like my hair is a lot bigger than it looks on this thing.
Speaker 6:
Information provided on assistive technology FAQ does not constitute a product endorsement. Our comments are not intended as recommendations, nor is our show evaluative in nature. Assistive technology FAQ is hosted and produced by Brian Norton. Gets editorial help by Josh Anderson and Belva Smith and receives support from Easterseals Crossroads in the INDATA project. ATFAQ is a proud member of the accessibility channel. Find more of our shows at wwwaccessibilitychannel.com.